John Saunders's Chess Pages
Varsity Chess Matches 1873-present: Oxford University versus Cambridge University
List compiled by John Saunders - please report any errors spotted to me.
Last edited: Friday January 7, 2022 0:39 AM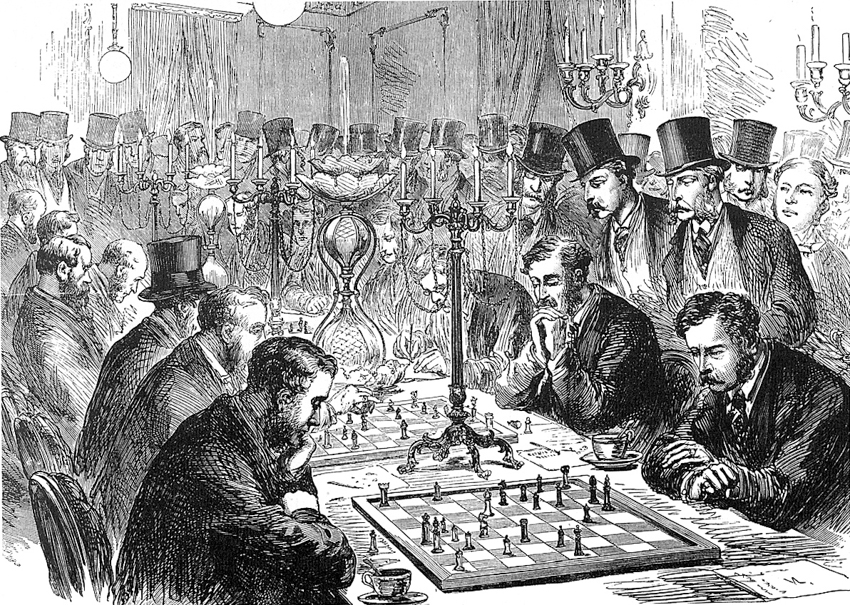 The first Oxford vs Cambridge Varsity Chess Match, 1873 (image from the Illustrated London News, 5 April 1873, p325)
Complete alphabetical lists of Oxford and Cambridge players in the Varsity Chess Match (1873 to present), showing which years they played and on which board. Pen pictures of players who have taken part in Varsity matches.
This part of BritBase is dedicated to Timothy Whitworth (1932-2019) who, knowing my interest in the Varsity chess match, sent me a copy of Jeremy Gaige's booklet Oxford-Cambridge Chess Matches (1873-1987) out of the blue some years ago. This slim volume, to which Timothy himself contributed a great deal of research, has been of inestimable value in compiling information about this annual chess fixture, which is effectively a continuation of Gaige and Whitworth's original work.
Varsity Chess Match: Games Viewer and PGN Download
Download a PGN file of all available Varsity Match games (737 game entries - some are stubs or positions from games - updated 6 January 2022)
---
Varsity Chess Match Results
Click on the year in column 2 below for games viewer/PGN, match reports and biographical information
[note - this is a work in progress and will take some time to complete]
Click on the heading to sort according to that key - click again to reverse the sort
No.
Year
Score
Winners
Oxf Wins
Camb Wins
Draws
Venue
Notes
136
2018
5-3
Oxford
55
59
22
London, RAC
137
2019
4½-3½
Oxford
56
59
22
London, RAC
Participation of women's world champion Hou Yifan
138
2020
2½-5½
Cambridge
56
60
22
London, RAC
139
2021
5½-2½
Oxford
57
60
22
London, RAC
Held in October for the first time due to pandemic
No.
Year
Score
Winners
Oxf Wins
Camb Wins
Draws
Venue
Notes
1
1873
10-3
Oxford
1
0
0
City of London CC
6pm - 11pm, two games if poss, adjudicator Steinitz
2
1874
4-16
Cambridge
1
1
0
City of London CC
Staunton attended. Some doubt as to the final score - either 4-16 or 5-15.
3
1875
6-11
Cambridge
1
2
0
City of London CC
4
1876
12-5
Oxford
2
2
0
West End CC
1pm start time, smaller attendance
5
1877
9-3
Oxford
3
2
0
St George's CC
King's Street, St James's.
6
1878
2-10
Cambridge
3
3
0
St George's CC
7
1879
5½-6½
Cambridge
3
4
0
St George's CC
8
1880
1-12
Cambridge
3
5
0
St George's CC
9
1881
5½-6½
Cambridge
3
6
0
St George's CC
10
1882
5½-7½
Cambridge
3
7
0
St George's CC
11
1883
5½-5½
Drawn
3
7
1
St George's CC
12
1884
4½-5½
Cambridge
3
8
1
St George's CC
13
1885
5½-6½
Cambridge
3
9
1
St George's CC
14
1886
6½-3½
Oxford
4
9
1
St George's CC
15
1887
5-7
Cambridge
4
10
1
British CC
16
1888
7½-2½
Oxford
5
10
1
British CC
Clocks used for 1st time (previously hourglasses optional)
17
1889
7-3
Oxford
6
10
1
British CC
First Oxford Past vs Cambridge Past match held.
18
1890
3½-4½
Cambridge
6
11
1
British CC
19
1891
4-5
Cambridge
6
12
1
British CC
First appearance of HE Atkins.
20
1892
1½-5½
Cambridge
6
13
1
British CC
1 game per board played (this rule enforced from 1893)
21
1893
1-6
Cambridge
6
14
1
British CC
One game only - clocks made compulsory.
22
1894
3-4
Cambridge
6
15
1
British CC
23
1895
4-3
Oxford
7
15
1
British CC
24
1896
4-3
Oxford
8
15
1
British CC
25
1897
4-3
Oxford
9
15
1
British CC
26
1898
3-4
Cambridge
9
16
1
British CC
27
1899
1½-5½
Cambridge
9
17
1
British CC
28
1900
2½-4½
Cambridge
9
18
1
British CC
29
1901
3½-3½
Drawn
9
18
2
British CC
30
1902
1½-5½
Cambridge
9
19
2
British CC
31
1903
2½-4½
Cambridge
9
20
2
St George's CC
Pillsbury acted as adjudicator.
32
1904
2½-4½
Cambridge
9
21
2
St George's CC
Cambridge lead in the series by 12 matches - the greatest extent to date
33
1905
4½-2½
Oxford
10
21
2
St George's CC
34
1906
4½-2½
Oxford
11
21
2
St George's CC
35
1907
3½-3½
Drawn
11
21
3
St George's CC
36
1908
4-3
Oxford
12
21
3
St George's CC
37
1909
4½-2½
Oxford
13
21
3
St George's CC
38
1910
2½-4½
Cambridge
13
22
3
St George's CC
39
1911
4½-2½
Oxford
14
22
3
City of London CC
40
1912
4-3
Oxford
15
22
3
City of London CC
41
1913
6½-½
Oxford
16
22
3
City of London CC
42
1914
4½-2½
Oxford
17
22
3
City of London CC
1915
No contest
1916
No contest
1917
No contest
1918
No contest
43
1919
0-7
Cambridge
17
23
3
Oxford
First time held outside London
44
1920
3½-3½
Drawn
17
23
4
City of London CC
45
1921
5-2
Oxford
18
23
4
City of London CC
46
1922
4-3
Oxford
19
23
4
City of London CC
47
1923
5-2
Oxford
20
23
4
City of London CC
48
1924
4½-2½
Oxford
21
23
4
City of London CC
49
1925
4-3
Oxford
22
23
4
City of London CC
50
1926
2½-4½
Cambridge
22
24
4
City of London CC
51
1927
4-3
Oxford
23
24
4
City of London CC
52
1928
2½-4½
Cambridge
23
25
4
City of London CC
53
1929
3½-3½
Drawn
23
25
5
City of London CC
54
1930
4-3
Oxford
24
25
5
City of London CC
55
1931
3½-3½
Drawn
24
25
6
City of London CC
56
1932
3-4
Cambridge
24
26
6
City of London CC
57
1933
5-2
Oxford
25
26
6
City of London CC
58
1934
3½-3½
Drawn
25
26
7
City of London CC
59
1935
3½-3½
Drawn
25
26
8
City of London CC
60
1936
1-6
Cambridge
25
27
8
City of London CC
61
1937
3-4
Cambridge
25
28
8
City of London CC
62
1938
4-3
Oxford
26
28
8
City of London CC
63
1939
3-4
Cambridge
26
29
8
City of London CC
Unofficial
1940
3½-3½
Drawn
Cambridge, St Johns
Unofficial match
Unofficial
1941
4-3
Oxford
Oxford, Balliol
Unofficial match
Unofficial
1942
4½-2½
Oxford
not known
Unofficial match
1943
No contest
Unofficial
1944
3½-3½
Drawn
Oxford
Unofficial match
Unofficial
1945
1½-5½
Cambridge
Cambridge
Unofficial match
64
1946
4½-2½
Oxford
27
29
8
London, St Bride's
65
1947
3½-3½
Drawn
27
29
9
London, St Bride's
Acc. D Jones, West London CC acc. BCM
66
1948
5½-1½
Oxford
28
29
9
London, West London CC
67
1949
6-1
Oxford
29
29
9
London Wall
Oxford level in the series for the first time since 1878
68
1950
2½-4½
Cambridge
29
30
9
London, West London CC
69
1951
3½-3½
Drawn
29
30
10
London, West London CC
70
1952
4½-2½
Oxford
30
30
10
London West London CC
71
1953
5-2
Oxford
31
30
10
London, National CC
Margaret Pugh Trophy introduced. Oxford ahead for 1st time since 1877
72
1954
3½-3½
Drawn
31
30
11
London, West London CC
73
1955
3-4
Cambridge
31
31
11
London, St Brides
74
1956
4-3
Oxford
32
31
11
London, St Brides
75
1957
3½-3½
Drawn
32
31
12
London, Hampstead
76
1958
1½-5½
Cambridge
32
32
12
London, RAC
77
1959
3½-3½
Drawn
32
32
13
London, RAC
78
1960
3½-3½
Drawn
32
32
14
London, RAC
79
1961
3½-3½
Drawn
32
32
15
London,

University of London Union

80
1962
4½-2½
Oxford
33
32
15
London, ULU
81
1963
4-3
Oxford
34
32
15
London, ULU
Oxford lead the series by two match wins for the first time ever.
82
1964
3½-3½
Drawn
34
32
16
London, ULU
83
1965
5½-1½
Oxford
35
32
16
London, ULU
Oxford lead the series by 3 matches - their greatest lead to date
84
1966
3½-3½
Drawn
35
32
17
London, Atlantic House
85
1967
1½-5½
Cambridge
35
33
17
London, ULU
86
1968
2-5
Cambridge
35
34
17
London, ULU
87
1969
4½-2½
Oxford
36
34
17
London, ULU
88
1970
3-4
Cambridge
36
35
17
Cambridge, Downing
89
1971
2-5
Cambridge
36
36
17
Oxford, Christ Church
90
1972
1½-5½
Cambridge
36
37
17
Cambridge, Jesus
Cambridge lead the series for first time since 1951
91
1973
3-4
Cambridge
36
38
17
London, RAC
Centenary match
92
1974
2½-4½
Cambridge
36
39
17
Oxford, Corpus
93
1975
1-6
Cambridge
36
40
17
Cambridge, Christ's
94
1976
2½-4½
Cambridge
36
41
17
Oxford, Corpus
95
1977
1½-5½
Cambridge
36
42
17
Cambridge, Caius
Last year in which unfinished games were adjudicated by match referee.
96
1978
2½-4½
Cambridge
36
43
17
London, RAC
Women's board added - but only counts for tie-breaks
97
1979
3½-4½
Cambridge
36
44
17
London, RAC
Women's board result counted as tie-breaker
98
1980
3-4
Cambridge
36
45
17
London, RAC
Cambridge's 11th consecutive win put them ahead by 9 wins
99
1981
6-2*
Oxford
37
45
17
London, RAC
* the 'ladies' board' did not count as part of the match, yet BCM, Times & Guardian record the match score as 6-2 and not 5½-1½ - JS
100
1982
5-3
Oxford
38
45
17
London, RAC
100th match. Women's board result counts as of right.
101
1983
6-2
Oxford
39
45
17
London, RAC
102
1984
4½-3½
Oxford
40
45
17
London, RAC
103
1985
5-3
Oxford
41
45
17
London, RAC
104
1986
5½-2½
Oxford
42
45
17
London, RAC
105
1987
5-3
Oxford
43
45
17
London, RAC
106
1988
4½-3½
Oxford
44
45
17
London, RAC
Oxford's best run of wins - 8 in a row
107
1989
2½-5½
Cambridge
44
46
17
London, RAC
108
1990
5-3
Oxford
45
46
17
London, RAC
109
1991
5½-2½
Oxford
46
46
17
London, RAC
110
1992
6-2
Oxford
47
46
17
London, RAC
Oxford's first lead in the series since 1970. Female player on board 7
111
1993
5½-2½
Oxford
48
46
17
London, RAC
112
1994
3½-4½
Cambridge
48
47
17
London, RAC
113
1995
2-6
Cambridge
48
48
17
London, RAC
114
1996
3-5
Cambridge
48
49
17
London, RAC
Cambridge regain match lead (which they have retained subsequently)
115
1997
2½-5½
Cambridge
48
50
17
London, RAC
116
1998
5-3
Oxford
49
50
17
London, RAC
117
1999
2½-5½
Cambridge
49
51
17
London, RAC
118
2000
3½-4½
Cambridge
49
52
17
London, RAC
Two women contest board one. Live coverage & commentary.
119
2001
2½-5½
Cambridge
49
53
17
London, RAC
120
2002
4-4
Drawn
49
53
18
London, RAC
First drawn match since 1966. Cambridge leave trophy on the train!
121
2003
1½-6½
Cambridge
49
54
18
London, RAC
122
2004
6-2
Oxford
50
54
18
London, RAC
123
2005
3-5
Cambridge
50
55
18
London, RAC
124
2006
4½-3½
Oxford
51
55
18
London, RAC
125
2007
3-5
Cambridge
51
56
18
London, RAC
126
2008
4-4
Drawn
51
56
19
London, RAC
127
2009
5-3
Oxford
52
56
19
London, RAC
128
2010
4-4
Drawn
52
56
20
London, RAC
129
2011
4½-3½
Oxford
53
56
20
London, RAC
130
2012
3½-4½
Cambridge
53
57
20
London, RAC
131
2013
3½-4½
Cambridge
53
58
20
London, RAC
132
2014
4-4
Drawn
53
58
21
London, RAC
133
2015
4-4
Drawn
53
58
22
London, RAC
Electronic boards used.
134
2016
2-6
Cambridge
53
59
22
London, RAC
135
2017
4½-3½
Oxford
54
59
22
London, RAC
chess24.com live coverage
Varsity Match Records (after 2021 match)
Teams
Oxford wins
57
Cambridge wins
60
Drawn
22
Oxford - total game points
544 (but see note against 1981 match)
Cambridge - total game points
571
Longest run of wins - Oxford
8 (1981-88)
Longest run of wins - Cambridge
11 (1970-80)
Longest unbeaten run - Oxford
8 (1981-88) as above plus 1959-66
Longest unbeaten - run Cambridge
11 (1970-80) as above
Biggest Margin - Oxford (multi-game matches in brackets)
6½-½ in 1913 (10-3 in 1873, 12-5 in 1876)
Biggest Margin - Cambridge (multi-game matches in brackets)
7-0 in 1919 (16-4 in 1874)
Oxford - leaders in the series in terms of most matches won
1873, 1877, 1953-54, 1956-57, 1962-70, 1992-94
Cambridge - leaders in the series (ditto)
1875, 1879-1948, 1950-51, 1972-90, 1996-present (2021)

(n.b. Cambridge's game points have been greater than Oxford's since 1878)

No of Players
Total - Oxford
486
Total - Cambridge
506
Most appearances - Oxford
6 - Kieran Smallbone
Most appearances - Cambridge
6 - John Neville Keynes, James Vigus, David Hodge, Rafe Martyn
Most games played
13 - John Neville Keynes (Cambridge, 1873-78), 12 - Campbell Tracey (Oxford, 1874-77)
Most wins
8 - John Neville Keynes (Cambridge, 1873-78), 6 - Samuel Redhead Meredith (Oxford, 1873-76)
Most losses
6 - Campbell Tracey (Oxford, 1874-77), Walter William Rouse Ball (Cambridge, 1873-77), (Sir) Richard Whieldon Barnett (Oxford, 1884-88)
Most draws
4 - Edward Lancelot Raymond (Cambridge, 1881-84); 14 players have drawn 3 games, most recently Gordon Scott (Oxford, 2014-19)
100% scores (3 or more games)
4/4 - Tom Brown (Oxford, 1988-93); John Dean (Cambridge, 1936-39); Cecil Tattersall (Cambridge 1897-1900); Edward Mackenzie Jackson (Oxford, 1888-90); Frederick Mortimer Young (Cambridge 1882-86); 18 players have scored 3/3, most recently Daniel Fernandez (Cambridge, 2015-17), Howard Chiu (Oxford, 2013-15), Luke McShane (Oxford, 2004-07), Joel Eklund (Oxford, 2000-02), Nathan Alfred (Cambridge, 1999-2001), Matthew Piper (Oxford, 1991-93), Jonathan Levitt (Oxford, 1983-85), John Cox (Oxford, 1982-84), Jane Anson (Cambridge, 1978-80), Michael Stean (Cambridge, 1973-75), John B Sykes (Oxford, 1949-51) and Dennis M Horne (Oxford, 1947-49)
0% scores (3 or more games)
0/4 - Andrew Hon (Cambridge, 1992-95), Arthur Hereford Wykeham George (Oxford, 1897-1900), Cecil Warburton (Cambridge, 1886-88). 11 players have scored 0/3: Nicholas Jakubovics (Cambridge, 1992-94), Jonathan Wilson (Cambridge, 1990-92), David Watts (Cambridge, 1986-88), David Lawson (Cambridge, 1985-87 - but scored 2/3 for Oxford, 1988-90), Allan Beardsworth (Cambridge, 1982-84), M Paul Townsend (Cambridge, 1980-82) and four others.
Colleges
Most players from single college - Oxford
46 - Balliol College
Most players from single college - Cambridge
100 - Trinity College
Format
1873-91
7 boards, multiple games played per board
1892-1977
7 boards, single game per board
1978-81
7 boards plus 1 women's board - tie-break only
1982-91
7 boards, 1 women's board, all boards count
1992-present
8 boards (including at least 1 player of each gender per team)
| Date | Notes |
| --- | --- |
| 2018 | Began a historical record of Varsity match results, games and reports, year by year (I had been adding records of 21st century Varsity matches since 2000). |
| 3 May 2021 | Uploaded a PGN of all extant Varsity match games for the first time. |
| 10 May 2021 | PGN file amendments: (1) new game Locock-Morley (Game 2, 1883), replacing the stub with the adjudication position - the complete score is now given; (2) Gunnery-Lester, Board 2, 1890: the list of sources has been updated; (3) Canon A Smith - Black, Board 2, 1930: a note on the final few moves added. My thanks to Brian Denman for all three of these updates. |
| 9 July 2021 | We now have the complete score of Morley-Locock (Game 1, 1883), thanks to Brian Denman. |
| 25 October 2021 | 2021 match scores and games added. |
| 21 December 2021 | Added details of the 1933 match. |
| 6 January 2022 | Added John Cox's 1982 game vs Stuart Niman and his 1983 game vs Allan Beardsworth. Thanks, John. |