BRITBASE - British Chess Game Archive
Event: 60th Varsity Match • Venue: City of London CC • Date: 21 March 1936 • last edited: Monday November 16, 2020 1:00 AM
Download PGN • List of Varsity Matches • Back to 1935 • Forward to 1937
The 60th Varsity Chess Match between Oxford University and Cambridge University was held at City of London Chess Club on 21 March 1936. All seven game scores from this match are available.
Sources: Oxford-Cambridge Chess Matches (1873-1987), compiled by Jeremy Gaige, Philadelphia 1987; BCM, April 1936, p161; The Times, 23 March 1936 (including complete game scores)
Notes
Boards 1, 2 and 7 were adjudicated by Sir George Thomas.
[BCM, April 1936, pps 161-161] "On the afternoon of March 21 the 60th match in the series of inter-university chess contests was p1ayed at the City of London Chess Club, and resu1ted in a win for Cambridge by 6-1. Cambridge perhaps started favourites; but the largeness of the margin was somewhat surprising.
"Oxford had begun the season with the disadvantage of having only two old choices left, G. P. Britton (4th year) and F. G. Tims-Collins (2nd year). But, in addition to the Irish recruit B. Bleaney, two players from Argentina were discovered, H. J. Harrington and F. P. Ludueña, who considerably strengthened the side. As it turned out, however, lack of match-experience told heavily against the newcomers in the vital contest. Cambridge with four old choices - F. E. A. Kitto (3rd year), D. B. Schultz, R. G. Stansfield, and E. W. Brocklesby (all 2nd year ) - were therefore a more experienced side; and experience told.
"The record before the match stood:- Cambridge 26 wins, Oxford 25, drawn 8. Oxford had a chance of levelling the scores for the first time since 1878, the sixth year of the series. But it was not to be; and Cambridge are now 2 matches ahead.
"There is not much that need be said about the play, which generally was rather "nervy" - a common feature in this encounter. The first-board game, however, between Tims-Collins, the Oxford secretary, and Kitto, the Cambridge president, was as good a game as we have seen in this match for a considerable number of Years. Both players have had a good deal of tournament and match experience, which stood them in good stead. The Oxonian got rather the better of the opening, the Samisch variation against Nimzovitch's Defence in the Queen's Pawn Game: 1 P-Q4, Kt-KB3; 2 P-QB4, P-K3 ; 3 Kt-QB3, B-Kt5; 4 P-QR3, BxKt ch; 5 PxB. Later Kitto counter-attacked on the King's side, and his efforts were crowned with success. But in the position shown in the diagram, when both players were getting short of time in their second hours, Tims-Collins unwisely offered an exchange of Queens; whereas he would have been well advised not to do so, as pointed out by Sir Georg'e Thomas when he adjudicated the game. His King could have been saved from danger by other means. The actual finish was 35 Q-R4, QxQ; 36 PxQ, R-KB1; 37 R-KKt2, Kt-Kt3; 38 R-Kt4, Kt-B5; 39 K-R2, KR-B3; 40 B-Q2, Kt-Kt3; 41 P-R5, Kt-B5 ; 42 BxKt, RxB. Adjudicated a win for Black. White's Pawn-position is hopelessly weak.
"On board 2 Schultz played the English Opening against the Oxford president, following it up thus :- 1 P-Q B 4, Kt-K B 3; 2 Kt-Q B 3, P-K Kt 3; 3 P-KKt 3, B-Kt2; 4 B-Kt 2, Castles; 5 P-Q Kt 4. White's game rapidly became superior, and by tea-interval Britton (whose play rather suggested staleness through too much chess of late) had but faint hopes of being able to escape disaster. He lost a piece, and when on his 30th move he could have won a Pawn in compensation, chose the wrong way of attacking the Pawn – and did not win it. He made a gallant fight, but could never overcome his handicap. He endured to the 49th move, still a piece down. But the adjudicator very soon decided in Schultz's favour.
"Bleaney v. Dean, a Q.G.D. (Slav Defence) was a level affair up to the interval. Afterwards the Oxonian's lack of endgame knowledge led to his getting a lost game, and he resigned after 43 moves. Stansfield v. Harrington was a Q.G.D. with 3 ...B-Kt5, in which White won first one Pawn and then another, and Black resigned on the 30th move. The game on board 5 was even shorter, Lloyd being completely outplayed by Brocklesby in a Three Knight's Game. Only 22 moves long, this was the first game to finish, before the interval. On board 6 a Four Knights' Game showed Close much stronger than his Argentine adversary. He won two Pawns and then a Knight, Ludueña struggling on to the 42nd move with stoical endurance of pain. Board 7 gave Oxford their only point. Peters, who was seven years at school in Rhodesia, has not played chess very long and was hardly expected to be his side's one bright spot. But he brought off a nice, though simple, trap which yielded him a Pawn - two Pawns if he had wished it - and the adjudicator was able to give a quick decision in his favour. His opening was a Q.P. (Colle Variation), which he had the chance of studying in the match v. Lud-Eagle two days earlier.
"The combined Universities played the Insurance C.C. on March 16. Six past players took part, and although the combined team was strong the Insurance club prevailed by 10½-7½. On March 17 they played the Hampstead C.C., who were very poorly represented, and the combined team won by 10½-4½. On March 18 a strong contingent of "past" members of the Universities turned out for the match against City of London, including the British champion, W. Winter. The Universities won by 10½-7½.
"... We may add that the individual championship of Cambridge University has been won by R. G. Stansfield; but not all the strong players entered. At Oxford F. G. Tims-Collins won the championship easily. The inter-college tournament at Cambridge (a knock-out) was won by Magdalene, led by D. B. Schultz. At Oxford the affair is an "American" tournament, and is not yet finished."
---
Francis George Tims Collins (born 1915, Greenwich, London, died 27 November 1943, in action over Germany)
Francis George Tims Collins won the London Boys' Championship in (Jan) 1933 (see photo below) and was the London League's nominee for the British Boys' Championship in April 1933. He went to Aske's Hatcham School, London (BCM, June 1933, p244). In 1933 he tied first with Arthur William J Down for the British Boys' (Under 18) Championship (they both scored 2½/3 in the final), but Down won the play-off. Played in the 1935, 1936 and 1937 Varsity matches. Won the Civil Service Championship (Barstow Trophy) in 1938 and 1939.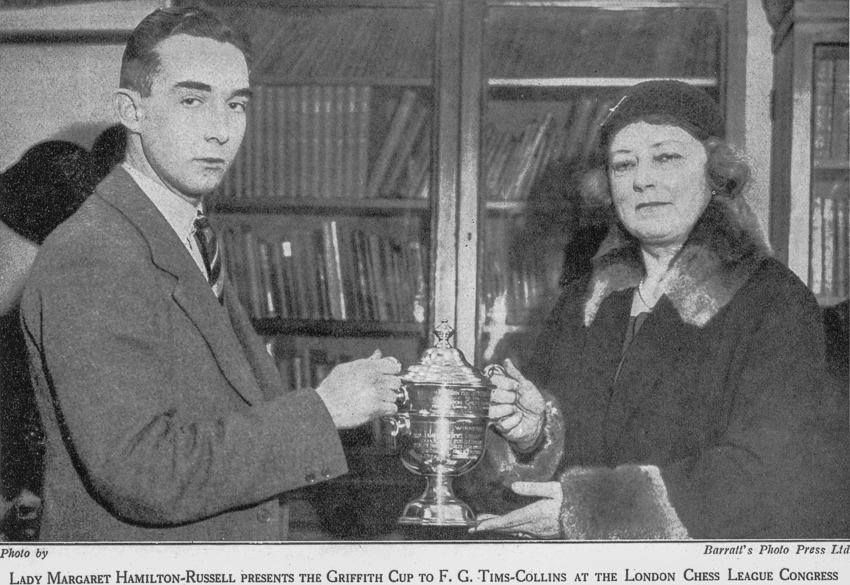 Francis George Tims Collins (1915-43) receives the trophy for winning the 1933 London Boys' Championship from Lady Margaret Hamilton-Russell (1874-1938)
(first published as a frontispiece to the February 1933 issue of BCM)
[CHESS 1944-03, p85, under the title "Tims Collins Missing"] "According to Mr [Julius] Du Mont, FG Tims Collins is reported missing from a bombing raid. How we hope that this genial and universally popular chess congress-ite managed to bale out!" Sadly, not so - FG Tims Collins was killed on the night of 27 Nov 1943 in a Lancaster bomber over Heuchelheim, Germany, on a mission to bomb Berlin. He was a Flight Lieutenant (Wireless Operator/Air Gunner), in the Royal Air Force Volunteer Reserve, 101 Squadron. Buried Dürnbach War Cemetery, Bad Tolz, Bayern, Germany. (Grave Ref: Collective grave 11. C. 26-28.)
Commemorated on the Second World War Memorial
in the Chapel Passage, East Wall, Balliol College, Oxford. (see also
my contribution to a thread on the English Chess Forum
, 4 May 2015, and my article from the November 2010 issue of CHESS,
reproduced here on the ChessBase website
)
Graham Powell Britton - born 2 February 1913 (Hastings, Sussex), died 16 April 1978 (London)
Some biographical information about him already posted some years ago at this website may be found here.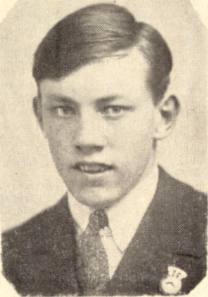 Graham Powell Britton, Hampshire Chess Champion 1931
Taunton's School Southampton
(photo from English Counties Chess Unions Combined Year-Book 1931/32, p106)
---
Brebis Bleaney (1915-2006) Played in the 1936, 1937 and 1938 Varsity matches. Wikipedia. Physicist; Lecturer in Physics, Balliol College, Oxford 1947-50; Fellow and Lecturer in Physics, St John's College, Oxford 1947-57, Tutor 1950-57, Honorary Fellow 1968; Research Fellow, Harvard University and MIT 1949; University Demonstrator and Lecturer in Physics, Oxford University 1945-57, Dr Lee's Professor of Experimental Philosophy 1957-77 (Emeritus); FRS 1950; CBE 1965; Warren Research Fellow, Royal Society 1977-80, Leverhulme Emeritus Fellow 1980-82; Fellow, Wadham College, Oxford 1957-77, Senior Research Fellow 1977-82, Emeritus Fellow 1982-2006. [The Independent, Obit., 2006] Captained school & university chess clubs.
Dr Horacio Jaime Harrington y Merani (born 7 September 1910, Bahía Blanca, Prov. of Buenos Aires – died 1973, Buenos Aires) Played in the 1936 Varsity match. Geologist (degree, doctorate Buenos Aires), 1940s, 1960s. Prince of Wales Fellowship in Oxford (Ph.D). Professorships in Geology in Argentina and the USA. Wikipedia (in German).
Antony Charles Lloyd (1916-1994) Played in the 1936 and 1937 Varsity matches. Known as "Tony". Born into a family that was part of the Fabian circle (including the Webbs, Bernard Shaw, HG Wells and Maynard Keynes). British Academy article. Private schooling, followed by Shrewsbury, exhibition to read 'Greats' (classics) at Balliol. After Oxford, lectured in Philosophy at Edinburgh. WW2 service, tank commander in Italy. In 1946 lecturer in logic at St Andrews. 1957 professor of philosophy at Liverpool University. Elected Senior Fellow of the British Academy in 1992. Author of 'The Anatomy of Neoplatonism' (Clarendon Press).
Froilán Pindaro Ludueña (1906–1982) Played in the 1936 Varsity match. Pharmacologist and doctor. Research assistant in pharmacology, Stamford University. Born in Argentina, eventually settled in the USA and naturalised American citizen in 1953 (died in Albany, New York).
Arthur John Peters (1914-1995) Played in the 1936 and 1937 Varsity matches. Played in the BCF Major Open in 1937 and 1938, finishing 9th= and 5th= respectively. Served in the Royal Navy: often referred to as "Commander AJ Peters" in chess resports (and known as "John". Active in Scottish chess in the 1950s, later represented Hampshire at county chess. Champion of Portsmouth CC in 1965 and 1967 (joint).
---
Francis Ernest Appleyard Kitto (King's) (1915-1964). Known as "Frank". Played in the 1934, 1935, 1936 and 1937 Varsity matches. - born 3 February 1915, died 28 November 1964. Notable player in the west of England from the 1930s to the 1960s. At the 1938 BCF Major Open, he finished 1st= with Dr. Seitz. Bomber pilot during the war. In 1948 shared 1st place with Max Euwe in the Plymouth International, ahead of Winter, Dr. List, ARB Thomas, etc. Played for Great Britain in the 1948 match versus the Netherlands, scoring ½/2 versus van Steenis. Won the WWest of England Championship twice, in 1951 (shared with Ron Bruce) and 1955 (outright). In 1955 he also won his club and county championships, and finished first in the Paignton Premier. Biography, Chess Devon website.
David Bernard Schultz (1915-1993) Played in the 1935, 1936, 1937 and 1938 Varsity matches. Changed his name to David Bernard SCOTT in 1939, and was generally known as Bernard Scott. Obituary [BCM, Dec 1993, p677]: "We report with regret the death of D. B. Scott (London, 27.viii.1915 - Hove, 7.xi. 1993) a player prominent in Middlesex and Sussex circles. He was a mathematician who graduated from Cambridge, held posts at the University of London from 1939 onwards and founded the maths department at the University of Sussex, where he was professor from 1962 to 1980. A member of the Hampstead club, he helped R. C. Griffith keep the BCM afloat during the war by contributing game notes (including a win of his against Winter) and was Sussex Champion in 1965. I recall him telling of a wonderful occasion for him when, at a pre-war Margate tournament, Capablanca made an observation about his game of that day, then sat down to show a missed winning method and then duly refuted suggestions from a voice at the back of the crowd which happened to come from ... Flohr! Resident in Hastings since 1987, Bernard Scott was very helpful and friendly in many ways. He attended some of the Kasparov-Short games and wished to reconcile Tony Miles and Ray Keene at that time. B[ernard].C[afferty].
[Extract from The Independent obit, 18 Dec 1993]: Lecturer in Mathematics, Queen Mary's College, London 1939-46; Lecturer in Mathematics, Aberdeen University 1947; Lecturer in Mathematics, King's College London 1947-53, Reader 1953- 62; Professor of Mathematics, Sussex University 1962-80 (Emeritus); founding Professor of Mathematics at Sussex University, from 1962 to 1980, and the Independent's first chess writer. Full Independent Obituary. Was a cousin of Leonard Richenberg.
John Dean (1917-1983). Paediatrician, University of British Columbia, Canada, from 1955. MA, MB, BChir Cantab (1942), MRCP (1947) FRCP (1973). Educated at Wednesbury High School, obtaining an exhibition in natural sciences to St Catharine's College, Cambridge, where he was awarded first class honours in Part I of the natural sciences tripos in 1938. He received his education in clinical medicine at the Westminster Hospital medical school. Commissioned as temporary surgeon lieutenant RNVR and served in the Royal Navy, in HMS Ready, for three years. Emigrated to Vancouver, Canada, in 1955. Took part in the 1935 British Boys' Championship at Hastings, winning his preliminary section ahead of JF O'Donovan - who played a board below him in the 1939 Varsity match - but lost to Frank Parr in the final section to finish 3rd. Played in the 1936, 1937, 1938 and 1939 Varsity matches, and also in the post-war Cambridge Past vs Oxford Past matches. [primary biographical source]
Ronald Grubb Stansfield (1915, Southampton – 1993, Canterbury, Kent) Played in the 1935, 1936 and 1937 Varsity matches. Only child of the physicist Herbert Stansfield (1872-1960) and his wife Edith Grubb. Was at King Edward VI's School, Southampton (BCM, June 1933, p244). Played in the 1933 British Boys' Championship. He matriculated at Clare College, Cambridge, in 1933, and was awarded his BA in 1936, and MA in 1940. Stansfield was educated at Clare College Cambridge and undertook particle physics research at the Cavendish Laboratory, University of Cambridge. During the war he became a Member of the Operational Research Section of Fighter Command. After the war he went to the Department of Scientific and Industrial Research (DSIR) later moving to City University as Reader in Industrial Sociology. In addition to being a founder member of the Ergonomics Society he was actively involved with numerous societies concerned with anthropology, history of science, operational research, physics, psychology (BPS), sociology and the British Association. [Various sources online]
Edward Willingham Brocklesby (1914-2004) Played in the 1935 and 1936 Varsity matches. Played for Kent in the 1930s and Oxfordshire later. Had an elder brother Sydney Hugh Brocklesby (1909-1997) who was also a chess player (I played him myself in 1971 at a tournament in Oxford - JS).
Hubert Michael Close (1914-1999) Played in the 1936 Varsity match. Attended University College School, Hampstead. 2nd in part I of the historical tripos, 1st in Part 2 of English (1936). Emigrated to India in 1937 to take up a post teaching English in Delhi. Served with the Rajputana Rifles during WW2, and moved to Peshawar in 1947, where he taught English and history at Islamia College before moving to Edwardes College. Author of A Pathan Company (1994) and Attlee, Wavell, Mountbatten and the Transfer of Power (1997). OBE, 1984. Memoir of him.
Donald William Greenwood (1917–1970) Played in the 1936 Varsity match. Died in Chapel-en-le-Frith, Derbyshire.
All material © 2020 John Saunders