BRITBASE - British Chess Game Archive
Tournament: 126th Varsity Match • Venue: RAC Club, Pall Mall, London • Date: 8 March 2008
Download PGN • List of Varsity Matches • Back to 2007 • Forward to 2009
John Saunders reports: The 126th Varsity Chess Match between Oxford University and Cambridge University was held at the RAC Club, Pall Mall, London on 8 March 2008. The match sponsor was Henry Mutkin and match arbiters were IM Bob Wade and David Sedgwick. This was to be the last time that Bob Wade officiated at the match as he died on 29 November that year. He is thought to have officiated at the Varsity match 50+ times in some capacity (arbiter in recent years and adjudicator previously), though Bob himself thought he had missed a few. From 2009, a brilliancy prize was set up in his honour.
2007«

2008 Varsity Chess Match

»2009
Bd
Oxford University
Rating
Nat
2008
Cambridge University
Rating
Nat
1w
Tom Eckersley-Waites (Keble)
2215
ENG
0-1
Li Wu (Churchill)
2344
ENG
2b
Alvar Kangur (Pembroke)
2231
EST
½-½
Peter Roberson (Churchill)
2220
ENG
3w
Benedikt Wagner (Wolfson)
2158
GER
0-1
Adam Eckersley-Waites (Queens')
2199
ENG
4b
Robert Heaton (St Catherine's)
2095
ENG
1-0
J Stuart Robertson (Trinity)
2060
ENG
5w
Steffen Schaper (Exeter)
2100
GER
1-0
Mikhail Tyomkyn (Corpus)
2040
GER
6b
Carl Bicknell (Wycliffe Hall)
2050
ENG
½-½
Martin Rohrmeier (Darwin)
2000
GER
7w
Graham Morris (Balliol)
2038
ENG
1-0
Tariq Hassen Oozeerally (Magdalene)
1912
ENG
8b
Agnese Salputra (Keble)
1800e
LAT
0-1
Julie Kourtseva (Newnham)
1700
MLT
Av. Rating 2085.8
4-4
Av. Rating 2059.3
Guest of honour Daniel Johnson made the ceremonial first move on top board on behalf of Oxford's Tom Eckersley-Waites. At the post-match dinner, IM Bob Wade announced that Robert Seaton of Oxford had won the best game prize for his win on board four, which had been the first game to finish.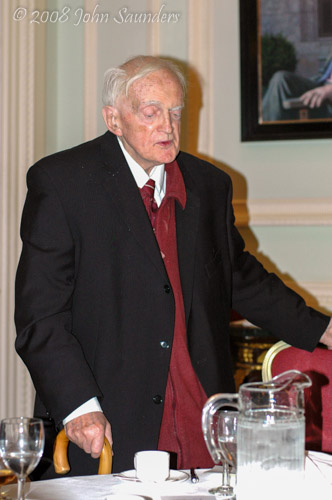 Bob Wade officiating at what was to be his last Varsity match (© 2008 John Saunders)
Oxford captain Steffen Schaper won the toss and chose to take White on the odd-numbered boards. The match commenced around 12.23pm, with the time control set at 40 moves in 2 hours, followed by one hour for all remaining moves.
The fight was intense and spectators (who included GMs Jonathan Speelman, Michael Stean and Ray Keene) had to wait until 3.35pm before the first game finished, with Oxford scoring first blood on board four - Robert Seaton beat Stuart Robertson with Black, playing a brisk Dutch-style kingside attack. At 4pm Cambridge levelled the scores when their board three Adam Eckersley-Waites emerged triumphant from a messy tactical game. Fifteen minutes later Cambridge took the lead when Agnese Salputra overstepped the time limit on board eight (her position was worse anyway). But Oxford struck back to level the score at 2-2 at 4.25pm when Graham Morris completed an efficient demolition job on board seven.
So there were four games completed and four still going at the time control. Considerable time passed before the next game finished, when the two players on board six decided discretion was the better part of valour and agreed to a draw in a tricky position. Later analysis suggested that Black (Oxford) might have emerged a pawn to the good but whether it was winnable remains a moot point.
That left boards 1, 2 and 5 still going. The top board had looked very favourable for Cambridge since before the move 40 time control so the Light Blues seemed better placed. At 5.20pm board two was agreed a draw as the position was repeated - Fritz entirely concurs with this decision, scoring the position when the draw was agreed at exactly 0.00, repetition or no repetition. Soon after, board one ended in the inevitable Cambridge win which meant they were one up with one to play. However the Cambridge man on board five was a pawn down with his king horribly exposed to various checking possibilities. The ice-cool computer engine assesses the position as perfectly defensible but, with the clock ticking and your team's hopes of victory riding on your shoulders, it was a very difficult thing for a flesh and blood chessplayer to find a series of precise moves.
A drawn match makes it Cambridge's 56 wins to Oxford's 51, with 19 matches drawn.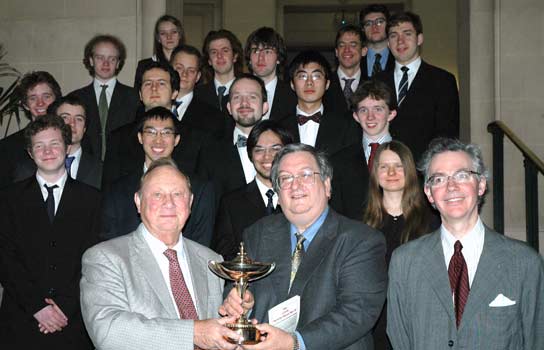 2008 players, sponsors and guests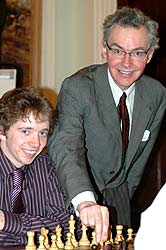 Daniel Johnson makes the first move for Tom Eckersley-Waites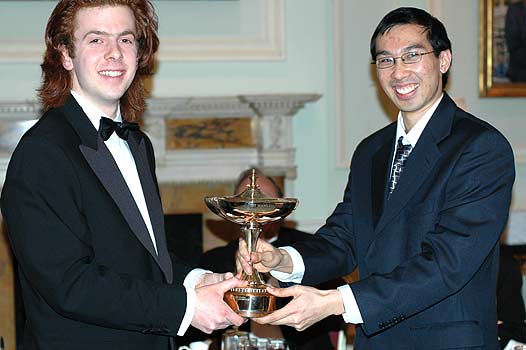 Steffen Schaper (Oxford) and Richard Lee (Cambridge) hold the Margaret Pugh Trophy

© 2009 John Saunders, all photos and text - not to be used without permission