BRITBASE - British Chess Game Archive
Tournament: 134th Varsity Match • Venue: RAC Club, Pall Mall, London • Date: 5 March 2016
Download PGN • List of Varsity Matches • Back to 2015 • Forward to 2017 • last edited Sunday November 15, 2020 3:23 PM
John Saunders reports: The 134th Varsity Chess Match between Oxford University and Cambridge University was held at the Royal Automobile Club, Pall Mall, London on 5 March 2016. The match sponsors were the Royal Automobile Club. The match arbiter was David Sedgwick, with David Clayton operating the live boards.
2015« 2016 Varsity Chess Match »2017
Bd
Oxford University
Rating
Nat
2-6
Cambridge University
Rating
Nat
1b
David Pires Tavares Martins (Worcester)
2407f
POR
0-1
Daniel Howard Fernandez (Queens')
2472m
ENG
2w
Benjamin Foo Zhi Rong (Magdalen)
2244
SIN
½-½
Yang-Fan Zhou (Churchill)
2465m
ENG
3b
Henrique Rui Neves Aguiar (Balliol)
2186
POR
½-½
Samuel Franklin (Trinity)
2300f
ENG
4w
Aleksandar Monev (Keble)
2167
BUL
0-1
Gregory Young (Queens')
2386
USA
5b
Gordon Scott (Merton)
2163
ENG
0-1
Rafe Martyn (Corpus Christi)
2247f
ENG
6w
Rhys Cumming (New)
2173
ENG
0-1
Jean-Luc Weller (Churchill)
2249
ENG
7b
Jamie Horton (Christ Church)
2100
ENG
0-1
Bram Van der Velden (King's)
2170c
NED
8w
Alexandra Kozera (Worcester)
1876
POL
1-0
Maria Wang (Selwyn)
1831
ENG
Av. Rating = 2164.5
2-6
Av. Rating = 2265.0
Play started at 12.18pm and the time limit was 40/2 hrs, then remaining moves in one hour. Cambridge non-playing captain, Anna York-Andersen (Pembroke), won the toss (conducted by Stephen Meyler) and chose White on the odd boards.
The first result came at 4.20pm, after four hours play, with Rhys Cumming, the Oxford board six, being checkmated by Jean-Luc Weller of Cambridge. A minute or two later, an evenly-contested game on board three ended in a draw, so the score was 1½-½ in favour of Cambridge.
At 4.50 Oxford chalked up their first full point on board eight, where they enjoyed their only rating superiority, thus levelling the scores at 1½-1½. But the Dark Blues' joy was short-lived as, moments later, Cambridge cashed in their advantage on board four. This was followed by another draw on board two, to make the score 3-2 to Cambridge.
At 5.30pm, IM Daniel Fernandez, Cambridge's board one, won his game, making the score 4-2. This game involved a major turnaround in fortunes as the Portuguese FIDE Master David Martins had stood considerably better for much of its course, but become confused about how to handle the endgame.
The match score brought back memories of 2015 when Oxford had recovered from a 2-4 deficit in remarkable fashion to draw 4-4. Could they do so again? Not really: it would have been beyond their wildest dreams since one of the Cambridge players had a winning rook and pawn endgame and their other man also had an edge.
Twenty minutes later, the Oxford goose was finally cooked. Their captain, Gordon Scott, resigned his hopeless rook and pawn endgame position, and Rafe Martyn thus had the satisfaction of being the match winner. Score 5-2 to Cambridge, with one to play, but the result of the match was already decided.
Board seven continued for a good twenty minutes, but the Cambridge man, Dutchman Bram van der Velden, no longer under pressure as regards the match result, played coolly and accurately to beat Jamie Horton.
The final score of 6-2 to Cambridge probably reflected the large rating differential between the sides. The Light Blues now lead the 134-match series by 59 wins to Oxford's 53, with 22 drawn matches.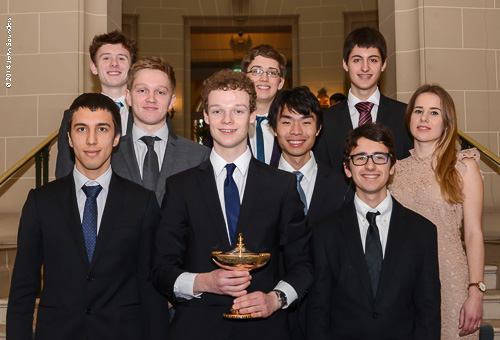 2016 Oxford University team
Left to right: Aleksandar Monev, Daniel Sutton (reserve), Rhys Cumming, Gordon Scott (captain), Jamie Horton, Benjamin Foo,
David Pires Tavares Martins (back), Henrique Rui Neves Aguiar, Alexandra Kozera.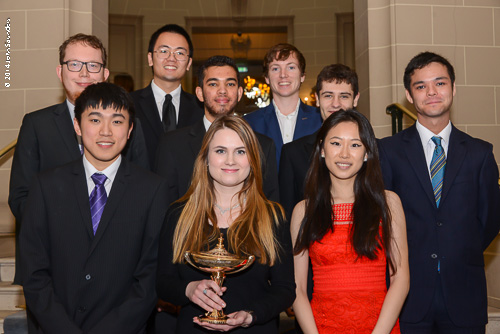 2016 Cambridge University team
Left to right: Bram van der Velden, Yang-Fan Zhou, Gregory Young, Daniel Fernandez, Anna York-Andersen (captain), Rafe Martyn, Jean-Luc Weller, Maria Wang, Sam Franklin.
© 2016 John Saunders, all photos and text - not to be used without permission