BRITBASE - British Chess Game Archive
Tournament: 140th Varsity Match • Venue: RAC, Pall Mall, London • Date: 12 March 2022
Download PGN • List of Varsity Matches • Back to 2021 • Forward to 2023 • edited Monday May 1, 2023 7:17 PM
John Saunders reports: The 140th Varsity Chess Match between Oxford University and Cambridge University was held at the Royal Automobile Club, Pall Mall, London on 12 March 2022. The match sponsors were the Royal Automobile Club. The chief match arbiter was Matthew Carr who was also in charge of operating the live boards. Oxford won the toss and chose White on odd boards.
2021«

2022 Varsity Chess Match

»2023
Bd
Oxford University
Rating
Nat
2022
Cambridge University
Rating
Nat
1w
Tom O'Gorman (Hertford)
2357f
IRL
1-0
Matthew J Wadsworth (Queens')
2432m
ENG
2b
Filip Mihov (Balliol, captain)
2255
MKD
0-1
Harry Grieve (St Catharine's)
2381f
ENG
3w
Victor Vasiesiu (Hertford)
2276f
ROU
½-½
Koby Kalavannan (St Catharine's)
2324f
ENG
4b
Daniel Karim Abbas (Magdalen)
2228f
ENG
½-½
Miroslav Macko (Trinity)
2273f
SVK
5w
Max French (Wadham)
2231
ENG
0-1
Jan Petr (Trinity)
2282f
CZE
6b
Dominic Miller (Somerville)
2123
ENG
1-0
Declan Shafi (Pembroke, captain)
2188
SCO
7w
Akshaya Kalaiyalahan (Regent's Park)
2153f
ENG
1-0
Ognjen Stefanovic (Trinity)
2109
SRB
8b
Daniel Sutton (St John's)
1877
ENG
½-½
Imogen A L Camp (Queens')
1829wc
WLS
Av. Rating = 2187.5
4½-3½
Av. Rating = 2227.2 2239.1
Oxford reserve: Alexandre Warr-Esser (St Anne's - FRA 1921). Cambridge reserve: Ognjen Stefanovic (Trinity - SRB 2109)
N.B. Daniel G H Gallagher (Pembroke - 2204 ENG) dropped out (unwell) - Stefanovic comes in on board 7.
First blood to Cambridge on board 2 as Harry Grieve overcomes Filip Mihov. Cambridge 1, Oxford 0.
4:35pm: at the time control Oxford overtake Cambridge with wins on boards 6 and 7. Akshaya Kalaiyalahan had been winning for a long time but Dominic Miller's win came out of the blue towards the end.
5.30pm: Tom O'Gorman scores a great win against Matthew Wadsworth on top board to put Oxford 3-1 ahead. A substantial lead but they have dodgy positions on remaining boards. Can Cambridge fight back?
5.36pm "Board four is on a different timescale from the rest of us - they could still be here next week." A wry comment from former (1970s) Cambridge Varsity player Richard Eales on the Macko-Abbas game, where hardly any material has yet come off the board.
6.10pm: Cambridge win board five so the score is now Oxford 3, Cambridge 2.
6.15pm: a draw on board three. Oxford 3½, Cambridge 2½. Two games to go.
6.25pm Board 4 drawn quickly followed by a draw on board eight so Oxford won by the odd point.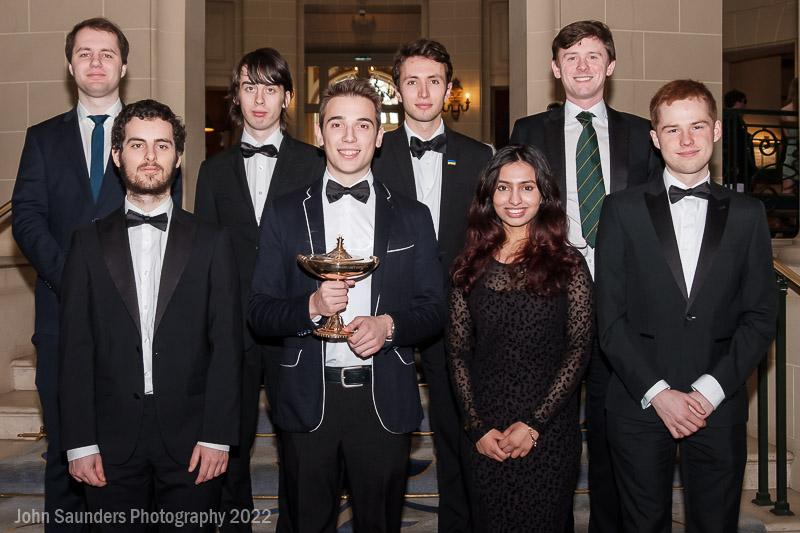 Oxford team: back, left to right: Victor Vasiesiu, Tom O'Gorman, Daniel Karim Abbas, Daniel Sutton.
Front, left to right: Dominic Miller, Filip Mihov (captain), AkShaya Kalaiyalahan, Max French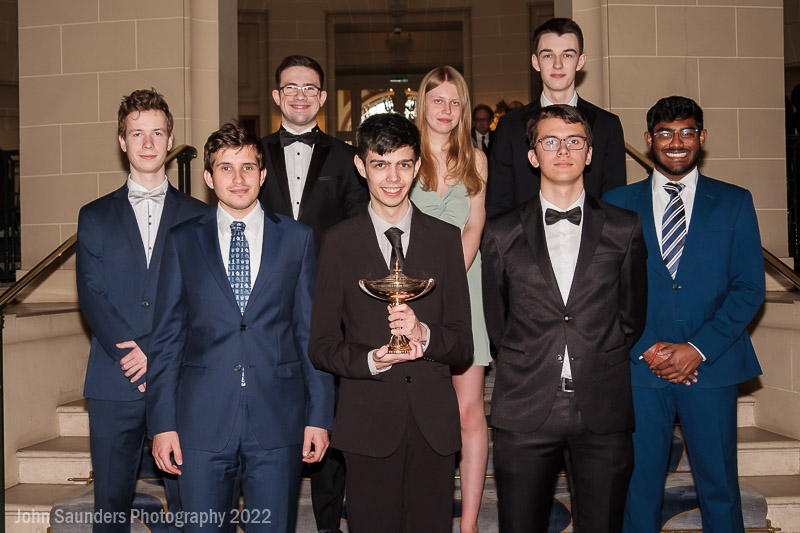 Cambridge team: back, left to right: Miroslav Macko, Matthew Wadsworth, Imogen Camp, Harry Grieve.
Front, left to right: Jan Petr, Declan Shafi (captain), Ognjen Stefanovic, Koby Kalavannan
© 2022 John Saunders, all photos and text - not to be used without permission
---
File Updated
| Date | Notes |
| --- | --- |
| 11 March 2022 | Uploaded team lists. |
| 9 July 2022 | Andy Ansel alerted me to a difference in the game score of O'Gorman-Wadsworth: the score generated by the DGT board had 40 Bh1 but the score as annotated by O'Gorman and published in CHESS, May 2022 has 40 Be4. I have inserted the latter as a note. The position soon transposes anyway. |