BRITBASE - British Chess Game Archive
Tournament: 129th Varsity Match • Venue: RAC Club, Pall Mall, London • Date: 5 March 2011
Download PGN • List of Varsity Matches • Back to 2010 • Forward to 2012
John Saunders reports: The 129th Varsity Chess Match between Oxford University and Cambridge University was held at the RAC Club, Pall Mall, London on 5 March 2011. The match sponsor was Henry Mutkin and match arbiter was David Sedgwick.
2010«

2011 Varsity Chess Match

»2012
Bd
Oxford University
Rating
Nat
4½-3½
Cambridge University
Rating
Nat
1b
Amon Simutowe (Green Templeton)
2481g
ZAM
½-½
Gabor Pinter (Queens')
2363m
HUN
2w
David Zakarian (St Antony's)
2362
ARM
1-0
Peter Roberson (Churchill)
2274
ENG
3b
Ravindran Shanmugam (Balliol)
2293f
SIN
1-0
Mitesh Shridhar (Churchill)
2116
USA
4w
Athanasios Tsanas (St Cross)
2264
GRE
½-½
Chris. Graw (Sidney Sussex)
2257
GER
5b
Robbie Coleman (Wolfson)
2042
SCO
1-0
Sven Quist (Homerton)
2150c
GER
6w
Steffen Schaper (Exeter)
2000e
GER
½-½
Mikhail Tyomkyn (Corpus)
2106
GER
7b
Murray David (Brasenose)
2024e
ENG
0-1
Richard Lee (Christ's)
2000e
ENG
8w
Susan Yu (Linacre)
1680
ENG
0-1
Izabella Khazagerova (Fitzwilliam)
2080
RUS
Av. Rating 2143
4½-3½
Av. Rating 2168
Captains were Yangshi Yu (Oxford) and Alexander James Gordon-Brown (Cambridge). The match commenced at 12.30pm, with the time control set at 40 moves in 2 hours, followed by one hour for all remaining moves.
First result at 4.20pm - all the games involved time scrambles to some degree. Just around the four-hour mark, Oxford went into a 2½-½ lead and not long thereafter completed their victory 4½-1½. Cambridge won the final two games, on board seven and eight, to narrow the gap but in truth it might have been a more comfortable win for Oxford had they taken all their opportunities.
The Bob Wade brilliancy prize went to the Armenian player David Zakarian, while the best game prize went to the draw between Athanasios Tsanas and Christopher Graw on board four.
The overall scores in the series (which started in 1873) were Cambridge 56 wins, Oxford 53 wins and 20 drawn matches.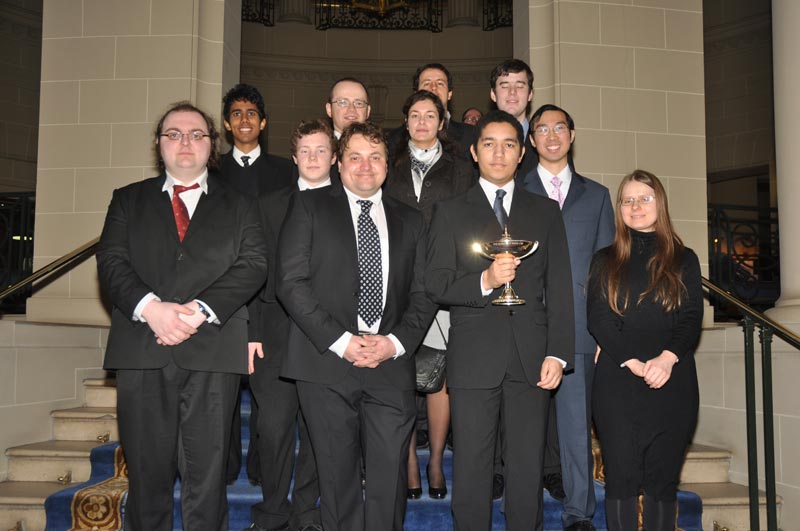 2011 Cambridge Varsity Team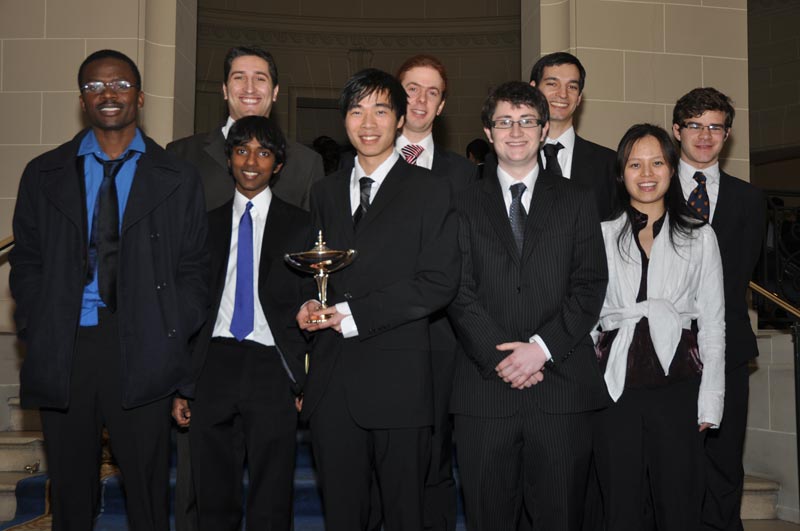 2011 Oxford Varsity Team


© 2011 John Saunders, all photos and text - not to be used without permission