BRITBASE - British Chess Game Archive
Event: 58th Varsity Match • Venue: City of London Chess Club, Wardrobe Court, London EC • Date: 17 March 1934
Download PGN • List of Varsity Matches • Back to 1933 • Forward to 1935 • last edited: Tuesday November 17, 2020 7:02 PM
The 58th Varsity Chess Match between Oxford University and Cambridge University was held at City of London Chess Club, Wardrobe Court, London EC, on 17 March 1934. All game scores from this match are available.
Sources: Oxford-Cambridge Chess Matches (1873-1987), compiled by Jeremy Gaige, Philadelphia 1987; BCM, April 1934, p149.
Match notes
* = club presidents [BCM gives JM Ainslie, but I think it should be IM Ainslie, as in BCM 1933]
BCM, April 1934, p149: "The "week" of the Oxford and Cambridge chess teams in London extended this year from March 10 to 20, with the Inter-University match itself on the same afternoon as the Boat Race. On Saturday, March 10, London University was met by Oxford alone, and won by 5½-2½. On Monday, March 12, Oxford alone again met the Stock Exchange, and, after a match in which there are many adjudications, the score at the close of play was 1½-½ in favour of Oxford. On March 13 the Combined Universities met Hampstead, and were defeated by 7-6. On March 14 the annual encounter with the City of London C.C. took place. Though the Universities side was not at full strength, a close struggle took place. The City only won by the odd game (9½-8½), Rupert Cross scoring a good victory for the Universities on the top board over R. P. Michell, and R. L. Mitchell winning on the second through his opponent, E. G. Sergeant, exceeding the time-limit."
"On March 15 Oxford engaged the Lud-Eagle in a 6-board consultation match and were defeated by 4-2; while Cambridge met the Athenaeum and were beaten by 6-4. On March 16 the Combined Universities took on West London at the rooms of the City of London. Though the West Londoners had visited and made a good fight against each University separately earlier in the season, beating Oxford and losing to Cambridge by 2 points only, the result now was an easy win for the combined team by 13½-6½."
"On the afternoon of March 17 the 58th match between the two Universities was played at the City of London, under the usual conditions. The record previous to this encounter stood at 26-25 in Cambridge's favour, with 6 drawn matches, so that once more Oxford were in sight of a levelling--up of the score-if they could win. As they had six of last year's victorious team, including Rupert Cross, against Cambridge's three old choices only, this did not look impossible. The first part of the match, up to the tea-interval, was unusually steady, and devoid of the accidents so common in this event. On the second board Ainslie, the Cambridge president, lost a Pawn to Montgomerie; and on the fourth the position was very critical, the Cambridge player looking as if he must soon make a substantial gain in material. On the general aspect of affairs at this point, the Light Blues' supporters were rather sanguine about their prospects."
"After the resumption of play, however, things ran in Oxford's favour, though it was not until 6 o'clock that first blood was drawn for them by Orr on Board 5. He reached the end-game with Kt and Ps against Ps only, and had no difficulty in scoring a victory. Montgomerie followed with another Oxford success, for Ainslie, though he secured Bs of opposite colours, could not overcome his inferiority in material. The next result was a draw on Board 6, after a very steady and not very interesting game, making the score Oxford 2½, Cambridge ½."
"Two more results came almost together, Zapoleon scoring for Cambridge on Board 3 and Cross for Oxford on Board 1. Zapoleon, it may be remarked, is a player of chess experience far beyond the ordinary undergraduate's. He played in the American National Tournament, New York, as long ago as early in 1913, in the company of Capablanca, Marshall, Jaffe, Janowski, Chajes, Kupchik, etc., and, though he then came out last, he succeeded in drawing with Marshall and beating Jaffe. He was out of the game for a considerable period afterwards, but has evidently not forgotten how to play it. Cross's win was excellently achieved, though his opponent helped him by transposing two moves."
"Time," which was 7 p.m., arrived with two games still unfinished, and Oxford leading by two points. Against this lead was the fact that Cambridge had a distinct advantage on both boards. The adjudication was performed by W. Winter, with the aid of J. H. Blake, hon. sec. of the City of London. After due consideration they gave a win for Beaumont over the Oxford president, Llewellyn-Smith, on the last board; and, with a little more difficulty, for Kitto against Perkins on Board 4. Thus the match ended in a tie, and Cambridge still leads by one match in the series."
"... on March 19 [1934] the Combined Universities met the Insurance CC in what should have been a 20-board match. The Universities were two mens hort, but the Insurance did not claim defaults. The result was a win for the London club by 9½-8½. The last game to be decided was that on the top between L. Durham and the Oxford player J. Montgomerie. After a long adjudication Montgomerie conceded a win to his opponent.
"On March 20 [1934] Oxford alone met and defeated the House of Commons."
---
Biographical Notes
(Sir) Alfred Rupert Neale Cross (15 June 1912, Chelsea, London – 12 September 1980, Oxford). Jurist, academic lawyer, blind chess player (went blind at the age of one). Known as Rupert Cross. Obituary, BCM, Nov 1980, p576: "Professor Sir Rupert Cross, who died on September 12th [1980], aged 68, was an outstanding authority on law and a Fellow of the British Academy, and was a distinguished chess player in his earlier days. He vied with Sir Theodore H. Tylor as the strongest blind player of his generation. He was educated at Worcester College for the Blind and Worcester College, Oxford, and he played chess for Oxford against Cambridge in four successive years 1930-33 [actually 1931-34 - JS],winning three times on 1st or second board, and losing only to C.H.O'D. Alexander. [In 1934] he was fourth [fourth equal - JS] in the British Championship. After he came down from Oxford he qualified as a solicitor in 1939, and worked for many years with a London firm of solicitors. He then became interested in law teaching, and joined the Law Society's School of Law in 1944, afterwards joining the Law Faculty at Oxford, where he became a Professor at All Souls in 1964. He wrote a number of books on Law, of which Cross on Evidence is still a leading authority. The cheerfulness and good humour which characterised his teaching was readily apparent in his student days, and it was a great loss to British chess when he gave up serious competition in pursuance of his career. He still counted chess, however, as a recreation, which too often nowadays it ceases to be. To his widow, Heather, we extend our appreciative sympathy. A. Perkins." Played in the 1931, 1932, 1933 and 1934 Varsity matches. Wikipedia • Chessgames.com
John Montgomerie (4 September 1911 – 21 July 1995, Winchester, Hampshire). Played in the 1931, 1932, 1933 and 1934 Varsity matches. Barrister. Represented Scotland at the 1937 Stockholm Olympiad. Composer of chess problems and author of The Quiet Game (Davis-Poynter, London 1972). Detailed biography at the Chess Scotland site.
James Macrae Aitken (27 October 1908, Calderbank, Lanarkshire – 3 December 1983, Cheltenham, Gloucs). Scottish chess champion ten times, represented Scotland in four Olympiads. Worked at Bletchley Park as a code-breaker and cryptanalyst, WW2, and thereafter at Cheltenham. Wikipedia, Chess Scotland biography. Games Collection on BritBase.
Nicholas Anthony Perkins (7 December 1912, Easthampstead, Berkshire – 26 May 1991, Newport Pagnell, Bucks) Selected to represent Scotland at the 1939 Buenos Aires Olympiad but was unable to accept the invitation. Later played for Scotland at the 1958 Munich Olympiad. Worked as a code-breaker at Bletchley Park during WW2. Chess Scotland biography. Perkins' own reminiscences at the same website.
Alan Stewart Orr (21 February 1911, Rochford, Essex – 3 April 1991, Warwickshire) Played in the 1934 and 1935 Varsity matches. Rt. Hon. Sir Alan Stewart Orr, OBE. Barrister, judge and from 1971 a Lord Justice of Appeal. Wikipedia. Photos, National Portrait Gallery. RAFVR during WW2 (received OBE). Educ. Fettes College, Edinburgh University (MA) before going to Balliol. Middle Temple. QC, 1958. High Court judge and knighthood, 1965. Retired 1980.
Graham Powell Britton (2 February 1913, Hastings, Sussex – 16 April 1978, London)
Some biographical information about him already posted some years ago at this website may be found here.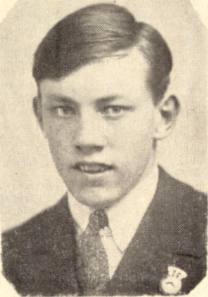 Graham Powell Britton, Hampshire Chess Champion 1931
Taunton's School Southampton
(photo from English Counties Chess Unions Combined Year-Book 1931/32, p106)
Stephen Hubert Llewellyn-Smith (1912-1996) Played in the 1933, 1934 and 1935 Varsity matches. BA, BM, BCh Oxon (1938), MRCP (1946), FRCP (1965). GP with an interest in neurology based in Lewisham, South London. Educated at Winchester College. 1940 joined the RAMC - medical officer, 7th Battalion, Rifle Brigade. (Summarised from the full RCP biography.) The biography mentions his interest in chess but no further chess-related biographical info found as yet.
---
James Marston Craddock (1913-2001) Played in the 1933, 1934 and 1935 Varsity matches. Educ. Cardiff High School and later King Edward's School, Birmingham. After university, became a civil servant (Inland Revenue) but later became a meteorologist (with the Met Office, Bracknell), published a book (The Place of Statistics in Meteorology, 1972). British Boys. (U18) champion in 1929, 1930 and 1931, winning the first two championships with 100% scores. Scored 3/11 in the 1937 British Championship. Represented the Civil Service in matches. In the 1930s played county chess, firstly for Warwickshire, then for Surrey. Later, when living in Dunstable in the 1950s, he played on top board for Bedfordshire, and in the 1960s played for Berkshire (and the local club Premier Precision), into the 1970s. He had a grade of 200 in 1968 (Elo equivalent 2200).
Ian Murray Ainslie (13 December 1912, Ormskirk, Lancs – 21 February 1985) Played in the 1933 and 1934 Varsity matches.
Louis Bernard Zapoleon (21 December 1886, Grodno, Belarus – 27 December 1969, Fort Lauderdale, Florida) Economist. Played in the 1934 Varsity match. Of Washington, DC. Acted as an adjudicator at an Emanuel Lasker simul, Mechanic's Institute, San Francisco, 22 March 1926 (reference). Finished last in the 1913 New York National tournament, lost to Capablanca (erroneously given as a draw in some sources), but drew with Marshall. chessgames.com biography
Francis Ernest Appleyard Kitto (3 February 1915 – 28 November 1964). Known as "Frank". Played in the 1934, 1935, 1936 and 1937 Varsity matches. - born 3 February 1915, died 28 November 1964. Notable player in the west of England from the 1930s to the 1960s. At the 1938 BCF Major Open, he finished 1st= with Dr. Seitz. Bomber pilot during the war. In 1948 shared 1st place with Max Euwe in the Plymouth International, ahead of Winter, Dr. List, ARB Thomas, etc. Played for Great Britain in the 1948 match versus the Netherlands, scoring ½/2 vs van Steenis. Won the WWest of England Championship twice, in 1951 (shared with Ron Bruce) and 1955 (outright). In 1955 he also won his club and county championships, and finished first in the Paignton Premier. Biography, Chess Devon website.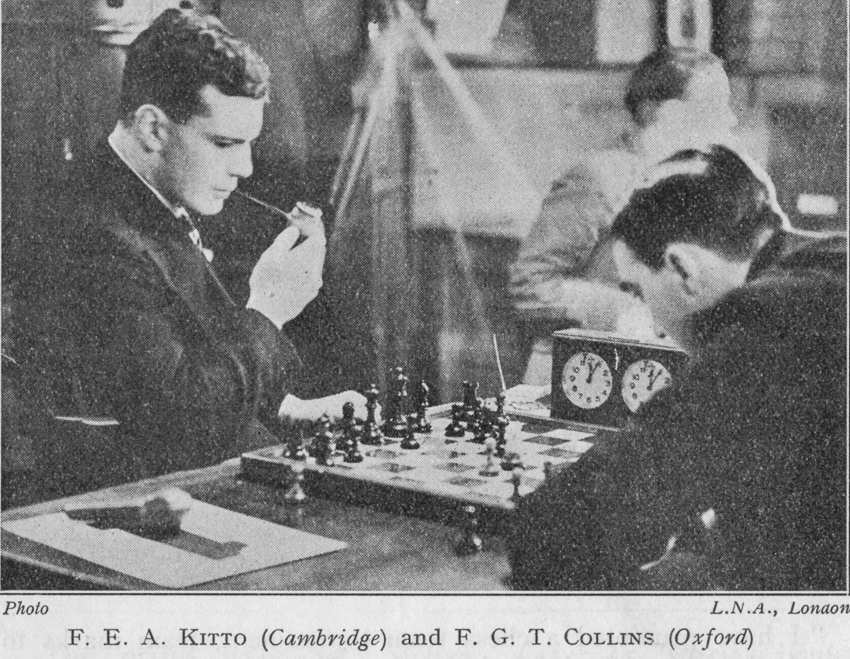 Francis Ernest Appleyard Kitto (1915-64) left playing Francis George Tims Collins (1915-43) at the 1937 Varsity Match
Sir Fred Hoyle (24 June 1915, Bingley, Yorkshire – 20 August 2001, Christchurch, Dorset) Astronomer, professor, author. Wikipedia. "Although Fred did not compete in college sports, he was a frequent spectator at college games, particularly cricket. He did, however, pursue his interest in chess to a high level. In his first year, the university selected him for the team to play against Oxford, for which he won a Half Blue, less prestigious than the award for sports, but still a fine achievement. The following year he was secretary of the college chess club though, during his tenure, it collapsed because he did not find a successor." (Fred Hoyle: A Life in Science by Simon Mitton, Cambridge University Press, 2011) Played correspondence chess. Still keen on chess towards the end of his life, possessing a chess computer.
John Edge (? – ?) Played in the 1934 Varsity match. Nothing else known.
Kenneth Beaumont (18 January 1912 – 1985) Teacher. Came from Huddersfield and returned there after Cambridge. Won the Huddersfield CC club championship eight times. Won the 1954/55 Yorkshire Championship. Qualified for the 1954 British Championship in which he scored 3/11. Graded 5a (177-184) on the 1958 BCF Grading List, having been 4b (185-192) on the previous list.
---
File updated
| | |
| --- | --- |
| Date | Notes |
| 17 November 2020 | Original upload. |
All material © 2018 John Saunders