BRITBASE - British Chess Game Archive
Tournament: 133rd Varsity Match • Venue: RAC Club, Pall Mall, London • Date: 7 March 2015
Download PGN • List of Varsity Matches • Back to 2014 • Forward to 2016 • last edited: Sunday November 15, 2020 3:34 PM
John Saunders reports: The 133rd Varsity Chess Match between Oxford University and Cambridge University was held at the Royal Automobile Club, Pall Mall, London on 7 March 2015. The match sponsors were Henry Mutkin and the Royal Automobile Club. The match arbiter was David Sedgwick, assisted by Peter and Mary Wilson, with Matthew Carr operating the live boards (used for the first time this year). GM Luke McShane was guest of honour.
2014«

2015 Varsity Chess Match

»2016
Bd
Oxford University
Rating
Nat
4-4
Cambridge University
Rating
Nat
1b
David Zakarian (St Anthony's)
2386f
ARM
1-0
Yang-Fan Zhou (Churchill)
2477m
ENG
2w
David Pires Tavares Martins (Worcester)
2293f
POR
0-1
Daniel Howard Fernandez (Queens)
2456m
SIN
3b
Rhys Cumming (New)
2130
ENG
0-1
Richard Weaving (Churchill)
2257
ENG
4w
Gordon Scott (Merton)
2087
ENG
1-0
Rafe Martyn (Corpus Christi)
2253f
ENG
5b
Dominic Foord (New)
2081
ENG
1-0
Jean-Luc Weller (Churchill)
2233
ENG
6w
Howard Chiu (Wadham)
2076c
SIN
1-0
Andrew McClement (Trinity)
2179
SCO
7b
Jude Lenier (Brasenose)
2065
ENG
0-1
Saravanan Sathyanandtha (Trinity)
2163
ENG
8w
Nicole Miranda Gonzalez (Mansfield)
1934wf
CHI
0-1
En Huei Danielle Ho (Murray Edwards)
1974wf
SIN
Av. Rating = 2131.5
4-4
Av. Rating = 2249.0
Play started at 12.30pm and the time limit was 40/2 hrs, then remaining moves in one hour. Cambridge non-playing captain, Dominik Deradjat (Pembroke), won the toss (conducted by Luke McShane) and chose White on the odd boards.
This was a very memorable match, which seemed to be going in favour of rating favourites Cambridge for much of its course but saw a dramatic recovery by Oxford at the end to secure a second successive draw. This was the first time there had been successive drawn matches since 1961, but the first match not to include individual draws since 1995.
As is customary, the match was very tense and there were no decisive results until the very end of the first time control. Spectators had expected the first winner to be Daniel Fernandez for Cambridge, who had been material up for much of the first session but who had some difficulty in dispatching his Portuguese opponent. In fact, the first result was Saravanan Sathyanandtha of Cambridge beating Jude Lenier of Brasenose after playing a very sweet tactic to secure the advantage of two minor pieces for a rook and going onto to close the game out very efficiently.
Oxford had been doing quite well on board three but Rhys Cumming went wrong and Richard Weaving secured a 2-0 lead for Cambridge. At that moment Oxford's chances of getting back into the match looked very bleak indeed. But they too managed to turn a game around, with Howard Chiu's resourceful counterattack against Andrew McClement on board six. Howard Chiu has now won three straight Varsity match games, all against higher-rated opposition. Very few players in the match's long history can match Howard's record. Around the same time Dominic Foord on board five finally managed to cash in on his nagging advantage against Jean-Luc Weller and level the match at 2-2. For this Dominic was awarded the best game prize.
Cambridge, however, still maintained their substantial long-time advantage on board two, and En Huei Danielle Ho gradually outplayed Nicole Miranda on board eight. Those two wins took Cambridge to 4-2 and the brink of victory.
That left boards one and four. As play continued into the sixth hour, the Oxford players on these boards would have quite aware that their games were critical and that they would need to gamble all on victory. In fact, on board four Gordon Scott had won a pawn in the course of the first time control, but Rafe Martyn had battled back to neutralise Scott's play and regain the pawn. However, in doing so his king had become vulnerable in a heavy piece ending. If you believe the computer, Black's position might have been defensible but in real life it proved too difficult for the Cambridge player to find all the necessary defensive ideas. Gordon Scott found a very attractive queen manoeuvre, catching Martyn's rook in a horrible mid-board pincer.
That took the score to 3-4 so the Oxford top board, David Zakarian, needed to do something similar but, with Black against an IM of Yang-Fan Zhou's strength, it was never going to be easy. Nevertheless, there was plenty of cut and thrust in the first time control and David might have clinched the game at move 32 had he seen the full import of a possible 32...Ng3! move. It was a bit complex in time trouble, he opted not to risk it and the game went on. He continued to press but around move 50 it looked rather as if the Oxford player had overplayed his hand (not that he had any option as a draw was no good to his team). But a couple of moves later, in a queen and rook ending not dissimilar to the one which had just come to a conclusion on board four, Yang-Fan Zhou opened the door to a devilish tactic in which the black queen switched back and forth across the board like a metronome. It was superb climax to a memorable match, and a fitting conclusion to the genial Armenian board one's five-game Varsity match career (+3, =1, -1).
Oxford were understandably jubilant, particularly as they were outrated by an average 118 points per board. Indeed, the morning after, they could reflected that, had every chance been taken, the match might have been won. Oxford also cleaned up as regards the best game and brilliancy prizes, which went to Dominic Foord and David Zakarian respectively. This was rather bad luck on the Cambridge board seven whose excellent tactic to win his game thus went unrewarded.
This was the 22nd draw in the 133-match series. Cambridge remain ahead, by 58 matches to 53. On a nationalistic note: the match was a triumph for three Singaporean players, all of whom won their individual games, two for Cambridge and one for Oxford.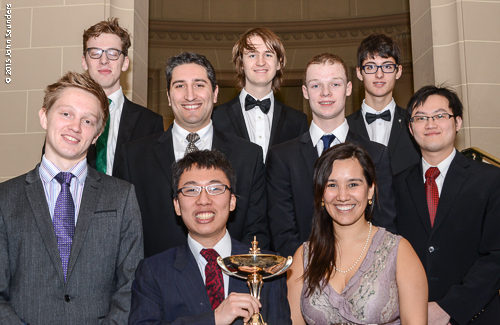 2015 Oxford University team
Left to right: Rhys Cumming, Dominic Foord, David Zakarian, Howard Chiu (captain), Jude Lenier, Gordon Scott,
Nicole Miranda Gonzalez, David Pires Tavares Martins, Sean Wei Xinq Lim.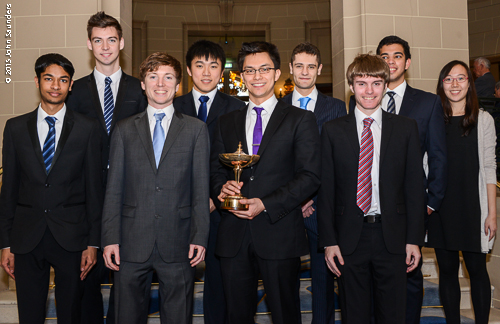 2015 Cambridge University team
Left to right: Saravanan Sathyanandtha, Richard Weaving, Rafe Martyn, Yang-Fan Zhou, Dominik Deradjat (captain), Jean-Luc Weller,
Andrew McClement, Daniel Fernandez, En Huei Danielle Ho.
© 2015 John Saunders, all photos and text - not to be used without permission