BRITBASE - British Chess Game Archive
Tournament: 131st Varsity Match • Venue: RAC Club, Pall Mall, London • Date: 9 March 2013
Download PGN • List of Varsity Matches • Back to 2012 • Forward to 2014
John Saunders reports: The 131st Varsity Chess Match between Oxford University and Cambridge University was held at the RAC Club, Pall Mall, London on 9 March 2013. The match sponsor was Henry Mutkin and match arbiter was David Sedgwick, assisted by Peter Wilson and Mary McDermott. Guest of honour was GM Luke McShane.
2012«

2013 Varsity Chess Match

»2014
Bd
Oxford University
Rating
Nat
3½-4½
Cambridge University
Rating
Nat
1w
Raja Panjwani (St Edmund Hall)
2407m
CAN
1-0
Samuel G A Franklin (Trinity)
2322f
ENG
2b
Ravindran Shanmugam (Balliol)
2375m
SIN
½-½
Rafe Martyn (Corpus Christi)
2258f
ENG
3w
David Zakarian (St Anthony's)
2374f
ARM
0-1
Richard Weaving (Churchill)
2176
ENG
4b
Dominic Foord (New)
2099
ENG
½-½
Daniel Hunt (Jesus)
2057
ENG
5w
Jozef Janovsky (Keble)
2131
SVK
½-½
Vytautas Gruslys (Christ's)
1970
LTU
6b
Howard Chiu (Wadham)
2048c
SIN
1-0
Adam Scibior (Trinity)
2229
POL
7w
Joshua Tan (St Edmund Hall)
e2020
MAS
0-1
Andrew McClement (Trinity)
2128
SCO
8b
Nicole Miranda Gonzalez (Mansfield)
2009
CHI
0-1
Saheli Nath (Queens')
2116wf
IND
Av. Rating 2182.8
3½-4½
Av. Rating 2157.0
Captains were Athanasios Tsanas (St Cross) 2287 GRE (Oxford) and Eoin Devane (Pembroke) 1970 IRL (Cambridge). The match commenced at 12.30pm, with the time control set at 40 moves in 2 hours, followed by one hour for all remaining moves. The coin toss was won by Oxford, who chose white on the odd-numbered boards.

The match was 'even stevens' after two hours' play, with material equality on every board at that stage. Stronger observers thought that Oxford stood better positionally but things began to unravel for them shortly afterwards. The Oxford bottom board got into time trouble, spoilt her position and lost, putting Cambridge one up after about three hours' play. A draw followed on board four, where the Cambridge player had a small material advantage but with no prospect of exploiting it, and then another draw on board two.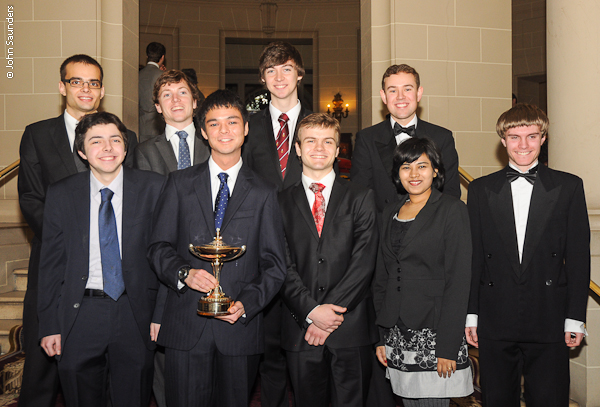 Cambridge (left to right) Adam Scibior, Daniel Hunt, Rafe Martyn, Samuel Franklin, Richard Weaving, Vytautas Gruslys, Eoin Devane, Saheli Nath, Andrew McClement
A major blow to the Dark Blues' hopes occurred around the four-hour mark when Armenian FM David Zakarian succumbed to much lower rated English player Richard Weaving on board three. The Oxford board three struggled throughout to recover from a passive choice of opening for White, and a desperate attempt to complicate backfired completely.
That put Cambridge 3-1 up, but Oxford hit back with a win on board six to narrow the gap. Errors on moves 19 and 20 turned what might have been a win for Cambridge into a total disaster.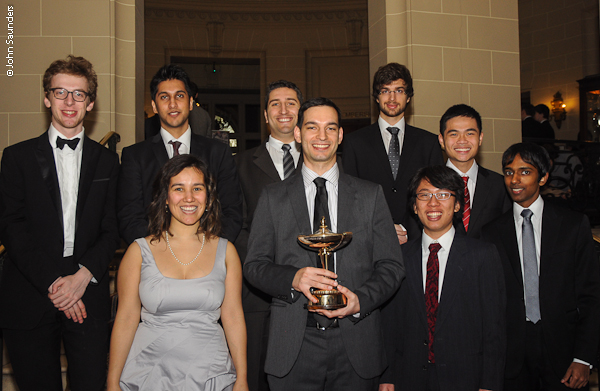 Oxford (left to right): Dominic Foord, Raja Panjwani, Nicole Miranda Gonzalez, David Zakarian, Athanasios Tsanas (match captain),
Jozef Janovsky, Howard Chiu, Joshua Tan, Ravindram Shanmugam
Oxford then levelled the score at 3-3 with a win on top board. Sam Franklin, playing Black for Cambridge looked fine after a lot of material had come off at move 26 but he then fatally weakened his pawns and the Canadian IM expertly exploited this lapse. However, that was as good as the news got for Oxford, since Cambridge stood clearly better in the remaining two games. On board seven the Oxford player's position became gradually worse and he felt obliged to go for a piece sacrifice on the kingside to complicate matters, but it proved ineffective. He lost on time but was completely lost anyway.
That left Cambridge at 'dormy one' - one up and one to play - but Oxford were a pawn down in a double rook endgame on the remaining board. The Cambridge player decided the team result was more important than individual glory and offered the draw which gave Cambridge a match win, after about 4 hours 40 minutes' play (possibly a record for shortness of duration, but there is no way of telling).
Best game: Board 1 Raja Panjani v Sam Franklin.
Brilliancy Prize: Board 6 to Howard Chiu for win as Black v Adam Scibior
(Best/Brilliancy adjudicators: GMs Speelman & McShane)

The overall scores in the series (which started in 1873) are Cambridge 58 wins, Oxford 53 wins and 20 drawn matches.
At the match dinner afterwards, GM Ray Keene remembered Adrian Hollis, a distinguished former player in the match and a fellow of Keble, who had died a few days before. Hollis had been a regular spectator at the match until only a few years before. Other visitors to the 2013 match and/or dinner guests included GMs Michael Stean and Julian Hodgson (who was accompanied by his brother Jeremy), Bill Hartston, Peter Lee, Malcolm Pein (and children), Shaun Taulbut, Ian Reynolds, Terry Chapman, Roger Emerson, Daniel Johnson, David Jones (a Varsity player in the 1940s), Bill Linton (Varsity 1969), David Taylor, Peter Andrews, Sheldon Marshall, Stephen Meyler and Barry Martin.
© 2013 John Saunders, all photos and text - not to be used without permission