BRITBASE - British Chess Game Archive
Event: 55th Varsity Match • Venue: City of London Chess Club, Wardrobe Court, London EC • Date: 21 March 1931
Download PGN • List of Varsity Matches • Back to 1930 • Forward to 1932 • last edited: Wednesday February 15, 2023 3:53 PM
The 55th Varsity Chess Match between Oxford University and Cambridge University was held at City of London Chess Club, Wardrobe Court, London EC, on 21 March 1931. All game scores from this match are available.
Sources: Oxford-Cambridge Chess Matches (1873-1987), compiled by Jeremy Gaige, Philadelphia 1987; BCM, April 1931, pps 157-158; The Times, 23 March 1931 (including all game scores)
Match notes - Oxford boards 1 and 3, Reeve and Bensinger, were both educated at St Paul's School, London.
THE UNIVERSITY CHESS MATCH [BCM, April 1931, p157-158]
"Oxford and Cambridge Universities met at the City of London Chess Club on March 21st, in the fifty-fifth of their annual encounters, the record before the match standing: Cambridge 25, Oxford 24, drawn 5. Thus, as in 1928, Oxford had a chance of drawing level in the series, after a very long stern-chase. Again they failed, but not, as in 1928, by losing; for they drew an encounter marked by the usual vicissitudes incidental to this "needle" match. Cambridge started perhaps slight favourites, especially as Oxford lacked the services of C. Beach Thomas, who was unfortunately ill, involving a slight weakening of the tail of the team. It had been seen in the preliminary matches of both sides, singly and in combination, that there was good chess in both, the presence in the Cambridge ranks of Alexander, the strongest of the post-war University chessplayers, accounting for what shade of odds was mentally laid on Cambridge.
"Owing to the clashing of the date of the London- Philadelphia cable match, there was a smaller attendance of visitors than is usual when the match, somewhat unpunctually, started. In the course of the afternoon, however, the numbers increased, and many enthusiasts, "lights of other days," and of course gentlemen of the Press, doubled parts by appearing at both events.
"At first it looked as if Cambridge were likely to fulfil the hopes of their supporters. Early play seemed to indicate a slight superiority for them on several boards, and on the sixth they drew first blood after only 19 moves had been played, Montgomerie, who had gone wrong in the opening against a Sicilian Defence, resigning at that stage to Scott. Another Cambridge success followed, Reid, the very youthful-looking Light Blue secretary, beating Albery on the bottom board, in 31 moves. The third-board game raised Oxford's hopes, Bensinger gaining a meritorious victory, over Bronowski, winning a Rook after having, apparently at least, had a ticklish position when the short middle game commenced. Then came another Oxford win, on Board 2, where Rupert Cross, whose rapid and enterprising play, in spite of his handicap of blindness, excited general admiration, entrapped Clarke and, like Bensinger, won a Rook and the game.
"Thus the score stood at 2 all; and it was not until half an hour before the finishing time, that anything further occurred. Then Wallace, on Board 4, drew against Coulson with an ingenious perpetual check, after missing a win. About a quarter of an hour later the first-board game ended rather suddenly, the Oxford man, Reeve, leaving a piece en prise. In justice to Alexander it must be said that he had played his usual fine chess, and had already won the Queen and a Pawn for two Rooks, with a probable win on adjudication. As a matter of fact, adjudication was only necessary on the fifth board, and here the two University presidents had no difficulty in awarding a win to Wax, the Oxford secretary, who at one time had a lost game against Hope, but succeeded in getting two Bishops for a Rook. So the final result of the contest was a draw of 3½ each.
"The match was most excellently managed by J. H. Blake, secretary of the City of London C.C., to whom the thanks of both players and spectators are due. ... Cambridge had the move on the odd boards."
---
Oxford Past vs Cambridge Past, 20 December 1930 at City of London CC (13th match)
[BCM, Jan 1931, p23] Cambridge Past repeated their victory of 1929. JH Blake and TF Lawrence were adjudicators. "There were several leading players missing on both sides; but none were more regretted than the late Sir Richard Barnett and HD Roome, who were always keen supporters of this match." (BCM)
[The Times, 22 December 1930] "The annual match between " past " members of Oxford and Cambridge Universities was played on Saturday afternoon at the City of London Chess Club, Wardrobe-court, E.C, with 13 players on each side. Cambridge University won easily, so repeating their success of last year, and, incidentally, doing much better than examination of the lists would have led one to expect. Cambridge University had the white pieces on the odd-numbered boards, and the games unfinished at the call of time were adjudicated bv Messrs. J. H. Blake and T. F. Lawrence."
---
Father and son were on opposing teams, William Rowland Thomas playing for Oxford Past and his son Andrew Rowland Benedick ("A.R.B.") Thomas playing for Cambridge Past.
One other curious juxtaposition was the presence of Solomon Adler and Graham Mitchell in the Oxford team: later Adler became a spy on behalf of Communist China, while Mitchell, a high-ranking officer in MI5, was himself suspected of being a mole. Mitchell was not related to Ronald Langley Mitchell who defeated him in this match.
---
1931 Hastings CC vs Oxford & Cambridge, 23 March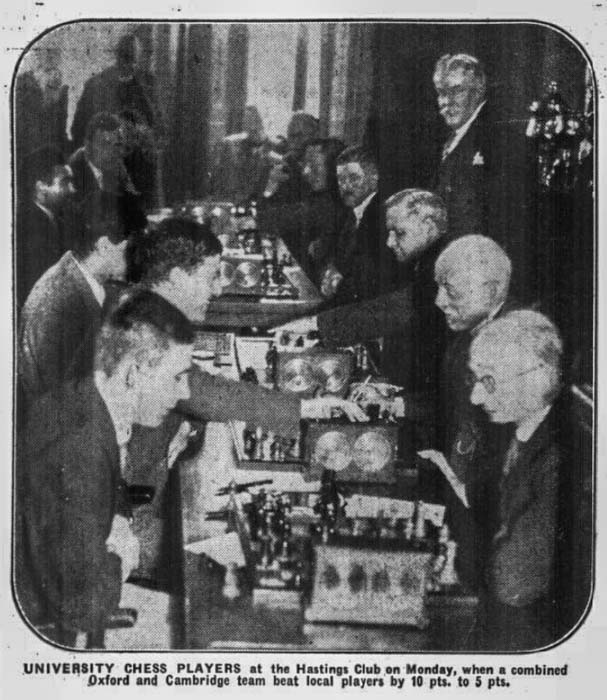 Hastings CC v Combined Oxford & Cambridge team, 23 March 1931
(photo Hastings Observer 28 March 1931)
Despite the fuzziness of the photo, I believe it is possible to work out who some of the players are. Firstly, it is obvious that the young players on the left are the Oxford/Cambridge team. And I am confident that Arthur J Mackenzie is the player with the toothbrush moustache, sitting in the middle distance looking towards camera. He was board 3 so the players beyond him are likely to be boards 2 and 1 - E M Jackson and G M Norman respectively. Then, getting nearer the camera, will be board 4, J H Jones (making a move), board 5, J A Watt, holding a pencil, and, nearest camera, board 6, C F Chapman. If that is correct, then nearest camera on the Oxford/Cambridge side will be board 6, James E F Hope, then board 5, Eric Bensinger (pressing the clock and smiling at his opponent); then board 4, obscured, Rupert Cross (blind player - from what little we can see it does look like other photos of him). Then at board 3 must be Jacob Bronowski - a credible likeness - beyond him Hugh Alexander (ditto) and then Harold T Reeve. If you use the mouse to hover over heads, you can see these possible identities. JS
| Bd | Hastings CC | 1931.03.23 | Combined Oxford and Cambridge |
| --- | --- | --- | --- |
| 1 | George Marshall Norman | ½-½ | Harold Talbot Reeve (Oriel, O) |
| 2 | Edward Mackenzie Jackson | ½-½ | Conel Hugh O'Donel Alexander (King's, C) |
| 3 | Arthur John Mackenzie | 0-1 | Jacob Bronowski (Jesus, C) |
| 4 | John H Jones | 0-1 | [Alfred] Rupert [Neale] Cross (Worcester, O) |
| 5 | James Arthur Watt | 1-0 | Eric Sigmund Bensinger (Wadham, O) |
| 6 | C F Chapman | 0-1 | James Edmund Frank Hope (Clare) |
| 7 | Wallace Henry King | 0-1 | Peter Reid (St Catharine's, C) |
| 8 | Alfred Mortlock | 1-0 | Emanuel Wax (New, O) |
| 9 | Herbert Edward Dobell | 0-1 | John Montgomerie (Corpus Christi, O) |
| 10 | Miss Minnie Musgrave | 1-0 | Rev. Charles Fenton Bolland (Clare, C) |
| 11 | Henry Edmund Tudor | 0-1 | George Cecil Ives (Magdalene, C) |
| 12 | Ernest Arthur Lewcock | 0-1 | Vincent Sumner Ward (Queens, C - also Hastings CC) |
| 13 | Frederick Wilkinson | 0-1 | George Farley Lewin (Brasenose, O) |
| 14 | C Lewis | ½-½ | Michael Benger (Corpus Christi, C) |
| 15 | Allan Fergusson Kidney | ½-½ | K A Matthews (C) |
| | | 5-10 | |
---
File updated
| | |
| --- | --- |
| Date | Notes |
| 16 February 2022 | Original upload. |
All material © 2022 John Saunders