BRITBASE - British Chess Game Archive
Tournament: 136th Varsity Match • Venue: RAC Club, Pall Mall, London • Date: 3 March 2018
Download PGN • List of Varsity Matches • Back to 2017 • Forward to 2019 • edited Thursday March 24, 2022 11:03 AM
John Saunders reports: The 136th Varsity Chess Match between Oxford University and Cambridge University was held at the Royal Automobile Club, Pall Mall, London on 3 March 2018. The match sponsors were the Royal Automobile Club. The chief match arbiter was David Sedgwick, with Matthew Carr arbiting and also operating the live boards. Live transmission.
2017«

2018 Varsity Chess Match

»2019
Bd
Oxford University
Rating
Nat
5-3
Cambridge University
Rating
Nat
1w
David Pires Tavares Martins (Worcester)
2395m
POR
1-0
Conor Murphy (Christ's)
2312f
IRL
2b
Isaac Sanders (Christ Church)
2338f
ENG
0-1
Rafe Martyn (Corpus Christi)
2242f
ENG
3w
Benjamin Foo Zhi Rong (Magdalen)
2254c
SGP
0-1
Yita Choong (Hughes Hall)
2211f
AUS
4b
Lisa Schut (Kellogg)
2259wm
NED
½-½
Adam Scibior (Trinity)
2229
POL
5w
Gordon Scott (Merton)
2237
ENG
½-½
Gustavo Leon Cazares (Selwyn)
2059
MEX
6b
Joris Gerlagh (University)
2217
NED
1-0
James Walsh (Clare, capt)
2065
ENG
7w
Aleksandar Monev (Keble)
2224
BUL
1-0
James Cole (Downing)
1899
ENG
8b
Jamie Horton (Christ Church)
2189
ENG
1-0
Anna York-Andersen (St John's)
1775
ENG
Av. Rating = 2264.1
5-3
Av. Rating = 2099.0
Oxford won the toss and took White on odds. The first game to finish was on board six where the grading difference of 325 points told on the Cambridge player. But at 4.30pm Cambridge hit back to give checkmate on board three. Five minutes later, Oxford regained the lead with a win on top board. Cambridge then levelled again by winning board two but this was followed by a loss on board eight, so the score was now 3-2 to Oxford.
Quite a long hiatus to 5.50pm and the sixth result - a win for Oxford on board six - increased their lead to 4-2 with a very good prospect of securing the half point they need to win the match from the two remaining games. 6.20pm and the Cambridge board five concedes the draw that the opposition needed to win the match. (The computer finds a win for him but many moves deep and very obscure so his decision was understandable.) At this point the Oxford board four sees no reason to play on any further and also agrees a draw. So Oxford won 5-3 - congratulations to them for narrowing the gap between the universities in terms of the overall match score, but also to Cambridge for doing better than ratings would have indicated.
See you all next year, when it is just possible that Oxford will be fielding a very, very strong player indeed. World women's number one Hou Yifan will be starting an Oxford course next autumn...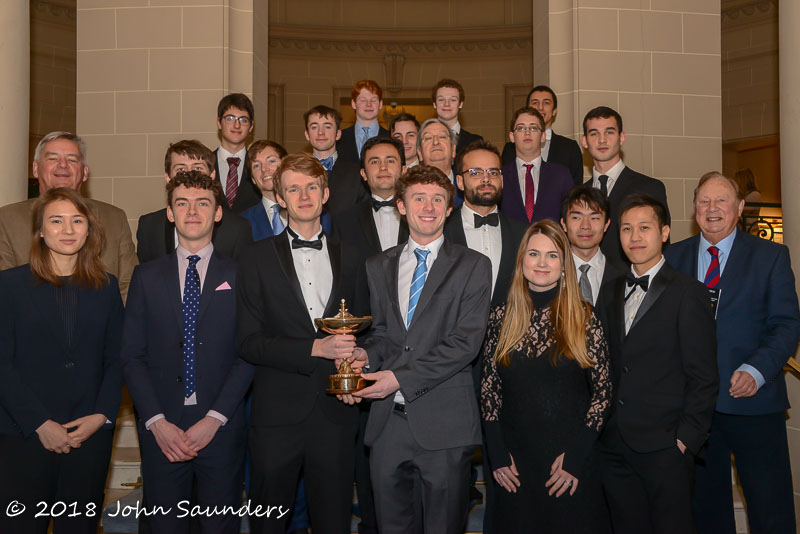 © 2018 John Saunders, all photos and text - not to be used without permission