BRITBASE - British Chess Game Archive
Tournament: 102nd Varsity Match • Venue: RAC Club, Pall Mall, London • Date: 10 March 1984
Download PGN • List of Varsity Matches • Back to 1983 • Forward to 1985 • last edited: Friday January 8, 2021 3:27 PM
The 102nd Varsity Chess Match between Oxford University and Cambridge University was held at the RAC Club, Pall Mall, London on 10 March 1984. The sponsors were Lloyds Bank. Only three game scores available (boards 2, 3 and 4), plus a game from the earlier Freshers' match* - can anyone supply other scores?
| | | | | | | |
| --- | --- | --- | --- | --- | --- | --- |
| Bd | Oxford University | Rating | 1984 | Cambridge University | Rating | Openings |
| 1b | William Nicholas Watson (Merton) | 2435m | 0-1 | Andrew Charles Louis Dyson (Trinity) | | Robatsch, 42 |
| 2w | Colin Anderson McNab (Queen's) | 2375f | 1-0 | Stephen David Bell (Emmanuel) | | King's Indian Def, 61 |
| 3b | Kenneth Wingate Regan (Merton) | 2400m | 0-1 | David John Walker (Trinity) | | Queen's Indian, 34 |
| 4w | John Crofton Hawksworth (Nuffield) | | 1-0 | Allan William Beardsworth (Clare) | | Benoni, 31 |
| 5b | John J Cox (Corpus Christi) | 2350f | 1-0 | Gareth Anthony (Trinity Hall) | | Sicilian, 34 |
| 6w | Jonathan Paul Levitt (Magdalen) | 2345 | 1-0 | Michael Kerridge (Trinity) | | King's Indian Def, 43 |
| 7b | Erik Oskar Michael Cha's Teichmann (Magdalen) | 2285 | 0-1 | Matthew A Eke (Trinity) | | QGD Orthodox, 36 |
| 8w | Anita Rakshit (St Hilda's) | | ½-½ | Penelope Anne Coxon (Newnham) | | Sicilian, 20 |
| | | | 4½-3½ | | | |
Sources: Oxford-Cambridge Chess Matches (1873-1987), compiled by Jeremy Gaige, Philadelphia 1987; BCM, May 1984, p195; The Times, 12 Mar 1984; The Guardian, 17 March 1984; Colin McNab
Chief arbiter Harry Golombek, assisted by Bob Wade.
---
N.B. One of the game scores given in BCM, May 1984, p193, is wrongly attributed to this match. The 33-move game published as S.Bell (White) vs C.McNab (and given in the game viewer below) was not played as part of the first-team Varsity match on 10 March 1984 but was actually played between A.C.L Dyson (White) and C.McNab on board 1 of the earlier Oxford-Cambridge Freshers' match on 12 February 1984. My thanks are due to Colin McNab for helping me to resolve this anomaly, and also for supplying the correct score of his game from the Varsity match itself - JS
---
The Times, 12 Mar 1984, p2: "Oxford beat Cambridge 4½-3½ in the universities' annual chess match at the RAC Club in Pall Mall on Saturday.
"They were favourites as they had won the three previous contests and had much the more experienced team containing four recognized masters. William Watson on first board and Kenneth Regan on third were international masters and the Scotsman, Colin McNab, on second board and the Old Etonian, John Cox, on fifth, were FIDE masters. [not one of the Cambridge team had a FIDE rating - JS]
"Despite this, the struggle was even, and after a 20-move draw on the bottom board between the ladies Cambridge took the lead though Matthew Eke's 36-move victory over Erik Teichmann. This game was awarded second prize for the Cambridge team's best played games.
"The balance was soon restored when John Hawksworth won a fine game on fourth board for Oxford against Allan Beardsworth. This game deservedly won first prize for Oxford's best played game.
"After that the advantage swayed to and fro and the score was 3½-all, with one game, on board two, still in progress at the end.
"An accelerated rate of play was put in motion under the competition's recent rules and victory went to McNab.
"The event was sponsored and organized by Lloyd's Bank.
"The prizes for the best played games in the Oxford team went to Hawksworth for his win against Beardsworth and to Levitt for his game against Kerridge, and for the Cambridge side to Walker for his game against Regan and to Eke for his game against Teichmann.
---
[Leonard Barden, The Guardian, 17 March 1984] "Oxford beat Cambridge 4½-3½ last weekend in the annual Lloyds Bank-sponsored match at the RAC, London; but Cambridge took the honours on the day. Outgraded by some 20 points a board, they chose the best underdog strategy of taking the fight to their opponents. Oxford's international masters Watson and Regan both lost, and the result swung on the final game where McNab, senior Scottish champion, won a close ending. The varsity series, started in 1873, is the oldest regular chess fixture, but some consider it an anachronism that a single match should be so highly profiled. Its wider value, however, is as a proving ground for top players. In the current FIDE rankings, 10 of the 17 British men rated 2400 or above, the level of a strong IM, are ex-Oxbridge. Three of Britain's seven GMs were at Trinity, Cambridge, a tradition maintained last week when Trinity provided half the Cambridge team and scored 3/4. If you are paired against a much higher graded opponent, the recommended technique is to unbalance the position and nullify his superior technical skills by tactical play. Here in the best game of the match [Walker-Regan] White's knight exchange for a central pawn roller proves brilliantly judged, and cracks the IM's defences."
---
BCM comments included: "Judges, Harry Golombek and Bob Wade, awarded best game prizes to the games on board 3 and 4." [not according to the Times report?!]
"... narrow win for Oxford University who were much more highly rated than their opponents but had to struggle to clinch the match. Both of Oxford's IMs lost!" (BCM)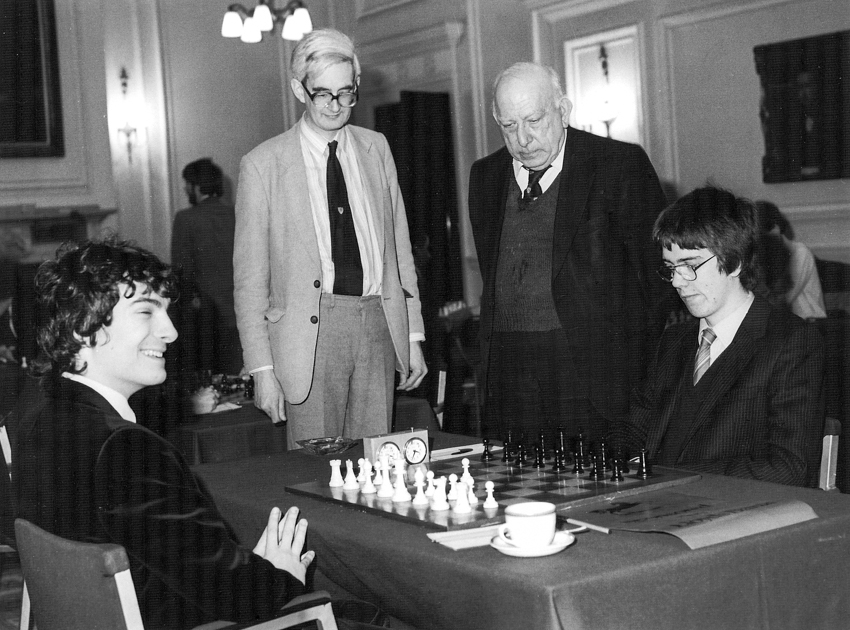 Cambridge's Andrew Dyson relaxes after 1 d4 in his top board game against IM William Watson of Oxford... watched by Adrian Hollis and match referee Harry Golombek. Dyson had a memorable day. He defeated Watson on time in one of the surprise results of the match, then set a record by representing Cambridge in the university bridge match that same evening (Lloyds Bank press release).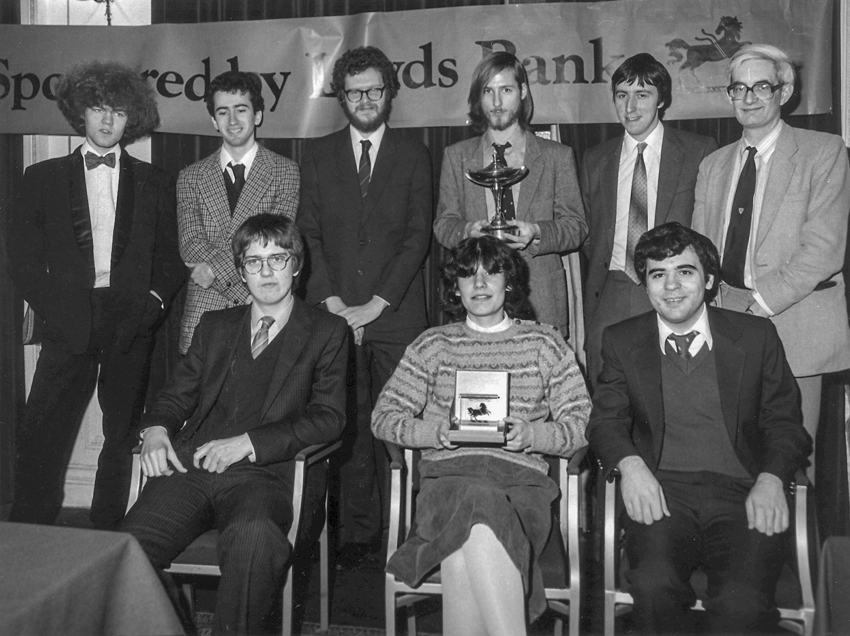 Winning Oxford University team. Back, left to right: John Cox, Jonathan Levitt, Colin McNab, Erik Teichmann, John Hawksworth, Adrian Hollis. Front, left to right: William Watson, Anita Rakshit, Kenneth Regan. (Photo: Lloyds Bank)
---
Second-Team Varsity Match: (BCM, June 1984, p251) "Cambridge Dragons beat Oxford Unicorns 10-6 in the second team Varsity match played on 26 February 1984. On the top boards Cambridge's J.M. Manley and F. Khan defeated their higher-graded rivals A. Lewis and K. Bowden. Khan and D. Levin won the Lloyds Bank prizes for best Cambridge games, while K. Shovel and M. Rosseinsky took the honours for Oxford."
All material exc. photos © 2017-2021 John Saunders
---
File Updated
| Date | Notes |
| --- | --- |
| 2017 | Original upload |
| 16 July 2020 | Added the game Walker-Regan and attempted to resolve the anomalous game score "Bell-NcNab" published in BCM, May 1984, page 193. |
| 17 July 2020 | Added the game McNab-Bell and finally resolved the anomaly relating to another game published in BCM under the wrong heading. It was actually Dyson-McNab from the earlier Freshers' match between the two universities. My thanks on both counts to Colin McNab. |
| 8 January 2021 | Added the score of the Freshers' match game between McNab and Dyson, plus FIDE ratings of the Oxford players. |