BRITBASE - British Chess Game Archive
Tournament: 132nd Varsity Match • Venue: RAC Club, Pall Mall, London • Date: 8 March 2014
Download PGN • List of Varsity Matches • Back to 2013 • Forward to 2015 • last edited: Sunday November 15, 2020 3:41 PM
John Saunders reports: The 132nd Varsity Chess Match between Oxford University and Cambridge University was held at the RAC Club, Pall Mall, London on 8 March 2014. The match sponsors were Henry Mutkin and the RAC Club, and match arbiter was David Sedgwick, assisted by Peter Wilson and Mary McDermott. Andrew Paulson was guest of honour. The day marked his swan song as ECF president, as his resignation took effect around the time the match began.
2013«

2014 Varsity Chess Match

»2015
Bd
Oxford University
Rating
Nat
4-4
Cambridge University
Rating
Nat
1w
David Zakarian (St Anthony's)
2404f
ARM
½-½
Yang-Fan Zhou (Churchill)
2470m
ENG
2b
Dominic Foord (New)
2085
ENG
0-1
Samuel G A Franklin (Trinity)
2299f
ENG
3w
Devkaran Bhatty (Wolfson)
2087
IND
0-1
Rafe Martyn (Corpus Christi)
2253f
ENG
4b
Howard Chiu (Wadham)
2067c
SIN
1-0
Richard Weaving (Churchill)
2250
ENG
5w
Gordon Scott (Merton)
2064
ENG
½-½
Jean-Luc Weller (Churchill)
2192
ENG
6b
Rhys Cumming (New)
2033
ENG
½-½
Andrew McClement (Trinity)
2177
SCO
7w
Michael Rabbitte (Christ Church)
1982
ENG
½-½
Bram van der Velden (King's)
2170
NED
8b
Nicole Miranda Gonzalez (Mansfield)
1951
CHI
1-0
Anna York-Andersen (St John's)
1813
ENG
Av. Rating = 2084.1
4-4
Av. Rating = 2203.0
Play started at 12.30pm and the time limit was 40/2 hrs, then remaining moves in one hour. Oxford's captain David Zakarian won the toss and chose White on the odd boards.
The first result to finish was on board six, which ended in a draw around 3.30pm. Board five was agreed drawn around 3.50pm.
At about ten past four Cambridge took a 2-1 lead with a powerfully played win by Sam Franklin. Ten minutes later Rafe Martyn cashed in on a very strong position after his opponent's attempt to escape his clutches by sacrificing his queen had backfired. Score 3-1 to Cambridge after slightly less than three hours' play.
Oxford then staged a fight-back. David Zakarian held IM Yang-Fan Zhou to a draw on top board, while Nicole Miranda Gonzalez from Chile won very effectively against Anna York-Andersen.
Just after five o'clock the final act was played out, as Howard Chiu completed his win against Richard Weaving and Bram van der Velden couldn't find any way to continue against Michael Rabbitte.
So a 4-4 draw. In its way a moral victory for Oxford, who were outrated on all bar one board. Of course, ratings count for less in varsity matches - nerves play a much bigger part.
The Best Game Prize went to Nicole Miranda Gonzalez for her win on board eight. The Brilliancy Prize went to Sam Franklin for his win on Board two.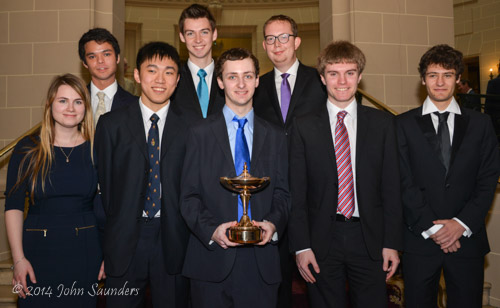 2014 Cambridge University team
Left to right: Anna York-Andersen, Sam Franklin, Yang-Fan Zhou,Richard Weaving, Robert Starley (captain), Bram van der Velden, Andrew McClement, Jean-Luc Weller.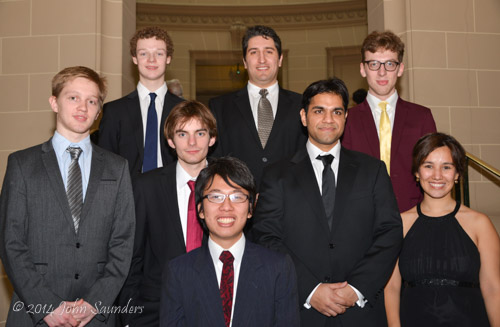 2014 Oxford University team
Left to right: Rhys Cumming, Gordon Scott, Michael Rabbitte, Howard Chiu, David Zakarian, Devkaran Bhatty, Dominic Foord, Nicole Miranda Gonzalez.
© 2014 John Saunders, all photos and text - not to be used without permission