BRITBASE - British Chess Game Archive
Tournament: 139th Varsity Match • Venue: RAC, Pall Mall, London • Date: 23 October 2021
Download PGN • List of Varsity Matches • Back to 2020 • Forward to 2022 • edited Thursday March 24, 2022 10:30 AM
John Saunders reports: The 139th Varsity Chess Match between Oxford University and Cambridge University is being held at the Royal Automobile Club, Pall Mall, London on 23 October 2021. The match sponsors are the Royal Automobile Club. The chief match arbiter is Matthew Carr who was also in charge of operating the live boards. Oxford won the toss and chose white on odd boards.
2020«

2021 Varsity Chess Match

»2022
Bd
Oxford University
Rating
Nat
5½-2½
Cambridge University
Rating
Nat
1w
Tom O'Gorman (Hertford)
2381f
IRL
1-0
Harry Grieve (St Catharine's, captain)
2320f
ENG
2b
Filip Mihov (Balliol)
2255
MKD
1-0
Koby Kalavannan (St Catharine's)
2324f
ENG
3w
Victor Vasiesiu (Hertford, captain)
2276f
ROU
1-0
Daniel Gallagher (Pembroke)
2205
ENG
4b
Max French (Wadham)
2227
ENG
0-1
Jan Petr (Trinity)
2282f
CZE
5w
Daniel Abbas (Magdalen)
2228f
ENG
1-0
Miroslav Macko (Trinity)
2273f
SVK
6b
Akshaya Kalaiyalahan (Regent's Park)
2149f
ENG
0-1
Declan Shafi (Pembroke)
2166
SCO
7w
Dominic Miller (Somerville)
2131
ENG
½-½
Ognjen Stefanovic (Trinity, reserve)
2109
SRB
8b
Daniel Sutton (St John's)
1874
ENG
1-0
Imogen Camp (Queens')
1849wc
WLS
Av. Rating = 2190.1
5½-2½
Av. Rating = 2191.0 2220.7
Note on teams: Oxford have five of the 2020 team, with Tom O'Gorman, Max French and Dominic Miller making their Varsity match debuts. Cambridge have four of their 2020 team playing again, with Koby Kalavannan, Daniel Gallagher, Jan Petr and Miroslav Macko making their first appearances. Reserves are Charalampos Kokkalis (Jesus College, Oxford, rated 1944) and Ognjen Stefanovic (Trinity College, Cambridge, rated 2109). UPDATE: Cambridge suffered a major blow pre-match when their intended top board Ryan Rhys Griffiths (Wolfson, 2347f IRL) was taken ill and had to drop out.
This is the first time the match has been held as late as October, with the postponement necessitated by reason of the ongoing pandemic. The Varsity match must be one of only a handful of annual chess events worldwide not to have had its sequence of matches interrupted by Covid-19. Technically, it missed the academic year 2020/2021. That said, a special provision was made that anyone who was at Oxford/Cambridge only during that academic year should remain eligible if selected for the October 2021 match.
This is the first year since 2008 that no player of IM or GM status has taken part. However, nine eight FMs is a record number for this fixture.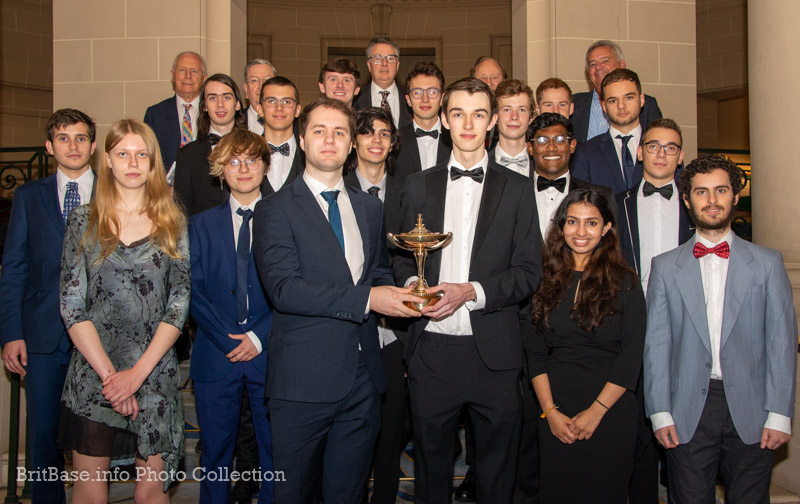 The Oxford and Cambridge teams line up before the match (photo John Saunders)
The match...
3.07pm and Oxford strike the first blow on board eight, where Imogen Camp is entombed on h6. Oxford 1, Cambridge 0.
It's now gone 4pm and Oxford have zoomed into a 3-0 lead, with successes on boards one and two. Can Cambridge fight back?
4.40pm and the answer to my last question is an emphatic "no". Oxford wrap the match up with a draw on board 7 and a win on board 5 so can no longer be overhauled. Oxford 4½-½. Still three games left but it's only a matter of the magnitude of the Oxford success that remains to be settled.
5.15pm - Oxford complete a 3-0 wipe-out on the top boards as Victor Vasiesu beats Daniel Gallagher but finally there is a modicum of joy for Cambridge as Declan Shafi beats Akshaya Kalaiyalahan. Score: Oxford 5½, Cambridge 1½ with board four still to finish.
5.30pm - a second consolatory win for Cambridge as Jan Petr beats Max French, but the day is Oxford's by 5½ to 2½ - well done, dark blues!
© 2021 John Saunders, all photos and text - not to be used without permission
---
File Updated
| Date | Notes |
| --- | --- |
| 19 October 2021 | Uploaded team lists. |