BRITBASE - British Chess Game Archive
Event: 59th Varsity Match • Venue: City of London Chess Club, Wardrobe Court, London EC • Date: 23 March 1935
Download PGN • List of Varsity Matches • Back to 1934 • Forward to 1936 • last edited: Monday November 16, 2020 0:55 AM
The 59th Varsity Chess Match between Oxford University and Cambridge University was held at City of London Chess Club, Wardrobe Court, London EC, on 23 March 1935. All game scores from this match are available.
Sources: Oxford-Cambridge Chess Matches (1873-1987), compiled by Jeremy Gaige, Philadelphia 1987; The Times, 25 March 1935; BCM, April 1935, p165.
Match notes
[The Times, 25 March 1935] "UNIVERSITY CHESS - ANNUAL MATCH DRAWN - SCORES OF THE GAMES - FROM OUR CHESS CORRESPONDENT - The 59th annual chess match between the Universities of Oxford and Cambridge was played on Saturday afternoon at the rooms of the City of London Chess Club, Wardrobe Court, E.C., and was drawn at 3½ games all. The record of the series now is: Cambridge University, 26 wins; Oxford University, 25 wins; with eight matches drawn.

"It was a fortunate draw for both universities on Saturday, the errors on one side cancelling those on the other, and some of the Oxford players were by no means pleased with themselves."
---
[BCM, April 1935, p165] "UNIVERSITY CHESS WEEK. This annual event came at an awkward time for a magazine which aims at publication on the first of the month, and our report has consequently to be brief.
"The first match of the "week" was on Saturday, March 16, when Oxford alone met London University at Torrington Square, and suffered defeat from a very strong team by 8—2, though aided by Rupert Cross and J. Montgomerie on the top boards. These two seniors lost respectively to H. Golombek and M. Cohen.
"On the 18th the Combined Universities beat the Insurance C.C. by 11½-8½ and on the 19th, with a good assortment of seniors on the top boards, they defeated Hampstead by 12½-6½.
"On the 20th the regular fixture, Combined Universities v. Citv of London C.C. was brought off. The City fielded a very powerful team, including 12 of their championship players, and won by 11½-6½. We reserve the score till next month.
"On the 21st West London was met, at the City of London C.C. The result was :—Combined Universities 9½; West London 6½.
"On the afternoon of Saturday, March 23, the Universities met as usual at the City of London C.C. for their individual encounter. This was the 59th match in the series, the scores to date being : Cambridge 26 wins, Oxford 25, drawn matches 8. The result was [results as above]

"It may be added that both Universities had finished their home engagements on March 9, Oxford against West London, a loss by 4½-5½, and Cambridge against United Banks, a draw of 6—6."
---
Biographical Notes
James Macrae Aitken - born 27 October 1908 (Calderbank, Lanarkshire), died 3 December 1983 (Cheltenham, Gloucs)
Scottish chess champion ten times, represented Scotland in four Olympiads. Worked at Bletchley Park as a code-breaker, WW2, and thereafter at Cheltenham. Wikipedia, Chess Scotland biography. Games Collection on BritBase.
Francis George Tims Collins - born 1915 (Greenwich, London), died 27 November 1943 (in action over Germany)
Francis George Tims Collins won the London Boys' Championship in (Jan) 1933 (see photo below) and was the London League's nominee for the British Boys' Championship in April 1933. He went to Aske's Hatcham School, London (BCM, June 1933, p244). In 1933 he tied first with Arthur William J Down for the British Boys' (Under 18) Championship (they both scored 2½/3 in the final), but Down won the play-off. Won the Civil Service Championship (Barstow Trophy) in 1938 and 1939.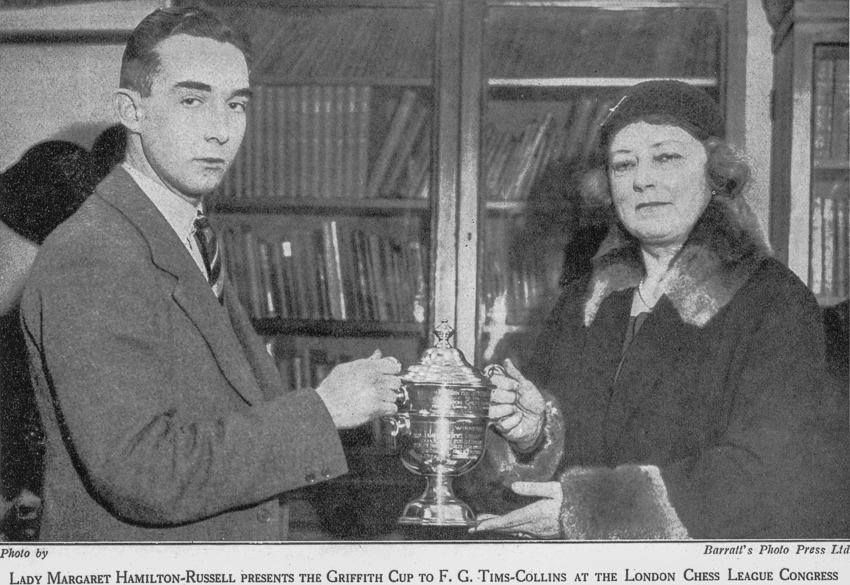 Francis George Tims Collins (1915-43) receives the trophy for winning the 1933 London Boys' Championship from Lady Margaret Hamilton-Russell (1874-1938)
(first published as a frontispiece to the February 1933 issue of BCM)
[CHESS 1944-03, p85, under the title "Tims Collins Missing"] "According to Mr [Julius] Du Mont, FG Tims Collins is reported missing from a bombing raid. How we hope that this genial and universally popular chess congress-ite managed to bale out!" Sadly, not so - FG Tims Collins was killed on the night of 27 Nov 1943 in a Lancaster bomber over Heuchelheim, Germany, on a mission to bomb Berlin. He was a Flight Lieutenant (Wireless Operator/Air Gunner), in the Royal Air Force Volunteer Reserve, 101 Squadron. Buried Dürnbach War Cemetery, Bad Tolz, Bayern, Germany. (Grave Ref: Collective grave 11. C. 26-28.)
Commemorated on the Second World War Memorial
in the Chapel Passage, East Wall, Balliol College, Oxford. (see also
my contribution to a thread on the English Chess Forum
, 4 May 2015, and my article from the November 2010 issue of CHESS,
reproduced here on the ChessBase website
)
---
Nicholas Anthony Perkins - born 7 December 1912, died 26 May 1991. Selected to represent Scotland at the 1939 Buenos Aires Olympiad but was unable to accept the invitation. Later played for Scotland at the 1958 Munich Olympiad. Worked as a code-breaker at Bletchley Park during WW2. Chess Scotland biography. Perkins' own reminiscences at the same website.
---
Graham Powell Britton - born 2 February 1913 (Hastings, Sussex), died 16 April 1978 (London)
Some biographical information about him already posted some years ago at this website may be found here.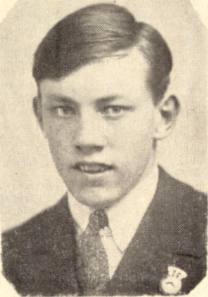 Graham Powell Britton, Hampshire Chess Champion 1931
Taunton's School Southampton
(photo from English Counties Chess Unions Combined Year-Book 1931/32, p106)
Stephen Hubert Llewellyn-Smith (1912-1996) Played in the 1933, 1934 and 1935 Varsity matches. BA, BM, BCh Oxon (1938), MRCP (1946), FRCP (1965). GP with an interest in neurology based in Lewisham, South London. Educated at Winchester College. 1940 joined the RAMC - medical officer, 7th Battalion, Rifle Brigade. (Summarised from the full RCP biography.) The biography mentions his interest in chess but no further chess-related biographical info found as yet.
Alan Stewart Orr (1911-1991) Played in the 1934 and 1935 Varsity matches. Rt. Hon. Sir Alan Stewart Orr, OBE. Barrister, judge and from 1971 a Lord Justice of Appeal. Wikipedia. Photos, National Portrait Gallery. RAFVR during WW2 (received OBE). Educ. Fettes College, Edinburgh University (MA) before going to Balliol. Middle Temple. QC, 1958. High Court judge and knighthood, 1965. Retired 1980.
Richard Terence Spencer (b 1912?) Played in the 1935 Varsity match. May have been in the Colonial Audit Service. No further info.
---
James Marston Craddock (1913-2001) Played in the 1933, 1934 and 1935 Varsity matches. Educ. Cardiff High School and later King Edward's School, Birmingham. After university, became a civil servant (Inland Revenue) but later became a meteorologist (with the Met Office, Bracknell), published a book (The Place of Statistics in Meteorology, 1972). British Boys. (U18) champion in 1929, 1930 and 1931, winning the first two championships with 100% scores. Scored 3/11 in the 1937 British Championship. Represented the Civil Service in matches. In the 1930s played county chess, firstly for Warwickshire, then for Surrey. Later, when living in Dunstable in the 1950s, he played on top board for Bedfordshire, and in the 1960s played for Berkshire (and the local club Premier Precision), into the 1970s. He had a grade of 200 in 1968 (Elo equivalent 2200).
Francis Ernest Appleyard Kitto (1915-1964). Known as "Frank". Born 3 February 1915, died 28 November 1964. Played in the 1934, 1935, 1936 and 1937 Varsity matches. - born 3 February 1915, died 28 November 1964. Notable player in the west of England from the 1930s to the 1960s. At the 1938 BCF Major Open, he finished 1st= with Dr. Seitz. Bomber pilot during the war. In 1948 shared 1st place with Max Euwe in the Plymouth International, ahead of Winter, Dr. List, ARB Thomas, etc. Played for Great Britain in the 1948 match versus the Netherlands, scoring ½/2 vs van Steenis. Won the WWest of England Championship twice, in 1951 (shared with Ron Bruce) and 1955 (outright). In 1955 he also won his club and county championships, and finished first in the Paignton Premier. Biography, Chess Devon website.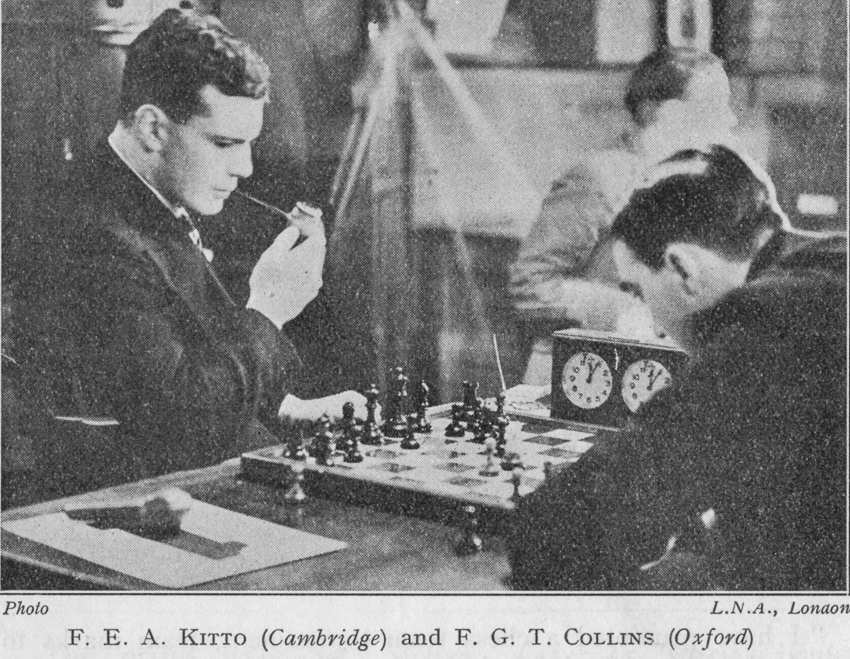 Francis Ernest Appleyard Kitto (1915-64) left playing Francis George Tims Collins (1915-43) at the 1937 Varsity Match
Bernhard Hermann Neumann - born 15 October 1909 (Berlin), died 21 October 2002 (Canberra) - Fellow of the Australian Academy of Science - wikipedia
Bernhard Neumann attended school in Berlin at the Herderschule before entering the University of Freiburg to study mathematics in 1928. He studied for his doctorate at the University of Berlin. There he was influenced by an impressive collection of teachers including Schmidt, Robert Remak and Schur. There he met his wife Hanna, also a mathematician. Neumann was awarded his doctorate by the University of Berlin in 1932. [Being] of Jewish origin, Neumann emigrated to England [where] he studied at Cambridge, receiving a Ph.D. in 1935. Assistant lectureship in Cardiff in 1937. In 1940 he joined the Pioneer Corps, then the Royal Artillery, and lastly the Intelligence Corps for the duration of the war. Appointed a lecturer at Hull in 1946. The Neumanns were fortunate in that Hanna Neumann was soon able to join him on the staff as an assistant lecturer. In 1948, Neumann was appointed to the University of Manchester. In 1961, Neumann accepted an offer from the Australian National University of a professorship and the head of the mathematics department at the Institute of Advanced Studies. He retired in 1974.
David Bernard Schultz (later Scott) - born 27 August 1915 (London), died 7 November 1993 (Hove, Sussex) - biography, London Mathematical Society
David Bernard Schultz later changed his name to David Bernard Scott (and became a professor). He was a cousin of Leonard Richenberg who played in the 1941-42 and 1946-48 Varsity matches. Obituary in BCM, Dec 1993, p677: "We report with regret the death of D. B. Scott (London, 27.viii.1915 - Hove, 7.xi. 1993) a player prominent in Middlesex and Sussex circles. He was a mathematician who graduated from Cambridge, held posts at the University of London from 1939 onwards and founded the maths department at the University of Sussex, where he was professor from 1962 to 1980. A member of the Hampstead club, he helped R. C. Griffith keep the BCM afloat during the war by contributing game notes (including a win of his against Winter) and was Sussex Champion in 1965. I recall him telling of a wonderful occasion for him when, at a pre-war Margate tournament, Capablanca made an observation about his game of that day, then sat down to show a missed winning method and then duly refuted suggestions from a voice at the back of the crowd which happened to come from ... Flohr! Resident in Hastings since 1987, Bernard Scott was very helpful and friendly in many ways. He attended some of the Kasparov-Short games and wished to reconcile Tony Miles and Ray Keene at that time. B[ernard].C[afferty]." Lecturer in Mathematics, Queen Mary's College, London 1939-46; Lecturer in Mathematics, Aberdeen University 1947; Lecturer in Mathematics, King's College London 1947-53, Reader 1953- 62; Professor of Mathematics, Sussex University 1962-80 (Emeritus); married 1939 Barbara Noel Smith (four sons; marriage dissolved 1972); died Hove 7 November 1993. He was the founding Professor of Mathematics at Sussex University, from 1962 to 1980, and the Independent's first chess writer. [Independent obit, 18 Dec 1993]
Ronald Grubb Stansfield - born 17 September 1915 (Southampton), died 25 December 1993 (Canterbury, Kent, England)
Was at King Edward VI's School, Southampton (BCM, June 1933, p244). Played in the 1933 British Boys' Championship. Ronald Grubb Stansfield (b. 1915), sociologist, was the only child of the physicist Herbert Stansfield (1872-1960) and his wife Edith Grubb. He matriculated at Clare College, Cambridge, in 1933, and was awarded his B.A. in 1936, and M.A. in 1940. Stansfield was educated at Clare College Cambridge and undertook particle physics research at the Cavendish Laboratory, University of Cambridge. During the war he became a Member of the Operational Research Section of Fighter Command. After the war he went to the Department of Scientific and Industrial Research (DSIR) later moving to City University as Reader in Industrial Sociology. In addition to being a founder member of the Ergonomics Society he was actively involved with numerous societies concerned with anthropology, history of science, operational research, physics, psychology (BPS), sociology and the British Association. [Various sources online]
Arnold Charles Lynch (1914-2004) Played in the 1935 Varsity match. English engineer, known for his work on an optical tape reader which was used in the construction of the Colossus, the first electronic computer, at Bletchley Park. His work was crucial in the cracking of the Fish code, an exceptionally complex teleprinter cypher used by the German High Command in WW2. Educ. Dame Alice Owen's School, Potters Bar, Herts. Worked for many years at the National Physical Laboratory, Teddington. Wikipedia. Times obit. Article on his Bletchley Park codebreaking activity. Played for GPO HQ in the Civil Service League and also for Hampstead CC. Won the Major B section at Margate in 1939.
Edward Willingham Brocklesby (1914-2004) (Middle name given as "William" by Gaige but I think "Willingham" is right - JS) Played in the 1935 and 1936 Varsity matches. Played for Kent in the 1930s and Oxfordshire later. Had an elder brother Sydney Hugh Brocklesby (1909-1997) who was also a chess player (I played SH Brocklesby myself in 1971 at a tournament in Oxford - JS)
---
An anecdote relevant to both Schultz and Neumann (from the London Mathematical Society bulletin linked to above): "While pursuing his mathematical studies with evident success, [Schultz] continued to cultivate his talent as a chess player. B. H. Neumann, who was a research student at Cambridge at that time, relates that he and Bernard Schultz (as he then was) went to London to take part in a weekend tournament and returned with all the prize money between them (about £7)."
---
File updated
| | |
| --- | --- |
| Date | Notes |
| 2019 | Original upload. Not all the biographical info included at this point. |
| 5 March 2020 | Completed biographical info where it had not been posted on the original upload. |
All material © 2018 John Saunders