BRITBASE - British Chess Game Archive
Tournament: 40th Varsity Match • Venue: City of London CC, London • Date: Monday 25 March 1912
Download PGN • List of Varsity Matches • Back to 1911 • Forward to 1913 • last edited: Saturday January 9, 2021 1:38 AM
The 40th Varsity Chess Match between Oxford University and Cambridge University was held at City of London CC, Gordon's City Restaurant, 34 Milk Street, Cheapside, London, on Monday 25 March 1912. Leopold Hoffer and JH Blackburne officiated as adjudicators.
Sources: Oxford-Cambridge Chess Matches (1873-1987), compiled by Jeremy Gaige, Philadelphia 1987; Sunday Times (London, England), Sunday, March 31, 1912; pg. 13; BCM, 1912, p212. 3 games and 1 part-game available in the download.
Boards 4 and 7 were adjudicated (by Blackburne and Hoffer). Arthur Turner was President of the Cambridge University Club.
---
[BCM, 1912, p.212] The Universities' Chess Week in London.—We are indebted to Mr. Godfrey Davies, hon. secretary, Oxford University Chess Club, for the full scores of the matches played in London by the United Universities from March 19th to the 25th. The annual match between the 'Varsities was played at the City of London Chess Club on Monday, March 25th. Mr. J. H. Blackburne and Mr. Leopold Hoffer acted as umpires. The Cantabs had first move on the odd-numbered boards. On the proposal of the Oxford captain, a vote of thanks was tendered to the City Club for the invitation to play the match at the club. The hon. secretary, Mr. J. Walter Russell, responded.
---
[The Sunday Times (London, England), Sunday, March 31, 1912; pg. 13 - L.van Vliet] UNIVERSITY CHESS MATCH. "In the annual chess contest between Oxford and Cambridge Universities, played at the City of London Chess Club, Oxford was again victorious, the Oxonlans winning by four games to three. Last year Oxford won by 4½ to 2½. We think It a great pity that these annual chess matches between the rival blues cannot take place at some public hall, where the general public would feel free to come and witness the match, In the same way that they flock to the University sports and cricket matches. The first chess match, in 1878 [sic - 1873, of course], played at the old Willis's Rooms, drew a very large attendance and of a kind that was very good for chess In general. But of late years, since the teams have met in private clubs, the "crowd" of spectators has usually consisted of about a half-dozen reporters and chess editors! We repeat that this is a great pity, and in the best interest of chess an effort should certainly be made In future to have these annual contests at a suitable public hall."
---
[Yorkshire Post and Leeds Intelligencer - Tuesday 26 March 1912] "The fortieth annual match between the Light and Dark Blues took place yesterday at the City of London Chess Club. There were seven players on each side. And Cambridge had the move on the odd numbered boards, which gave them a slight advantage.
The openings adopted were:- Board No. 1. Four Knights; No. 2, Q P; No. 3. Vienna: No. 4. Q P; No. 5, Italian; No. 6. Ruy Lopez; No. 7. Ruy Lopez.
The game on Board No. 1 was the first to conclude, resulting in a draw.
On Board No. 2. Bewley (Oxford), playing a strong game, won the exchange, and finally the game.
On Board No. 3 the Cambridge player managed to win a piece in the middle game, and won the game.
On Board No. 4 Bryan overlooked a win. and although he was a pawn to the good in the ending, a draw was given in the adjudication.
Board No. 5 was a keen fight, but the Cantab lost too many pawns, and Carruthers won.
Boards Nos. 6 and 7 were both drawn.
The result was a win for Oxford by 4 games to 3.
The record up to date is Cambridge 22 wins, Oxford 15 wins, and 3 draws.
Mr. Blackburne was the adjudicator."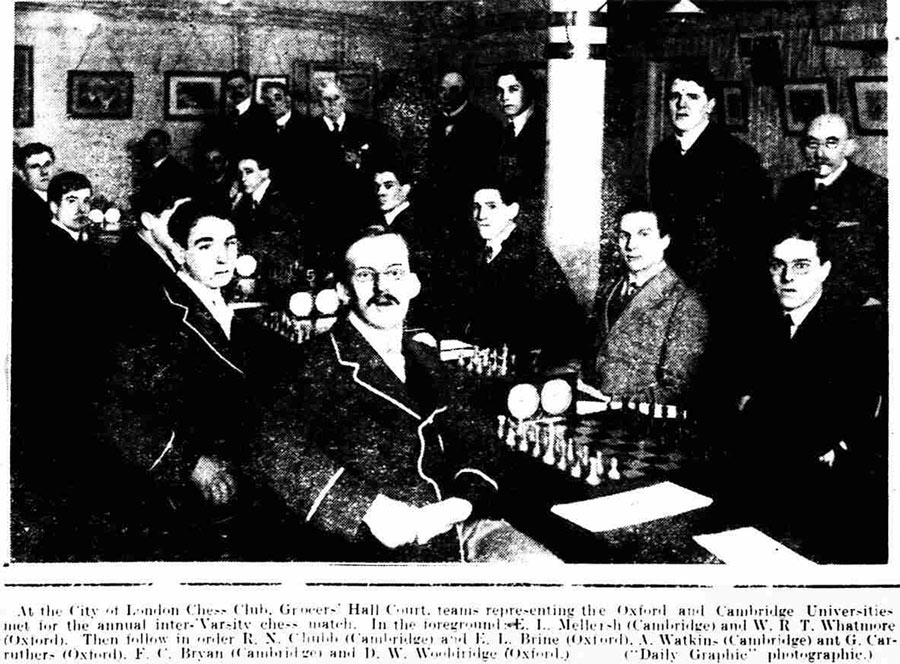 Photo from the Soulby's Ulverston Advertiser and General Intelligencer, 28 March 1912 - kindly supplied by Gerard Killoran

---
Biographical Info
Franklin Ferriss Russell b 2 iii 1891 (New York), d 29 iii 1978 (Englewood NJ, USA), Who Was Who in America, Vol. VII, 1977-81, p. 1968 (Gaige) "Franklin F Russell was a Rhodes Scholar from the USA, at Brasenose College, Oxford... from Brooklyn High School, and came up to Oxford with a chess reputation already made." (A Century of British Chess) Publ. Outline of Legal History. New York: Russell, 1929. FF Russell letter to BCM, publ. March 1957, p59: mentioned how he nearly played Bonar Law in 1914. "I still play some 'skittles' and keep up with the news through your magazine".
---
Herbert Neville Bewley (1890-1966). Born Wallasey, became mayor of Liverpool, 1959-60, and was awarded the CBE.
---
Godrey Davies (1893-1957) - English historian specialising in the 17th century. Wikipedia entry.
---
Frank Colin Bryan (1891-1972). Baptist minister, Bristol and elsewhere. MA at Mansfield College.
---
George Carruthers (1891-1914) - Edward Winter's Chess Note CN3351 about the chess and games book author Hubert Phillips (1891-1964) has some info about Carruthers who was at college with him. Carruthers read chemistry, got a 2nd class degree and Phillips wrote that "a few weeks before the war began he died of erysipelas... aged 22... he must have been the hardest-up man in college." Winter adds that "George Carruthers was a member of the Oxford University team against Cambridge University in 1912, 1913, and 1914, with a score of two wins and a loss. (Source: page 354 of A Century of British Chess by P.W. Sergeant.) The defeat was published on pages 284-285 of the July 1914 Chess Amateur." [note - the defeat was in 1914 - I have the game score and it will appear when I prepare the page for the 1914 Varsity match - JS]
Another Chess Note - CN3557 - provides further data: "From Julia Walworth (Research Fellow and Librarian, Merton College, Oxford):
'The information in the Merton College Register is rather sparse: George Carruthers was born on 29 July 1891. He was educated at Wilson's Grammar School in Camberwell; he was a student in Chemistry at Merton from 1910 to 1913, and was a Postmaster (the Merton equivalent of Scholar). In 1913 Carruthers received his B.A. A date of death is not recorded.'
Winter also communicated with Alice Millea, Assistant Keeper of the Archives, Bodleian Library, Oxford, who wrote:
'George Carruthers matriculated (was admitted to the University) on 18 October 1910 from Merton College. According to the form which he completed at matriculation, he was born on 29 July 1891 in Camberwell, Surrey, the first son of Francis James Carruthers, a "cashier" by that time deceased. He was educated at Wilson's Grammar School, Camberwell. He obtained his B.A. on 2 August 1913, achieving second-class honours in Chemistry. Deaths of University members were (and are) published in the University Gazette. I have checked the Gazette for 1914 but have found no record of the death of Carruthers.'
Ancestry.com provides further info in the shape of a user-generated family tree. I found a George Carruthers born in Camberwell on 29 July 1891 to Francis James and Frances (Fanny) Carruthers, both from Scotland, the father being a publisher's bookkeeper who died in 1906. The tree shows George Carruthers died in Kendal, Westmorland, England, around December 1914 and was buried on 4 December 1914 in Heversham in the same county.
---
Everard Lindesay Brine (born 1 Dec 1890, Kensington, died 24 Sept 1918, Hamadam, Persia, of enteric fever, whilst on active service) [Brine] was the younger son of the late Admiral Lindesay Brine and Mrs Brine, of 48 Fitzgeorge Avenue, West Kensington. He was educated at Sherborne, gaining there two leaving exhibitions, and at Christ Church, Oxford. He was a member of the Oxford Union Chess Club, and played in the annual Inter-University Match held in London on March 25, 1912. He took his B.A. degree in July 1914, was given a commission in the Hampshire Regiment, and was sent out in December 1915 to Mesopotamia, taking part in the attempted relief of Kut. He was invalided home the following summer, but in July 1917, he was again ordered to the East. He was 27 years of age. (Times, 30 Oct 1918) Christ Church War Memorial - biography • Photo on Flickr.
Lieutenant, Hampshire Regiment, 3/4th Bn.; attached 1/4th Bn., Indian Expeditionary Force. Sent to Mesopotamia in December 1915, taking part in the attempted relief of Kut. He was invalided home in the summer of 1916, but in July 1917 he was sent to Persia [Iran]. A collection of his poems were published by Blackwell in 1921. A review in 'The New Age', 9 June 1921, stated: 'The author was a young officer and a victim of the War, who died in 1918. There is nothing in the book to indicate exceptional ability. The best poem is entitled 'New College Gardens: Spring'…' (Coincidence: his opponent in the Varsity match, Ralph Chubb, was also a published poet.)
---
Walter Roland Tracy Whatmore (1894-1962) - Lt. Colonel of the 2/7th Battalion, Royal Warwickshire Regt, WW1, Chartered accountant, Peat, Marwick, Mitchell & Co, City of London. Beat JH Blackburne in a simul given on 12 October 1910 at the King's Restaurant, Leicester. [chessgames. com Blackburne page]
---
Gilbert Henry Stevens(1889-1982) - achieved a first in the Maths Tripos. Assistant master, Wellingborough Grammar School, 1912-15; military service (Lt., Royal Field Artillery), 1915-19; master, Orme Boys' School, Newcastle, Staffs, 1919-28; Wolstanton County Grammar School, Staffs, 1928-?, still a maths master in 1939.
---
Arthur James Turner (1889-1971) CBE 1950; MA, DSc, FTI; Director, 1940-56, of Linen Industry Research Association, Lambeg, Co. Antrim; retired, 1956;

b 30 Sept. 1889; s of A. A. Turner, Camberwell, SE; m 1st, 1916, Winifred (d 1945), y d of Alfred Fisher, Streatham, SW; three s one d; 2nd, 1959, Winifred Doris (d 1970), er d of late Sir Frederick (Joseph) and Lady West, Wilmslow. Educ: Wilson's Grammar Sch., Camberwell, SE. Gonville and Caius Coll., Cambridge (Scholar and Research Student). Work: Assistant at National Physical Laboratory, 1912-15; Head of Experimental Fabrics Laboratory, Royal Aircraft Establishment, 1915-19; Prof. of Textile Technology, Manchester Univ., and College of Technology, Manchester, 1919-23; Director, Technological Research Laboratory, Indian Central Cotton Cttee, Bombay, 1924-30; Head of Spinning Dept, British Cotton Industry Research Assoc., Manchester, 1931-40; Member of Flax Development Cttee, Northern Ireland, 1940-56; Member of Flax Cttee, Ministry of Supply, 1942-50; Chairman, Flax Utilisation Sub-Cttee, 1943-50; Member of Council of Textile Institute, 1941-48, Vice-President, 1948-52, President, 1952-54; Adviser to Bombay Textile Research Assoc., 1958. Hon. Assoc. College of Technology, Manchester, 1951. Hon. Liveryman, 1923, and Member of Court, Worshipful Company of Weavers, Upper Warden, 1946, Upper Bailiff, 1962. Publications: Quality in Flax, 1955; Technological Reports on Standard Indian Cottons; numerous scientific and technical papers. Recreations: gardening, walking, cricket, chess. Address: Springfield, 12 Lumley Road, Kendal, Westmorland. T: Kendal 22324. Died 30 Sept. 1971.
---
Eric Augustus Coad-Pryor (1890-1958)
E. A. COAD-PRYOR by D.J.M[organ] [BCM, Dec 1958, p325]
The tragic death of Mr. Coad-Pryor, as the result of a road accident near his home in Beckenham, means an irreparable loss to the chess life of this country, and a brief outline of his career will be of interest to our readers.
Eric Augustus Coad-Pryor was born at Dorchester in 1890. He was educated at Haileybury and Trinity College, Cambridge, where he graduated with honours in the Natural Science Tripos. Leaving the university, he entered the metallurgical department of the National Physical Laboratory. In 1921 he became director of the research laboratories of the United Glass Bottle Manufacturers, and in this capacity served on a number of national and international technical committees. In 1931 he was invited to join the John Lewis Partnership, with which he had remained ever since, being, in the end, the Assistant Chief Inspector.
His accomplishments were varied and many: in photography he was outstandingly skilful; he was an enthusiastic member of more than one dramatic society; he was a Kent county tennis player, and as a musician he was an excellent pianist. Chess was a dominant interest in his life. He played in the universities' match, and amongst much else was a vice-President of the Kent County C.A., and one-time Champion, a vice-President of the British Chess Federation, where, in particular, his liaison work in connection with the National Chess Centre will be sadly missed; and a vice-President of the London Commercial Chess League. In his later life, he had given great encouragement to junior players: he was Deputy President of the Chess Education Society and had shown much practical interest in its work for many years.
Above all, there remains the abiding impression of a personality of great charm, quiet but decisive in his deliberations on committee, and always showing outstanding zest and loyalty in work, in play, and in companionship. We extend our deepest sympathy to his wife and daughters. - D. J. M.
---
Duncan Wakeham Wooldridge (b 25 April 1889, Hay Green, d Mar qtr 1974, Stourbridge, Worcs) Father Henry was a 'Frost cog manuf'r', mother Elizabeth. Matriculated 1908, B.A. 1911. M.A. 1915 (also LL.B.). Played chess for Worcestershire in 1939 on board 4. Vice-president, Birmingham CC, 1930. Lived in Harbourne in 1915; solicitor in the firm New & Wooldridge, Temple Row, Birmingham, 1940.
---
Allen Watkins (1889-1977). From Herefordshire, son of a master miller and seems to have become one himself. Article in the BCM, August 1916, pps 263-267 on 'chess shorthand' by Allen Watkins. See Chess Notes CN5880.
---
Ralph Nicholas Chubb (1892-1960) poet, painter and artist. Wikipedia entry.
---
Eric Leslie Mellersh (born 3 Nov 1891, London, died 5 Dec 1976, Minehead, Somerset)
Eric was brought up at 34 Nicoll Road, Harlesden, London NW, and in St Alban's, Hertfordshire - initially at "Sherley," Clarence Road, then "Bridlemere," also in Clarence Road. For secondary schooling, from abt 1904 to abt 1909, he went to Berkhamstead School. He went to Cambridge University (Selwyn College), from abt 1909 to 1912, starting off studying maths but apparently later changing to geography. Eric became a teacher in 1912, teaching at: Rossall School, Yorkshire; St Saviour's, Ardingly, Sussex; and Monmouth Grammar School. He was an army officer from 11 December 1916 (from Officers Cadet Unit to 2nd Lieutenant (on probation) - ref: London Gazette, 20 Dec 1916, Supplement, page 12428) to about 1919 in the Royal Garrison Artillery (58th Army Brigade). On 24 January 1917 he entered the theatre of war. In 1918 Eric was mentioned in dispatches, as Lt (A./Capt) (ref: London Gazette, 20 Dec 1918, Supplement 23 Dec 1918, page 15036). Later he was awarded the Victory and British medals. Upon Marriage (1918) Eric lived at 17 Edenbridge Road, Bush Hill Park, Enfield, Middlesex, and from 1923 for about 50 years at 55 Abbey Road, Enfield. Eric was a schoolmaster at Enfield Grammar School, Middlesex, from 1921 until his retirement in 1957. Between about 1925 and 1927 he was in Switzerland, recuperating from TB. Eric was one of the first teachers nationally to take school parties abroad; from 1930 taking schoolboys to Germany (and including his own son Gareth). Interests included: chess (gained half-blue at Cambridge); crossword puzzles (won a Ximines prize from Observer newspaper); classical music (mostly on the wireless); travel (Britain & Europe); and architecture (esp ecclesiastical). After his wife Una died in 1974, Eric moved to a residential care home in Minehead, Somerset, in the same town where his daughter Barbara & son-in-law Alex lived. https://www.geni.com/people/Eric-Mellersh/295958782920005450
---
| | |
| --- | --- |
| Date | Notes |
| 21 April 2019 | First uploaded. My thanks to Gerard Killoran for supplying the photo. |
| 9 January 2021 | Added the board 3 game Coad-Pryor-Davies, which Alan Smith sent me quite some time ago. My thanks to Alan. |
All material © 2019 John Saunders