BRITBASE - British Chess Game Archive
Event: 61st Varsity Match • Venue: City of London CC • Date: 15 March 1937 • last edited: Monday November 16, 2020 1:03 AM
Download PGN • List of Varsity Matches • Back to 1936 • Forward to 1938
The 61st Varsity Chess Match between Oxford University and Cambridge University was held at City of London Chess Club on 15 March 1937. All seven game scores from this match are available.
Sources: Oxford-Cambridge Chess Matches (1873-1987), compiled by Jeremy Gaige, Philadelphia 1987; BCM, April 1937, p186; The Times, 16 March 1937, p22 (complete game scores)
Notes
This match was unusual in being played on a Monday, and in advance of (and not after) the usual sequence of Combined Universities' matches against London clubs (often referred to as 'London week'). Oxford were White on odd boards. Time limit 40 moves in 2 hrs, start time 11.45am.
---
[The Times, 15 March 1937] "The sixty-first annual match between the Universities of Oxford and Cambridge will be played to-day at the City of London Chess Club, Wardrobe Court, E.C.4. Play will begin at 11.30 a.m., and there will be a break for luncheon at 1.30, after which games will be played to a finish. The Oxford team will be R. M. Baine (Merton), B. Bleaney (St. John's), A. W. Bowen (Oriel), F. G. T. Collins (Balliol), the president, A. C. Lloyd (Balliol), J. W. Naylor (Exeter), and A. J. Peters (Christ Church), with F. P. Luduena (Exeter) as reserve. The Cambridge team will consist of J. Dean (St. Catharine's), J. F. O'Donovan (Jesus College), F. E. A. Kitto (King's), D. B. Schultz (Magdalene), the president, R. G. Stansfield (Clare), and M. E. Wise (Pembroke), with either P. C. Hoad (Trinity) or J. S. Abraham (Downing) in the seventh place. These lists are in alphabetical and not playing order. A forecast of the probable result is as usual difficult. On the top boards there is little to choose between F. G. T. Collins, B. Bleaney, and A. W. Bowen, of Oxford, and F. E. A. Kitto, D. B. Schultz, and J. Dean, of Cambridge. The lower boards of the Cambridge University team have played exceptionally well this year,especially the two new haIf-BIues, J. F. O'Donovan and M. E. Wise, and should turn the match in favour of Cambridge. Nerves, however, play a large part in this match."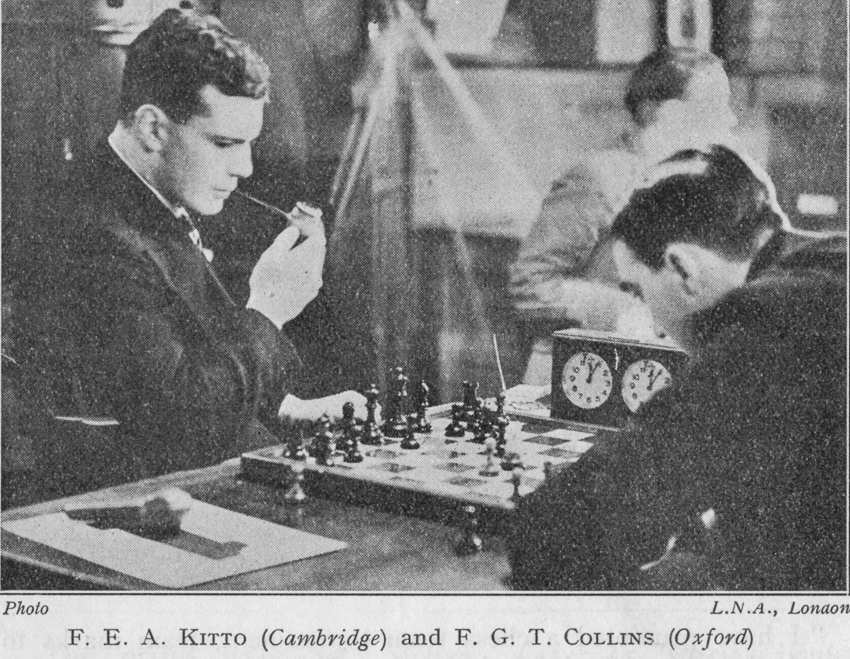 FEA Kitto vs FGT Collins (BCM, April 1937, p186)
[The Times, 16 March 1937, p22] "The sixty-first annual match between the Universities of Oxford and Cambridge was played at the City of London Chess Club, Wardrobe Court, E.C., yesterday, and won by Cambridge University with a score of four games to three. Oxford University certainly made a better showing than last year, and at one time stood a very good chance of winning the match, but could not quite maintain their position. The record for the series is Cambridge University, 28 wins; Oxford University, 25 wins; and eight matches drawn. Oxford University had the white pieces on the odd-numbered boards. The teams were entertained at lunch at the Cannon Street Hotel by Sir George Thomas."
---
[BCM, April 1937, p186]: "The sixty-first match in the series of University chess contests was played at the City of London Chess Club on Monday, March 15, and commenced at 11-45. This was an innovation on the part of the undergraduates and it remains to be seen whether it proves popular or not. For many years the match has been played on Saturday afternoons after a rather strenuous week against many of the strong London clubs, this kept certain provincial players in London for a week which sometimes they could ill spare. By playing on the second day in the week they undoubtedly started fresh."
"The arrangement as to time-limit was forty moves in two hours. At 1-45 at the invitation of Sir George Thomas, they adjourned for lunch at the Cannon Street Hotel, to which were also invited some friends, among them P. S. Milner-Barry, G. S. A. Wheatcroft, and E. S. Tinsley*, chess editor of The Times, who got leave from the hospital authorities to go out for a short time. (As is probably known to most chessplayers he has been through a serious operation and it was not anticipated that it would be successful; but his wonderful constitution has pulled him through, and the hospital authorities hope to release him by Easter.)" [* Edward Samuel Tinsley (1870-1937) died later that year at the Worcester Congress - article on Tinsley and his father by EG Winter - see also here]
"What effect the break had we cannot say, but unfortunately A. J. Peters made a bad error directly on the resumption which caused him to lose a piece and his resignation immediately; and therefore first blood went to Cambridge. The result was so close that Peters will find it difficult to forgive himself for throwing away a game when in a level position. It was unfortunate, seeing that he was the" bright spot" in the Oxford team last year. However, Oxford had some satisfaction in winning on board 2 shortly afterwards. Schultz had made a poor move at move 15, overlooking the fact that his opponent's next move attacked his Q B P a second time, and he followed it up with a blunder losing a Pawn at the 20th move. He tried to force things by a sacrifice at move 22, but Bowen had no difficulty in proving it unsound.On board 1 Kitto defended a Queen's Pawn irregularly and gave up a Pawn. He, however, obtained some attack and sacrificed a piece for two Pawns. His 16th move brought about too many exchanges to be satisfactory; P-B5 would have been appreciably better. At move 18 he captured his opponent's KRP and that proved fatal to him. On board 7 the Cambridge player made a curious blunder at move 7 and thereby lost a piece. He fought hard afterwards and his opponent found it difficult to break through and win with his extra material, and Lloyd took sixty-four moves to bring about the Cambridge man's resignation. Board 5 must have been disappointing to Oxford, who seemed to have got a chance of winning it for a long time. The games on boards 3 and 6 were well contested."
"The record of these matches now stands: Cambridge 28, Oxford 25. Drawn 8." (BCM, April 1937)
---
Francis George Tims Collins (born 1915, Greenwich, London, died 27 November 1943, in action over Germany)
Francis George Tims Collins won the London Boys' Championship in (Jan) 1933 (see photo below) and was the London League's nominee for the British Boys' Championship in April 1933. He went to Aske's Hatcham School, London (BCM, June 1933, p244). In 1933 he tied first with Arthur William J Down for the British Boys' (Under 18) Championship (they both scored 2½/3 in the final), but Down won the play-off. Played in the 1935, 1936 and 1937 Varsity matches. Won the Civil Service Championship (Barstow Trophy) in 1938 and 1939.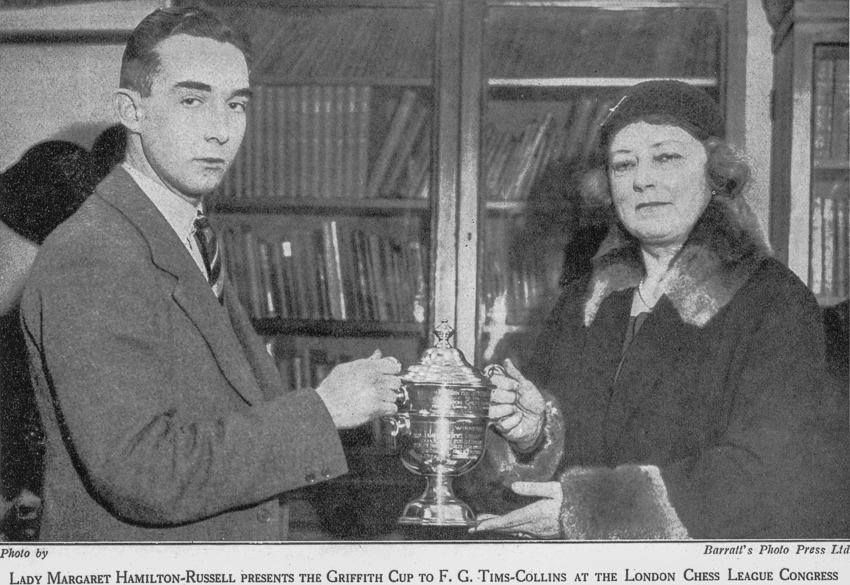 Francis George Tims Collins (1915-43) receives the trophy for winning the 1933 London Boys' Championship from Lady Margaret Hamilton-Russell (1874-1938)
(first published as a frontispiece to the February 1933 issue of BCM)
[CHESS 1944-03, p85, under the title "Tims Collins Missing"] "According to Mr [Julius] Du Mont, FG Tims Collins is reported missing from a bombing raid. How we hope that this genial and universally popular chess congress-ite managed to bale out!" Sadly, not so - FG Tims Collins was killed on the night of 27 Nov 1943 in a Lancaster bomber over Heuchelheim, Germany, on a mission to bomb Berlin. He was a Flight Lieutenant (Wireless Operator/Air Gunner), in the Royal Air Force Volunteer Reserve, 101 Squadron. Buried Dürnbach War Cemetery, Bad Tolz, Bayern, Germany. (Grave Ref: Collective grave 11. C. 26-28.)
Commemorated on the Second World War Memorial
in the Chapel Passage, East Wall, Balliol College, Oxford. (see also
my contribution to a thread on the English Chess Forum
, 4 May 2015, and my article from the November 2010 issue of CHESS,
reproduced here on the ChessBase website
)
Alfred William Bowen (1918-2012) - played in the 1937, 1938 and 1939 Varsity chess matches, as well as the unofficial 1940 match. Familiarly known as 'Bill Bowen' and an accomplished bridge player.
Brebis Bleaney (1915-2006) Played in the 1936, 1937 and 1938 Varsity matches. Wikipedia. Physicist; Lecturer in Physics, Balliol College, Oxford 1947-50; Fellow and Lecturer in Physics, St John's College, Oxford 1947-57, Tutor 1950-57, Honorary Fellow 1968; Research Fellow, Harvard University and MIT 1949; University Demonstrator and Lecturer in Physics, Oxford University 1945-57, Dr Lee's Professor of Experimental Philosophy 1957-77 (Emeritus); FRS 1950; CBE 1965; Warren Research Fellow, Royal Society 1977-80, Leverhulme Emeritus Fellow 1980-82; Fellow, Wadham College, Oxford 1957-77, Senior Research Fellow 1977-82, Emeritus Fellow 1982-2006. [The Independent, Obit., 2006] Captained school & university chess clubs.
Arthur John Peters (1914-1995) Played in the 1936 and 1937 Varsity matches. Played in the BCF Major Open in 1937 and 1938, finishing 9th= and 5th= respectively. Served in the Royal Navy: often referred to as "Commander AJ Peters" in chess resports (and known as "John". Active in Scottish chess in the 1950s, later represented Hampshire at county chess. Champion of Portsmouth CC in 1965 and 1967 (joint).
John William Naylor (1916-1978?) Played in the 1937 Varsity chess match. Blog article about chess players who also played football (soccer), with biographical detail and photos of Naylor. Played in three British Chess Championships, making 5/11 (1957), 2½/11 (1959) and 5½/11 (1960). In 1967 he scored 6½/11 in the Major Open and then 7½/11 in 1969 in Rhyl. Scored 7½/11 in the 1976 Major Open in Portsmouth. Four times soccer blue (goalkeeper) for Oxford between 1935 and 1939. Played soccer for Corinthians FC. School teacher, specialising in modern languages.
Rodney Montgomery Baine (1913-2000). Rhodes scholar, from Mississippi, at Merton (1936-39). 1931 graduate of Tupelo High School. BA (1935), Southwestern at Memphis, MA at Vanderbilt, PhD Harvard. Served with the US Army during WW2. Instructor of English at MIT, professor of the English Department at the University of Richmond, Delta State University of Alabama at Montevallo. Professor of 18th-century English at the University of Georgia from 1962. He donated the trophy for the Mississippi state chess championship and won it himself in 1955 and 1956. Virginia state co-champion in 1951. Alabama state champion 1960. Left his collection of chess books to the Barret and Burrow Library, Rhodes College, Tennessee.
Antony Charles Lloyd (1916-1994) Played in the 1936 and 1937 Varsity matches. Known as "Tony". Born into a family that was part of the Fabian circle (including the Webbs, Bernard Shaw, HG Wells and Maynard Keynes). British Academy article. Private schooling, followed by Shrewsbury, exhibition to read 'Greats' (classics) at Balliol. After Oxford, lectured in Philosophy at Edinburgh. WW2 service, tank commander in Italy. In 1946 lecturer in logic at St Andrews. 1957 professor of philosophy at Liverpool University. Elected Senior Fellow of the British Academy in 1992. Author of 'The Anatomy of Neoplatonism' (Clarendon Press).
---
Francis Ernest Appleyard Kitto (King's) (1915-1964). Known as "Frank". Played in the 1934, 1935, 1936 and 1937 Varsity matches. - born 3 February 1915, died 28 November 1964. Notable player in the west of England from the 1930s to the 1960s. At the 1938 BCF Major Open, he finished 1st= with Dr. Seitz. Bomber pilot during the war. In 1948 shared 1st place with Max Euwe in the Plymouth International, ahead of Winter, Dr. List, ARB Thomas, etc. Played for Great Britain in the 1948 match versus the Netherlands, scoring ½/2 versus van Steenis. Won the WWest of England Championship twice, in 1951 (shared with Ron Bruce) and 1955 (outright). In 1955 he also won his club and county championships, and finished first in the Paignton Premier. Biography, Chess Devon website.
David Bernard Schultz (1915-1993) Played in the 1935, 1936, 1937 and 1938 Varsity matches. Changed his name to David Bernard SCOTT in 1939, and was generally known as Bernard Scott. Obituary [BCM, Dec 1993, p677]: "We report with regret the death of D. B. Scott (London, 27.viii.1915 - Hove, 7.xi. 1993) a player prominent in Middlesex and Sussex circles. He was a mathematician who graduated from Cambridge, held posts at the University of London from 1939 onwards and founded the maths department at the University of Sussex, where he was professor from 1962 to 1980. A member of the Hampstead club, he helped R. C. Griffith keep the BCM afloat during the war by contributing game notes (including a win of his against Winter) and was Sussex Champion in 1965. I recall him telling of a wonderful occasion for him when, at a pre-war Margate tournament, Capablanca made an observation about his game of that day, then sat down to show a missed winning method and then duly refuted suggestions from a voice at the back of the crowd which happened to come from ... Flohr! Resident in Hastings since 1987, Bernard Scott was very helpful and friendly in many ways. He attended some of the Kasparov-Short games and wished to reconcile Tony Miles and Ray Keene at that time. B[ernard].C[afferty].
[Extract from The Independent obit, 18 Dec 1993]: Lecturer in Mathematics, Queen Mary's College, London 1939-46; Lecturer in Mathematics, Aberdeen University 1947; Lecturer in Mathematics, King's College London 1947-53, Reader 1953- 62; Professor of Mathematics, Sussex University 1962-80 (Emeritus); founding Professor of Mathematics at Sussex University, from 1962 to 1980, and the Independent's first chess writer. Full Independent Obituary. Was a cousin of Leonard Richenberg.
John Dean (1917-1983). Paediatrician, University of British Columbia, Canada, from 1955. MA, MB, BChir Cantab (1942), MRCP (1947) FRCP (1973). Educated at Wednesbury High School, obtaining an exhibition in natural sciences to St Catharine's College, Cambridge, where he was awarded first class honours in Part I of the natural sciences tripos in 1938. He received his education in clinical medicine at the Westminster Hospital medical school. Commissioned as temporary surgeon lieutenant RNVR and served in the Royal Navy, in HMS Ready, for three years. Emigrated to Vancouver, Canada, in 1955. Took part in the 1935 British Boys' Championship at Hastings, winning his preliminary section ahead of JF O'Donovan - who played a board below him in the 1939 Varsity match - but lost to Frank Parr in the final section to finish 3rd. Played in the 1936, 1937, 1938 and 1939 Varsity matches, and also in the post-war Cambridge Past vs Oxford Past matches. [primary biographical source]
John Francis O'Donovan (1918-1999). Born in Cobh [Queenstown], Cork, Ireland, died in Buenos Aires, Argentina. Article by David McAlister, IRLchess website (from which much of this info is sourced). Played in the 1937, 1938 and 1939 Varsity matches, and was president of the Cambridge University CC in 1939. Attended St Paul's School, London. First class honours in part one of the Mathematical Tripos in 1937 and graduated BA in 1939. Tied first in the 1935 British Boys' Championship at Hastings, losing a two-game play-off for the title to Frank Parr. Won the 1936 London Boys' Championship. Took part in a number of major British congresses, e.g. Margate 1937, BCF Championships (Blackpool 1937, Brighton 1938). In 1939 played board two for Ireland in the 1939 Buenos Aires Olympiad and stayed behind in Argentina when it ended. He taught English at the Faculty of Engineering, National University of Buenos Aires, for 26 years. Endgame studies published in BCM, May 1956, p137 and BCM, Sept 1956, p243.
Mervyn Edward Wise (1917-still alive?) Played in the 1937, 1938 and 1939 matches. Academic, expert on the mathematics of medicine. Based at Leiden University in the Netherlands in the 1990s and active in chess there as late as 1995.
Ronald Grubb Stansfield (1915, Southampton – 1993, Canterbury, Kent) Played in the 1935, 1936 and 1937 Varsity matches. Only child of the physicist Herbert Stansfield (1872-1960) and his wife Edith Grubb. Was at King Edward VI's School, Southampton (BCM, June 1933, p244). Played in the 1933 British Boys' Championship. He matriculated at Clare College, Cambridge, in 1933, and was awarded his BA in 1936, and MA in 1940. Stansfield was educated at Clare College Cambridge and undertook particle physics research at the Cavendish Laboratory, University of Cambridge. During the war he became a Member of the Operational Research Section of Fighter Command. After the war he went to the Department of Scientific and Industrial Research (DSIR) later moving to City University as Reader in Industrial Sociology. In addition to being a founder member of the Ergonomics Society he was actively involved with numerous societies concerned with anthropology, history of science, operational research, physics, psychology (BPS), sociology and the British Association. [Various sources online]
James Sydney Abraham (1916-1979) Played in the 1937 and 1938 Varsity matches. Schoolmaster, Bushey, Herts, 1939. Attested Royal Artillery, 1940. Studied English under FR Leavis at Cambridge and taught at Loughborough Training College and later Hull College of Further Education. [book source] Died in Palermo, Italy.
All material © 2020 John Saunders