BRITBASE - British Chess Game Archive
Event: 61st Varsity Match • Venue: City of London CC • Date: 15 March 1937 • last edited: Thursday March 18, 2021 5:30 PM
Download PGN • List of Varsity Matches • Back to 1936 • Forward to 1938
The 61st Varsity Chess Match between Oxford University and Cambridge University was held at City of London Chess Club on 15 March 1937. All seven game scores from this match are available.
Sources: Oxford-Cambridge Chess Matches (1873-1987), compiled by Jeremy Gaige, Philadelphia 1987; BCM, April 1937, p186; The Times, 16 March 1937, p22 (complete game scores)
Notes
This match was unusual in being played on a Monday, and in advance of (and not after) the usual sequence of Combined Universities' matches against London clubs (often referred to as 'London week'). Oxford were White on odd boards. Time limit 40 moves in 2 hrs, start time 11.45am.
---
[The Times, 15 March 1937] "The sixty-first annual match between the Universities of Oxford and Cambridge will be played to-day at the City of London Chess Club, Wardrobe Court, E.C.4. Play will begin at 11.30 a.m., and there will be a break for luncheon at 1.30, after which games will be played to a finish. The Oxford team will be R. M. Baine (Merton), B. Bleaney (St. John's), A. W. Bowen (Oriel), F. G. T. Collins (Balliol), the president, A. C. Lloyd (Balliol), J. W. Naylor (Exeter), and A. J. Peters (Christ Church), with F. P. Luduena (Exeter) as reserve. The Cambridge team will consist of J. Dean (St. Catharine's), J. F. O'Donovan (Jesus College), F. E. A. Kitto (King's), D. B. Schultz (Magdalene), the president, R. G. Stansfield (Clare), and M. E. Wise (Pembroke), with either P. C. Hoad (Trinity) or J. S. Abraham (Downing) in the seventh place. These lists are in alphabetical and not playing order. A forecast of the probable result is as usual difficult. On the top boards there is little to choose between F. G. T. Collins, B. Bleaney, and A. W. Bowen, of Oxford, and F. E. A. Kitto, D. B. Schultz, and J. Dean, of Cambridge. The lower boards of the Cambridge University team have played exceptionally well this year,especially the two new half-Blues, J. F. O'Donovan and M. E. Wise, and should turn the match in favour of Cambridge. Nerves, however, play a large part in this match."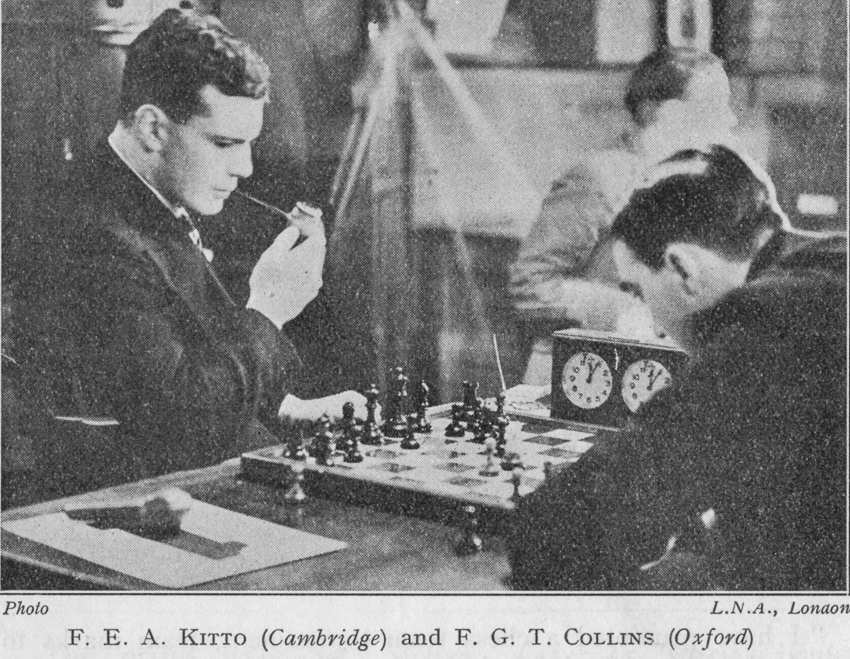 FEA Kitto vs FGT Collins (BCM, April 1937, p186)
[The Times, 16 March 1937, p22] "The sixty-first annual match between the Universities of Oxford and Cambridge was played at the City of London Chess Club, Wardrobe Court, E.C., yesterday, and won by Cambridge University with a score of four games to three. Oxford University certainly made a better showing than last year, and at one time stood a very good chance of winning the match, but could not quite maintain their position. The record for the series is Cambridge University, 28 wins; Oxford University, 25 wins; and eight matches drawn. Oxford University had the white pieces on the odd-numbered boards. The teams were entertained at lunch at the Cannon Street Hotel by Sir George Thomas."
---
[BCM, April 1937, p186]: "The sixty-first match in the series of University chess contests was played at the City of London Chess Club on Monday, March 15, and commenced at 11-45. This was an innovation on the part of the undergraduates and it remains to be seen whether it proves popular or not. For many years the match has been played on Saturday afternoons after a rather strenuous week against many of the strong London clubs, this kept certain provincial players in London for a week which sometimes they could ill spare. By playing on the second day in the week they undoubtedly started fresh."
"The arrangement as to time-limit was forty moves in two hours. At 1-45 at the invitation of Sir George Thomas, they adjourned for lunch at the Cannon Street Hotel, to which were also invited some friends, among them P. S. Milner-Barry, G. S. A. Wheatcroft, and E. S. Tinsley*, chess editor of The Times, who got leave from the hospital authorities to go out for a short time. (As is probably known to most chessplayers he has been through a serious operation and it was not anticipated that it would be successful; but his wonderful constitution has pulled him through, and the hospital authorities hope to release him by Easter.)" [* Edward Samuel Tinsley (1870-1937) died later that year at the Worcester Congress - article on Tinsley and his father by EG Winter - see also here]
"What effect the break had we cannot say, but unfortunately A. J. Peters made a bad error directly on the resumption which caused him to lose a piece and his resignation immediately; and therefore first blood went to Cambridge. The result was so close that Peters will find it difficult to forgive himself for throwing away a game when in a level position. It was unfortunate, seeing that he was the" bright spot" in the Oxford team last year. However, Oxford had some satisfaction in winning on board 2 shortly afterwards. Schultz had made a poor move at move 15, overlooking the fact that his opponent's next move attacked his Q B P a second time, and he followed it up with a blunder losing a Pawn at the 20th move. He tried to force things by a sacrifice at move 22, but Bowen had no difficulty in proving it unsound.On board 1 Kitto defended a Queen's Pawn irregularly and gave up a Pawn. He, however, obtained some attack and sacrificed a piece for two Pawns. His 16th move brought about too many exchanges to be satisfactory; P-B5 would have been appreciably better. At move 18 he captured his opponent's KRP and that proved fatal to him. On board 7 the Cambridge player made a curious blunder at move 7 and thereby lost a piece. He fought hard afterwards and his opponent found it difficult to break through and win with his extra material, and Lloyd took sixty-four moves to bring about the Cambridge man's resignation. Board 5 must have been disappointing to Oxford, who seemed to have got a chance of winning it for a long time. The games on boards 3 and 6 were well contested."
"The record of these matches now stands: Cambridge 28, Oxford 25. Drawn 8." (BCM, April 1937)
All material © 2020-2021 John Saunders