BRITBASE - British Chess Game Archive
Tournament: 135th Varsity Match • Venue: RAC Club, Pall Mall, London • Date: 11 March 2017
Download PGN • List of Varsity Matches • Back to 2016 • Forward to 2018 • edited Thursday March 24, 2022 10:35 AM
John Saunders reports: The 135th Varsity Chess Match between Oxford University and Cambridge University was held at the Royal Automobile Club, Pall Mall, London on 11 March 2017. The match sponsors were the Royal Automobile Club. The match arbiter was David Sedgwick, with Matthew Carr operating the live boards. Live play.
2016«

2017 Varsity Chess Match

»2018
Bd
Oxford University
Rating
Nat
4½-3½
Cambridge University
Rating
Nat
1b
David Pires Tavares Martins (Worcester)
2389f
POR
½-½
Ryan-Rhys Griffiths (Wolfson)
2356f
IRL
2w
Joris Gerlagh (University)
2271
NED
0-1
Daniel Howard Fernandez (Queens')
2481m
ENG
3b
Benjamin Foo Zhi Rong (Magdalen)
2271c
SIN
½-½
Bram Van der Velden (King's)
2170c
NED
4w
Henrique Rui Neves Aguiar (Balliol)
2186
POR
1-0
Peter Andreev (Trinity)
1999
ENG
5b
Aleksandar Monev (Keble)
2224
BUL
½-½
Gustavo Leon Cazares (Selwyn)
2059
MEX
6w
Jamie Horton (Christ Church)
2180
ENG
1-0
Conor Murphy (Christ's)
2077
ENG
7b
Robin De Vogelaere (Pembroke)
1962
BEL
0-1
Adam Scibior (Trinity)
2229
POL
8w
Alexandra Kozera (Worcester)
1876
POL
1-0
Danielle Ho En Huei (Murray Edwards)
1974wf
SIN
Av. Rating = 2169.8
4½-3½
Av. Rating = 2168.1
John Saunders reports: the toss for colours attracted more attention than is normal for this match. The Cambridge captain called "I'll take White on the odd boards" while the coin was in the air. After it came down heads he then opted for "Heads", to the mirth of the assembled onlookers. The arbiter disallowed this and asked him to make the two statements in the more conventional order at the second time of asking. The coin came down heads again, so Cambridge got White on the odd boards after all.
Much of the early attention was on the bottom board game where the Cambridge player thought for a mind-boggling 80 minutes on her 16th move. When it came, it was not a good one, perhaps not surprisingly as anyone taking that long over a single move must be very confused as to what is going on. Those possessing large chess databases may care to look the game up - it followed a rapidplay game Anand-Carlsen from a number of years back where the Norwegian was similarly perplexed and went wrong around the same time.
First blood went to Cambridge on board two, thus cashing in their 200 point rating advantage. Fernandez didn't look to be doing too well but his remarkable piece sacrifice, initiated by 21...e5, led to considerable complications from which he emerged victorious.
16:05 and Oxford level the match score with a win on board four. Black pinned his hopes on a kingside counterattack but it never really looked like happening despite a breach in the king's defences.
16:20 - Jamie Horton wins on board six for Oxford to take them into a 2-1 lead. Horton played a very nice positional game, topped off with a crisp mating finish. It's starting to look very promising for the Dark Blues as they are winning on board eight and (probably) board five.
16:30 - a flurry of activity at the time control. The top board ended in a draw on move 42 in a position where the Cambridge player was a pawn up but only doubled and with few prospects of making progress. But perhaps he might have played on for a while anyway, given the match situation, which looks parlous for Cambridge. They look out for the count on board eight and also very badly placed on board five.
Time: 16:40 - Oxford finally cash in their advantage on board eight to make the score 3½-1½. They are very likely to bring in the point to give them their first Varsity match win since 2011.
Time: 17:50 - chess is a funny old game - just as Oxford's board seven reached a tablebase draw, he went wrong and blundered the game away. Oxford are still 3½-2½ up, though, and should get the point they need from the final two games. But there is now just a bit more pressure on the two players who have to do it.
Time: 17:55 - just a minute or two after the conclusion of board seven, board three is agreed drawn. That means Oxford have 4 to Cambridge's 3 and need just a draw from board five to win the match.
Time: 18:21 - draw agreed on board five, so Oxford have won the match by 4½-3½. Well done to them.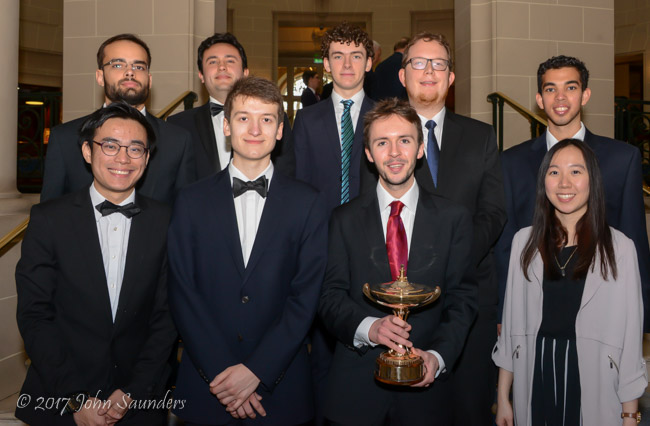 Cambridge team: (back) Adam Scibior, Gustavo Leon Cazares, Conor Murphy, Bram van der Velden, Daniel Fernandez; (front) Ton Qine Kane, Peter Andreev, Ryan-Rhys Griffiths, Danielle Ho En Huei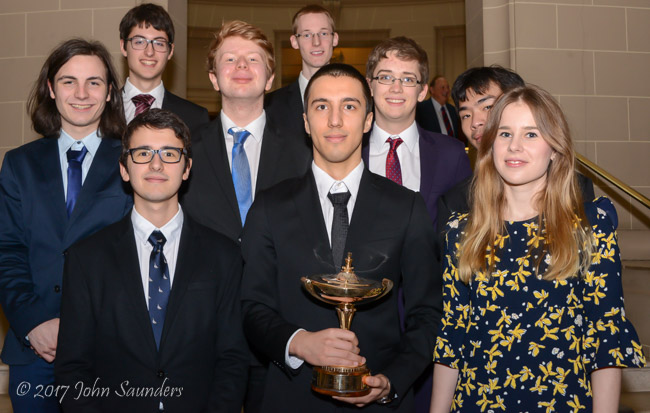 Oxford team: left to right, Joris Gerlagh, David Martins (back), Henrique Rui Neves Aguiar (front), Daniel Lea, Robin De Vogelaere, Aleksandar Monev (captain), Jamie Horton, Benjamin Foo Zhi Rong, Aleksandra Kozera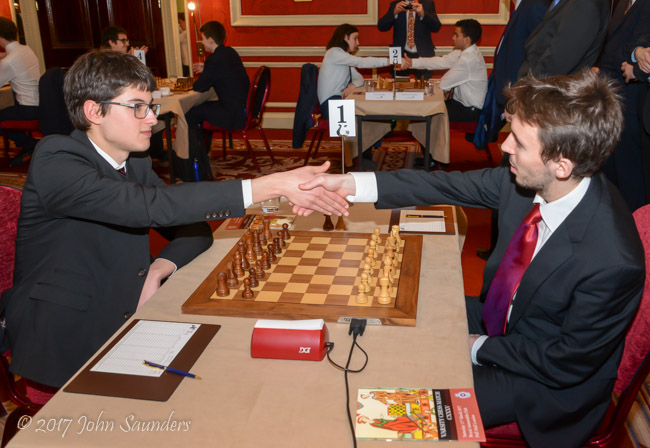 Top boards shake hands: Ryan-Rhys Griffiths (right, Cambridge) and David Pires Tavares Martins (Oxford)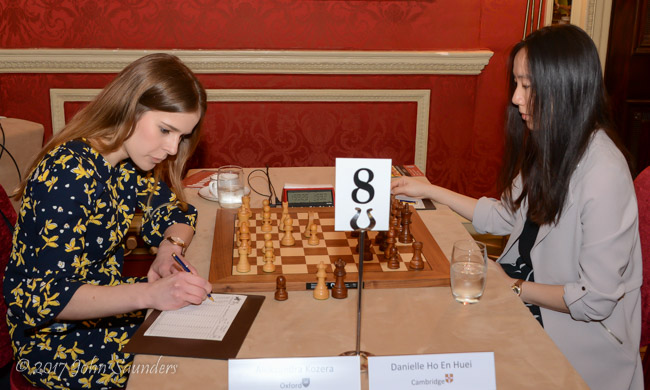 Board 8: Alexandra Kozeva (Oxford) v Danielle Ho En Huei (Cambridge)

© 2017 John Saunders, all photos and text - not to be used without permission