BRITBASE - British Chess Game Archive
Tournament: 45th Varsity Match • Venue: City of London CC, London • Date: Friday 18 March 1921
Download PGN • List of Varsity Matches • Back to 1920 • Forward to 1922 • last edited: Saturday March 19, 2022 8:38 AM
The 45th Varsity Chess Match between Oxford University and Cambridge University was held at City of London Chess Club, London, on Monday 18 March 1921.
Sources: Oxford-Cambridge Chess Matches (1873-1987), compiled by Jeremy Gaige, Philadelphia 1987; BCM, 1921, pps 129-132; The Observer, 20 March 1921, p22; The Times (various); Manchester Guardian (various); Ancestry.com; FindMyPast.co.uk; all games available (from The Field, 26 March 1921)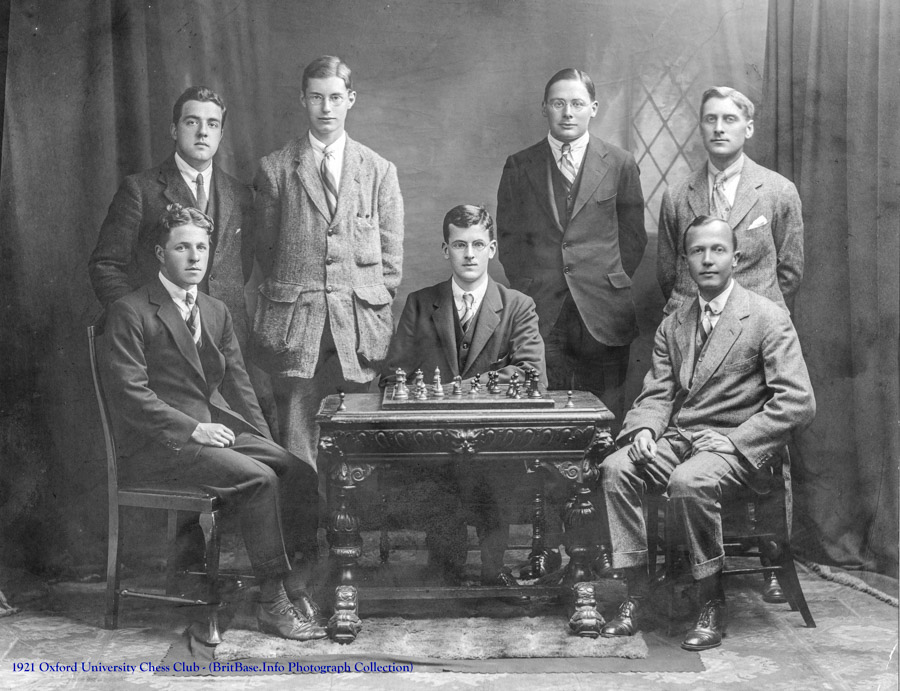 1921 Oxford University chess team: standing, left to right: Joseph Francis Palmer Deller, William Ernest Baker Pryer, Horace Ransom Bigelow, Harold Tetley Burt.
sitting, left to right: Thomas Arthur Staynes, Theodore Henry Tylor, Herbert Gibson Rhodes.
BCM, 1921, p129: "INTER-UNIVERSITY MATCH. The forty-fifth match between the representative teams of Oxford and Cambridge Universities was played at the City of London Chess Club on Friday afternoon, March 18, commencing at 2-30 p.m.
"Oxford had shown better form in their home matches, and also had proved rather above the average in the combined team matches against the strong London Clubs in what is known as 'University week'. H. R. Bigelow won the toss for his side, so T. H. Tylor had the move against his opponent, and conqueror of last year.
"It looked at one time as if the unexpected might happen. Hill, at board 2 in a Queen's Gambit declined, brought off a nice King's side attack and his opponent having withdrawn too many of his pieces from his King's defence, had to resign on the 18th move.
"Bigelow, however, nullified this success after defending a French by very neatly trapping his opponent, who was short of time and had castled on the Queen's side.
"Cambridge again took the lead by a really pretty win by Ewbank, who, taking advantage of one or two weak moves, played like a veteran and first sacrificing the exchange, and then his Queen for a Knight, mated his opponent on the 26th move. But it was certain from the positions on the other boards that Oxford were not to be denied, soon afterwards Hewitt resigned a hopeless struggle, two exchanges down—the outcome of a Ruy Lopez; a little later Deller, who had won 2 Pawns in a Queen's Pawn game, brought the ending to a successful issue. And ten minutes later Tylor, made Oxford's success certain, after a well fought Four Knight's game, in which he always had a pull, by exchanging off the remaining pieces, to obtain a won Pawn position.
"The remaining game, a Queen's Gambit declined, had been evenly and stubbornly defended by Precious, but a weak move or two at the end of his second hour let in his opponent, who finished the game with some fine decisive thrusts. The play generally was far superior to that of last year. The record of these matches now stand, Cambridge 23, Oxford 18, drawn 4."
March 14: Combined (Past & Present) Universities 12-5 Insurance CC
March 15: Combined (Past & Present) Universities 12½-7½ Hampstead
March 16: Combined (Past & Present) Universities 8-13 City of London CC ¶
March 17: consultation match - Combined (Past & Present) Universities 3-1 Lud-Eagle CC
March 18: Varsity match itself
March 19: Combined (Past & Present) Universities 7½-4½ Metropolitan
March 21: Combined (Past & Present) Universities 7-2 Imperial CC
March 22: Combined (Present) Universities 3-5 London University CC
¶ full score of the City of London match is given in The Times, 18 March 1921 & BCM, 1921, p131.
---
File updated
| | |
| --- | --- |
| Date | Notes |
| 23 March 2021 | First uploaded. |
All material © 2021 John Saunders