BRITBASE - British Chess Game Archive
Player: Leonard Barden (born 20 August 1929)
• page last edited Saturday September 30, 2023 2:09 AM


442 games played 1945-2010 • Download PGN (including 60 stubs) • Download PGN (excluding stubs - total 382)
Leonard Barden Links
1) Wikipedia
2) Guardian Chess Column
3) Financial Times Column
4) Games at chessgames.com
5) Mini-Biography at Varsity match pages
6) 1954 British Chess Champion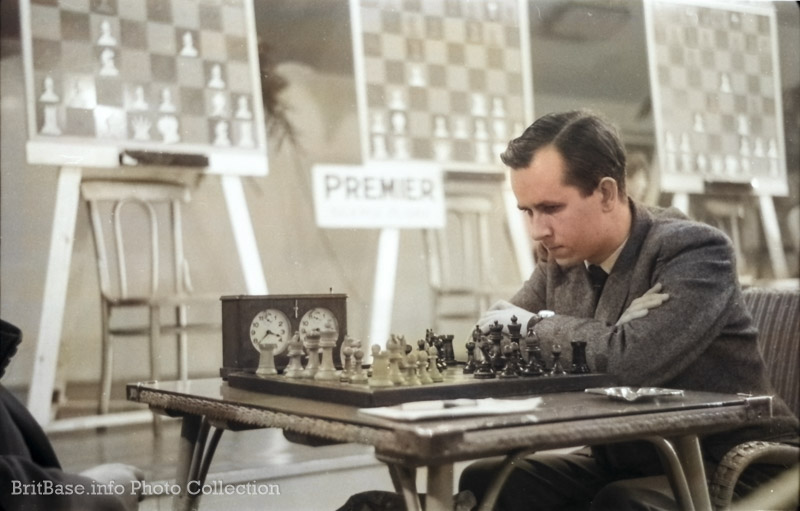 Leonard Barden at the 1957/58 Hastings (colourised by John Saunders)
Leonard Barden's Playing Career
| Date | Event | Score | Rank |
| --- | --- | --- | --- |
| 1945.12 | London U18 Ch'ship | 4/5 | 1-2nd (1-1 play-off with JA Fuller) |
| 1946.04 | GBR-ch U18 | 2½/3 & 3/5 | 3rd (1st JA Fuller, 2nd GT Crown) |
| 1946.12 | London U18 Ch'ship | 3½/5 | 3rd (1st O Penrose, 2nd AH Trott) |
| 1947.04 | GBR-ch U18 | 4½/5 & 3½/5 | Tied with J Penrose |
| 1947.04 | GBR-ch U18 Play-Off | 1½-2½ | Lost to J Penrose |
| 1948.08 | Plymouth Premier Reserves B | 6/7 | 1st |
| 1948.08 | GBR-ch Premier | 3/11 | 12th |
| 1948/49 | Hastings Premier Reserves Major | 5½/9 | 2nd |
| 1949.04 | Stevenson Mem, Southsea | 5/10 | 10-17th |
| 1949.08 | British Championship, Felixstowe | 6/11 | 12-13th |
| 1949.10 | Match v John A Fuller | 1-3 | =2, -0 (winner qualified for Hastings Prem) |
| 1949/50 | Hastings Premier Reserves Major | 5/9 | 3-5th |
| 1950.03 | Varsity Match, Oxford-Cambridge | | Bd 1 loss to Oliver Penrose |
| 1950.04 | Oxfordshire v Leinster, Dublin | 2/2 | vs DJ O'Sullivan & PA Duignan |
| 1950.04 | Stevenson Mem, Southsea | 6/10 | 7-13th |
| 1950.07 | British Universities Championship | 9/11 | Same score as O Penrose: 2nd on S/B |
| 1950.08 | British Championship, Buxton | 6½/11 | 5-8th |
| 1950.12 | GB v NED Universities Match | 1/2 | vs Donner |
| 1950/51 | Hastings Premier | 3/9 | 8th |
| 1951.03 | Varsity Match, Oxford-Cambridge | | Bd 1 drew with Oliver Penrose |
| 1951.04 | Stevenson Mem, Southsea | 6½/10 | 7-9th |
| 1951.05 | Ilford Premier | 1½/5 | 5th |
| 1951.08 | British Championship, Swansea | 6½/11 | 5-8th |
| 1951.09 | GB v Yugoslavia | 1/2 | Bd 9 v B Ivkov |
| 1951.09 | Paignton Premier | 3/7 | 4-5th |
| 1951.10 | Commonweath Ch, Oxford | 2/5 | 4-5th |
| 1951/52 | Hastings Premier | 4½/9 | 4-6th |
| 1952.03 | Varsity Match, Oxford-Cambridge | | Bd 2 beat Denis V Mardle |
| 1952.08 | Helsinki Olympiad | 4½/11 | Bd 4 |
| 1952.09 | Paignton Premier | 5/7 | 1st |
| 1952/53 | Lucerne Xmas | 4/7 | 4th |
| 1953.03 | Inter'l Students Team ch, Brussels | 5/7 | Best score on bd 2 |
| 1953.03 | Varsity Match, Oxford-Cambridge | | Bd 2 drew with Stefan Kruger |
| 1953.05 | British Lightning Champ., Ilford | 13/18 | after p/o with AY Green (Dr PM List 15½) |
| 1953.07 | CHESS Festival, Cheltenham | 7½/12 | 5-7th |
| 1953.08 | British Championship, Hastings | 7/11 | 4-6th |
| 1954.04 | Stevenson Mem, Bognor Regis | 7½/10 | 1-2nd (with O'Kelly) |
| 1954.05 | Dublin Masters | 3/5 | 3-4th |
| 1954.07 | GB v USSR | 0/2 | Bd 7 v M Taimanov |
| 1954.08 | British Championship, Nottingham | 8/11 | 1-2nd (with A Phillips) |
| 1954.09 | Amsterdam Olympiad | 2/7 | Bd 5 |
| 1954.10 | Brit. Champ. Play-Off | 5-5 | Tied with A Phillips |
| 1955.?? | Match v Edward Lasker, Hastings | 2½/4 | Won |
| 1955.?? | Battle of Britain K.O. | Won | after play-off with JB Hawson & M Rogan |
| 1955.08 | CHESS Festival, Southend | 7/11 | 7-9th |
| 1955.08 | British Championship, Aberystwyth | 5½/11 | 15-23rd |
| 1955/56 | Hastings Premier Reserves Major | 4½/9 | 5-6th |
| 1956.04 | Thames Valley Premier, Twickenham | 1½/5 | 5th |
| 1956.04 | Stevenson Mem, Bognor Regis | 7/10 | 2-7th |
| 1956.07 | Match v A Hildebrand, Uppsala, Sweden | 1½-2½ | Lost |
| 1956.08 | British Championship, Blackpool | 7/11 | 5th |
| 1956.09 | CHESS Festival, Whitby | 9½/11 | 2nd (after PN Wallis 10½/11) |
| 1957.04 | Thames Valley Premier | 3½/5 | 2nd (after MJ Franklin 4) |
| 1957.04 | Stevenson Mem, Bognor Regis | 6½/10 | 6-7th |
| 1957.08 | British Championship, Plymouth | 7/11 | 5-6th |
| 1957/58 | Hastings Premier | 5/9 | 4th |
| 1958.04 | Southend Premier | 4/5 | 1st-2nd with PH Clarke  (3rd Penrose 3½) |
| 1958.04 | Stevenson Mem, Bognor Regis | 6/10 | 10-13th |
| 1958.04 | England v Scotland, London | ½-½ | Bd 4 ½ v M Fallone |
| 1958.05 | Ilford Premier | 3/5 | 3-4th |
| 1958.08 | British Championship, Leamington | 8½/11 | 1st= (with J Penrose) |
| 1958.10 | GB v NED | 1/2 | Bd 5 v T van Scheltinga |
| 1958.11 | British Championship Play-Off v Penrose | 1½-3½ | Lost |
| 1958/59 | Hastings Premier | 1/9 | 10th |
| 1959.08 | British Championship, York | 7/11 | 4-7th |
| 1959.10 | GB v NED | 1/2 | Bd 4 v N Cortlever |
| 1959/60 | Hastings Premier Reserves Major | 5½/9 | 2nd |
| 1960.04 | Clare Benedict (Team Event, Biel) | 3½-1½ | Bd 4 for England |
| 1960.04 | Stevenson Mem, Bognor Regis | 6½/10 | 5-9th |
| 1960.06 | Ilford Premier | 2/5 | 4-5th |
| 1960.08 | British Championship, Leicester | 7/11 | 4-7th |
| 1960.09 | Paignton Premier | 4/7 | 7-8th |
| 1960.10 | GB v NED | ½/2 | Bd 4 v N Cortlever |
| 1960.10 | Leipzig Olympiad | 6/10 | Bd 5 |
| 1960/61 | Hastings Premier | 4½/9 | 5-7th |
| 1961.01 | Leicestershire Centenary | 3/5 | 3rd |
| 1961.04 | Stevenson Mem, Bognor Regis | 7/11 | 5-10th |
| 1961.08 | British Championship, Aberystwyth | 7/11 | 4-6th |
| 1961.10 | GB v NED | 2/2 | Bd v J Van der Pol |
| 1961/62 | Hastings Premier | 3/9 | 9th |
| 1962.09 | Varna Olympiad | 8/12 | Bd 5 |
| 1963.11 | GB v NED | 1/2 | Bd 6 v K Bergsma |
| 1964.03 | Southend Easter Premier | 2½/5 | 5th |
| 1964.05 | BCF Selection Part 1 (Ilford) | ½/4 | |
| 1964.08 | BCF Selection Part 2 (Acton) | 1½/4 | 5th |
| 1969.04 | Hammersmith Open | 5½/7 | 2-6th |
| 1969.09 | Glasgow Invitation | 3/5 | 4-5th |
| 1969.11 | Islington Open | 5/6 | 2-7th |
| 1970.03 | Hammersmith Open | 5½/7 | 4-8th |
| 1970.07 | Manchester Open | 5/6 | 2-5th |
| 1970.08.28 | Thames Valley Congress, Richmond | 4½/6 | 3-9th |
| 1970.09.04 | Thanet Premier | 4/5 | 4-7th |
| 1970.09 | Glasgow Invitational | 4½/5 | 1st |
| 1970.10 | 5th Spalding International | 4½/6 | 6th= |
| 1970.12 | Islington Open | 4/6 | 14th= |
| 1971.04 | Hammersmith Open | 5½/7 | 4-8th |
| 1971.06 | Bayswater Open | 4½/5 | 1-2nd (with L Blackstock) |
| 1971.08/09 | Thames Valley Open, London W6 | 4½/6 | 5-9th (1st Colin Burton 5½) |
| 1971.09 | Glasgow Invitational | 3½/5 | 2nd |
| 1972.10.20 | 2nd North Devon Open, Woolacombe | 4/5 | |
| 1974.03.23 | Coleraine Simul +36=9-5 | | (source: irlchess.com) |
| 1988.08 | Lloyds Bank Masters | 0/1 | 'filler' v GM V Gavrikov |
Probably still a few gaps in the above table. My thanks to Leonard Barden and Colin Patterson for help with this.
---
File Updated
Date
Notes
8 May 2023
First upload of 439 games (366 excluding stub games)
8 May 2023
Added two games submitted by Brian Denman: (1) LB 0-1 A.E.Smith, Whitgift v BCCA, 19.03.1949; (2) LB ½-½ LJ Cannon, Horsham Simul, 09.03.1964. Many thanks to Brian.
8 May 2023
One game and two part-games added: (1) L.Barden 0-1 D.Hooper, Ilford (rd 1, 11.05.51); (2) L.Barden ½-½ B.Wood, Paignton (rd 7, 20.09.1952, opening moves); (3) L.Barden ½-½ V.Soultanbeieff, An Tostal Dublin (rd 1, 03.05.1954, part-game). Many thanks to Ulrich Tamm.
15 May 2023
Added the game L.Barden 1-0 G.Wheatcroft, Oxf'shire v Herts, 03.1954.
19 May 2023
Added 6½ games from the 1961 British Championship to complete Leonard Barden's set of 11 from this event. Many thanks to Eric Fisher for the booklet of games and Andy Ansel for inputting them.
26 May 2023
Some adjustments made and the file made live. 438 game entries, of which 64 are stubs.
27 May 2023
Some more amendments and addition - 443 game entries, of which 67 are stubs. Tim Harding has very kindly supplied some of Leonard Barden's earliest correspondence games, and provided a primary source for another. Sean Coffey has provided further information about the Oxfordshire-Leinster match in 1950 which Leonard Barden took part in. Thanks to Time and Sean.
29 May 2023
Leonard Barden has very kindly proofread the games file, the result of which is as follows:
(1) Game played, BUCA, Cambridge 17.07.50 was in fact O.Penrose 1-0 Barden and not the other way around (apologies JS) - "It was round 1 (unseeded pairings brought together Nos 1 and 2) and I unsuccessfully chose the Albin Counter." (LWB, 2023);
(2) the game Barden 1-0 Edward Lasker, 1955: "Venue Hastings. Game 1 of 4. The match was arranged by Julius du Mont as Lasker wanted some practice against a decent opponent. I won 2.5-1.5,  having prepared against 2...Nd7 which Lasker had used successfully in a previous tournament (1951 Schlechter Memorial) in Vienna but which I thought was too slow that early. The remaining three games were drawn but Lasker was much better or winning in all of them." (LWB);
(3) Duplicate game Barden ½-½ Pratten Hastings Premier Reserves Major, 1955/56, removed;
(4) Barden 1-0 Broadbent, 1956: "London League. The game score is incomplete as it was adjourned at move 40 and I won in the second session due to my dark square control." (LWB);
(5) The part-game Barden-Penrose, London 1958, with no result given, was played in a London League match;
(6) The final five games of the 1964 BCF Olympiad Selection tournament were played at Eileen Tranmer's flat in Acton, London, from 31 July to 3 August.
Many thanks, Leonard. Running total of game entries now 442, with 375 appearing in the game viewer after 67 stubs have been left out).
5 June 2023
A further five games added, plus a further five stubs. The complete games are those from the 1970 Glasgow Invitational tournament, where Leonard Barden finished clear first with 4½/5, while the five stubs are from the same event in 1971 where he scored 4/5 to finish second.
30 September 2023
Now that (nearly) all the games from the 1956 British Championship are available, there are a further seven of Leonard Barden's games available (in addition to the games of rounds 3, 8, 9 and 11 which were already in the file). My thanks to Eric Fisher and Andy Ansel for the games.