BRITBASE - British Chess Game Archive
Event: 5th Bognor Regis Congress •
26 games
• Last Edited: Wednesday 21 December, 2022 2:23 PM
Venue: Southdean Sports Club, Middleton-on-Sea • Dates: 24 April - 4 May 1957 • Download PGN
1957 Bognor Regis: Stevenson Memorial, Wednesday 24 April - Saturday 4 May • 1956«»1958
Venue: Southdean Sports Club, Middleton-on-Sea
1957 Stevenson Memorial, Bognor Regis
Resid.
1
2
3
4
5
6
7
8
9
10
Total
1
GM
Svetozar Gligoric
Yugoslavia
◊ 1/6
♦ 1/10
◊ 1/4
♦ ½/2
◊ ½/15
♦ 1/3
♦ 1/12
◊ 1/14
◊ ½/5
♦ ½/7
8
2
Borge Andersen
Denmark
♦ 1/36
◊ 1/32
♦ 1/20
◊ ½/1
♦ ½/3
◊ ½/14
♦ ½/7
◊ ½/4
♦ ½/6
◊ 1/8
7
3
GM
Alberic O'Kelly de Galway
Belgium
◊ 1/33
♦ 1/19
◊ 1/15
♦ 1/5
◊ ½/2
◊ 0/1
♦ 0/4
♦ ½/8
◊ 1/17
♦ 1/10
7
4
Tomislav Rakic
Yugoslavia
♦ 1/8
◊ 1/27
♦ 0/1
◊ 1/22
♦ ½/20
♦ 1/15
◊ 1/3
♦ ½/2
◊ ½/7
♦ ½/5
7
5
IM
Robert G Wade (SCCU Champion)
New Zealand
♦ 1/13
◊ 1/30
♦ 1/7
◊ 0/3
♦ ½/9
♦ ½/10
◊ 1/17
◊ 1/20
♦ ½/1
◊ ½/4
7
6
Leonard W Barden
London
♦ 0/1
◊ 1/36
♦ 0/22
◊ 1/37
♦ 1/29
◊ 1/35
♦ 0/14
◊ 1/12
◊ ½/2
♦ 1/15
6½
7
Peter Hugh Clarke
Ilford
◊ 1/24
♦ ½/14
◊ 0/5
♦ ½/16
◊ 1/27
♦ 1/11
◊ ½/2
♦ 1/10
♦ ½/4
◊ ½/1
6½
8
Arnold Yorwarth Green
England
◊ 0/4
♦ ½/25
◊ 1/31
◊ 1/21
♦ 0/14
◊ 1/18
♦ 1/37
◊ ½/3
♦ 1/20
♦ 0/2
6
9
Geoffrey F Harris
England
◊ 1/18
◊ ½/11
♦ ½/35
♦ ½/14
◊ ½/5
♦ 0/19
◊ 1/13
♦ ½/31
◊ 1/25
♦ ½/17
6
10
Miroslav Radojcic
Yugoslavia
♦ 1/23
◊ 0/1
♦ 1/34
◊ 1/35
♦ ½/17
◊ ½/5
♦ 1/15
◊ 0/7
♦ 1/14
◊ 0/3
6
11
Joaquim Manuel Durao
Portugal
◊ 1/17
♦ ½/9
◊ ½/14
♦ 0/15
◊ 1/25
◊ 0/7
♦ 0/22
♦ 1/34
◊ 1/21
♦ ½/13
5½
12
IM
Stefan Fazekas
Buckhurst Hill
◊ 1/25
♦ 0/15
◊ 0/19
♦ 1/28
◊ 1/16
♦ 1/13
◊ 0/1
♦ 0/6
◊ 1/31
♦ ½/20
5½
13
Donald Gilbertson
England
◊ 0/5
♦ 0/26
◊ 1/23
♦ 1/24
♦ 1/37
◊ 0/12
♦ 0/9
◊ 1/27
♦ 1/22
◊ ½/11
5½
14
David E Lloyd
England
♦ 1/22
◊ ½/7
♦ ½/11
◊ ½/9
◊ 1/8
♦ ½/2
◊ 1/6
♦ 0/1
◊ 0/10
♦ ½/19
5½
15
Donald G Mackay
Balham
♦ 1/34
◊ 1/12
♦ 0/3
◊ 1/11
♦ ½/1
◊ 0/4
◊ 0/10
♦ 1/16
◊ 1/18
◊ 0/6
5½
16
Harry Gethin Thorp Matchett
England
♦ ½/35
◊ ½/29
♦ ½/27
◊ ½/7
♦ 0/12
♦ ½/21
◊ 1/24
◊ 0/15
♦ 1/32
♦ 1/28
5½
17
Leon Rosselson
Middlesex
♦ 0/11
◊ 1/23
♦ 1/30
♦ 1/19
◊ ½/10
◊ ½/20
♦ 0/5
◊ 1/22
♦ 0/3
◊ ½/9
5½
18
(Henry) Alec Samuels
England
♦ 0/9
♦ 1/39
◊ 1/28
◊ 0/20
♦ 1/32
♦ 0/8
◊ ½/31
◊ 1/35
♦ 0/15
♦ 1/25
5½
19
Reginald William Stevenson
Surrey
♦ 1/21
◊ 0/3
♦ 1/12
◊ 0/17
♦ 1/22
◊ 1/9
♦ 0/20
♦ 0/25
◊ 1/30
◊ ½/14
5½
20
Baruch Harold Wood
Sutton Coldfield
◊ 1/37
♦ 1/28
◊ 0/2
♦ 1/18
◊ ½/4
♦ ½/17
◊ 1/19
♦ 0/5
◊ 0/8
◊ ½/12
5½
21
Ivan Robert Napier
England
◊ 0/19
♦ ½/33
◊ 1/39
♦ 0/8
♦ ½/31
◊ ½/16
♦ ½/29
◊ 1/37
♦ 0/11
◊ 1/30
5
22
Arthur R Spiller
USA
◊ 0/14
♦ 1/38
◊ 1/6
♦ 0/4
◊ 0/19
♦ 1/26
◊ 1/11
♦ 0/17
◊ 0/13
♦ 1/31
5
23
Kenneth O Ballard
England
◊ 0/10
♦ 0/17
♦ 0/13
◊ 1/36
♦ 0/24
◊ ½/28
♦ 1/38
◊ ½/32
♦ ½/29
♦ 1/35
4½
24
Alfred Eva
England
♦ 0/7
◊ 0/34
♦ 1/36
◊ 0/13
◊ 1/23
◊ ½/29
♦ 0/16
♦ ½/28
◊ 1/35
♦ ½/26
4½
25
Peter W Hempson
England
♦ 0/12
◊ ½/8
♦ ½/29
◊ 1/34
♦ 0/11
◊ 1/30
♦ ½/35
◊ 1/19
♦ 0/9
◊ 0/18
4½
26
Brian Patrick Reilly
Ireland
♦ 0/27
◊ 1/13
♦ 0/37
◊ 1/30
♦ 0/35
◊ 0/22
♦ 0/32
◊ 1/36
♦ 1/38
◊ ½/24
4½
27
Wilfred Evans
Chorleywood
◊ 1/26
♦ 0/4
◊ ½/16
◊ ½/29
♦ 0/7
♦ 0/37
◊ 1/34
♦ 0/13
◊ 0/28
♦ 1/38
4
28
Rodney E James
England
♦ 1d/40
◊ 0/20
♦ 0/18
◊ 0/12
♦ 0/36
♦ ½/23
◊ 1/33
◊ ½/24
♦ 1/27
◊ 0/16
4
29
Robert Hans Pinner
England
◊ ½/31
♦ ½/16
◊ ½/25
♦ ½/27
◊ 0/6
♦ ½/24
◊ ½/21
♦ 0/30
◊ ½/23
♦ ½/32
4
30
Jack Dennis Rosse 1
Middlesex
◊ 1/38
♦ 0/5
◊ 0/17
♦ 0/26
◊ 1/33
♦ 0/25
♦ 1/36
◊ 1/29
♦ 0/19
♦ 0/21
4
31
George Harold Foster Tredinnick
England
♦ ½/29
◊ 0/35
♦ 0/8
♦ 1/33
◊ ½/21
◊ 1/32
♦ ½/18
◊ ½/9
♦ 0/12
◊ 0/22
4
32
Bernard Landon Wilkinson
England
◊ ½/39
♦ 0/2
◊ ½/33
♦ 1/38
◊ 0/18
♦ 0/31
◊ 1/26
♦ ½/23
◊ 0/16
◊ ½/29
4
33
S Wilkinson
England
♦ 0/3
◊ ½/21
♦ ½/32
◊ 0/31
♦ 0/30
◊ ½/34
♦ 0/28
◊ 1/38
♦ 1/37
◊ ½/36
4
34
J Eyre
England
◊ 0/15
♦ 1/24
◊ 0/10
♦ 0/25
◊ 1/38
♦ ½/33
♦ 0/27
◊ 0/11
♦ 0/36
◊ 1/37
3½
35
Arnolds Mazitis
England
◊ ½/16
♦ 1/31
◊ ½/9
♦ 0/10
◊ 1/26
♦ 0/6
◊ ½/25
♦ 0/18
♦ 0/24
◊ 0/23
3½
36
John Crittenden Thompson
England
◊ 0/2
♦ 0/6
◊ 0/24
♦ 0/23
◊ 1/28
♦ 1/38
◊ 0/30
♦ 0/26
◊ 1/34
♦ ½/33
3½
37
Stanley Charles Love
England
♦ 0/20
◊ 1d/40
◊ 1/26
♦ 0/6
◊ 0/13
◊ 1/27
◊ 0/8
♦ 0/21
◊ 0/33
♦ 0/34
3
38
(Edward) Douglas Fawcett
England
♦ 0/30
◊ 0/22
1/bye
◊ 0/32
♦ 0/34
◊ 0/36
◊ 0/23
♦ 0/33
◊ 0/26
◊ 0/27
1
39
Arthur T Watson
Sussex
♦ ½/32
◊ 0/18
♦ 0/21
withdrew
½
40
(O Kalman)
W Germany
◊ 0d/28
♦ 0d/37
failed to arrive (visa problem)
0
1Jack Dennis Rosse changed his name from Jacob Rosselson in 1949. He was a violinist, born 1900 in Lithuania, died 1989. Not related to Leon Rosselson whom he lost to in round 3.
The Times, 24 April 1957: Bognor Regis Chess Congress - Two Russians Withdraw - FROM OUR SPECIAL CORRESPONDENT
MIDDLETON-ON-SEA, April 23
There are 172 entrants in the 17 competitions of the fifth annual Bognor Regis Chess Congress which opens here at the Southdean sports club tomorrow and continues for 11 days ending May 4. The premier international event has attracted 42 entries but Mr. J. N. Lomax, the congress director, to-day announced that he had received a cable from the U.S.S.R. Chess Federation withdrawing the two Soviet representatives who were expected.
Among the foreign experts who have entered for the leading event are O'Kelly de Galway, Belgium; A. [sic] Gligoric, M. Rakic, and M. Radoicic, of Yugoslavia; J. Durao, Portugal; O. Kalman, Germany; B. Anderson, Denmark; and A. Spiller, United States. The British contingent includes R. G. Wade, L. W. Barden. B. H. Wood, B. Reilly, Dr. S. Fazekas, P. H. Clarke, A. Y. Green, D. G. Mackay, and L. Rosselson.
Doyen of this year's congress is D. Fawcett, of London, aged 91, one of the few remaining living players to have met over the board the great chess master William Steinitz, who bestrode the chess world during the latter half of the last century. Mr. Fawcett is competing in the international event.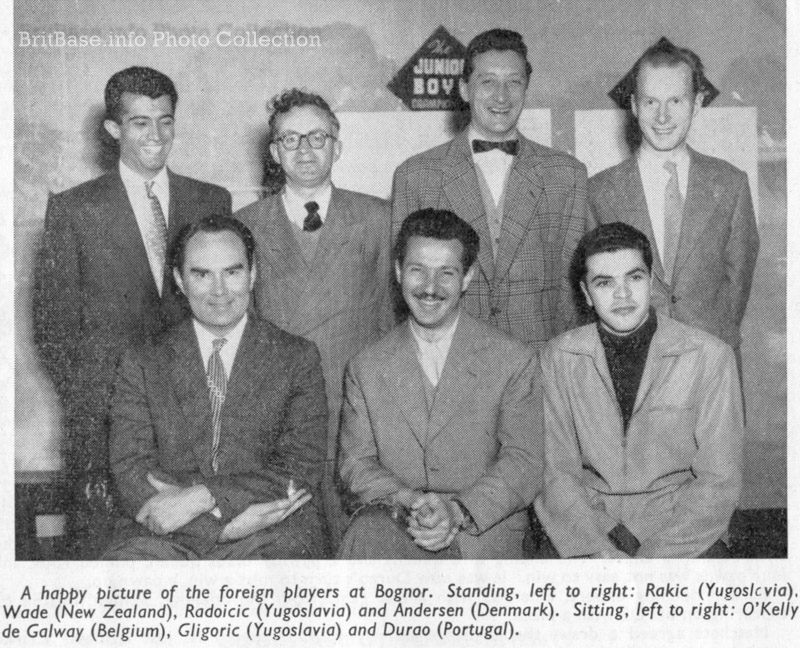 "A happy picture of the foreign players at Bognor. Standing, left to right: Rakic (Yugoslcvia). Wade (New Zealand), Radoicic (Yugoslavia) and Andersen (Denmark).
Sitting, left to right: O'Kelly de Galway (Belgium), Gligoric (Yugoslavia) and Durao (Portugal)." CHESS Magazine, May 1957, p195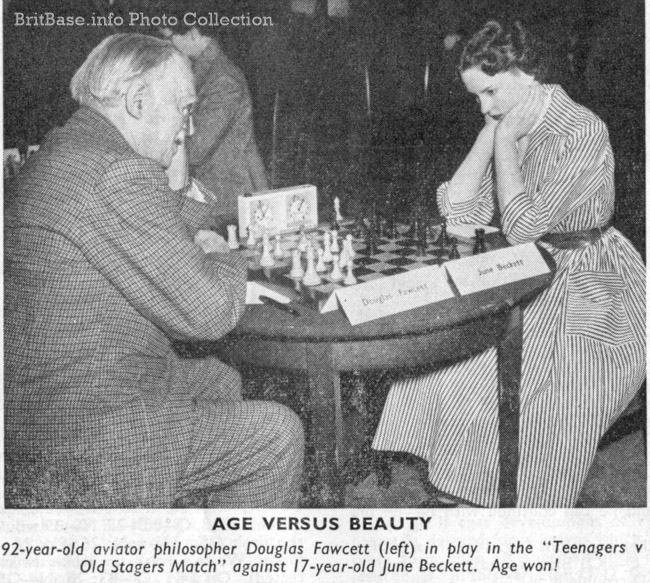 "AGE VERSUS BEAUTY
92-year-old aviator philosopher Douglas Fawcett (left) in play in the "Teenagers v Old Stagers Match" against 17-year-old June Beckett. Age won!"
Photo published in CHESS, May 1957, page 205. Edward Douglas Fawcett (11 April 1866 - 14 April 1960) scored 1/10 at Bognor, courtesy of a full-point bye. Of June Beckett, we know that she came from Beckenham and won a girls' tournament at the 1954 BCF Congress - and was also mentioned in the following cringe-worthy piece in the sunday newspaper The People on 7 April 1957.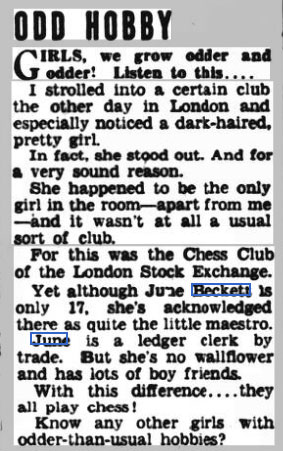 From The People, 7 April 1957, page 6
---
CHESS, Vol.22, no.291-2, 17 May 1957, ppn 194-198
Bognor Regis 1957
Three days before Bognor started, the chief organiser J. Norman Lomax received a telegram: the Russians wished the congress well, but could not send two of their masters as promised. Some thought the Russians objections to the Swiss system were as strong as ever but that they had not realised before that it was to be a Swiss; others said Bronstein's mother had been suddenly taken very ill. Entries, at 172, were twelve down from 1956 but the Stevenson Memorial Tournament, with forty-two entrants at first, was as popular as ever.
A. T. Watson, the popular Brighton amateur, turned up using crutches, having been knocked down by a bus. After two rounds, he had to go to hospital with septicaemia.
Sir Clarence Sadd opened the event with a typically erudite speech, but claimed too much when, in quoting a Persian philosopher on chess, he went back to 200 B.C. Chess only started in 600 A.D. One apocryphal gospel, he said, described the Queen of Sheba as challenging King Solomon to chess, and moving the queen as to-day ("apocryphal" is the right word!). "Women," opined Sir Clarence, "know that chess is just a frivolity and a waste of time, and prevents men from paying due attention to them"; that is why it has always been less popular among them than among men.
Wedding bells ring for Norman Lomax and Mrs. L. E. Fishlock in June. All our good wishes are with them! Young Eric Fishlock has been a devoted helper at the congress for years. He is a skilled trumpeter and clarinettist—unknown to many. Miss Anness came with her usual enthusiasm; Mr. and Mrs. Frank Wood, P. M. Shaw, F. G. Hill and others also lightened Mr. Lomax's burden.
Round 1, Wednesday April 24th 1957
Kalman, a Hungarian refugee to Germany was, we were informed, held up in Paris for a visa. His game with James was postponed for the moment. Rakic arrived as Gligoric's partner though Udovcic had been named in previous correspondence.
On the whole, the "cracks" were thrown, by the luck of the draw, against less-fancied opponents. The exception was the Gligoric-Barden clash where Barden played his first seventeen moves almost instantaneously, then took over an hour on his eighteenth. Gligoric gave up a pawn to obtain almost perfect stations for his pieces. Barden gave up B and N for R and a second pawn but this does not tell the full tale: Gligoric's minor pieces now were two murderous bishops, which dominated the board. Evans, as Bucks. Champion, asserted himself by beating Reilly who, when he turns out for Bucks, usually takes a higher board. Gilbertson resisted Wade manfully throughout two sessions.
Spiller managed to exceed the time-limit with thirteen moves yet to make.
Round 2, Thursday April 25th 1957
B. L. Wilkinson confessed to a feeling of helplessness. Green pulled up from the exchange and a pawn to the bad in a time-scramble. Harris won a pawn but allowed Durao's king too dominating a role in a like-bishops ending. Kalman still not having turned up, his games were now regarded as—provisionally—defaulted. Radoicic pressed and picked up a pawn but found his pieces restrained by Gligoric in most artistic style, and was finally caught in a mating net constructed of the most tenuous material. Stevenson held O'Kelly by sound methods until the Belgian burst open the KB file and by a direct attack won first a pawn, then the exchange.
Round 3, Friday April 26th 1957
Gligoric and Rakic had a rare battle. Rakic at one time had the better but Gligoric's special technique of gradually edging his opponent's pieces into positions of impotence was employed with delightful effect. The ending of 2 queens and 2 pawns versus queen, pinned rook and four pawns was not easy to win. It was now Durao's turn to miss a win, a pawn up.
Barden opening expert, emerged with a lost game from the opening; Spiller insisted on capturing on his Q5 with a piece.
Matchett agreed a draw, the exchange up. Why? Our theory is: just laziness! Clarke went wrong, equalised, and in an equal rook and pawns ending, wrong again.
Round 4, Saturday April 27th 1957
Wade all but succeeded, by a nice drawing variation, in clearing all the men off the board; but with only two minor pieces and three pawns each, O'Kelly began to come out on top. For Andersen v Gligoric, see games section. Wood won a pawn, too greedily grabbed another; but Samuels over-elaborated and managed to turn a win into a hopeless loss in iust nine moves.
Matchett worked up a neat cross-checking motif v Clarke, whose . . . N—K8ch discovering check from his queen and attacking Matchett's queen was answered by B—N2, interposing and attacking Clarke's queen—and protected by Matchett's!
Round 5, Monday April 29th 1957
O'Kelly had to exchange off into a passed pawn. Though a pawn up, O'Kelly was glad to take the draw. Gligoric adopted the variation in which queens are exchanged on move 5. He gradually pulled ahead but mistakenly exchanged down to an ending in which, with B and 5 P's for Mackay's R and 2 P's, he allowed his king to be permanently confined by the rook to the KR file. Wood, by a temporary pawn sacrifice, forced an early repetition. Matchett managed to get his knight on Q4 pinned against both his king and his queen, in different directions. Harris just allowed no frivolity at all. Green gave away a piece by an elementary blunder.
Round 6, Tuesday April 30th 1957
O'Kelly played the opening poorly, mkaing six moves with his king's knight out of his first thirteen. Gligoric established a bind on his position which he translated into an unstoppable passed pawn.
Wood's exchange sacrifice allowed a counter-sacrifice to force a perpetual check; Rosselson might even have tried for more.
Round 7, Wednesday May 1st 1957
Twenty-three was a favourite length for games in this round. Fazekas played with incredible wildness. Gligoric calmly got on with his development whilst hampering his opponent's until he had every piece he possessed hammering at Fazekas's unable-to-castle king. A sacrifice appropriately wound up a copy-book example of how to punish extravagances in opening play. Rakic, on the contrarv, won by extravagances: when he, on move fifteen, put a third piece en prise, to a pawn in a maze of cross-attacks, he bewildered O'Kelly into leaving a knight cut off in mid-board without hope of retreat. Lloyd outplayed Barden.
Round 8, Thursday May 2nd 1957
The most amazing feat of the round was Radoicic's; in managing to lose a game in which he had had two bishops for a rook and complete control of the board. Admittedly he had to make a dozen moves in five minutes; but, as an inveterate devotee of "five-minute chess" he has a hundred times made fifty better moves in that period. He gave away a pawn for nothing then another pawn for nothing; a won game became an easy draw, then a difficult draw, then a loss. Gligoric was going to play P—K4 until he heard that Lloyd was addicted to the Dutch Stonewall. "I have an idea to try out against that!" he said: the ex-Cambridge captain was desperately on the defensive almost throughout.
Round 9, Friday May 3rd 1957
Rakic proposed the draw, confessed himself disgusted with his eighth move. Perhaps he was shaken by what Clarke did to Radoicic the round before. Wade obtained immediate equality with a prepared line of Dlay. Andersen declined a draw in a slightly inferior position but had to accept it. Wood got a terrible opening, blundered just when his difficulties were lightening.
Round 10, Saturday May 4th, 1957
The quiet after the storm. The first two games on the list were mere formalities. Calm competence marked O'Kelly's effort. Harris lost a pawn for little enough compensation, but, by sheer determination, nearly won.
Other Events at Bognor
Championship Reserves: 1 George William Henlen (Ashtead) 7½/9; 2-3 Alan Edgar Nield (St. Leonards), Patrick Humphrey Sullivan (Dartford) 6; 4 Albert Stanley La Lond 4; 5 A. Goodwin 5; 6-7 Robert J Kermeen (Isle of Man), William John Clare Hart Burges 4; 8. Frank Wood (Bicester) 3½; 9. Charles Reginald Purley 3; 10 Ernest A Dubois ½.
Ten Day Major: 1 G. Booth (Hastings) 6½; 2-3 Miss Jean Lesley Mary Elliott-Fletcher (Richmond), Miss Margaret Wood (Bicester) 6; 4-5 C Balding, George Arthur Peck 5; 6-7 Gregory Owen J Melitus, Miss Annie Hilda Gammans 6; 8 Miss Jeanie Paterson ("Pat") Renwick 4; 9. Robert Love Lamming 3½; 10 Frank Thomas Comber 0.
Seven Day Major, Afternoons: 1 Philip B Sarson (Harrow) 6½; 2-3 Richard Edward Boxall (Streatham), Peter M Shaw (Wallington) 5; 4. G. L. Sutton 4½; 5-6 Sydney Archer Gill, Joseph John Lauder 3; 7. F[rederick?] C[larence?] Shorter 1.
Seven Day First Class Mornings: 1 Harold Edward Druce (Richmond) 6; 2-3 P. H. White (Kettering), Herbert William Stanley Nichols (East Sheen) 5; 4 J. F. Lane 4; 5-6 John Daniel Sayle, Harry Starbuck Littlechild 3; 7 Miss Cicely Grace Snead 2; 8 J. W. Godfrey 0.

Seven Day Second Class: I. Mrs. A. Y. (Gladys May) Green (London) 5½; 2. A. J. Foster (London) 5; 3. J. D. Wincer (Lichfield) 4½; 4. H. F. Stevens 3½; 5-6. J. N. King, Mrs. Laura Ethel Amelia Start (née Whitehouse) 3; 7 Miss Elsie Grace Coulson 2½; 8 Mrs. James 1.
N.B. I think there is an omission in the results here as published in CHESS: they have missed out the SCCU Boys' Under-18 Championship results, which the Times, 29 April 1957, tell us was "won by John S Regruto, of Worthing, with 8 points. David Sherman, of London, was second with 7½ points, and A. Downham, of Cambridge, was third with 5½ points." The results given in the next were, I think, for the SCCU Under-15 Championship though CHESS gives them as "Junior Boys' Championship". JS
[SCCU Under-15] Junior Boys' Championship: 1 Clive H Pemberton (Ilford) 6½; 2 Colin Michael Thomas Blackburne (Brighton) 6; 3. P. O'Brien (Dagenham) 5; 4. B. J. Doggett 4½; 5-7. N. Gascoyne, J. Kumar, P. May 4; 8-14. S. Walsh, G. Wilmers, R. Heseltine, S. P. Sayers, H. Dowsett, B. Lovelock and A. Dixon all 3½; 15-16. A. Hart, D. C. Garrett 3; 17. J. F. Clarke 2½; 18-20. M. C. Williams, B. Jennings, C. Power 1.
S. C. C. U. Girls' Championship: 1 Susan Smith (London) 5½; 2. Jennifer Taylor (Welling) 3½; 3-4. Verina Horsnell, Yvonne Guthrie [no score given].
Junior Girls' Championship: 1 S. Frost (Bromley) 5; 2 Marion Allwright (Finchley) 4; 3 L. C. Briggs 3; 4 J. A. Payne 2; 5 S. K. Reeve 1; 6. G. A. Webb 0. [I could insert a crosstable of this event but it would be superfluous - JS]
---
BCM, July 1957, ppn 176-177
BOGNOR REGIS CONGRESS
(April 24th to May 4th)
By Bruce Hayden
The ten-round "Swiss" international chess tournament of thirty-eight players at the fifth annual Bognor Regis and Southdean Chess Congress was won by Svetozar Gligoric, the Yugoslav grandmaster, with 8 points and no losses.
Sharing second, third, fourth, and fifth places with 7 points each were: Boerge Andersen, the twenty-three-year-old Danish player, who was also undefeated; Robert G. Wade, the New Zealand international master and former British Champion; Tomislav Rakic, the twenty-two-year-old Yugoslav international master; and the Belgian grandmaster O'Kelly de Galway, who was defeated by both Gligoric and Rakic.
Wade, with the highest score among the eligible British players, won the Southern Counties Championship.
The remaining scores were: L. W. Barden and P. H. Clarke 6½; A. Y. Green, G. F. Harris, and Miro Radoicic 6; Joaquim Durao (Champion of Portugal), Dr. S. Fazekas, D. Gilbertson, D. E. Lloyd, D. G. Mackay, H. G. T. Matchett, L. Rosselson, H. A. Samuels, R. W. Stevenson, and B. H. Wood 5½; I. Napier and A. R. Spiller 5; K. O. Ballard, A. Eva, P. W. Hempson, and B. Reilly 4½; W. Evans, R. E. James, R. Pinner, J. D. Rosse, G. H. Tredinnick, B. L. Wilkinson, and S. Wilkinson 4; J. Eyre, A. Mazitis, and J. C. Thompson 3½; S. C. Love 3; D. Fawcett 1.
The Southern Counties Boys' Championship was won by J[ohn]. S. Regruto, of London, with 8 points out of a possible 10. The Girls' Championship was won by Miss Susan Smith, London, with 5½ points out of 6.
For the first time in the congress's history the Soviet Chess Federation accepted an invitation to send two Soviet players and in Moscow grandmasters Petrosian and Bronstein were being mentioned as the intended Soviet representatives. Alas, the week before the opening of the congress, Mr. J. N. Lomax received a cable withdrawing the entries and thus it seemed almost certain that the destination of first prize rested between the sole remaining grandmasters, Gligoric and O'Kelly.
At the end of Round 5 O'Kelly was leading Gligoric and Andersen by ½ point, then in the next round he lost a stirring game to Gligoric, who thereby took the lead and retained it to the end.
Thereafter in succeeding rounds O'Kelly was quite out of form. In Round 7 he lost to a smartly played attack by Rakic in 23 moves and in Round 8 he blundered away ½ point in an easily winning ending against Green.
D. E. Lloyd, the former Cambridge University player, was undefeated up to Round 7 and was sharing second place until defeated by Gligoric after a stubborn struggle in the next round. Obviously tired from his exertions he then scored only ½ point in the two final rounds.
After their game Gligoric, however, gave the opinion that with more experience and confidence Lloyd should develop greatly in strength. Of the remaining young British players, Clarke in this tournament showed patience and resource when in difficult situations and played his best chess in adversity. D. G. Mackay, who played his chess in the happy carefree spirit that he played tennis in the mornings, showed that he can be dangerous to any player however strong as witness his fighting and ingenious drawing line against Gligoric, when in an apparently hopeless position.
The encyclopaedic Barden played his first 16 moves in as many seconds in his Round 1 game against Gligoric—to the awe of the spectators. Then he took one and a quarter hours over his 18th move in what was probably a lost position.
In the next round that independent thinker, J. C. Thompson, took advantage of his opponent's book learning by posing him the Thompson opening system of P—K B 3 and P—K Kt 3, whereupon Barden took an hour over the first ten moves.
It was a happy congress enlivened not a little by the gleams of wit from Dr. S. Fazekas aptly described by Radoicic as "Statements of the Evening."
Sample, after drawing a game: "I would rather be a live dog than a dead lion."
But a misunderstanding arose when the witty Doctor had the audacity to play the King's Gambit against grandmaster Gligoric. It was Gligoric with the black pieces who developed his pieces the more rapidly and who won with a sacrificial attack which—as was pointed out after the game—is not in the spirit of this opening!
---
The Times, 29 April 1957: "The Southern Counties Chess Union Boys' championship was won by J. S. Regruto, of Worthing, with 8 points. D. Sherman, of London, was second with 7½ points, and A. Downham, of Cambridge, was third with 5½ points."
The Times, 30 April 1957: "The Southern Counties Chess Union Girls' championship was won to-day by Miss Susan Smith, of London, with 5½ points out of a possible six. Miss Jennifer Taylor, of Welling, Kent, was runner-up with 3½."
---
File Updated
| Date | Notes |
| --- | --- |
| 6 June 2022 | First upload: 11 games, crosstable, reports, results and some photos. |
| 6 June 2022 | Four more games added, from Gerald Hartmann: (1) J.Durao 1-0 L.Rosselson (rd 1); (2) D.Mackay 1-0 J.Durao (rd 4); (3) R.Wade 1-0 B.Wood (rd 8); (4) S.Gligoric ½-½ R.Wade (rd 9). Thanks, Gerald. Running total now 15 games. |
| 7 June 2022 | Two more games added: (1) B.H.Wood 0-1 B.Andersen (Stevenson Mem, rd 3); (2) part-game D.Lloyd 1-0 L.Barden (Stevenson Mem, rd 7). Many thanks to Ulrich Tamm. |
| 31 July 2022 | Leon Rosselson has kindly sent me his entire stock of scoresheets and scorebooks which will in due course be featured here as a player collection. To start, I have input all his games from this tournament. One of them, his first round game vs Durao was already here, but Leon's version has more moves. The other nine are completely new. Many thanks to Leon. |