BRITBASE - British Chess Game Archive
Tournament: 3rd Stevenson Memorial (SCCU Championship) •
22 of a possible 206 games, plus 2 part-games




Venue: Southsea • Dates: 11-21 April 1951

• Download PGN

• Last Edited: Tuesday 11 April, 2023 1:06 PM
1951 Stevenson Memorial, SCCU Championship, Southsea - 11-21 April 1951 • 1950«»1952
1951 Stevenson Memorial / SCCU Ch
Nat'y
1
2
3
4
5
6
7
8
9
10
Total
1
Nicolas Rossolimo
Paris
◊ 1/24
♦ 1/44
◊ 1/25
♦ 1/18
♦ 1/13
◊ ½/3
◊ ½/5
♦ 1/9
♦ ½/2
◊ ½/4
8
2
Dr Saviely Tartakower
Paris
◊ 1/8
♦ ½/7
◊ 0/18
♦ 1/34
◊ 1/23
♦ 1/24
◊ 1/4
♦ 1/13
◊ ½/1
♦ 1/5
8
3
Alberic O'Kelly de Galway
Belgium
◊ 1/37
◊ ½/9
♦ 1/22
◊ 1/6
♦ 1/4
♦ ½/1
◊ 1/18
♦ ½/5
◊ 0/13
♦ ½/7
7
4
Palle Ravn
Copenhagen
♦ 1/30
◊ 1/20
♦ ½/6
◊ 1/16
◊ 0/3
♦ 1/17
♦ 0/2
◊ 1/11
◊ 1/9
♦ ½/1
7
5
Rudolf Teschner
W Germany
♦ 1/19
◊ 0/6
♦ 1/27
◊ 1/35
♦ 1/26
◊ 1/13
♦ ½/1
◊ ½/3
♦ 1/18
◊ 0/2
7
6
Arthur Henry Trott (SCCU Champion)
London
◊ 1/33
♦ 1/5
◊ ½/4
♦ 0/3
◊ 0/18
♦ 1/23
◊ 1/24
♦ ½/7
♦ 1/22
◊ 1/13
7
7
Leonard William Barden
Oxford Univ
♦ 1/36
◊ ½/2
♦ 0/13
◊ 1/22
♦ ½/16
◊ 1/28
♦ ½/11
◊ ½/6
♦ 1/12
◊ ½/3
6½
8
Ronald Frank Boxall
Erith
♦ 0/2
◊ 0/15
◊ ½/33
♦ 1/41
♦ ½/22
◊ 1/10
♦ ½/28
◊ 1/32
◊ 1/17
◊ 1/18
6½
9
Dennis Morton Horne
Tunbridge Wells
◊ 1/42
♦ ½/3
♦ 0/16
◊ 1/27
◊ 1/25
♦ 1/12
♦ 1/26
◊ 0/1
♦ 0/4
◊ 1/15
6½
10
Patrick Anthony de Lacy Aherne
London
◊ 0/17
♦ 1/38
◊ 0/24
♦ 0/20
◊ 1/43
♦ 0/8
◊ 1/37
♦ 1/40
◊ 1/29
◊ 1/23
6
11
Manfred Christoph
W Germany
♦ 1/39
◊ 1/30
◊ 0/26
♦ 1/25
◊ 0/12
♦ 1/16
◊ ½/7
♦ 0/4
◊ 1/21
♦ ½/19
6
12
Egon H Ditt
W Germany
◊ 0/26
♦ 1/41
♦ 1/20
◊ 1/32
♦ 1/11
◊ 0/9
♦ 0/13
◊ 1/28
◊ 0/7
♦ 1/22
6
13
M [Coenraad Hermanus?] Roële
Paris / NED
◊ 1/32
♦ 1/23
◊ 1/7
♦ 1/26
◊ 0/1
♦ 0/5
◊ 1/12
◊ 0/2
♦ 1/3
♦ 0/6
6
14
Reginald W Bonham
Worcester
♦ ½/35
◊ 0/22
♦ ½/19
◊ 0/15
◊ 1/30
♦ 1/38
◊ ½/29
♦ ½/23
◊ 1/31
◊ ½/16
5½
15
Stephen Hawes
London
◊ 0/25
♦ 1/8
◊ 0/32
♦ 1/14
◊ ½/40
♦ 1/19
◊ 0/17
♦ 1/29
◊ 1/24
♦ 0/9
5½
16
Richard Hilary Newman
London
◊ 1/41
♦ ½/18
◊ 1/9
♦ 0/4
◊ ½/7
◊ 0/11
♦ 0/22
♦ 1/33
◊ 1/26
♦ ½/14
5½
17
John Poole
North Harrow
♦ 1/10
♦ 0/26
◊ 1/44
◊ ½/24
♦ 1/21
◊ 0/4
♦ 1/15
◊ 0/22
♦ 0/8
♦ 1/28
5½
18
Andrew Rowland Benedick Thomas
Tiverton
♦ 1/31
◊ ½/16
♦ 1/2
◊ 0/1
♦ 1/6
◊ 1/20
♦ 0/3
◊ 1/21
◊ 0/5
♦ 0/8
5½
19
Dr Kenneth Winterton
London
◊ 0/5
♦ ½/42
◊ ½/14
♦ 1/38
♦ ½/32
◊ 0/15
♦ 1/20
♦ ½/31
◊ 1/35
◊ ½/11
5½
20
Frederick Forrest L Alexander
Westcliff
◊ 1/38
♦ 0/4
◊ 0/12
◊ 1/10
♦ 1/35
♦ 0/18
◊ 0/19
♦ 0/25
◊ 1/37
♦ 1/31
5
21
M Biggs
London
◊ 0/43
◊ 1/39
♦ 1/34
♦ ½/29
◊ 0/17
♦ 1/32
◊ 1/31
♦ 0/18
♦ 0/11
◊ ½/24
5
22
Dr Stefan Fazekas
Buckhurst Hill
◊ ½/29
♦ 1/14
◊ 0/3
♦ 0/7
◊ ½/8
♦ 1/25
◊ 1/16
♦ 1/17
◊ 0/6
◊ 0/12
5
23
William James Fry
Southampton
♦ 1/28
◊ 0/13
♦ 1/40
◊ ½/31
♦ 0/2
◊ 0/6
♦ 1/34
◊ ½/14
◊ 1/25
♦ 0/10
5
24
Donald Daniel Leslie
Cambridge Univ
♦ 0/1
◊ 1/28
♦ 1/10
♦ ½/17
◊ 1/31
◊ 0/2
♦ 0/6
◊ 1/26
♦ 0/15
♦ ½/21
5
25
Herbert Gibson Rhodes
Southport
♦ 1/15
◊ 1/43
♦ 0/1
◊ 0/11
♦ 0/9
◊ 0/22
♦ 1/30
◊ 1/20
♦ 0/23
◊ 1/33
5
26
Philip Ashby Ursell
Bournemouth
♦ 1/12
◊ 1/17
♦ 1/11
◊ 0/13
◊ 0/5
♦ 1/33
◊ 0/9
♦ 0/24
♦ 0/16
◊ 1/35
5
27
Bertram Goulding Brown
Cambridge
◊ ½/34
♦ 1/29
◊ 0/5
♦ 0/9
◊ 0/33
◊ 0/36
♦ ½/41
♦ ½/42
◊ 1/39
♦ 1/38
4½
28
Ralph Carter Woodthorpe
Hastings
◊ 0/23
♦ 0/24
◊ 1/36
♦ 1/44
◊ 1/29
♦ 0/7
◊ ½/8
♦ 0/12
♦ 1/32
◊ 0/17
4½
29
Francis Samuel Woolford
Cinderford
♦ ½/22
◊ 0/27
♦ 1/30
◊ ½/21
♦ 0/28
◊ 1/35
♦ ½/14
◊ 0/15
♦ 0/10
◊ 1/36
4½
30
Henry Holwell Cole
London
◊ 0/4
♦ 0/11
◊ 0/29
◊ 1/37
♦ 0/14
♦ 1/44
◊ 0/25
♦ 0/41
◊ 1/43
♦ 1/42
4
31
Herbert Francis Gook
Croydon
◊ 0/18
♦ 1/36
◊ 1/42
♦ ½/23
♦ 0/24
◊ 1/40
♦ 0/21
◊ ½/19
♦ 0/14
◊ 0/20
4
32
Leonard Illingworth
Cambridge
♦ 0/13
◊ 1/37
♦ 1/15
♦ 0/12
◊ ½/19
◊ 0/21
♦ 1/40
♦ 0/8
◊ 0/28
◊ ½/41
4
33
Donald G Mackay
London
♦ 0/6
◊ 0/40
♦ ½/8
◊ 1/42
♦ 1/27
◊ 0/26
♦ ½/36
◊ 0/16
◊ 1/41
♦ 0/25
4
34
Ivan Robert Napier
Lelant
♦ ½/27
♦ ½/35
◊ 0/21
◊ 0/2
◊ ½/36
♦ 1/39
◊ 0/23
♦ 0/37
◊ ½/40
◊ 1/44
4
35
H G Wright
Richmond
◊ ½/14
◊ ½/34
♦ 1/43
♦ 0/5
◊ 0/20
♦ 0/29
◊ 1/38
◊ 1/36
♦ 0/19
♦ 0/26
4
36
Newman Clissold
Wallasey
◊ 0/7
◊ 0/31
♦ 0/28
◊ 1/39
♦ ½/34
♦ 1/27
◊ ½/33
♦ 0/35
◊ ½/38
♦ 0/29
3½
37
E Gardiner
Rotherham
♦ 0/3
♦ 0/32
◊ 0/38
♦ 0/30
◊ 1/41
♦ 1/43
♦ 0/10
◊ 1/34
♦ 0/20
♦ ½/40
3½
38
Anthony Henry Knight
Maidstone
♦ 0/20
◊ 0/10
♦ 1/37
◊ 0/19
♦ 1/44
◊ 0/14
♦ 0/35
◊ 1/39
♦ ½/36
◊ 0/27
3½
39
Gordon Knott
Bournemouth
◊ 0/11
♦ 0/21
◊ ½/41
♦ 0/36
♦ 1/42
◊ 0/34
◊ 1/44
♦ 0/38
♦ 0/27
◊ 1/43
3½
40
Sydney Harold Cuzco Lucas
London
◊ 0/44
♦ 1/33
◊ 0/23
♦ 1/43
♦ ½/15
♦ 0/31
◊ 0/32
◊ 0/10
♦ ½/34
◊ ½/37
3½
41
(Patricia) Anne Sunnucks
London
♦ 0/16
◊ 0/12
♦ ½/39
◊ 0/8
♦ 0/37
◊ 1/42
◊ ½/27
◊ 1/30
♦ 0/33
♦ ½/32
3½
42
(Edward) Douglas Fawcett
London
♦ 0/9
◊ ½/19
♦ 0/31
♦ 0/33
◊ 0/39
♦ 0/41
◊ 1/43
◊ ½/27
♦ 0/44
◊ 0/30
2
43
Capt. Hugh Windsor Fiesch Heneage
Brighton
♦ 1/21
♦ 0/25
◊ 0/35
◊ 0/40
♦ 0/10
◊ 0/37
♦ 0/42
◊ 1/44
♦ 0/30
♦ 0/39
2
44
Arthur T Watson
Brighton
♦ 1/40
◊ 0/1
♦ 0/17
◊ 0/28
◊ 0/38
◊ 0/30
♦ 0/39
♦ 0/43
◊ 1/42
♦ 0/34
2
Sources: BCM, May 1951, ppn 142-148; The Times; CHESS Magazine
Prizes: 1st, £40; 2nd, £30; 3rd, £20; 4th, £10.
Time limit: 45 moves in 2½ hours and 18 moves each additional hour.
"Ties are placed in alphabetical order since the Sonneborn-Berger System of classification means little or nothing as regards merit in a Swiss tournament. In any case all the intermediate placings (i.e. those below the prize-winners), are a snare and delusion in the Swiss which gives you the best and worst players in a tournament but hardly differentiates between players in the middle of the table."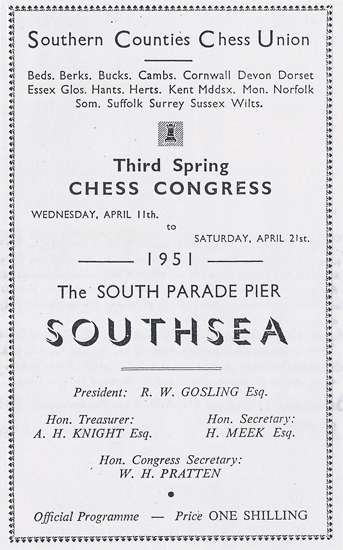 ---
SOUTHSEA INTERNATIONAL CHESS CONGRESS
April 11th to April 21st
By H. Golombek
Driven by the tireless energy and enthusiasm of the organizing secretary, W. H. Pratten, this congress grows in strength year by year. This time, too, the numbers were swollen by the addition of various junior competitions, which included that for the British Girls' Championship. In addition, this year's Stevenson Memorial Tournament was generally strengthened by the increased number of foreign masters taking part, so that it proved a formidable testing ground for our home players. In view of all this it was not surprising that our representatives failed to obtain a major prize but some of them managed to achieve excellent isolated performances.
Before I go on to examine the play I must expatiate a little on the attractions of Southsea as a spring-time congress resort. It seems to me ideal from every point of view. The climate is mild and sunny; there is a wealth of excellent and cheap accommodation and the venue—the South Parade Pier—could not be bettered. I hasten to add that I have no financial interest in this matter and that I have not been bribed by the Corporation to say a few kind words on behalf of their most pleasant seaside resort. No, all I want is to do my long-suffering readers a good turn in recommending them to take an enjoyable chess holiday at Southsea next year. There is every reason why this congress should rival and even excel in popularity those of the pre-war Margate.
In this connection, too, the chess world owes a vast debt to the organizing abilities of the tournament controllers, Messrs. Pratten, Meek, and Boyd. I should like to record a word of personal thanks to Mr. Boyd, who was unfailingly courteous and helpful, not only to the players but also to that "lesser breed without the law," the members of the Press.
I must confess to having little real regard for the Swiss System which greatly increases the element of chance in a tournament and, though apparently popular, savours of the popularity of football pools. Still, it must be admitted that it tends to produce an exciting struggle. The leaders' nerves must be stretched to the utmost so as to maintain their position; rabbits streak forward in the race, only to be rudely hurled back when they come in contact with the mighty paw of a strong master; short shrift is the order of the day and brevities of 20 moves or less are quite common. All this appeals to the sadistic element present in audiences and serves as a benevolent substitute for the obsolete auto-da-fes and public executions or for present-day bull fights.
The French master, Nicolas Rossolimo, made a wonderful start this time and scored five wins in succession. Thereafter, as he came up against his fellow masters, his progress slowed down; but he was still the only undefeated player in the whole contest. His unfailing regularity of success is something to marvel at. No less remarkable was the play of the ever-youthful—in mind at any rate—Dr. Tartakower. Quite undeterred, and, indeed, as though invigorated by an early drastic defeat at the hands of A. R. B. Thomas, he strode on in three league boots to overhaul Rossolimo at the post. So much so that one had the feeling that had the tournament gone on for a few more rounds he would have left his rivals far behind.
The tie for third and fourth prizes reflects great credit on Ravn, Teschner, and Trott, all young and promising players; but O'Kelly was quite clearly out of form, perhaps through his exertions when winning the Dortmund Tournament, just before Southsea. The Copenhagen player, Palle Ravn, has a nice incisive style of the best Scandinavian school; Teschner is both competent and tenacious, whilst the Metropolitan Club Champion, Trott, played excellent chess and achieved his best tournament success to date. As the leading British player he won the Southern Counties Championship. It will be interesting to see how he does in the British Championship in August.
Barden was rather out of form, this being manifested by an inability to handle his clock, notably against O'Kelly who can thank this failing for the saving of a completely lost game.
Of the others, Horne was variable, producing some good—and some not so good— games; both Boxall and Aherne must have done rather better than they expected. Roële started like a house on fire, but was soon quenched.
Thomas had the hardest tournament of any and met all the grim top trio— Rossolimo, Dr. Tartakower, and O'Kelly. With a little more luck he would have figured in the prize list. As it was, the caprice of the Swiss System threw him into the middle of the table, but he had the satisfaction and honour of winning the following game against Dr. Tartakower.
The prize for the best game of the tournament was shared between O'Kelly for his win against Thomas (a beautiful positional sacrifice of the exchange) and Trott for his defeat of Teschner—a really excellent performance.

The fine game in the last round by which Dr. Tartakower overhauled Rossolimo [Teschner-Tartakower]
The next, a fascinating encounter, shows him overstepping the bounds of correct play and then conjuring up an attack out of thin air. It is true that the attack could have been met; but his opponent failed to find the right replies and must have felt as though the veteran doctor was exerting black magic. [Roële-Tartakower]
Hawes had another interesting end-game (indeed, he seemed to spend most of the congress getting into endings of theoretical interest and difficulty); but this time he was on the losing side. He played Horne in the last round and the latter, wishing to get on with his packing, proposed a fairly early draw. Hawes, either having no packing to do, or being more eager to win than to pack, refused the offer, only to see the game veer in his opponent's favour and to have his own offer of a draw refused in turn. In the position reached in Diagram 2 there came a bad shock for Black. 37 BxP!, Kt—B4 (37...PxB; 38 KtxP mate!); 38 B—B 2, B—B 2; 39 Kt—K 2, Kt—Q2; 40 Kt—Kt 3, Kt—B4; 41 Kt—R 1, B—K 1; 42 Kt—B 2, B—Q 2; 43 P—R 5, P x P; 44 B x P, P—R 5; 45 B—B 2, P—R 6; 46 P—Kt 6, K—K 2; 47 K—K 5, P—R 7; 48 K—B 4, B—R 6; 49 K—Kt 5, K—B 1; 50 K—R 6, Kt—Q 2; 51 P—Kt 7 ch, K—B 2; 52 B—Kt 6 ch, resigns.
In the General Swiss Tournament, O'Hanlon scored a runaway victory with 9½ points out of 10. I. R. E. Clark and P. H. Sullivan coming equal second with 7. The British Girls' Championship ended in a tie between Ann Bennett and Sylvia Epps, with 6 points each out of 7. June Barker and Myrtle Barnes were equal third and fourth with 5. There will be a match later on in the year between the first two to decide the Championship.
There were three special events during the congress: a lightning tournament won by Roële, a most interesting talk on the openings by Barden (this last named was irreverently termed by some of his fellow competitors "the Book"), and a remarkable simultaneous blindfold display by Bonham, who played twelve opponents and in 3¾ hours scored 8 wins and 4 draws, amongst the opposition being five players from the main tournament.
---
SOUTHSEA SPLASHES [CHESS, Vol.16, no.188, May 1951, p162]
[by] L.W.B[arden].
"Tartakover put up a wonderful performance at Southsea in coming from behind after losing to A. R. B. Thomas in twenty moves in Round Three. After this game one leading newspaper through a misplaced comma referred to Tartakover as "the Devon master." He got his revenge by jokingly claiming the Southern Counties Championship at the end of the tournament. Then there was the time he took a bath at his hotel. Filled with exuberance at his win of that day, he filled the bath completely with water then jumped in—with unfortunate results to the ceiling below.
"O'Kelly has great analytical powers. Sometimes they lead him astray, as when in the ninth round against Roele, after winning by a far-sighted positional sacrifice the day before, he offered a piece unsoundly when he could have won a pawn with a good position.
"Twenty-year-old Arthur Trott, champion of the famous Metropolitan club of London, who won the Southern Counties Championship, shows a calmness coupled with determination which should take him a long way. After he played at Southsea last year, and only scored 5½ points against weak opposition, habitués at the Gambit jokingly called him "Trott of Southsea." There was a contrast between the way in which he confidently sacrificed the exchange for a winning attack in the last round while his rival Barden wilted under the nervous strain and threw away his chance of beating O'Kelly during the time-scramble.
"Aherne is a young actor who won the Malayan Championship while stationed with the R.A.F. in Singapore. At the end of the sixth round, when he was doing badly, somebody said he must be in need of a background of Sten guns. Nevertheless he won his last four games!
"Seven-year-old Marianne Allwright stole the show once again in the British Girls' Championship and also scored four out of six. When a lady spectator asked her if she minded having people watching her game, she replied "Of course not! I want them to!" At the opposite age-limit was Douglas Fawcett, who knew Steinitz and Pillsbury, and celebrated his 84th birthday during the Congress. Pillsbury once showed him a little-known variation in the Berlin Defence to the Ruy Lopez, and he now plays it constantly and successfully. It is becoming popular, as was shown by its adoption in the last Yugoslav championship.
"Messrs. Boyd, Meek, and Pratten are now thoroughly familiar with the intricacies of Swiss system pairing and the tournament went through without a hitch. Southsea, in fact, deserves to go on having its entry figure records broken.
"Portsmouth has increased the annual grant by £50 to £150 and again invites the Girls' Championship to Southsea, donating £30. The "Stevenson" (top event) has drawn in successive years 28, 42 and now 44 entrants."
---
Portsmouth Evening News - Monday 23 April 1951: "Chess Tourney Ends in Tie -
In the tenth and list round of the Stevenson Memorial Chess Tournament there were many exciting games. The veteran grandmaster Dr Tartakower crushed his young German opponent Rudolph Teschner, and thus achieved the remarkable score of eight points from ten games He lost only one game throughout the tournament, and drew two.
The young French master, N. Rossolimo, drew with Palle Ravn, and thus tied with the doctor with eight points. Rossolimo lost no games, though he missed a difficult winning line in the last game. This cost him undisputed first prize, which he shared with Tartakower. These players won the first prize in 1949 and 1950 respectively.
There was a quadruple tie for third and fourth prizes between Palle Ravn, Rudolph Teschner, O Kelly de Galway, and A. Trott. Mr. Trott, an excellent young player, becomes champion of the Southern Counties Chess Union, with the right to play in the forthcoming British championship.
First prize in the General Swiss Tournament was won by the old Irish champion, J. O'Hanlon. Second and third prizes were shared between A. Sullivan and I. R. E. Clark, the Portmuthian, whose success was most popular. It was his first experience of Congress chess. [Ivor Roy Edward Clark, 1926-2019. Attended Portsmouth Grammar School and won a scholarship in classics to Merton College, Oxford.]
The prizes were presented by Mrs. I. R. Napier, of Lelant. Cornwall.
Prize for the best game of the tournament was shared between the Belgian master, O'Kelly de Galway, and A. H. Trott.
Subject to the decision of the Council of the Southern Counties Chess Union the fourth Spring Congress will again be held in Southsea next year.
---
Portsmouth Evening News - Monday 16 April 1951: "BOY CHESS CHAMPION FOR COUNTY - Southsea Tourney
"K. [Kenneth] Filleul, 15-year-old Taunton's School, Southampton, boy, won the Southern Counties Chess Union junior boys' championship at Southsea, on Saturday.
"Filleul, who gained 4½ out of five possible points, is to make his first appearance for Hampshire against Sussex on May 25.
"Sylvia Epps (Bromley) and Ann Bennett (Godalming) tied for the British Girls' Championship. They will play off for the championship in London shortly. [Ann Bennett won the play-off for the 1951 British Girls' Under-18 Championship]
An invitation has been extended to both Sylvia and Ann to play at the Festival of Britain on Whit Saturday.
"Third prize was shared by June Barker (Oxford) and Myrtle Barnes (Bromley).
"N. Rossolimo and M. Roele, both of Paris, by winning their games on Saturday, lead in the Stevenson Memorial Tournament with 100 per cent scores.
LUCKY WIN
"Rossolimo beat A. R. B. Thomas (Tiverton) rather easily, but Roele was lucky to win against P. A. Ursell (Bournemouth), who missed a chance to gain a clear advantage early in the game.
"J. J. O'Hanlon, the Irish ex-champion, is running away with the General Swiss Tournament.
"The preliminary rounds of the 14th Sir William Dupree tournament were completed on Saturday and the following eight boys play off for the £190 in prizes. Juniors (10-11 years), J. O'Brien (St. John's College); Seniors (12-14, Section "A"). A. Ray (St. John's College); Section "B,'' G. White (St, John's College); Section "C." J. P. Speller (Northern Grammar School); Youths (15-16 years. Section "A"), A. Cullinane (St, John's College); Section "B," N. W. Gordon (formerly of Milton Secondary Modern School); young men (17 to 21 years, Section "A"), J. Brown (Portsmouth Grammar School); Section "B," R. G. Gardiner (formerly of the Northern Grammar School). The finals are being played every evening this week from 6 to 9 p.m."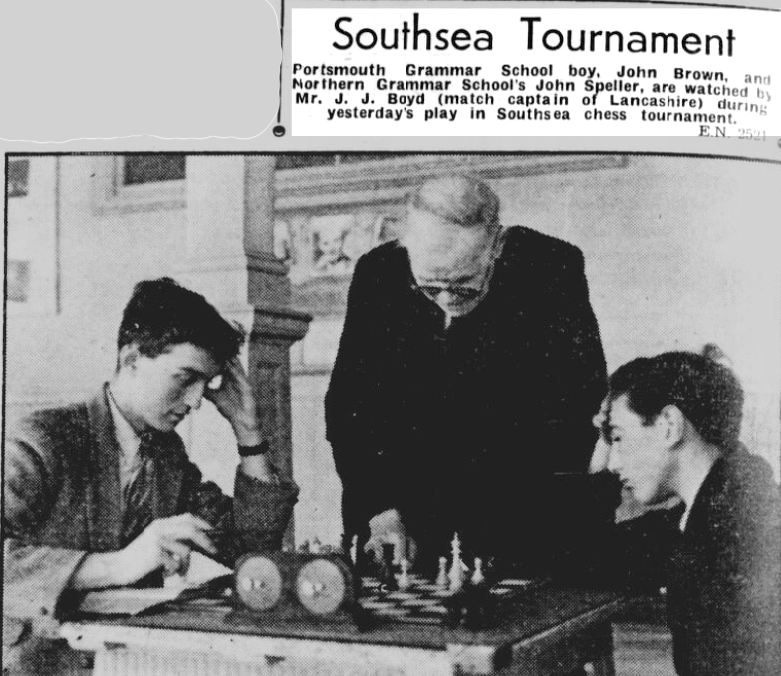 "Portsmouth Grammar School boy, John Brown, and Northern Grammar School's John Speller, are watched by Mr. J. J. Boyd (match captain of Lancashire)
during yesterday's play in Southsea chess tournament." Portsmouth Evening News - Wednesday 18 April 1951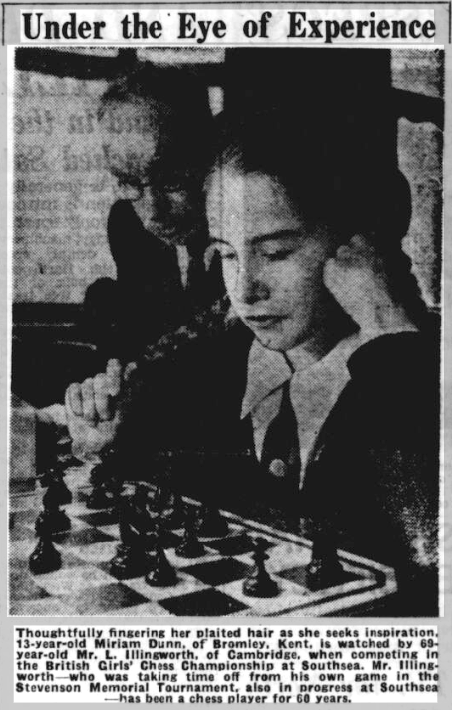 13-year-old Miriam Dunn (Bromley) being watched by 69-year-old Leonard Illingworth (Photo: Hartlepool Northern Daily Mail - Thursday 12 April 1951)
---
BIOGRAPHY
Patrick Anthony de Lacy Aherne (18 December 1930 – 3 May 2016)
Pat Aherne was the son of actors Patrick Aherne snr and Renée Houston and himself trained as an actor at the Italia Conti school. As mentioned in the above text, he won the Malayan Championship whilst in Singapore on national service with the RAF. This championship was held in the first week of April 1950 as a six-round Swiss with a time limit of 25 minutes per player per game1 and two of the games with his own annotations are given in Surviving Changi - E E Colman: A Chess Biography by Olimpiu G Urcan (Singapore Heritage Society, 2007, ppn 270-271). In the late 1940s he played on a high board for two short-lived chess clubs in Marlow (Bucks) and Shene (Twickenham). He lived most of his life in London where he worked as a constable in the Royal Parks Police and was a member of the West London Chess Club, winning the club championship in 1963/64 and 1994/95. He acted as game score proofreader for BCM for many years, including all of my own personal stint as editor between 1999 and 2010 - he is fondly remembered - JS. 1 source of information: Singapore Chess: A History, 1945-1990 by Shashi Jayakumar & Olimpiu G Urcan, ppn 10-11.
---
File Updated
| Date | Notes |
| --- | --- |
| 3 June 2022 | First upload. 17 games plus 2 part-games, crosstable, results, reports, photos. |
| 5 June 2022 | Four more games received from Ulrich Tamm: (1) B.Goulding Brown 0-1 R.Teschner (rd 3); (2) F.Alexander 0-1 E Ditt (rd 3); (3) E.Ditt 1-0 L.Illingworth (rd 4); (4) M.Christoph 0-1 E.Ditt (rd 5). Ulrich sourced some of this material from the chronicles of Bremen Chess Club which can be accessed online here. From the chronicles he tells us that Egon Ditt (1931-2005) was invited to Southsea 1951 on the recommendation of Bob Wade and that they granted him free board and lodging. The letter of invitation was written and signed by Harry Golombek. The Bremen club chronicle noted that this was the first time since the war that a Bremen chess player had been invited to a foreign tournament with an international line-up and that the unstinting efforts of the Bremen organisers to reconnect with foreign countries had earned a pleasant reward. Ulrich thinks the offer of board and lodging probably also applied to another talented German competitor, Manfred Christoph. Many thanks to Ulrich for the games and information, and credit to Bremen Chess Club for making available such a rich source of historical material. |
| 6 June 2022 | I've added another game, H.Cole 1-0 H.Heneage (rd 9) but, be warned, the score looks defective and you might choose not to add it to your database in its current state. It's only 8 moves long but there are at least three moves that look extremely unlikely in it. I tried to reconstruct a plausible score but wasn't successful though I've had some fun annotating it for readers' enjoyment. I'd be interested in receiving other attempts at reconstruction. Thanks to Brian Denman for submitting it. |