BRITBASE - British Chess Game Archive
Tournament: 35th British Chess Championship •
27 of 66 games

(plus 15 fragments and 27 subsidiary games/part-games)




Venue: Bishopsgate Institute, London • Dates: 30 August - 10 Sept 1948

• Download PGN

• Last Edited: Monday 15 May, 2023 3:20 PM
1948 British Chess Championship, Bishopsgate, 30 August - 10 September • 1947« »1949
1948 British Chess Championship
Resid.
Draw No.
1
2
3
4
5
6
7
8
9
10
11
12
Total

1

Reginald Joseph Broadbent
East Grinstead
1

½

½

1

1

1

½

1

1

½

½

1

8½

2

Sir George Alan Thomas
London
11

½

½

½

1

1

½

½

0

1

½

1

7

3

(Philip) Stuart Milner-Barry
London
6

½

½

1

½

½

½

½

½

½

1

1

7

4

Baruch Harold Wood
Sutton Coldfield
12

0

½

0

½

1

1

1

1

1

1

0

7

5

Harry Golombek
Chalfont St Giles
4

0

0

½

½

1

1

1

½

½

1

1

7

6

Gabriel Jacquin Wood
Southall
3

0

0

½

0

0

1

1

1

1

½

1

6

7

(Conel) Hugh O'Donel Alexander
9

½

½

½

0

0

0

½

1

1

½

1

5½

8

Richard Hilary Newman
2

0

½

½

0

0

0

½

½

½

1

1

4½

9

Dr. James Macrae Aitken
10

0

1

½

0

½

0

0

½

½

½

½

4

10

William Winter
London
7

½

0

½

0

½

0

0

½

½

½

½

3½

11

William Ritson Morry
Shirley
8

½

½

0

0

0

½

½

0

½

½

0

3

12

Gerald Abrahams
5

0

0

0

1

0

0

0

0

½

½

1

3
n.b. this was the last time the British Chess Championship was held as an all-play-all tournament.
The pairing rules were changed from those used in 1904-1947 to those shown in Table 2 of this page.
---
1948 British Ladies' Chess Championship, Bishopsgate, London • 1947« »1949
1948 British Ladies' Championship
Resid.
1
2
3
4
5
6
Total

1

Edith Charlotte Price
London

00

11

01

11

11

7

2

Rowena Mary Bruce
Plymouth

11

½0

½1

01

½1

6½

3

Eileen Betsy Tranmer
London

00

½1

10

1½

11

6

4

Mary Henniker-Heaton1
London

10

½0

01

10

01

4½

5

Amy Eleanor Wheelwright
Oxley

00

10

0½

01

11

4½

6

Helen Muriel Cobbold [née Blagg]
Cambridge

00

½0

00

10

00

1½
1 Full name Mary Araluen Elizabeth Anne Henniker-Heaton (1904-1972).
---
1948 BCF Premier Tournament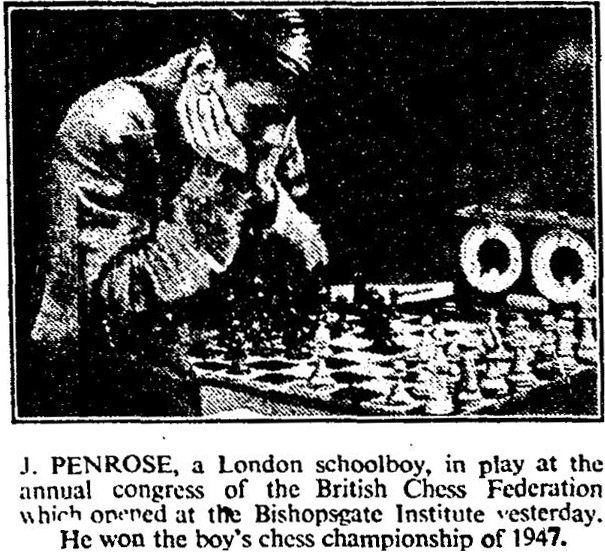 From the Times, 31 August 1948
---
Leading scores of other sections:
Major Open (3 sections)
Section 1: 1 Harry Ivor Woolverton (London) 8½; 2 Jeffrey Ansell 8; 3-5 Philip Ashby Ursell (Boscombe), John H Pollitt, Harold Saunders 7½... Ronald Mackay Bruce (Plymouth) [7 wins, 4 losses = 7/11 and 5th place according to one newspaper account]... Philip Edward Collier (Leicester) ... Bruce Hayden (London) ... 11 B K Pawliszyn (Nottingham), 12 Graham William Lines (Lyn) 0. ("... worst record of the congress. He lost every one of his 11 matches and was the only player of the 134 [congress competitors] who failed to win a game." Croydon Times - Saturday 18 September 1948, p3)

Section 2: 1 Victor John Anthony Russ (Birstall) 10; 2 Christopher Barclay Heath 8½; 3-5 John Bertram Goodman (Plymouth), Roy A Wagstaff, R. Speirs (London) 7 ... Arthur Charles Samuel Pindar (Farnborough) ... Herbert Francis Gook (Croydon) 4½ ... G Sutton (Manchester) ... Dr John Edward Hodgson Creed (London) ... Rev. Henry Middleton Blackett (Nottingham) 2½ ... W Henderson (London) ... 12 Rev Herbert Peach (1878-1955) 1/7 (Meysey Hampton, nr Fairford) finished last - ("withdrew from the Congress on Monday after a dispute with officials" - for the not very interesting details, see Gloucestershire Echo, 7 September 1948, page 1)

Section 3: 1 Charles Stanley Hunter (Enfield) 9½; 2-3 Ronald Frank Boxall (Erith), H. G. Wright (Middlesex) 8... 5th= Michael Benger (Cheltenham) 6 ... J Edge (Birkenhead) ... Donald Daniel Leslie (Finchley) ... James E Pattle (London)
First Class (3 sections)
Section 1: 1 Percy B Cook 9/11; 2 Leo Derby 8; 3 John W Smith (Horsham) 7 ... Rev Ernest Clement Mortimer ... W H Fairbairn (Croydon) 5.

Section 2 (10 players): 1 Norman Hammond 7/9; 2-4 Arthur Percival Lacy-Hulbert (Ludlow), Patrick Aherne (Twickenham), Bernard Landon Wilkinson 6 ... W D F Brown (London) ... 10 T S Harris (Derby) 1 (last).

Section 3: 1 J. Kenyon 8½; 2 Joseph John Lauder 8; 3 Dr. J. Fine 7.
Second Class: 1 D A Thomas (Bristol) 9/11; 2 T E Barnett 8½; 3 Edmund George Ansell 8 ... A F Crooks (Old Basford, Nottingham) 4½ ... A F Curtis (London)
Combined Junior and Third Class (played under Swiss system, 11 rounds, 18 players): 1 Victor Tarnofsky 9½; 2 J. H. Springall (Northolt) 8½; 3-4 D. C. Coomber (London), Gordon B Lowe (aged 17, Earlsdon, Coventry) 7½; 5-6 Kenneth Stuart Procter, R F/J Griffiths (Herts) 7 ... 7th C W Mansfield (Woodthorpe) 6½ ... Jean P M Craker (later Rogers, London) ... 10th= H E Crooks (Old Basford, Nottingham) 5 ... H D Terry (Aldershot) ... AJ Amor (Hounslow) ... NP Richards (London) ... 12 A Terrett (Worcester)... Miss Susan Gladys Redhead (Harrogate)... (A Flanigan (Redcar) and D A Marks (Surrey) may have been in this section)
Source: 1953/54 BCF Yearbook
---
[Fulham Chronicle, 17 September 1948] "'Chess is dangerous," says lady champion – In her top-floor Sheraton-furnished flat at no. 31, Talgarth Mansions, West Kensington, 77-year-old Miss Edlth C. Price talked to the Fulham Chronicle about the "dangerous game of chess."
"After a seven-hour battle at the Bishopsgate Instltute Miss Price won the title of British Women's Chess Champion 1948. Thus for the fifth time she has won the title—the other occasions being 1922, 1923, 1924 and 1927.
"Miss Price has lived at Talgarth Mansions for some years and is a member of the East Fulham Conservatlve Assoclatlon.
"Said this chess champion who carries her 77 years as if they were 60: "Chess is like a drug. It gets hold of you and you can spend too much time at it. It is thus a very dangerous game. When you get up from the board, what is there to show for it?
"From the health point of view I don't think chess is good. I am 77 and that sounds contradictory, but it is so. I believe that all young people should learn chess, but not competitive chess. There are more beautiful things in life than chess—music for example and outside sports such as tennis.
"Miss Price, who was taught chess by her father when she was seven was determined to win the championship just once more before she retires from competitive games. "At 77 I ought not to enter contests: I ought to take to playing marbles!" she said.
Her Gambit Days
"For 45 years, until she sold it in 1946, Miss Price ran The Gambit chess club at Budge Row, between Cannon Street and Queen Victoria Street. Everyone in the chess world from Alekhine, Capablanca, Euwe and Lasker downwards visited the club and Miss Price played them all in friendly games. At one time a millionaire used to visit the club and play with a man who kept a stall in Caledonian Market. When Mr. Bonar Law was Prime Minister he would often ring up Miss Price for someone to go along to Downing Street to play chess with him. "He loved the game and used to say that chess distracted and rested his mlnd from the pressure of statesmanship."
"The first time Miss Price entered for the British Women's Chess Championship was in 1912, when she tied and lost in the play-off. She cannot show the championship medals she won in subsequent years. A thief entered her flat and stole them three weeks after she went to Talgarth Mansions. He left the medal cases wide open and dreadfully empty." [my thanks to Richard James for drawing my attention to this article - JS]
---
THE TWENTY-THIRD BRITISH BOYS' CHAMPIONSHIP AT HASTINGS [BCM, May 1948, ppn 149-152]
This important competition was remarkable in several respects. The general level of play was higher than ever, the entries reached a record number and for the first time there were entries from Scotland and Wales.
Thirty-six entries were accepted; they were fully representative except for one or two strong players whose entries arrived too late. There were six preliminary sections as follows— [n.b. quite a number of names were given wrongly in BCM - I have amended them - JS]
Section A.—P. J. Holland (17), Sheringham, Norfolk; J. A. [John Anthony] Wall (17), College for the Blind, Worcester; G. May (17), Chestnut Grammar School; D. N. [Neil Robert Desmond] Griffith (17), Wallasey Grammar School, Cheshire; N[orman]. Sofier (17), Perse School, Cambridge; G. [George] Fuchs (17), Varndean School, Brighton. [George Fuchs later changed name to George Fuller, acc. 1939 census]
Section B.—R. W. [Robert William Brian] Judson (17), Worcester Royal Grammar School; G. F. Berryman (17), Gosport County School, Hants; D. J. [Derek Geoffrey] Horseman (16), King Henry VIII College, Coventry; I. [Ian Charles] Middleton (17), Central Secondary School, Aberdeen; A. [Alan] Leigh (16) [1931-1950], Bolton Municipal Secondary School, Lancs; D. B. Sullivan (17), Salesian College, Battersea.
Section C.—J. D. [John D] Phethean (16), Salesian College, Battersea; I. [Ian Ninian] Marshall (16), Stonyhurst College, Blackburn; R. Hill (15), Bolton Municipal Secondary School, Lancs; J[onathan]. Penrose (14), University College School, London; R. J. Bird (15), Worcester Royal Grammar School; P[eter]. Harris (16), West Bromwich Grammar School.
Section D.—P[eter]. Hannan (17), St. Joseph's Academy, London; R[ichard]. S. Rainbow (16), Wooler, Northumberland; L. G. Harris (15), Leyton Chess Club; J[ohn]. Gretton (17), Leicester Midland Counties Chess Union; C. [Cyril] Pollitt (15), Bolton Municipal Secondary School, Lancs; J. A. [John Alexander] Jackson (16), Glasgow Chess Club.
Section E.—I. [Gerald] Homer (15), West Bromwich Grammar School; T. A. [Derek Thomas Anthony] Lamport (15), Varndean School, Brighton; R[obert]. C. Phillips (15), Monmouth School for Boys; P. Olney (16), Cheshunt Grammar School, Herts; D. V. [David V W] Lofts (16), Leyton Chess Club; C. R. Berry (14), Bishopshalt School, Hillingdon.
Section F.—A. B. [(Alastair) Brian] Walden (15), West Bromwich Grammar School; E. [Eric] Leyns (14), Rugby School; C. Martin (15), King's College, St. Leonards; K. Jones (16), Rhyl Grammar School, N. Wales; L. Young (16), St. Paul's School, Hammersmith; P. J. [Peter James] Oakley (17), Dr. Challoner's Grammar School, Amersham, Bucks.
Several of these players had already distinguished themselves in various competitions. J. Penrose, the holder has played regularly on high board for Hampstead and Essex in London League and County chess. His record this season is one of which any first-class player could justly be proud. I. Middleton is last year's Scottish Boys' Champion, while J. A. Jackson is the present joint holder of the title. Jackson's style is impressive; he has the right temperament, sound positional judgment with a fine gift for attack. J. Gretton recently won the Midland Boys' Championship.
Two distinguished visitors watched the play, Mr. T. F. [Thomas Francis] Lawrence, as everyone knows, one of Great Britain's foremost players some fifty years ago, and Mr. I. [Imre] König. Mr. König expressed his astonishment at the standard of play. He played a few games with the youngest competitor, [Derek] T. A. Lamport, and was confirmed in his opinion. [but Lamport wasn't the youngest competitor?!]
The results of the preliminaries were as follows—
Section A.—1 J. A. Wall, 4 out of 5.
Section B.—1 D. G. Horseman, 4½.
Section C.—A tie between P. Harris and J. Penrose with 4 each. There being no time for a play-off, the Sonneborn-Berger system was applied and Harris passed into the final.
Section D.—A tie between J. Gretton and C. Pollitt, 4. Gretton passed into the final.
Section E.—A tie between D. V. Lofts and P. Olney, 3½. Lofts passed into the final.
Section F.—P. J. Oakley, 4½.
The unsuccessful candidates played in a consolation tournament of five sections.
Here is the result of the Championship—
1948 British Boys' Chess Championship Final
Progress Table
1
2
3
4
5
6
Total
1
2
3
4
5
1
Derek Geoffrey Horseman
0
1
1
½
1
3½
1
1½
2½
2½
3½
2
Peter Harris
1
0
½
1
½
3
½
1½
1½
2½
3
3
David V W Lofts
0
1
½
0
1
2½
½
1½
2½
2½
2½
4
Peter James Oakley
0
½
½
½
1
2½
½
1
1
1½
2½
5
John Anthony Wall
½
0
1
½
½
2½
0
½
1
2
2½
6
John Gretton
0
½
0
0
½
1
0
0
½
½
1
J. Penrose was unlucky to lose his championship after tieing in the preliminary section. His was an outstanding performance, for in the strong A Section of the Consolation tournament he scored five clear wins and was the only player in the Championship and Consolation tournaments who did not lose a game.
J. A. Wall, the blind player, was very sound. He shows much talent.
Here are some interesting positions which occurred in the competition. It is gratifying to find two nice endings among them. [in PGN file]
A refreshing spirit of attack prevailed, particularly so in the first rounds and it is not surprising that a few early disasters occurred. I. Marshall, who on several occasions showed remarkable dash and ingenuity, was responsible for the following attractive and unusual brevity. [John D Phethean - Ian Marshall - in PGN file]
The following was the only game lost by the new champion in the final. Score and notes from the "Manchester Guardian."
The winners in the "Consolation Sections" were—
Section A.—J. Penrose, 5; D. N. N. R. D. Griffith, 3½.
Section B.—I. Marshall, 4; I. G. Homer and J. A. Jackson, 3.
Section C.—R. W. Judson, 4; E. Leyns, 3.
Section D.—R. C. Phillips, 3½; G. F. Berryman, 3.
Section E.—R. Hill and [D.] T. A. Lamport, 4.
Sir G. Thomas showed his interest once again by staying throughout the week and by offering prizes for the best games. Two brilliancy prizes, "Dr. Tarrasch's Best Games," by F. Reinfeld, and Znosko-Borovsky's "How to Play Chess Endings," were given by the "British Chess Magazine."
The prize-giving ceremony was presided over by the Mayor of Hastings, Councillor F. W. Chambers. The Congress was splendidly organised by Mr. A. A. Rider, ably assisted by Miss M. Lankey.
---
1948 BRITISH GIRLS' CHAMPIONSHIP
BCM, May 1948, p159
The British Girls' Championship (under 18), organized by the Chess Education Society, took place at St. Bride's Institute, London, from March 31st—April 3rd.
Recognized by the B.C.F. for the first time as the British Girls' Championship, the tournament comprised five entries including the holder of the senior and the joint winners of last year's junior competitions.
Audrey Pocknell (holder) of Bromley Technical School and Jean Craker, of Peterborough and St. Margaret's School, Harrow, both scored 3 points; Lesley Fletcher, of Tiffin's School, Kingston-on-Thames, 2; Betty Brand and Sylvia Fisher 1. In the play-off for the title, the holder, after losing a piece in the opening, recovered well and making the best of a positional advantage, completely outplayed her opponent.
Audrey is to be congratulated on repeating her last year's performance, especially in view of the greatly improved standard of play and technique.
Jean Craker, who seems to be holding her own in the London Ladies' Championship, played steadily; while Lesley Fletcher was somewhat unfortunate in being unable to maintain her early lead.
The Junior Tournament under 15 had a record entry of 22 and necessitated being played in four sections. These were won by L. Barry, A. Bennett, S. Epps, and R. Onn. In the final Ann Bennett, of Godalming Grammar School, a newcomer, was beaten by Sylvia Epps, of Aylesbury C.M. School, Bromley, after a closely contested engagement. Both these youngsters show signs of great promise for the future.
---
File Updated
| Date | Notes |
| --- | --- |
| Early 2016 | Uploaded in current format, with crosstables, etc. |
| 12 April 2016 | Andy Ansel has found some more moves for the game Hooper-J.Penrose. Thanks, Andy. And Brian Denman has contributed two games from minor sections. Thanks, Brian. |
| 1 August 2019 | Added the Edith Price interview from the Fulham Chronicle. Hat tip to Richard James for drawing my attention to it. |
| 29 November 2020 | The tally of Championship games is now up to 27 (out of 66 games), with 15 part-games, thanks to the inputting of all Dr Aitken's games. I've increased the number of subsidiary games by adding games and part-games from the 1948 British Boys' (U18) Championship held earlier in the year at Hastings. |
| 17 March 2022 | Added B.Wilkinson 0-1 Rev. AP Lacy-Hulbert (First Class B, rd 1). |
| 13 April 2022 | (1) Amended score of N.Griffith 1-0 N.Sofier (U18) and made some minor amendments to some of the other U18 games; (2) added text relating to the U18 Championship and added links to biographical info; (3) added the game J.A.Jackson 1-0 R.S.Rainbow (U18), found at the Chess Scotland site. |
| 11 July 2022 | Two games added: (1) E.Price 1-0 H.Cobbold, Rd 7, Women's Ch'ship; (2) A.Pocknell 1-0 J.Craker, Girls U18 Championship (played in April 1948). I've also added the text about the Girls Under-18 Championship to the report material. Many thanks to Gerard Killoran for submitting the two scores via the English Chess Forum. |