BRITBASE - British Chess Game Archive
Tournament: 44th British Chess Championship •
65 of a possible 176 games
(plus 3 part-games & 4½ games from subsidiary events)
Venue: Plymouth • Dates: 19-30 August 1957 • Download PGN • Last Edited: Thursday 13 October, 2022 4:24 PM
1957 British Chess Championship, Plymouth, 19-30 August • 1956« »1958
1957 British Chess Championship
Resid.
1
2
3
4
5
6
7
8
9
10
11
Total
1
Dr Stefan Fazekas
Buckhurst Hill
♦ 0/11
◊ 1/22
♦ 1/20
◊ ½/4
♦ 1/8
◊ 0/6
♦ 1/16
◊ 1/9
♦ ½/3
◊ 1/14
♦ 1/15
8
2
Peter Hugh Clarke
Essex
◊ 0/5
♦ ½/13
◊ 0/15
♦ 1/30
◊ 1/26
♦ 1/10
◊ 1/12
♦ 1/7
♦ 1/16
◊ ½/3
♦ ½/4
7½
3
Robert Graham Wade
Ilford
◊ 1/24
♦ ½/21
◊ 1/5
♦ ½/18
◊ ½/14
♦ 1/29
◊ 1/6
♦ ½/4
◊ ½/1
♦ ½/2
◊ ½/7
7½
4
Jonathan Penrose
London
◊ 1/29
♦ ½/5
◊ ½/7
♦ ½/1
◊ 1/12
♦ 1/18
◊ ½/17
◊ ½/3
♦ ½/14
♦ 1/6
◊ ½/2
7½
5
Bernard Cafferty
Nottingham
♦ 1/2
◊ ½/4
♦ 0/3
◊ ½/9
♦ 1/24
♦ 1/13
◊ ½/7
♦ 1/17
◊ 0/6
◊ ½/15
♦ 1/14
7
6
Leonard William Barden
London
◊ ½/7
♦ 1/31
◊ 1/27
♦ 1/12
◊ ½/18
♦ 1/1
♦ 0/3
◊ ½/14
♦ 1/5
◊ 0/4
♦ ½/8
7
7
C Hugh O'D Alexander
London
♦ ½/6
◊ 1/8
♦ ½/4
◊ 1/21
♦ ½/16
◊ ½/14
♦ ½/5
◊ 0/2
♦ ½/9
◊ 1/22
♦ ½/3
6½
8
Denis Victor Mardle
Bishop's Cleeve
◊ ½/31
♦ 0/7
◊ 1/30
♦ ½/24
◊ 0/1
♦ 1/11
◊ 1/13
♦ ½/15
◊ ½/23
♦ 1/17
◊ ½/6
6½
9
Peter Campbell Gibbs
Bradford
◊ 1/13
♦ ½/27
◊ ½/21
♦ ½/5
◊ 0/29
◊ 1/25
♦ 1/18
♦ 0/1
◊ ½/7
♦ 1/23
◊ ½/11
6½
10
Derek Geoffrey Horseman
Coventry
◊ 0/12
♦ ½/15
◊ ½/13
♦ ½/26
◊ 1/23
◊ 0/2
♦ ½/22
♦ 1/24
◊ ½/17
♦ ½/19
◊ 1/32
6
11
Thomas John Beach
Liverpool
◊ 1/1
♦ 0/16
◊ ½/24
♦ 0/15
♦ ½/19
◊ 0/8
♦ 1/20
♦ ½/26
◊ 1/18
◊ 1/25
♦ ½/9
6
12
Arnold Yorwarth Green
London
♦ 1/10
◊ 1/25
♦ ½/14
◊ 0/6
♦ 0/4
◊ 1/20
♦ 0/2
◊ 1/18
♦ 0/15
◊ ½/16
♦ 1/22
6
13
David Brine Pritchard
London
♦ 0/9
◊ ½/2
♦ ½/10
◊ 1/31
♦ 1/20
◊ 0/5
♦ 0/8
◊ 0/22
♦ 1/32
◊ 1/29
◊ 1/23
6
14
Gerald Abrahams
Liverpool
◊ 1/28
♦ 1/26
◊ ½/12
◊ ½/16
♦ ½/3
♦ ½/7
◊ 1/15
♦ ½/6
◊ ½/4
♦ 0/1
◊ 0/5
6
15
Michael J Haygarth
Leeds
♦ 0/21
◊ ½/10
♦ 1/2
◊ 1/11
♦ 1/25
◊ ½/16
♦ 0/14
◊ ½/8
◊ 1/12
♦ ½/5
◊ 0/1
6
16
Andrew Rowland B Thomas
Tiverton
♦ 1/19
◊ 1/11
◊ ½/18
♦ ½/14
◊ ½/7
♦ ½/15
◊ 0/1
♦ 1/21
◊ 0/2
♦ ½/12
◊ ½/17
6
17
(Philip) Stuart Milner-Barry
London
♦ 0/20
♦ ½/30
◊ ½/31
◊ 1/19
♦ 1/21
◊ 1/22
♦ ½/4
◊ 0/5
♦ ½/10
◊ 0/8
♦ ½/16
5½
18
Frank Parr
Sutton
♦ 1/23
◊ 1/20
♦ ½/16
◊ ½/3
♦ ½/6
◊ 0/4
◊ 0/9
♦ 0/12
♦ 0/11
◊ 1/30
♦ 1/25
5½
19
George A Dickson
Edinburgh
◊ 0/16
♦ 1/28
◊ 0/29
♦ 0/17
◊ ½/11
♦ ½/31
◊ 0/24
♦ 1/30
♦ 1/27
◊ ½/10
♦ 1/21
5½
20
Richard Hilary Newman
London
◊ 1/17
♦ 0/18
◊ 0/1
♦ 1/27
◊ 0/13
♦ 0/12
◊ 0/11
◊ 1/32
♦ 0/25
♦ 1/28
◊ 1/31
5
21
Michael J Franklin
London
◊ 1/15
◊ ½/3
♦ ½/9
♦ 0/7
◊ 0/17
◊ 1/24
♦ 1/29
◊ 0/16
♦ 0/22
♦ 1/26
◊ 0/19
5
22
Baruch Harold Wood
Sutton Coldfield
◊ 0/26
♦ 0/1
◊ 1/28
♦ ½/23
◊ 1/27
♦ 0/17
◊ ½/10
♦ 1/13
◊ 1/21
♦ 0/7
◊ 0/12
5
23
Jo Jarvis
Rhyl
◊ 0/18
♦ 0/24
♦ 1/32
◊ ½/22
♦ 0/10
◊ 1/27
♦ 1/25
◊ 1/29
♦ ½/8
◊ 0/9
♦ 0/13
5
24
John William Naylor
Kirkby
♦ 0/3
◊ 1/23
♦ ½/11
◊ ½/8
◊ 0/5
♦ 0/21
♦ 1/19
◊ 0/10
◊ 0/28
♦ 1/32
♦ 1/30
5
25
Ronald MacKay Bruce
Plymouth
◊ 1/30
♦ 0/12
◊ 1/26
♦ ½/29
◊ 0/15
♦ 0/9
◊ 0/23
♦ 1/31
◊ 1/20
♦ 0/11
◊ 0/18
4½
26
Brian J Moore
Feltham
♦ 1/22
◊ 0/14
♦ 0/25
◊ ½/10
♦ 0/2
◊ ½/32
♦ 1/28
◊ ½/11
♦ ½/29
◊ 0/21
♦ ½/27
4½
27
David Edward Lloyd
London
♦ 1/32
◊ ½/9
♦ 0/6
◊ 0/20
♦ 0/22
♦ 0/23
◊ ½/30
♦ ½/28
◊ 0/19
♦ 1/31
◊ ½/26
4
28
John H Beaty
Doncaster
♦ 0/14
◊ 0/19
♦ 0/22
◊ 1/32
♦ ½/31
♦ 0/30
◊ 0/26
◊ ½/27
♦ 1/24
◊ 0/20
♦ 1/29
4
29
Clifford George Hilton
Whitefield
♦ 0/4
◊ 1/32
♦ 1/19
◊ ½/25
♦ 1/9
◊ 0/3
◊ 0/21
♦ 0/23
◊ ½/26
♦ 0/13
◊ 0/28
4
30
John Edward Redon
Twickenham
♦ 0/25
◊ ½/17
♦ 0/8
◊ 0/2
♦ 0/32
◊ 1/28
♦ ½/27
◊ 0/19
◊ 1/31
♦ 0/18
◊ 0/24
3
31
John Bertram Goodman
Plymouth
♦ ½/8
◊ 0/6
♦ ½/17
♦ 0/13
◊ ½/28
◊ ½/19
♦ ½/32
◊ 0/25
♦ 0/30
◊ 0/27
♦ 0/20
2½
32
Norman H S Lavers
St Albans
◊ 0/27
♦ 0/29
◊ 0/23
♦ 0/28
◊ 1/30
♦ ½/26
◊ ½/31
♦ 0/20
◊ 0/13
◊ 0/24
♦ 0/10
2
Prizes: £35, £15, £10 and £5. Time control: 40 moves in 2½ hours and 16 moves in each additional hour. The venue was the Devonport High School for Girls.

1957 British Championship players: Seated, left to right : S. Fazekas, D. V. Mardle, C. H. O'D. Alexander, P. S. Milner-Barry, M. J. Franklin, D. E. Lloyd, J. H. Beaty, N. H. S. Lavers, J. B. Goodman. Standing, left to right : P. C. Gibbs, B. H. Wood, C. G. Hilton, G. Dickson, R. H. Newman, B. Cafferty, F. Parr, R. M. Bruce, M. J. Haygarth, J. E. Redon, J. Penrose, J. Jarvis, D. B. Pritchard, R. G. Wade, A. Y. Green, P. H. Clarke, T. J. Beach, J. W. Naylor, L. W. Barden, B. J. Moore, G. Abrahams, A. R. B. Thomas. Photo from CHESS, September 1957, p307.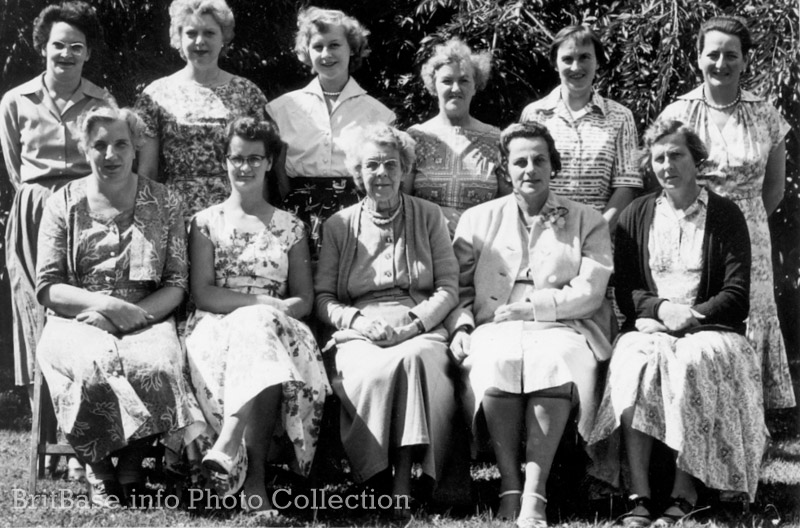 1957 British Ladies Championship: standing, left to right : Jean Craker, Dody Bourdillon, Margaret E E (Peggy) Wood, Leah M Hogarth, Constance Hadgkiss, Rowena M Bruce. Sitting, left to right: Mary Henniker-Heaton, Anne Sunnucks, Hilda F Chater, Dr. Maria MacLean, Evaline E Feavyour. Photo from CHESS, September 1957, p307.
---
1957 British Ladies Chess Championship, Plymouth • 1956« »1958
1957 British Ladies Chess Championship
Resid.
1
2
3
4
5
6
7
8
9
10
11
Total
1
Capt. (Patricia) Anne Sunnucks (later Mothersill)
London
1
½
1
1
1
½
1
1
1
1
9
2
Rowena Mary Bruce (née Dew)
Plymouth
0
1
0
1
1
1
½
1
1
1
7½
3
Dorothea (Dody) Denise Alma Bourdillon (née Rodwell)
London
½
0
0
0
1
1
1
1
1
1
6½
4
Jean P M Craker (later Rogers)
London
0
1
1
0
0
½
1
1
1
1
6½
5
Mary A E A Henniker-Heaton
London
0
0
1
1
0
1
½
½
1
1
6
6
Constance Hadgkiss
Coryton
0
0
0
1
1
½
1
0
1
1
5½
7
Hilda Florence Chater
Belfast
½
0
0
½
0
½
0
1
1
1
4½
8
Margaret Eileen Elizabeth Wood (later Clarke)
Sutton Coldfield
0
½
0
0
½
0
1
0
1
1
4
9
Leah Margaret Hogarth
Glasgow
0
0
0
0
½
1
0
1
0
0
2½
10
Dr. Maria Maclean
Abertillery
0
0
0
0
0
0
0
0
1
1
2
11
Evaline Emily Feavyour
Darsham
0
0
0
0
0
0
0
0
1
0
1
1957 BCF Major Open
Major Open, Section "A."—1 Dr. Jacob Adolf Seitz (Buenos Aires) 9 (out of 11); 2 D George Ellison (Bolton) 7½; 3-4 J. Edge (London), M. T. Partis (Brighton) 7; 5-6 E. G. Ansell (Kenton), Dr. L. B. Pawson (Cleethorpes) 6½; 7-10 A. W. Busby (Camborne), Fred Clough (Urmston), R. H. Rushton (Luton), Victor J A Russ (Leicester) 6; 11-14 G. H. Davies (Wallasey), A. Eva (Wilmslow), George H Simmons (Scunthorpe), James E Pattle (London) 5½; 15-19 J. W. Ede, J. Johnson, James R Nicolson, Alan F Stammwitz, —. Boyce 5; 20-21 Ian G Bronks, Daniel Castello 4½; 22-23 Herbert F Gook, B. Sharples 3½; 24 Arthur T Watson 1½. (Ellison qualified for the 1958 British Championship)
Major Open, Section "B."—1 H Alec Samuels (Croydon) 8½; 2 Dr. B. Sturgeon (Little Burstead) 8; 3 Alfred J Butcher (Tettenhall) 7½; 4-6 Percy B Cook (London), [C/G]. W. Marshall (Gourock), Anthony G C Paish (London) 7; 7-8 Brian R Ewart (Wallasey), Harry G T Matchett (Birmingham) 6½; 9-10 Charles R Gurnhill (Sheffield), F. Smith (Blackburn) 6; 11-14 Alan K May (Richmond), I. Napier (Lelant), Leonard W Oliver (South Shields), D. Saunderson (Chesterfield) 5½; 15-16 A. G. Barker, J. C. Dore 5; 17-19 Philip E Collier, Alan Edgar Nield, Philip B Sarson 4½; 20-21 T. Russell, W. Slowik 4; 22-23 Ronald E Rushbrook, R. F. T. Williams 3½; 24 Kenneth G P Gunnell 1½. (Samuels qualified for the 1958 British Championship)
British Boys' [Under 18] Championship.—1 David E Rumens (Harrow Weald) 9 (out of 12‡); 2-3 Colin G Burton (Birmingham), Arthur S Rooker-Roberts (London) 8½; 4-5 Michael E Binks (Hull), G. Weller (Cambridge) 8; 6-8 Adrian S Hollis (London), John F Wheeler (Plympton), Christopher B Wood (Sutton Coldfield) 7½; 9-13 Roger Fletcher (Huddersfield), P. W. Haddock (Ilford), Brian H Hare (Stroud), David J Mabbs (Harrow), Philip J Meade (Croydon) 7; 14-15 David J Casiot (Sevenoaks), Patrick John P Jiggins (London) 6½; 16-24 John V Dawkins (Coalville), David Ellis (Truro), Richard J Fries (Richmond), A. P. Nicholas (Birmingham), Stewart Reuben (London), Leonard S Sunderland (Cambridge), John Anthony Sutton (Stafford), David G Wells (Bristol), George W Wheeler (Plympton) 6; 25-26 Richard J L Duffield, Roger W Morgan 5½; 27-32 Colin M Bloodworth, J. R. Holland, A. G. Lowe, Robert H Northage, A. Pidcock, L. R. Kirkaldy 5; 33-37 C. J. C. Bailey, Barry James Norman Blight, John A Feavyour, M. A. Hammett, Thomas W Hendy 4½; 38-39 J. Allan, P. J. Hamblett 4; 40 P. F. Helps 2. (‡ because of a large entry, an extra round was played on the first day - source: BCM, Oct 1957, p263)
British Boys' Under-fifteen Championship.—1-2 John A Lawrence (Birmingham), Colin Waring1 (Manchester) 8½ (out of 11); 3 Keith M Oliff (Basildon) 8; 4 Andrew R G Horton (Plymouth) 7½; 5 Stephen P Broido (Cockfosters) 7; 6 (Rex) Frank T Wood (Sutton Coldfield) 6½; 7-10 P. Dawson (Plymouth), M. A. Easterbrook (Plymouth), F Michael Akeroyd (Whitby), Clive H Pemberton (Ilford) 6; 11-12 Richard A Beach, R. A. Fenn 5; 13 Roland E Graf 4½; 14-15 J. Henlen, C. Taylor 4; 16 M. J. Ryder 3½; 17 J. E. Harrison 3; 18 Q. McLean 0.
1 Colin Waring (1942-64): "... Colin Waring... died on 30 October 1964 at the age of twenty-two. He had shared the British Under-15 Championship at Plymouth in 1957, but had been in poor health for some years. He had also been a member of Manchester Chess Club." (Chess and Manchester, Publ. MDCA, 1990, p175). See also the 1963 British Under-21 Championship.
British Girls' [Under 18] Championship.— 1 Sheila Corbyn (Birmingham) 6 (out of 8); 2-3 June Beckett (Bromley), Susan Smith (London) 5; Josephine Critchley (Bristol) 4; Myra Wherry 0.
First Class.— 1 Rev. Henry M Blackett (Hastings) 9 (out of 11); 2-3 Rev. Kenneth Stuart Procter (London), Leslie Edward Vine (Eastleigh) 8; 4 P. H. Sullivan (Dartford) 7½; 5-6 A. Oakes (Doncaster), R. J. Stockwell (Croydon) 7; 7-11 A. Archer (Stoke-on-Trent), Thomas E L Chataway (Clent), Jack Horrocks (London), J. Meadows (Plymouth), George A Peck (Rugby) 6; 12-13 Ernest G Exell (Hemel Hempstead), W. J. Matthews (Bristol) 5½; 14-18 J. Bate, J. K. Gross, Dr. J. L. Henry, W. B. Turner, Peter Eric Whitehead 5; 19-21 B. K. Jeary, G. C. Homan, E. McCarthy 4½; 22-24 J. Taynton Evans, C. Hatch, R. Hornbrook 4; 25 H. S. Littlechild 3½; 26 W. H. Thomas 1½. Mr. Hornbrook had to withdraw owing to illness after seven rounds.
Second Class.—1 B. Humble (Dartford) 9½; 2 W. G. Oliver (Cheltenham) 9; 3 William H Mabbs (Orpington) 8½; 4 F. Salt (Chester§) 8; 5 J. N. Kemp (Rochester) 6½; 6-7 J. H. Brown (Farnborough), J. Salt (Chesterfield§) 4½; 8-10 H. Ford, J. E. Mort, M. Yates 3½; 11 A. E. Terrett 3; 12 T. W. Crabb 2. (§ it seems too much of a coincidence for F Salt to have come from Chester and J Salt from Chesterfield, but that is what is given in CHESS, September 1957, p314)
Second Week Junior, Section "A."—1 T. Guy (Brighton) 5; 2-3 C. Blackburne (Brighton), M. J. F. Carpenter (Plymouth) 3; 4 P. Read (Plymouth) 2; 5-6 M. Cregan (Plymouth), V. J. Lowe (Plymouth) 1.
Second Week Junior, Section "B."—1 [L/GS] Strike (Plymouth) 5; 2 V. R. Macey (Plymouth) 4; 3-4 Susan Collins (Plymouth), R. A. Pearce (Plymouth) 2; 5 Lyn A Stammwitz (London) 1½; 6 R. Way (Devonport) ½.
---
Championship Qualifiers.—The highest placed duly qualified players in the two Major Open Tournaments qualified for the 1958 British Championship. In Major "A" D. G. Ellison earned this privilege, as Dr. Seitz was not qualified. In Major "B" A. Samuels was the successful candidate. He and Mr. Ellison [were] entitled to play in the championship at Leamington in August [the following] year.
---
[Sunday Times, 18 Aug 1957 - by C. H. O'D. Alexander] "Tomorrow the forty-fourth annual congress of the British Chess Federation begins at Plymouth with a record entry of 206 competitors; perhaps the most striking and encouraging feature is that there are forty entrants for the boys (under eighteen) championship and twenty for the under fifteen tournament.

"The British championship itself has a strong entry, only Golombek and Broadbent being missing from among the strongest players. I suppose I shall have to venture on a forecast and suffer the usual acid comments from the other competitors before—and, still more, after—the tournament.

"There are to my mind seven of the thirty-two (possibly thirty-four) competitors with a chance of winning; Milner-Barry and myself among the veterans, Wade and Parr among the middle generation and Barden, Clarke and Penrose among the under thirties. It is very difficult to make an objective estimate of my own chances: I have the psychological advantages (and disadvantages) of being the holder, but my form in recent tournaments has been very erratic and is always uncertain in the championship, so I shall exclude myself from my forecasting.

"Milner-Barry has always played well in the championship. but has finished badly: he undoubtedly has the ability to win if he can last out the tournament. Wade is a very tough, experienced and determined player, and has the advantage of having won in the past; Parr is also a hard fighter (he was unlucky not to win last year), but my impression is that neither Wade nor Parr will be quite equal to winning against the best play of Milner-Barry, Clarke or Penrose. Barden has the advantage of his encyclopaedic opening knowledge, but should he get into the lead, I think he would feel the nervous strain more than most.
"This brings me to Clarke and Penrose, undoubtedly the best of the younger players, both in the early twenties. Clarke is the most improved player of the year. He is a player to rise to an occasion; on the other hand he is rather too liable to draw a large proportion of his games, and this may be a fatal handicap to his chances of first place. Penrose is the most gifted player in the country, but has a bad match temperament; he undoubtedly ought to win the championship—he only has to believe he will. On balance I think that this time he should do it, and my forecast (Alexander unplaced) is: 1. Penrose; 2. Milner-Barry and Clarke; 4. Wade; 5. Parr and Barden.
---
[The Times, 19 Aug 1957] RECORD ENTRY FOR CHESS CONGRESS - ALEXANDER FAVOURITE IN STRONG "FIELD" - FROM OUR CHESS CORRESPONDENT - There is a record entry of 199 competitors for the various events in the British Chess Federation Congress that starts to-day at Plymouth. The entry for the British championship, which is again being run on the Swiss system by which players of the same score meet each other, is as follows: —G. Abrahams (Liverpool), C. H. O'D. Alexander (London), L. W. Barden (London), T. J. Beach (Liverpool), J. H. Beaty (Doncaster), R. M. Bruce (Plymouth), B. Cafferty (Nottingham), G. Dickson (Edinburgh), Dr. S. Fazekas (Buckhurst Hill), M. J. Franklin (London), P. C. Gibbs (Bradford), J. B. Goodman (Plymouth), A. Y. Green (London), M. J. Haygarth (Leeds), C. G. Hilton (Whitefield), D. G. Horseman (Coventry), J. Jarvis (Rhyl), N. H. S. Lavers (St. Albans), D. E. Lloyd (London), D. V. Mardle (Bishop's Cleeve). P. S. Milner-Barry (London), B. J. Moore (Feltham), J. W. Naylor (Kirkby), R. H. Newman (London), F. Parr (Sutton), J. Penrose (London), D. B. Pritchard (London), J. E. Redon (Twickenham), A. R. B. Thomas (Tiverton), R. G. Wade (Ilford), M. E. Wise (Penarth), and B. H. Wood (Sutton Coldfield).
To this original entry there are two additions in P. H. Clarke, the young Essex international player, and P. B. Cook, of London. Clarke was due to have played in an international tournament in Poland this month, but arrangements for this fell through. As a member of the British team at the Moscow international team tournament last year he has the right of a place in this year's British championship and in order to make the numbers even P. B. Cook, as first reserve from the major tournament, is brought up into the championship."
[The Manchester Guardian, 19 Aug 1957] "CONTENDERS FOR CHESS TITLE - British championship - From our Chess Correspondent [Barden?] - Plymouth, Sunday.]
The British championship, the chief event of the British Chess Federation's annual congress which begins here tomorrow, is likely to develop into a fierce struggle between the players who first came into prominence before the war and the new generation of those in their twenties and thirties who have made their reputations in the last few years.
The holder, Alexander, is the most renowned British player internationally, but his results are erratic. This year, for instance, his complete failure at Hastings was followed by an excellent result in the Dublin zonal tournament. In his best form Alexander should win, although he will be severely challenged by the leading players of the younger school, Clarke and Penrose.
Clarke's chief danger is that he will be unable to shake off his tendency to draw too many games. But temperamentally he is better equipped to win than Penrose, whose smooth and easy style is often upset by an unexpected defeat. Milner-Barry would make a most popular champion, but the fact that the title has so often narrowly eluded him may make his psychological burden in the last rounds too great.
Wade should finish high up witnout being quite capable of winning, and of the other well-known younger players, Barden and Haygarth lack incisiveness and Horseman and Moore consistency. Parr and Wood, prizewinners last year, will have a hard task to repeat their performances in a championship which lacks only Broadbent, Golombek. and Phillips of Britain's strongest players."
---
[The Times, 31 Aug 1957] "DR. FAZEKAS NEW CHESS CHAMPION - VICTORY BY HALF A POINT - FROM OUR SPECIAL CORRESPONDENT - PLYMOUTH, Aug. 30 - When Dr. S. Fazekas beat M. J. Haygarth at the Plymouth Chess Congress in 64 moves to-day he won the British Championship for the first time. Most of his other rivals had already fallen by the wayside.
Dr. Fazekas, originally a Czechoslovak subject, came to Britain shortly before the Second World War. He is a medical practitioner, living at Buckhurst Hill, Essex, and has competed in many tournaments in Britain and in Czechoslovakia. He was formerly the champion of Slovakia and his tournament successes before the war qualified him for the title of international chess master. This is his first win in the British championship since he became a naturalized British subject, although he has competed in. most of the congresses since the war. J. Penrose and P. H. Clarke had agreed to a draw in 21 moves with most of the material still on the board, and L. W. Barden had lost his adjourned overnight game with Penrose, which had largely spoiled his chances. But Dr. Fazekas had to wait for the result of the game between R. G. Wade and C. H. O'D. Alexander, for Wade by winning that game could have tied with him...]
---
[Manchester Guardian, 31 Aug 1957] "DR FAZEKAS WINS CHESS TITLE - Surprise result - From our Chess Correspondent - Plymouth, Friday.
Dr Stephen [sic] Fazekas, a 59-year-old doctor from Buckhurst Hill, Essex, is the new British chess champion. In the last round to-day he won his game against Haygarth in 64 moves. Clarke, Penrose, and Wade shared second place.
This result is a great surprise, for Dr Fazekas, a former Czechoslovak international, has had very variable results in English tournaments. However, in this event he allied his ingenuity with great solidity and determination, and showed better stamina than his younger rivals during the last five rounds, in which he scored 4½ points. To-day he played the Nimzo-Indian Defence against Haygarth, and had a solid position in the middle game, when Haygarth made a completely unsound piece sacrifice; although he fought on for 64 moves his position was always hopeless.
Of the other players with seven points at the beginning of the round Penrose and Clarke had a quiet draw in 20 moves in which Penrose's early initiative petered out, and Wade was outplayed in middle game complications against Alexander.
Barden gradually obtained the upper band against Mardle, but in time trouble overlooked an ingenious trap and the game was drawn."
---
[Letter to the Editor, The Times, 5 Sept 1957] "CHESS CHAMPIONSHIP SYSTEMS - TO THE EDITOR OF THE TIMES - Sir,—The absurdity of the Swiss system is apparent from the detailed results of this year's British Chess Championship. Unless I have made mistakes in examining the daily reports in The Times, these results show that the winner, Dr. Fazekas, with eight points, did not play against three of the next eight (including last year's winner) and that he obtained no less than five of his eight points by defeating players lower down on the list. Similarly. Clarke (7½) and Mardle (6½) did not play against four of the other eight leaders, and Gibbs (6½) likewise. On the other hand Barden (7) and Alexander (6½) played against all but one of the other eight leaders. Surely a more conclusive scheme could be devised. Yours faithfully, A. SNODGRASS. Sutton Green, Guildford."
[Letter to the Editor, The Times, 9 Sep 1957] "CHESS CHAMPIONSHIP SYSTEMS - TO THE EDITOR OF THE TIMES - Sir,—When Mr. Snodgrass, whose letter you published on September 5, dismisses the Swiss system as absurd, he does this very useful system an injustice; that it is imperfect all players would agree. Its virtue is that it did, in a fortnight, arrange a field of 33† competitors in an order which most experienced players would agree with. No other system worth considering would do that in the same time. Yours faithfully, FRANK RHODEN, Director, Hastings Christmas Congress. Chess Club, 2, Cornwallis Terrace, Hastings." [† an error - there were 32 competitors]
[Letter to the Editor, The Times, 11 Sep 1957] "CHESS CHAMPIONSHIP SYSTEMS - TO THE EDITOR OF THE TIMES - Sir,—The general reader might draw the wrong conclusions from your correspondent's letter published in The Times of September 5, and I would therefore like to go into the question in some detail.
There are two main systems for arranging chess tournaments: —
1. The American, in which each competitor plays all the others. This is naturally the fairer, with the proviso that the player having the white pieces has some advantage in the individual encounters.
2. Under the circumstances, however, there is no practicable alternative to the Swiss system. The pairings for the first round are arranged by a draw from a hat and for subsequent rounds according to scores. Each player has white and black pieces alternately. These principles are adhered to throughout, with the minimum deviations possible.
This method is used for the British Chess Championship as the second best, as it gives a chance to a greater number of qualified players to try their fortune than would be possible with the American. It has been generally accepted by chess players in this country as being a suitable method for bringing out the top players in general and the champion in particular.
Your correspondent's letter conveys the , impression that this year this was not the case. However, the Swiss system has been used for many years, and the situation of which he complains obtains on almost every occasion.
The more rounds that are played, the nearer the Swiss system approaches the American, and, to fulfill the requirements of your correspondent, either the number of competitors would have to be drastically reduced or the tournament prolonged at least by two or three rounds.
Neither of these alternatives carries favour with the British Chess Federation; the first because there are always more applicants than vacancies, and the second because more time and money would have to be available.
Yours faithfully,
S. FAZEKAS.
281, Buckhurst Way, Buckhurst Hill, Essex."
[Letter to the Editor, The Times, 14 Sept 1957] "CHESS CHAMPIONSHIP SYSTEMS - TO THE EDITOR OF THE TIMES - Sir,—Mr. Rhoden's letter in your issue of September 9 is not entirely convincing The Swiss system may be the best available means of coping with an entry of 33 but can such a huge entry be justified? Can it be contended that there is anything like that number of players of championship calibre in the country ? And ought we to allow the championship, the most important event of the year, to be decided under a system that is admitted to be imperfect? Yours faithfully, A. SNODGRASS. Sutton Green, Guildford."
[The Times, 19 Sept 1957] "THE SWISS SYSTEM IN CHESS - DUBIOUS LOWER PLACINGS - FROM OUR CHESS CORRESPONDENT [author Golombek? Or Milner-Barry?]
The use of the Swiss system for deciding the British chess championship is dictated by the network of zonal tournaments throughout the country that in turn produces a number of players too large to be contained by an all-play-all final tournament.
That this system has its pros and cons cannot be denied. It does not necessarily produce the best player in the country as champion; but, then, what system will infallibly do this? What it does accomplish is the defining of the player who plays the best chess in the fortnight of the final competition. From the testimony of the games and players at the British Chess Federation congress at Plymouth it is clear that Dr. Fazekas played the best chess there and that he fully deserved to gain the title.
An examination of the names of those living players who have won the Bruish chess championship more than once gives the following results: H. Golombek and M. Sultan Khan (three times); C. H. O'D. Alexander, R. J. Broadbent and Sir George Thomas (twice). Since Sultan Khan and Sir George Thomas won it before the institution of the Swiss system they may be eliminated from the argument; but the fact that Alexander, Broadbent. and Golombek all won the title once under the old system and then again under the new would seive to show that the Swiss system has not gone astray in the picking out of the best players.

HAPHAZARD METHOD

Few would deny that these three players constitute an adequate cross-section of the best British players of our time, and no doubt it will not be long before the best of the younger players, such as Penrose and Clarke, join the list.
So much for the good aspects of the system; but it has its disadvantages, too. The Swiss system is not in accordance with international practice, ours being the only country where the national championship is decided by such a system. Even in the United States, where such absurdities exist as six-round Swiss tournaments for over 100 players, the main national event is decided by the all-play-all system. The Swiss themselves, having opened the Pandora box of mischief, have firmly closed it again as far as they are concerned and now shun the Swiss system like the plague. Here one can only say that the rest of the world is out of step with ourselves and leave it at that.
A still greater disadvantage arises when one considers places other than the first in a competition. While one can be confident that, correctly handled, the Swiss system will inevitably produce the right player at the top. the second, third, and fourth places are increasingly dubious and the middle placings are virtually irrelevant. A competitor who ends up, say twelfth, may easily have played better chess and met tougher opposition than one who comes sixth.
Whether we wish the placings in our most important national event to be decided in this haphazard manner depends on the truth or otherwise of the assertion that the English are a nation of gamblers."
[Letter to the Editor, The Times, 19 Sept 1957] "CHESS CHAMPIONSHIP SYSTEMS - TO THE EDITOR OF THE TIMES - Sir.—The 33 players in the British Chess Championship were the survivors of an original entry of around 150; the remainder had been eliminated in qualifying competitions. It would have been simple to carry the elimination process a stage further and reduce the final field to 12; but, in so doing, many promising young players— potential champions one might say without exaggeration—would have been deprived of the chance of gaining experience in tournament play.
The Swiss system has been used for the championship since 1949 and, admittedly with one or two arguable results, it has produced acceptable champions. The larger number of finalists has created more nationwide interest in the championship than I ever remember in previous years; and it has eliminated the very often justifiable grievances which were heard every year before 1949.
The choice, as I see it, lies between a will-of-the-wisp chase after perfection and acceptance of the Swiss system which, in spite of its imperfections, does provide the greatest satisfaction for the greatest number.
Mr. Snodgrass will be interested to know that Dr. S. Fazekas has accepted an invitation to play in the Premier Tournament at the forthcoming Hastings Christmas Congress. As there are only 10 competitors in this event, it will be run on the American system: but here again the system is not perfect; he may have the black pieces five times in nine games. Yours faithfully, FRANK RHODEN. Director. Hastings Christmas Congress. Chess Club. 2, Cornwallis Terrace, Hastings."
---
[Sunday Times, 8 Sept 1957 - by C. H. O'D. Alexander] "This year my prophetic face is redder than ever before; the only really accurate part of my forecast of the British championship was 'Alexander unplaced': a confirmation I would gladly have forgone.
My consolation is that all other tipsters were equally wrong; in a photo-finish (four players being equal with seven points out of ten when the final round began) the veteran of the tournament, Dr. S Fazekas. who is sixty next year, emerged an unexpected winner.

"It would be idle to pretend that Fazekas is the strongest player in the country, and he would be the last to claim that this was so; nevertheless he earned his victory, and I personally welcome it for three reasons. He is in style a true amateur: with little knowledge of the latest opening fashions, he relies on his grasp of general principles and his middle and end-game skill to carry him through—and it is refreshing to find that the championship can still be won without an encyclopaedic knowledge of the openings. Compare his result with Barden's (fifth equal, a point behind): the latter invariably got a good game from the opening and played competently in the middle game—but he ruined his chances by poor endgame play, losing two won endings and drawing two others. Secondly, Fazekas always played to win and showed a determination and resilience remarkable in a man of his age; contrast his score of seven wins, two losses, two draws with that of Penrose or Wade, each with four wins and seven draws. Wade did in fact play very hard and go out to win wherever possible, but Penrose was far too ready to offer a draw when there was a lot of play left in the position—the most extraordinary example of this was his agreeing to a draw with Clarke after twenty-one moves in the final round when a win for either would have given the winner a tie with Fazekas.

"I should mention here Clarke's remarkable performance in coming so near the championship after scoring only half a point in the first three rounds; he followed this with six consecutive wins, an impressive achievement accomplished by first-class play.
Finally, all of us who have been thinking of ourselves as extinguished veterans are both put to shame and given a fresh lease of chess life by the doctor's performance. We shall all hang around for another ten years or so making a nuisance of ourselves to our youngers and betters in the hope of emulating him: he hlmself has promised not to do it again."
---
[Manchester Guardian, 12 September 1957 - Leonard Barden] "The new British champion, Dr Fazekas, has been known for a long time as a very talented player, who has been handicapped, in British events, by his tendency to make risky opening experiments and premature middle game attacks. However, in this year's championship he played solidly against his strongest rivals, and his wins were the reward of consistently sound strategy. That the veteran of the tournament should win was all the more surprising since for most of the event it looked as if one of the leading representatives of the younger school would finish on top. Each of them missed a clear chance of the title, Barden through weak play in the end game, Clarke because his over-hastv attacks in the early rounds left him too much ground to make up. Penrose because of his old trouble of lack of stamina, and Wade because of a tendency to quick superficial play, which nearly cost him a full point against Abrahams Clarke's short draws with Wade and Penrose in the last two rounds emphasised another reason for Dr Fazekas's win—his determination to fight to the last pawn."
---
[Illustrated London News, 14 Sept 1957] "CHESS NOTES. By BARUCH H. WOOD, M.Sc. It seems hardly sufficient to write that Dr. Fazekas's winning the British Championship is the biggest surprise we chess-players have had for a generation. I feel I must give a few clues to the depth of our astonishment.
Every other year, the entry-list for the British Championship is weakened by the calls of the biennially-held International Team Tournament. Last summer, whilst the Championship was being held in Blackpool, Golombek, Wade, Penrose, Milner-Barry and Clarke were all away in Moscow, representing England, so were missing from the Championship lists. This year, all of them except Golombek were back. Last year Dr. Fazekas finished with 6 points in a tie for the ninth to sixteenth places, and was even, on the widely-accepted criterion of sum of opponents' scores, the poorest of the six.

This year, in an obviously stronger field, he finishes first with 8!

R. E. Rushbrook, captain of the Stock Exchange team in the London Chess League, came up to me at the start of this Championship waving a "book" he had made on contestants' relative chances (I doubt whether any actual bets were placed, though I would not put it beyond him).

I remember noticing the odds quoted against C. H. O'D. Alexander: 3 to 1. P. H. Clarke stood, I think, at 7 to 2 and L. W. Barden and J. Penrose in the 5 to 1 region. P. S. Milner-Barry, A. Y. Green and I and others had our prices. As far as I can recollect, Fazekas wasn't given a price at all.

Look at the ranking list, published annually by the British Chess Federation. Not a player really believes his own ranking does him justice; but as one and all are satisfied with everybody else's, I don't think there is much wrong with it.
In the last list, issued last December, Alexander, with Kottnauer, was graded 1a [241-248]. In 1b [233-240] were Golombek and Penrose. In 2a [225-232] and 2b [217-224] Aitken, Barden, Broadbent, Clarke, Courtney, Franklin, Friedman, Fuller, Green, Haygarth, Heidenfeld, Milner-Barry, Parr, Persitz, Phillips, Tabakiernik, Veitch, Wade, Wallis and myself.
Of the twenty-four players I have named, twelve were competing in this British Championship. Where is Fazekas's name ? We haven't come to him yet! He was in Group 3a [209-216], together with twenty-three other players, none of whom would normally be regarded as his inferior.

Has his chess shown improvement lately? Nothing to speak of. Here, it seems appropriate to mention that he is fifty-nine—an age at which few people (apart from those aged fifty-nine) are wont to concede that there is any scope for improvement at all.
That he had a stroke five years ago may be a vital clue. If you think I am getting lightheaded—well, I am.
Has he been studying intensively? Training hard? If I am to believe his friends, coupled with the evidence of his games, he has never studied chess —as we know chess study nowadays—at all. There was probably not a player among the thirty-one others who contested the Championship who knew less "book" than he. His openings are bizarre.
Was he favoured by the draw? The "Swiss system" on which the Championship is organised does creak occasionally. In the last round it was a sheer toss-up whether he played P. H. Clarke or M. J. Haygarth; he got the latter, whom most would consider the weaker. His previous opponents having been Beach, myself, Newman, Penrose, Mardle, Barden, Thomas, Gibbs, Wade and Abrahams, however—seven of whom have played for England, and two others former British Universities champions. He certainly had no "weak" draw.

Has he retired, and suddenly been able to devote his whole, attention to the game? Far from it; by all reports, this genial Buckhurst Hill G.P. has had an unusually busy year.
Genial he is, and wears his laurels modestly. He arrived from Czechoslovakia before the war, and lost no time in becoming naturalised. "I came with two ambitions," he confessed at the prize-giving ceremony; "to win the British Championship and to perfect my English. Now you have heard me you can see I still have a good expectation of life!"
---
File Updated
| | |
| --- | --- |
| Date | Notes |
| 10 April 2018 | Uploaded for the first time |
| 16 April 2018 | Added the game Blackett-Vine from the First Class tournament - kindly contributed by Brian Denman. |
| 17 October 2020 | Some cosmetic amendments. |
| 13 January 2021 | Added photos of the players plus a fragment from the game Fazekas-Gibbs (round 8) and residence details of players in the subsidiary sections. |
| 16 May 2021 | Added two games played and won in Major Open B by the Scottish player Thomas Russell, culled from the Glasgow Herald chess column. |
| 13 October 2022 | Added a part-game from Major Open A: E.Ansell ½-½ R.Rushton. Contributed by Gerard Killoran via the English Chess Forum, for which many thanks. |