BRITBASE - British Chess Game Archive
Tournament: 4th Stevenson Memorial (SCCU Championship) •
27 of a possible 180 games, plus 1 from a subsidiary section
Venue: Southsea • Dates: 16-26 April 1952 • Download PGN • Last Edited: Tuesday 17 October, 2023 3:15 PM
1952 Stevenson Memorial, SCCU Championship, Southsea - 16-26 April 1952 • 1951«»Bognor 1953
1952 Stevenson Memorial / SCCU Ch
Nat'y/Resid.
1
2
3
4
5
6
7
8
9
10
Total
1
Daniel Abraham Yanofsky
Canada
♦ 1/27
◊ 1/31
♦ 0/2
◊ 1/4
◊ 1/7
♦ 1/8
◊ ½/5
♦ 1/11
◊ 1/16
♦ ½/3
8
2
Dr Stefan Fazekas (SCCU champ)
Buckhurst Hill
♦ 1/4
◊ 1/20
◊ 1/1
♦ 1/7
◊ 1/16
♦ 0/5
◊ ½/11
♦ 1/8
♦ 0/3
◊ 1/15
7½
3
Herbert Gibson Rhodes
Southport
♦ 1/25
◊ 1/10
♦ ½/11
◊ 1/17
♦ 0/8
◊ 0/16
♦ 1/6
♦ 1/15
◊ 1/2
◊ ½/1
7
4
Francesco Scafarelli
Florence, Italy
◊ 0/2
♦ 1/32
◊ 1/30
♦ 0/1
◊ 1/28
♦ 1/19
◊ 1/13
♦ 1/5
◊ ½/8
◊ ½/7
7
5
Ronald Blow
London
♦ 1/21
◊ 0/8
♦ 1/20
◊ 1/9
♦ 1/17
◊ 1/2
♦ ½/1
◊ 0/4
♦ 0/7
♦ 1/16
6½
6
Kurt Gumprich
Germany
♦ ½/26
◊ 0/16
♦ 1/34
◊ 1/10
◊ 1/15
♦ 0/11
◊ 0/3
♦ 1/23
◊ 1/13
◊ 1/14
6½
7
Alan Phillips
♦ 1/29
◊ 1/35
♦ 1/8
◊ 0/2
♦ 0/1
◊ 1/17
♦ 1/20
◊ 0/16
◊ 1/5
♦ ½/4
6½
8
Robert G Wade
New Zealand
◊ 1/22
♦ 1/5
◊ 0/7
♦ 1/13
◊ 1/3
◊ 0/1
♦ 1/16
◊ 0/2
♦ ½/4
◊ 1/11
6½
9
Donald G Mackay
London
◊ 0/28
♦ 1/33
◊ 1/22
♦ 0/5
◊ 0/13
◊ 1/10
♦ 1/23
♦ 0/14
◊ 1/12
♦ 1/20
6
10
Arthur Henry Trott
London
◊ 1/14
♦ 0/3
◊ 1/24
♦ 0/6
◊ 0/19
♦ 0/9
◊ 1/27
◊ 1/25
♦ 1/30
◊ 1/17
6
11
Chantal Chaudé de Silans
France
◊ 1/30
♦ 1/15
◊ ½/3
♦ 0/16
◊ 1/27
◊ 1/6
♦ ½/2
◊ 0/1
♦ ½/14
♦ 0/8
5½
12
M Jacobs
♦ 0/17
◊ 1/29
♦ 0/27
◊ 1/26
♦ 1/21
◊ 0/20
◊ 1/19
♦ ½/13
♦ 0/9
◊ 1/30
5½
13
H O'Donnell
♦ ½/34
◊ ½/23
♦ 1/35
◊ 0/8
♦ 1/9
◊ 1/25
♦ 0/4
◊ ½/12
♦ 0/6
♦ 1/22
5½
14
Elaine Pritchard
♦ 0/10
◊ 0/25
♦ 0/21
◊ 1/34
♦ 1/36
◊ 1/26
♦ 1/17
◊ 1/9
◊ ½/11
♦ 0/6
5½
15
Michael Justin Aylmer Spears
♦ 1/18
◊ 0/11
♦ 1/23
◊ ½/27
♦ 0/6
◊ 1/24
♦ 1/30
◊ 0/3
♦ 1/20
♦ 0/2
5½
16
Philip Ashby Ursell
Bournemouth
◊ ½/19
♦ 1/6
◊ 1/28
◊ 1/11
♦ 0/2
♦ 1/3
◊ 0/8
♦ 1/7
♦ 0/1
◊ 0/5
5½
17
David Leslie Barrett1
◊ 1/12
♦ 1/28
◊ 1/19
♦ 0/3
◊ 0/5
♦ 0/7
◊ 0/14
♦ 1/33
◊ 1/24
♦ 0/10
5
18
D J Collins
◊ 0/15
♦ ½/22
♦ ½/26
◊ ½/23
◊ 0/24
◊ 1/36
♦ ½/25
◊ 1/21
♦ 0/19
◊ 1/31
5
19
Donald Daniel Leslie
Cambridge Univ
♦ ½/16
◊ 1/26
♦ 0/17
◊ ½/25
♦ 1/10
◊ 0/4
♦ 0/12
♦ 1/31
◊ 1/18
◊ 0/35
5
20
Reginald W Stevenson
◊ 1/33
♦ 0/2
◊ 0/5
♦ 1/32
◊ 1/31
♦ 1/12
◊ 0/7
♦ 1/24
◊ 0/15
◊ 0/9
5
21
Ian R Bradley
◊ 0/5
♦ 0/30
◊ 1/14
♦ 1/22
◊ 0/12
♦ ½/28
◊ ½/31
♦ 0/18
◊ 1/29
◊ ½/26
4½
22
Henry Holwell Cole
London
♦ 0/8
◊ ½/18
♦ 0/9
◊ 0/21
♦ 1/35
◊ 0/32
♦ 1/36
◊ 1/28
♦ 1/26
◊ 0/13
4½
23
William James Fry
Southampton
◊ ½/24
♦ ½/13
◊ 0/15
♦ ½/18
◊ 1/33
♦ 1/31
◊ 0/9
◊ 0/6
♦ ½/32
◊ ½/25
4½
24
John Todhunter Keable
♦ ½/23
◊ 1/34
♦ 0/10
♦ 0/31
♦ 1/18
♦ 0/15
◊ 1/28
◊ 0/20
♦ 0/17
◊ 1/32
4½
25
John Poole
◊ 0/3
♦ 1/14
◊ ½/31
♦ ½/19
◊ ½/30
♦ 0/13
◊ ½/18
♦ 0/10
◊ 1/33
♦ ½/23
4½
26
John H Beaty
◊ ½/6
♦ 0/19
◊ ½/18
♦ 0/12
◊ 1/32
♦ 0/14
◊ 1/29
♦ ½/30
◊ 0/22
♦ ½/21
4
27
Alfred Eva
◊ 0/1
♦ 1/36
◊ 1/12
♦ ½/15
♦ 0/11
◊ 0/30
♦ 0/10
♦ 0/29
◊ ½/35
♦ 1/34
4
28
Ivan Robert Napier
Lelant
♦ 1/9
◊ 0/17
♦ 0/16
◊ 1/36
♦ 0/4
◊ ½/21
♦ 0/24
♦ 0/22
◊ ½/34
♦ 1/33
4
29
James E Pattle
◊ 0/7
♦ 0/12
◊ 0/32
♦ 0/33
♦ 1/34
◊ 1/35
♦ 0/26
◊ 1/27
♦ 0/21
◊ 1/36
4
30
(Patricia) Anne Sunnucks
London
♦ 0/11
◊ 1/21
♦ 0/4
◊ 1/35
♦ ½/25
♦ 1/27
◊ 0/15
◊ ½/26
◊ 0/10
♦ 0/12
4
31
James Rushton
Huddersfield
◊ 1/32
♦ 0/1
♦ ½/25
◊ 1/24
♦ 0/20
◊ 0/23
♦ ½/21
◊ 0/19
♦ ½/36
♦ 0/18
3½
32
Arthur T Watson
Brighton
♦ 0/31
◊ 0/4
♦ 1/29
◊ 0/20
♦ 0/26
♦ 1/22
◊ 0/33
◊ 1/35
◊ ½/23
♦ 0/24
3½
33
Ivor Roy Edward Clark2
♦ 0/20
◊ 0/9
♦ 0/36
◊ 1/29
♦ 0/23
◊ 1/34
♦ 1/32
◊ 0/17
♦ 0/25
◊ 0/28
3
34
(Edward) Douglas Fawcett
London
◊ ½/13
♦ 0/24
◊ 0/6
♦ 0/14
◊ 0/29
♦ 0/33
♦ 1/35
◊ 1/36
♦ ½/28
◊ 0/27
3
35
E Gardiner
Rotherham
◊ 1/36
♦ 0/7
◊ 0/13
♦ 0/30
◊ 0/22
♦ 0/29
◊ 0/34
♦ 0/32
♦ ½/27
♦ 1/19
2½
36
Geoffrey A Gautrey
♦ 0/35
◊ 0/27
◊ 1/33
♦ 0/28
◊ 0/14
♦ 0/18
◊ 0/22
♦ 0/34
◊ ½/31
♦ 0/29
1½
1 D.V. Barrett is given in the BCM crosstable (June 1952, p160) but my suspicion is that this was David Leslie Barrett (1930-2011) who played for Oxford in the Varsity matches of 1952 and 1953.
2 Ivor Roy Edward Clark (1926-2019). Attended Portsmouth Grammar School and won a scholarship in Classics to Merton College, Oxford, 1944.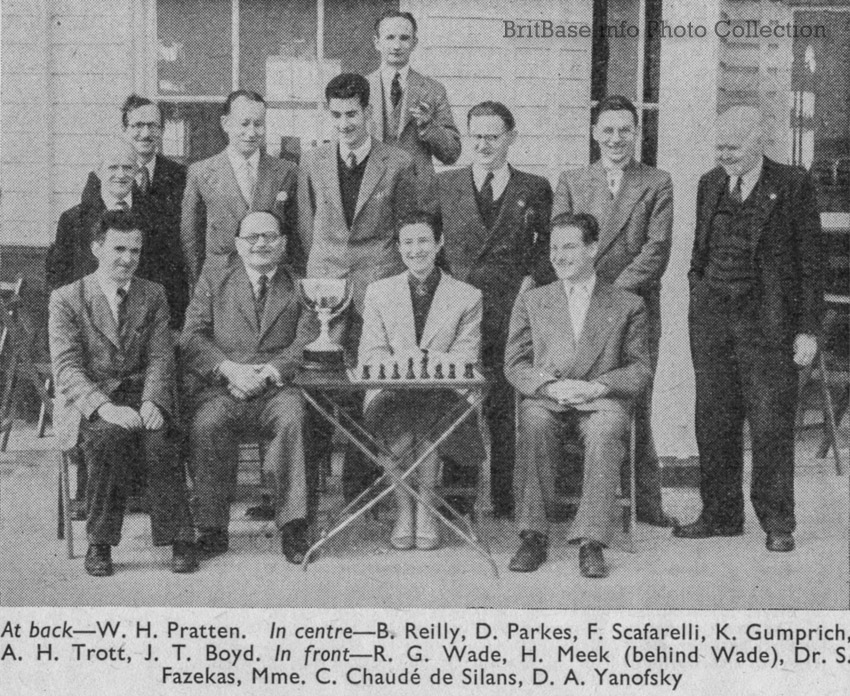 1952 Southsea Premier, 16-20 April
1952 Southsea Premier
Resid.
1
2
3
4
5
6
Total
1
Dennis Morton Horne
Worcester
½
1
1
1
1
4½
2
Theodore Henry Tylor
Oxford
½
½
1
1
1
4
3
P Stuart Milner-Barry
London
0
½
1
1
1
3½
4
E B Chapman
Leicester
0
0
0
½
1
1½
5
Bernard Landon Wilkinson
Chorley
0
0
0
½
1
1½
6
K P Hughes
Newport
0
0
0
0
0
0
BCM, June 1952, ppn 157-164
SOUTHSEA INTERNATIONAL CHESS CONGRESS
April 16th to 26th, 1952
By A. H. Trott
UNDER the care of the indefatigable W. H. Pratten this congress has grown in four years to become, with 233 competitors, the biggest British congress to date. Truly a magnificent achievement! Southsea is a most pleasant seaside resort, enjoying good weather; and the South Parade Pier a first-class congress venue. If you have not visited Southsea before, I advise you to do so next year.
I think everybody at the congress had a good time; for my own part I enjoyed it immensely, even more than last year (although I played very badly this year!). Socially the congress was a great success and I would like space to mention all the pleasant personalities who were there, but must, unfortunately, content myself with mentioning only a few.
One of the most popular visitors was a charming and vivacious French lady— Madame Chaudé de Silans—who impressed everyone with her play and sportsmanship. In one game she actually had to change four clocks, each of which had been working in her opponent's favour! (not his fault). She had a difficult position yet remained imperturbable in face of these very trying circumstances. I shudder to visualize the scene which would have occurred if such a thing had happened to certain famous masters I (and no doubt my readers) can think of. She speaks, by the way, perfect English.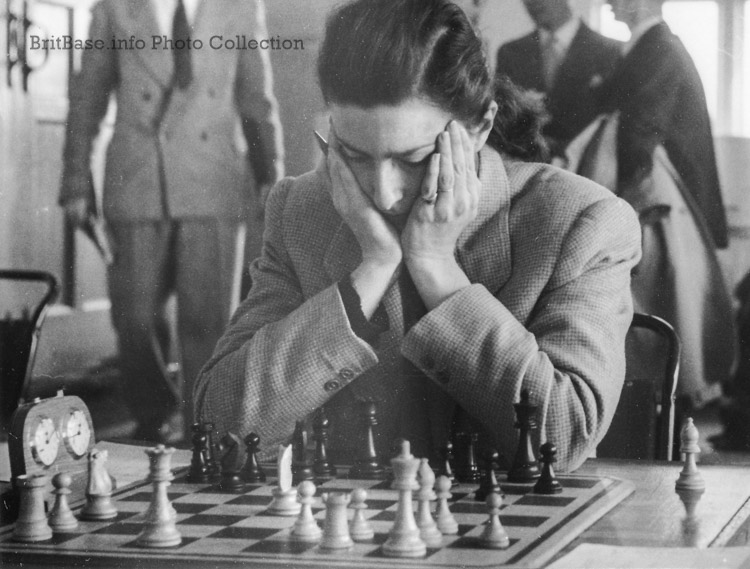 Chantal Chaudé de Sillans playing Bob Wade in the last round at Southsea, 26 April 1952
Another charming visitor (unfortunately only for a weekend) was Mrs. Yanofsky. At the prize-giving her husband told a neat story about how he came to win first prize. It seems that she had made a bet which would involve her eating her hat if he did not win the tournament. So he thought it would be cheaper to win than buy her a new hat!
The moving spirit among the organizers was, as usual, Mr. Pratten, who was ably supported by Messrs. Meek, Boyd, Dixon, and Parkes. To them a deep debt of gratitude, for the tremendous amount of work they put in, is owed by the competitors and the chess world.
It was unfortunate that this year's Stevenson Memorial Tournament was considerably weaker in playing strength than last year's. Several strong continental players who had been invited did not arrive, due to various misunderstandings, and it was not possible at short notice to obtain replace-ments. Anyway, it seems likely that next year's Stevenson will be as strong as ever, especially since the Lord Mayor of Portsmouth (Alderman Johnson) has promised additional support, which, I understand, will take the form of an increased cash grant by the corporation.
As usual the Swiss System produced an exciting struggle, but it must be emphasized that it sorts out only the best and worst players, not those in between— in this case only the top four places are really reliable. To appraise results, strength of opponents, as well as score, must be considered. Compare, for example, the opponents met by Gumprich (6½ points) and Mme. Chaude de Silans (5½ points). In the first seven rounds they met opposition about equal in strength (she scoring 5 and he 3½) but in the last three rounds what a difference! He met Fry, O'Donnell, and Mrs. Pritchard; while she met Yanofsky, Wade, and Mrs. Pritchard!
First place deservedly went to the famous young Canadian master, Yanofsky, who played on the whole by far the best chess, most of the really publishable games coming from him. After losing to Fazekas in round three, he played powerfully and steadily to catch up again by round six and was thereafter always in the lead. He was not in quite his best form, however, as was shown by his tendency to take an abnormally long time over the opening, leading to later time shortage.
The second prize-winner, Dr. Fazekas, who made a fine start with five straight wins, played some very good games (e.g. against Yanofsky) and some very bad ones. He is the possessor of a powerful will to win and an extremely individual style. As the leading British competitor he won the Southern Counties Championship title, which carries with it a place in the next British Championship.
The tie for third and fourth prizes is a very creditable effort by the Lancashire player, Rhodes, and the twenty-year-old Italian, Scafarelli. They both recovered well after rather shaky starts and finished strongly; Scafarelli was particularly brusque in his treatment of the tail-enders. Another tie, this time for fifth to eighth, was a success for Blow, Gumprich, and Phillips, but rather a disappointment for Wade, who was badly off form. Trott (who tied for third prize last year) was also off form and tended to blunder, while Mackay must have done better than he expected.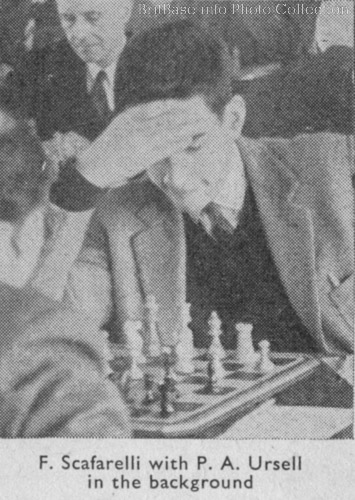 The score of Mme. Chaudé de Silans does not do her full justice, for with a little more luck she would have been in the prize-list. No one else had a harder tournament, except the first two prize-winners. She was well up amongst the leaders until in round eight she had the demoralizing experience of losing to Yanofsky after having had a completely won game. She is the strongest player of her sex it has yet been my pleasure to meet and is certainly not far short of master class.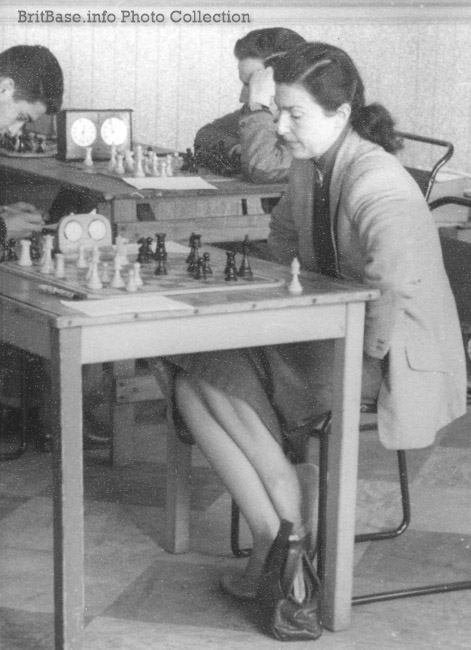 Another shot of Chantal Chaudé de Silans from the last round at Southsea. In the background Alan Phillips (Black) is playing Francesco Scafarelli.
I must also mention the fine recovery made by Mrs. Pritchard, who lost her first three games—and won the next five!
---
There were also a number of short, five-day, tournaments, of which the Premier had a strong British entry list. It was won by D. M. Horne with 4½ out of 5 (his draw being against Tylor), followed by T. H. Tylor 4, P. S. Milner-Barry 3½, E. B. Chapman and B. L. Wilkinson 1½, K. P. Hughes 0. This was an excellent performance by Horne.
Premier Reserve (5 rounds Swiss, 8 players): (1) H. O. Wells (Colchester) 4½/5; (2-3) (William Francis) Frank Gladney (Baton Rouge, USA), Henry Golding (Newport, Mon.) 3; (4) W D Brown (New Barnet) 2½; (5-7) Walter Ronald Anns (Mentham), L E Fletcher (Edinburgh), L Perry (Portsmouth) 2; (8) Steadman Louis Russell (Broughton) 0.
Major (5 rounds Swiss, 8 players): (1) H. C. Garner (Teddington) 5/5; (2-4) F. W. Greenleaf, R. B. Herbert (Newport, Mon), F. Perry (Portsmouth) 3; (5) E N Kerr (Tunbridge Wells) 2½; (6) R E Tinson (Bournemouth) 2; (7) L Winter (Brighton) 1½; (8) A Bacon (Portsmouth) 0.
Stevenson Reserve (10 rounds Swiss, 22 players): (1) Alan Edgar Nield 9; (2) John W Naylor (3) John James O'Hanlon 6½.
General American (10 players): (1) F. J. Andrews (Reigate) 8½/10; (2) J. Bate (Chester) 7; (3-4) Miss Jane Passmore (Exeter), Henry Thomas Herbert Piaggio (Nottingham) 6, etc.
S.C.C.U. Boys' Championship (30 players): (1) Robert Edmond Borland; (2-3) Michael Davis, Thomas A Landry.
British Girls' Championship (38 players, 16-19 April): (1) Margaret Eileen Elizabeth Wood (daughter of B. H. Wood); (2) Myrtle Barnes.
Dupree Tournament: (1-2) R. Bird and R. Goode.
A number of special events were held, including lectures by I[mre] König, W[ilfred] H Pratten, and R[obert] G Wade and two lightning tournaments. All were well attended.
---
CHESS, June 1952, Vol.17, no.201, p172
SOUTHSEA INTERNATIONAL CONGRESS By R. G. Wade
This year's (April 16-26) Stevenson Memorial " Swiss " tourney was weakened by late withdrawals of two of the foreign "attractions," Andrya Fuderer who was ordered by the Yugoslav Federation to play in the team training for the international tourney commencing in Belgrade on April 20th after they had agreed to his visit to England, and Spain's Toran who, for the second time in recent months, failed to turn up at an international event without any explanation. An elite group was therefore not so readily perceived. The winner, Yanofsky, who is a likely contender for this year's British Championship at Chester, played his rather cautious brand of chess embellished by the beautiful positioning of his minor pieces. Yanofsky's great defensive ability was invoked in his games against Blow and Ursell. Undoubtedly the star of the tourney was the ever so charming French representative, Madame C. Chaudé de Silans, the mother of one boy and three daughters. Her final score, completely typical of a "Swiss" did not do justice to either her strength (in my estimation she is the strongest woman player outside of the top Soviet ones) or the calibre of her opposition. Dr. Fazekas, who conjured up a box of chocolates to console her on her anticipated loss in their game, found it fitted better as an appreciation of a split point. The doctor had good reason to be elated with winning the S.C.C.U. championship with the accompanying right of playing in the B.C.F. championship, especially as he notched a fine win over Yanofsky.
In the average tourney, the winner must have a certain amount of assistance from luck. Yanofsky's portion came in a scrappy game against Mme. Chaudé when she overlooked a forced mate in six based on a simple three move mating combination from the diagrammed position commencing with 36. RxB. Instead she tried the "sacrifice" two moves later when it was unsound.
Organiser Pratten's intention to make the Stevenson " Swiss " a proving ground for the young hopefuls of adjoining countries was justified by the final position of Francesco Scafarelli from Florence. Bouwmeester, of Holland, had also accepted an invitation but withdrew without any stated reason about three weeks before the start. The tournament could have flopped completely if Yanofsky had received earlier an invitation to play in Yugoslavia.
The congress as a whole was a success due to the attachment of a wide variety of tourneys like the British (English?) Girls' Championship, the Southern Counties Junior Championship (would not "South of England" be a more impressive title?), the Portsmouth division of the annual Dupree tourney for the local youth, five day tourneys ending on the first Sunday, and subsidiary tourneys run at the same time as the "Stevenson." In fact the strength of the Premier Short tourney, characterised in the Daily Telegraph wrongly as a "master's" tourney (England recognizes no "master" titles other than those accorded by the F.I.D.E., while some other countries have instituted a "master" class, meaning generally that players included are competent to play in the national championship) was the cause of unspoken jealousy among many who had spent two guineas to seek for strong opposition elsewhere. Denis [sic] Horne won an impressive victory ahead of two players (Tylor and Milner-Barry) liable to be included in any English ten.
---
CHESS, July 1952, Vol.17 no.202, p194
READERS' LETTERS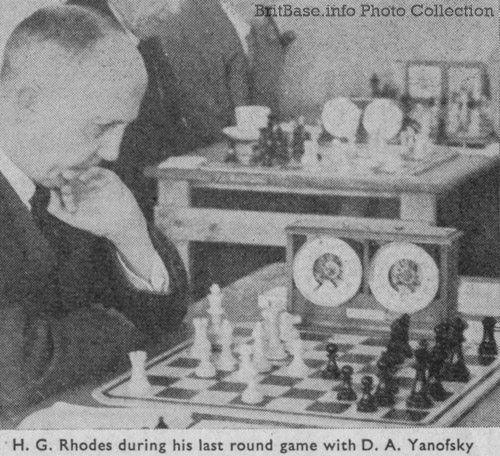 Herbert Gibson Rhodes, M.C. (1896-1981) in play at Southsea. Another photo of him in 1921 can be seen here.
Mr. RHODES TAKES UMBRAGE
Dear Wood,
I must protest against the travesty of a report of the Southsea Congress in your June issue which surely must touch the nadir of chess journalism.
With considerable difficulty one could eventually gather from the text that it was won by Yanofsky and that Fazekas was second. One would not discover that the author was playing in the tournament himself but did not get into the prize list, nor would one have the least idea that any English players participated.
I suggest that in future you should make it a rule that a competitor is automatically disqualified from reporting. There were some quite good games at Southsea but your reporter has apparently not heard of them.
(Signed) H. G. RHODES.
Southport, May 25th, 1952.
(Mr. Rhodes is too sweeping. The report supplements the score-table, which makes most of these points clear. Several games were mentioned, Mr. Rhodes' own fine feat in finishing third certainly deserved a special mention.—Ed.)

---
File Updated
| | |
| --- | --- |
| Date | Notes |
| 27 August 2022 | First upload. 22 games plus 1 game from a subsidiary section, crosstable, results, reports, photos. |
| 27 August 2022 | Three more games received from Brian Denman, for which many thanks: (1) Wade 1-0 Cole (rd 1); (2) Cole 1-0 Napier (rd 8); (3) Beaty 0-1 Cole (rd 9). |
| 28 August 2022 | Minor move order amendment made to Yanofsky-Rushton (rd 2). My thanks to Andy Ansel for pointing this out. |
| 30 August 2022 | One game added: Stevenson 0-1 Blow (rd 3), contributed by Ulrich Tamm, for which many thanks. |
| 14 May 2023 | One game added: D.Leslie 0-1 F.Scafarelli (rd 6, 22.04.1952). Contributed by Mauro Berni, for which many thanks. |