BRITBASE - British Chess Game Archive
Event: 3rd Bognor Regis Congress •
13 games, 4 part-games and 9 other games • Last Edited: Wednesday 31 August, 2022 9:07 AM
Venue: Southdean Sports Club, Middleton-on-Sea • Dates: 13-23 April 1955 • Download PGN
1955 Bognor Regis: 3rd Stevenson Memorial, Wednesday 13 April - Saturday 23 April • 1954 «»1956
Venue: Southdean Sports Club, Middleton-on-Sea
1955 Stevenson Memorial, Bognor Regis
Resid.
1
2
3
4
5
6
7
8
9
10
Total
1
Alberic O'Kelly de Galway
Belgium
◊ 1/16
♦ 0/2
◊ 1/22
♦ 1/13
◊ 1/8
♦ ½/6
♦ 1/3
◊ 1/4
♦ 1/11
♦ ½/5
8
2
Peter Hugh Clarke (SCCU Champion)
Ilford
♦ 1/18
◊ 1/1
♦ ½/6
◊ 1/3
♦ ½/10
◊ ½/4
♦ ½/11
◊ 1/16
◊ ½/5
♦ ½/7
7
3
Baruch H Wood
Sutton Coldfield
◊ 1/27
♦ 1/22
◊ ½/4
♦ 0/2
◊ 1/7
♦ 1/9
◊ 0/1
♦ 1/12
♦ ½/6
◊ 1/14
7
4
Nikola Karaklajic
Yugoslavia
◊ 1/12
◊ 1/13
♦ ½/3
♦ ½/8
◊ 1/5
♦ ½/2
◊ ½/6
♦ 0/1
◊ ½/9
♦ 1/11
6½
5
Eugene Martinovsky
Slovenia
♦ ½/8
◊ ½/9
♦ 1/31
◊ 1/15
♦ 0/4
◊ 1/13
♦ 1/10
◊ ½/6
♦ ½/2
◊ ½/1
6½
6
Saviely Tartakower
France
◊ 1/19
♦ 1/28
◊ ½/2
♦ 1/24
◊ ½/9
◊ ½/1
♦ ½/4
♦ ½/5
◊ ½/3
♦ ½/8
6½
7
Dr Heinz Lehmann
Berlin, Germany
♦ ½/24
◊ 1/21
♦ 0/8
◊ 1/18
♦ 0/3
♦ ½/12
◊ 1/15
◊ 1/10
♦ 1/16
◊ ½/2
6½
8
Arnold Yorwarth Green
Middlesex
◊ ½/5
♦ 1/20
◊ 1/7
◊ ½/4
♦ 0/1
♦ 0/11
◊ 1/28
♦ ½/21
◊ 1/12
◊ ½/6
6
9
Cveto Trampuz
Serbia
◊ 1/29
♦ ½/5
♦ ½/10
◊ 1/26
♦ ½/6
◊ 0/3
♦ 1/13
◊ 0/11
♦ ½/4
◊ 1/18
6
10
David V Hooper
Reigate
◊ ½/17
♦ 1/30
◊ ½/9
♦ 1/11
◊ ½/2
♦ ½/21
◊ 0/5
♦ 0/7
◊ 1/26
♦ 1/16
6
11
Richard Hilary Newman
London
♦ 0/13
◊ 1/25
♦ 1/14
◊ 0/10
♦ 1/28
◊ 1/8
◊ ½/2
♦ 1/9
◊ 0/1
◊ 0/4
5½
12
Harry Gethin Thorp Matchett
Birmingham
♦ 0/4
◊ 1/16
♦0/24
◊ 1/14
♦ 1/25
◊ ½/7
♦ 1/18
◊ 0/3
♦ 0/8
◊ 1/26
5½
13
Arthur R Spiller
California, USA
◊ 1/11
♦ 0/4
◊ 1/32
◊ 0/1
♦ 1/26
♦ 0/5
◊ 0/9
♦ ½/19
♦ 1/23
◊ 1/21
5½
14
Eileen B Tranmer
London
◊ 0/22
♦ 1/27
◊ 0/11
♦ 0/12
◊ 1/30
♦ ½/17
◊ 1/24
♦ 1/28
◊ 1/21
♦ 0/3
5½
15
Reginald William Stevenson
Redhill
◊ ½/23
♦ ½/17
◊ 1/28
♦ 0/5
◊ 1/32
♦ 0/16
♦ 0/7
◊ ½/25
◊ 1/20
♦ 1/22
5½
16
Donald G Mackay
Balham
♦ 0/1
♦ 0/12
◊ 1/23
◊ 1/31
♦ 1/22
◊ 1/15
◊ 1/21
♦ 0/2
◊ 0/7
◊ 0/10
5
17
George Harold Foster Tredinnick
Barnes
♦ ½/10
◊ ½/15
♦ 0/26
◊ 0/21
♦ 1/27
◊ ½/14
♦ 1/30
◊ 1/23
♦ 0/18
◊ ½/19
5
18
Kenneth W Lloyd
Birmingham
◊ 0/2
♦ ½/19
◊ 1/20
♦ 0/7
◊ 1/29
♦ 1/24
◊ 0/12
♦ ½/26
◊ 1/17
♦ 0/9
5
19
Brian Halliwell
Preston
♦ 0/6
◊ ½/18
♦ 0/21
◊ 1/27
♦ ½/31
◊ ½/22
♦ 0/26
◊ ½/13
◊ 1/28
♦ ½/17
4½
20
Jack Dennis Rosse1
London
♦ ½/25
◊ 0/8
♦ 0/18
◊ 0/22
♦ 0/23
◊ 1/27
♦ 1/29
◊ 1/31
♦ 0/15
♦ 1/32
4½
21
John Alexander Charles Borland
Fareham
◊ ½/32
♦ 0/7
◊ 1/19
♦ 1/17
◊ 1/24
◊ ½/10
♦ 0/16
◊ ½/8
♦ 0/14
♦ 0/13
4½
22
Brian J Moore
Birmingham
♦ 1/14
◊ 0/3
♦ 0/1
♦ 1/20
◊ 0/16
♦ ½/19
◊ 0/23
◊ 1/24
♦ 1/25
◊ 0/15
4½
23
Stanley Charles Love
Wimbledon
♦ ½/15
◊ 0/24
♦ 0/16
♦ ½/29
◊ 1/20
◊ ½/26
♦ 1/22
♦ 0/17
◊ 0/13
◊ 1/30
4½
24
Paul Dean
London
◊ ½/7
♦ 1/23
◊ 1/12
◊ 0/6
♦ 0/21
◊ 0/18
♦ 0/14
♦ 0/22
◊ 1/32
♦ ½/29
4
25
Oliver Cordery Gardiner2
Dover
◊ ½/20
♦ 0/11
◊ ½/30
♦ 1/32
◊ 0/12
♦ 0/28
♦ 1/31
♦ ½/15
◊ 0/22
◊ ½/27
4
26
David Anthony Toms
London
◊ 0/28
♦ 1/29
◊ 1/17
♦ 0/9
◊ 0/13
♦ ½/23
◊ 1/19
◊ ½/18
♦ 0/10
♦ 0/12
4
27
M Biggs
Clapham
♦ 0/3
◊ 0/14
◊ ½/29
♦ 0/19
◊ 0/17
♦ 0/20
◊ ½/32
◊ 1/30
♦ 1/31
♦ ½/25
3½
28
John Crittenden Thompson
Beckenham
♦ 1/26
◊ 0/6
♦ 0/15
♦ 1/30
◊ 0/11
◊ 1/25
♦ 0/8
◊ 0/14
♦ 0/19
◊ ½/31
3½
29
P E Greenwood
Isle of Man
♦ 0/9
◊ 0/26
♦ ½/27
◊ ½/23
♦ 0/18
◊ ½/31
◊ 0/20
♦ 1/32
♦ 0/30
◊ ½/24
3
30
Wilfred Evans
Chorleywood
♦ ½/31
◊ 0/10
♦ ½/25
◊ 0/28
♦ 0/14
♦ 1/32
◊ 0/17
♦ 0/27
◊ 1/29
♦ 0/23
3
31
Arthur T Watson
Southwick
◊ ½/30
♦ ½/32
◊ 0/5
♦ 0/16
◊ ½/19
♦ ½/29
◊ 0/25
♦ 0/20
◊ 0/27
♦ ½/28
2½
32
(Edward) Douglas Fawcett
London
♦ ½/21
◊ ½/31
♦ 0/13
◊ 0/25
♦ 0/15
◊ 0/30
♦ ½/27
◊ 0/30
♦ 0/24
◊ 0/20
1½
Prizes £40, £25, £15, £10. Most scores from CHESS, April 1955, Vol.20, no.245, ppn 317-321, but it did not give all the lower boards scores for later rounds. It was possible to supplement these via the Manchester Guardian.
1 Jack Dennis Rosse changed his name from Jacob Rosselson in 1949. He was a violinist, born 1900 in Lithuania, died 1989.
2 Oliver Cordery Gardiner (1884-1955) was an inventor and garage proprietor based in Dover. In September 1955 he died after collapsing whilst bathing at Sandgate, Kent.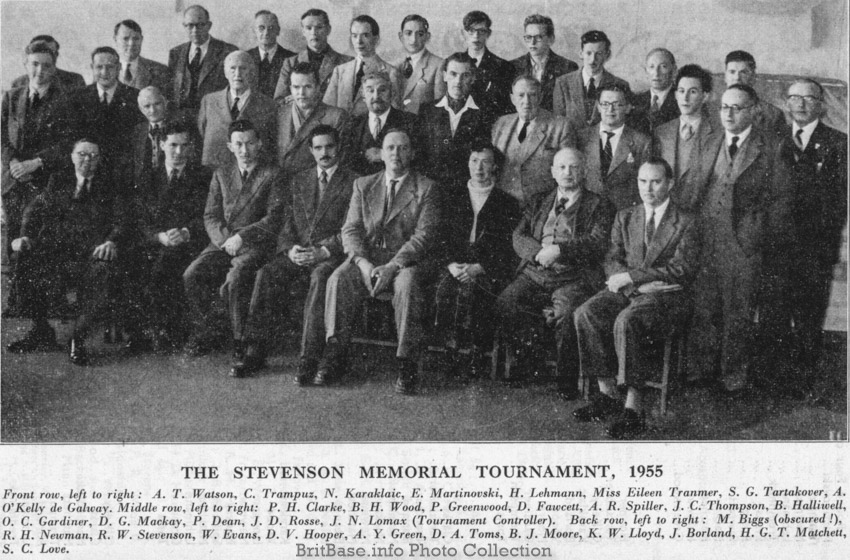 Front row, left to right : Arthur T Watson, Cveto Trampuz, Nikola Karaklajic, Eugene Martinovsky, Heinz Lehmann, Miss Eileen Tranmer, Saviely Tartakover, Alberic O'Kelly de Galway.
Middle row, left to right: Peter H Clarke, Baruch H Wood, P Greenwood, E Douglas Fawcett, Arthur R Spiller, John Crittenden Thompson, Brian Halliwell,
Oliver Cordery Gardiner, Donald G Mackay, P. Dean, Jack Dennis Rosse, (Joseph) Norman Lomax (Tournament Controller, who became Norman Fishlock-Lomax on marrying Lucy Fishlock in 1957).
Back row, left to right: M. Biggs (obscured), Richard Hilary Newman, Reginald W Stevenson, Wilfred Evans, David V Hooper, Arnold Y Green, D. A. Toms, Brian J Moore, Kenneth W Lloyd, John A C Borland, Harry G T Matchett, Stanley C Love.
N.B. if you are using a full browser, you can identify players by hovering over their face with the mouse pointer
---
BCM, June 1955, p181
Bognor Regis, 1955.—The main event of the congress, which was played in the Southdean Sport Club (April 13th to 23rd), was the Stevenson Memorial Tournament —a ten-round Swiss with thirty-two competitors. The foreign entry, headed by last year's co-winner A. O'Kelly de Galway, included: the veteran grandmaster, Dr. S. Tartakower; the new Yugoslav Champion, N. Karaklaic, and his fellow countrymen E. Martinovski and C. Trampuz; H. Lehmann, of Germany; and A. R. Spiller, of the U.S.A. Air Force at Wethersfield, Essex. Though on paper at least the foreigners were stronger than last year, they failed to do as well, as the final placings show— Stevenson Memorial Tournament.—(1) A. O'Kelly 8; (2-3) P. H. Clarke and B. H. Wood 7; (4-7) N. Karaklaic, E. Martinovski, S. Tartakower, and H. Lehmann 6½; (8-10) A. Y. Green, D. V. Hooper, and C. Trampuz 6; (11-15) H. G. Matchett, R. H. Newman, A. R. Spiller, R. W. Stevenson, and Miss E. Tranmer 5½; (16-18) K. W. Lloyd, D. G. Mackay, and G. F. Tredinnick 5; (19-23) J. Borland, B. Halliwell, S. C. Love, B. J. Moore, and J. D. Rosse 4½; (24-26) P. Dean, O. C. Gardiner, and D. A. Toms 4; (27-28) M. Biggs and J. C. Thompson 3½; (29-30) W. Evans and P. Greenwood 3; (31) A. T. Watson 2½; (32) D. Fawcett 1½.
O'Kelly started rather badly, but soon recovered and, aided by a certain amount of luck, finished strongly. Both Clarke and Wood played well to share second and third prizes, Clarke especially as he beat both O'Kelly and Wood and went through the tournament without losing a game. As the best placed Southerner, Clarke becomes the new S.C.C.U. Champion.
---
The prize-winners in the other sections were— [conflation of BCM, CHESS and Bognor Observer results]
1955 S.C.C.U. (Southern Counties Chess Union) Boys' Under-18 Championship
The title went to J. M. Dawson owing to his better Sonneborn-Berger score (despite losing his last two games)
1955 SCCU Junior Championship
Resid.
1
2
3
4
5
6
7
Total
1
John M Dawson
Bristol
♦ 1/8
◊ 1/5
♦ 1/4
◊ 1/6
♦ 1/7
◊ 0/3
♦ 0/2
5
2
S A Harding
Ipswich
◊ 1/13
♦ 0/4
♦ ½/3
◊ ½/11
◊ 1/10
♦ 1/12
◊ 1/1
5
3
W Turner
Lewes
♦ 0/5
◊ 1/8
◊ ½/2
♦ 1/10
◊ 1/12
♦ 1/1
◊ ½/4
5
4
J W McLeod
Brighton
♦ 1/12
◊ 1/2
◊ 0/1
◊ 1/5
♦ 1/6
♦ ½/8
♦ ½/3
5
5
Michael Edward Ventham
Southampton
◊ 1/3
♦ 0/1
◊ 1/9
♦ 0/4
◊ 1/11
♦ 1/10
♦ 1/7
5
6
Brian G Turrell
Shoreham
◊ ½/9
♦ 1/10
◊ ½/7
♦ 0/1
◊ 0/4
♦ ½/13
◊ 1/8
3½
7
Michael Lipton
London
◊ ½/10
♦ 1/14
♦ ½/6
◊ 1/12
◊ 0/1
♦ ½/11
◊ 0/5
3½
8
A M Fox
Ilford
◊ 0/1
♦ 0/3
◊ 1/13
♦ 1/9
♦ 1/14
◊ ½/4
♦ 0/6
3½
9
Robert L Grasty
Bognor Regis
♦ ½/6
◊ ½/11
♦ 0/5
◊ 0/8
♦ ½/13
♦ ½/14
◊ 1/12
3
10
Michael H Litchfield
Kettering
♦ ½/7
◊ 0/6
♦ 1/11
◊ 0/3
♦ 0/2
◊ 0/5
♦ 1/14
2½
11
Barry James Norman Blight
Plymouth
◊ ½/14
♦ ½/9
◊ 0/10
♦ ½/2
♦ 0/5
◊ ½/7
♦ ½/13
2½
12
I Howie
Bristol
◊ 0/4
♦ 1/13
◊ 1/14
♦ 0/7
♦ 0/3
◊ 0/2
♦ 0/9
2
13
M Norman
Cambridge
♦ 0/2
◊ 0/12
♦ 0/8
♦ ½/14
◊ ½/9
◊ ½/6
◊ ½/11
2
14
Stockwell
♦ ½/11
◊ 0/7
♦ 0/12
◊ ½/13
◊ 0/8
◊ ½/10
◊ 0/10
1½
Ten-day Major.—(1-2) John Spedan Lewis (Stockbridge), Patrick Humphrey Sullivan (Dartford) 6½; (3-4) Peter Noel Dilly (Cardiff), George A Peck (Rugby) 6; (5) John James O'Hanlon (Dublin) 5; (6) R. E. Davies (Oxford) 4½; (7) Gregory Owen J Melitus (London) 3½; (8) Wilfred Partington (Stroud) 3; (9-10) Frederick W Appleby (Chichester), Ernest A Dubois (Cardiff) 2.
Seven-day Premier (18-23 April)—(1-2) Paul Hamburger (London), Alan Edgar Nield (Hastings) 5; (3) Roy Thomas Buckland (Brighton) 4½; (4-5) Michael Edward Ventham (Southampton), Rodney E James (Banstead) 3½; (6) Ronald Wilson Ives (Leeds) 3; (7) Lionel James Dent (Ruislip) 2; (8) Leopold Franz Lindheimer (Bognor) 1½.
Seven-day Major (Mornings).—(1) Herbert Arthur Melvin (Southend) 6½; (2) Peter Tillson (Fetcham) 5½; (3) J. K. Jones (Hatfield) 5; (4) W. Turner (Lewes) 4; (5) Joseph John Lauder (Wimbledon) 3; (6) W. J. Sugg (Newbury) 2½; (7) E. I. Boyden (Rugby) 1; (8) R. E. Martin (Twyford) ½.
Seven-day Major (Afternoons).—(1) J. W. McLeod (Brighton) 6½; (2) M. J. Smith (East Sheen) 6; (3-4) G. A. Shoobridge (Cheam), Harry Starbuck Littlechild (Wisbech) 4½; (5) Alexander Schofield (Castleford) 3; (6-7) E. L. Bowring (Felpham), Robert L Grasty (Bognor) 1½; (8) D. E. Russell (Bognor) ½.
Seven-day First Class.—(1) G. B. Hardingham (Yatesbury) 6; (2) Brian G Turrell (Shoreham) 5½; (3) Arthur Cowling Cubey (London) 4½; (4) Robert Love Lamming (Isle of Man) 4; (5) Colin Sidney Collen-Smith (Worthing) 3½; (6) F. Curtis (Rustington) 2½; (7) J. W. Godfrey (London) 1½; (8) I. Fraser (Chichester) ½.
Seven-day Second Class.—(1) J. A. Freshwater (London) 7; (2) G. R. Smith (Shoreham) 6; (3-4) H. Clacey (Hereford), F. C. Shorter (London) 4; (5) Miss E. Whyte (London) 3½; (6) Miss Cicely Grace Snead (Wallington) 2; (7) Mrs. Laura Ethel Amelia Start (née Whitehouse, Finchley) 1; (8) H. Michaels (Chichester) ½.
Five-day Premier.—(1) Leslie E Vine 4½; (2) Leopold Franz Lindheimer 3; (3) Alan Edgar Nield 2½; (4-5) W. A. Goord, W. C. H. Powell 2; (6) C. E. Fellows 1.
Five-day Major.—(1) Robert Love Lamming 4 (Isle of Man); (2) Miss Annie Hilda Gammans (Brighton) 3½; (3) Harry Starbuck Littlechild (Wisbech) 2½; (4-5) Frank Wood (Bicester), F C Shorter (London) 2; (6) I. Fraser (Chichester) 1.
Five-day Minor I.—(1-2) Henry R Hovard (Chipping Norton), Christopher Baruch Wood (Sutton Coldfield) 3½; (3) B. E. Banford (Bristol) 3; (4-5) E. Fishlock (Bognor), Miss Jeanie Paterson ("Pat") Renwick (Brighton) 2; (6) H. Michaels (Chichester) 1.
Five-day Minor II.—(1-2) H. D. Hancocks (London), (Rex) Frank T Wood (Sutton Coldfield) 4½; (3) Mrs. Grant (Chichester) 3; (4) H. F. Stevens (Felpham) 2; (5) G. R. Smith (Shoreham) 1; (6) P. R. Wood (Sutton Coldfield) 0.
1955 British Girls' Championship
1955 British Girls Under-18 Chess Championship
Resid.
1
2
3
4
5
6
Total
1
Margaret Eileen Elizabeth (Peggy) Wood
Sutton Coldfield
0
1
1
1
1
4
2
Margaret Wood
Bicester
1
0
½
1
½
3
3
Susan Smith
London
0
1
1
0
1
3
4
June Beckett
Bromley
0
½
0
1
1
2½
5
Sheila A Corbyn
Birmingham
0
0
1
0
½
1½
6
E Shirley Mann
Birmingham
0
½
0
0
½
1
Round 1: S Mann ½-½ M Wood; Beckett 0-1 Smith; Corbyn 0-1 P Wood
Round 2: P Wood 1-0 Mann; Smith 0-1 Corbyn; M Wood ½-½ Beckett
Round 3: Mann 0-1 Beckett; Corbyn 0-1 M Wood; P Wood 1-0 Smith
Round 4: Smith 1-0 Mann; M Wood 1-0 P Wood; Beckett 1-0 Corbyn
Round 5: Corbyn ½-½ Mann; P Wood 1-0 Beckett; Smith 1-0 M Wood
Girls' Junior Event.—(1-3) E. Bentley (Plumstead, 1st on SB), Verina Horsnell (Woolwich), Jennifer Taylor (Welling) 7; (4-6) E. Bishop (Shrewsbury), D. Pratley (Plumstead), F. Hill (Bristol) 5½; (7) D. Von Prevuchen (Welwyn) 5; (8-10) Marianne Allwright (Finchley), M. Barnes (Plumstead), Yvonne Guthrie (Bexley Heath) 4 ; (11) Yvonne Selves (Finchley) (later Bird) 3½; (12) S Frost (Bromley) 3; (13) P Williams Cunningham (Oxford) 2.
---
CHESS, April 1955, Vol.20 No.245, ppn 316-321
Bognor Regis and Southdean Easter Congress
Hastings may boast bigger names and a marvellous tradition but the Southdean and Bognor Regis congress has features which are endearing it to a growing body of players: a pleasanter season, communal life amid delightful amenities . . . This year's total entry, 144, was a record, but 200 could easily be accommodated and, indeed, Mr. Lomax announced the latter figure as next year's target. If entries do continue to increase, however, he must have more help. You can't conduct a tournament like this almost unaided, crippled by water-on-the-knee and kept going by "pep pills." He had worked all through the night more than once in the preparation of the hall.
He has a new ambition, to stage an International Team Tournament in 1958. Told that £3,000 will be necessary to finance it, "O.K." he said, "Let's get going!"
Spearheading the foreign attack this year were O'Kelly de Galway from Belgium (last year's co-winner with Barden), evergreen Tartakover, Dr. Lehmann from Berlin and three Yugoslavs led by their new Champion Karaklaic (pronounce it "Karra-kligh-itch"). O'Kelly started shakily and was soon in a dead lost position (see Games) against Mackay who, however, threw away his advantage as exuberantly as he had gained it, and lost. In the next round O'Kelly was again quite lost but, this time, against an opponent P. H. Clarke, who had no intention of letting him off.
Clarke's third round game against Tartakover took a weird course. The veteran won a pawn and seemed set for a win; but as the session wore on, it was not Clarke, but Tartakover, who wilted, in the face of an incredibly stubborn defence. Finally Tartakover blundered. Clarke, however, was so intent on saving the half-point that he overlooked he could win a rook! On the next board, Karaklaic was continually in the toils against Wood who, however, two pawns up just before the adjournment, managed to find the one line which only drew.
The fourth round put Clarke in the lead, Wood offering him the choice of at least three different ways of sacrificing a piece.
The second week's play was more correct, less eventful. Highlights were Wood's grinding-down of Lehmann and rather original blitzing of Trampuz, who was subsequently knocked right out of the prize-list by Newman's hair-fine endgame play with Kt and B v. two Kt's ; and O'Kelly's steady come-back, culminating in two strokes of luck just when most welcome. Karaklaic, whom he had early saddled with a bad bishop, battled manfully but at the cost of just too much time; with an at least equal position in which O'Kelly was finding it hard to improve on repetition, the Yugoslav's clock flag dropped with two moves still to be made. In the crucial last round but one, O'Kelly made a feint against one of Newman's bishops. Newman decided to move it and move his other bishop after. He picked up a bishop—but it was the wrong one! Newman promptly resigned and so O'Kelly had picked up a vital point, by a finger-slip—in eleven moves! A placid draw with Martinovski then took him into a first place well merited, if only by his recovery from a depressing start. If he was lucky—well, the winner always is!
Meanwhile Clarke, who went through unbeaten, and your editor [B H Wood] were coasting quietly into second place. Clarke's final score was the more impressive including, as it did, wins against his two principal rivals. He has a style reminiscent of Reshevsky's; quiet, plodding, rather undistinguished but extremely effective. Like Reshevsky, he is perpetually short of time but doesn't worry about it in the least; and like Reshevsky he is at his best when hard pressed, at his poorest when on top. He is going to be a real power in English chess.
In view of the sorry scores made by B.C.F. teams against Yugoslavia throughout the years, the fact that the three Yugoslavians should be virtually shut out of the prize list by British players ranked by the B.C.F. itself as among Britain's 16th to 26th strongest, represents a triumph for British chess comparable with Alexander's victories over Bronstein and Tolush at Hastings fifteen months ago. Karaklaic, Martinovski and Trampuz, however, had to face unexpected trials. All are young and, especially Trampuz, exceptionally good-looking. The competitors in the two girls' tournaments "fell for them" almost en masse. To play before a gallery of love-lorn fifteen-year-olds may be flattering but it can, as the hours go on, become a little disconcerting.
Besides your Editor finishing second in the Stevenson, sons Christopher and Frank each tied for first place in a lower section and daughter Peggy regained the British Girls' Championship. The hall is normally used for indoor bowls. "It might be an indoor bowling green still," muttered one disgruntled competitor: "Woods all over the place!"
---
Bognor Regis Observer - Friday 29 April 1955
Played In Hotel
A competitor who did not enter the congress hall at the Sports Centre shared first place in the Ten-Day Major event. He was John Spedan Lewis (Stockbridge) the head of the powerful John Lewis combine. His games were all played in his hotel room at the Royal Norfolk.
This was the second congress at Bognor in which Mr Lewis had competed and last year he also played his chess in the exclusive comfort of his hotel room.
He sent his car to Southdean for his opponents, and took them back after the game.
Mr. Lewis is a great benefactor of British chess, providing it with considerable funds each year. He subscribed £25 to the Bognor congress fund.
---
File Updated
| Date | Notes |
| --- | --- |
| 28 August 2022 | First upload: 8 games and 3 part-games from the Stevenson Memorial and 1 informal game played during the event by the organiser. |
| 29 August 2022 | Eight more games from subsidiary sections added, submitted by Brian Denman, for which many thanks: one is J.Dawson 0-1 W.Turner from the SCCU Junior Championship and the other seven are games played by Roy Thomas Buckland in the Seven-Day Premier. |
| 30 August 2022 | Four games added: (1) Clarke 1-0 O'Kelly (rd 2); (2) Dean 0-1 Tartakower (rd 4); (3) Newman 0-1 Hooper (rd 4); (4) Hooper 0-1 Martinovsky (rd 4). Contributed by Ulrich Tamm, for which many thanks. |
| 31 August 2022 | Ulrich has found a further game and part-game: (1) Green 1-0 Lehmann (rd 3, part-game); (2) Lehmann 1-0 Stevenson (rd 7). Many thanks, Ulrich. Current tally of games: 13 games, 4 part-games, 9 from subsidiary events. |