BRITBASE - British Chess Game Archive
Tournament: 19th Hastings Premier 1938/39
• 45 Premier games + 21 from subsids •
Go to: Previous Year • Next Year
Venue: White Rock Pavilion • Dates: 28 December 1938 - 6 January 1939 • Download PGN • last updated: Wednesday September 2, 2020 12:23 PM
1938/39 Hastings Congress, 28 December 1938 - 6 January 1939, White Rock Pavilion, Hastings
1938/39 Hastings Premier
1938/39 Hastings Premier
Nat'y
1
2
3
4
5
6
7
8
9
10
Total
1
Szabo,Laszlo
HUN
½
½
1
1
1
½
1
1
1
7½
2
Euwe,Max
NED
½
0
½
1
1
1
1
1
½
6½
3
Landau,Salo
NED
½
1
0
1
½
½
1
½
1
6
4
Pirc,Vasja
YUG
0
½
1
0
1
1
½
1
1
6
5
Klein,Ernst Ludwig
AUT
0
0
0
1
½
½
1
½
1
4½
6
Milner-Barry,Philip Stuart
ENG
0
0
½
0
½
1
1
1
½
4½
7
Golombek,Harry
ENG
½
0
½
0
½
0
½
1
1
4
8
Thomas,George Alan
ENG
0
0
0
½
0
0
½
1
½
2½
9
Tylor,Theodore H
ENG
0
0
½
0
½
0
0
0
1
2
10
Sergeant,Edward Guthlac
ENG
0
½
0
0
0
½
0
½
0
1½
1938/39 Hastings Premier Reserves A
1938/39 Hastings Premier Reserves A
1
2
3
4
5
6
7
8
9
10
Total
1
Imre Koenig
½
½
1
½
0
1
½
1
1
6
2
Markas Luckis
½
0
1
½
½
½
1
1
½
5½
3
Jacques Mieses
½
1
0
0
1
1
1
0
1
5½
4
Theo D Van Scheltinga
0
0
1
½
½
1
0
1
1
5
5
Baldur Hoenlinger
½
½
1
½
1
0
0
½
1
5
6
Lodewijk Prins
1
½
0
½
0
1
½
1
0
4½
7
Dr Paul M List
0
½
0
0
1
0
1
½
1
4
8
Friedrich Saemisch
½
0
0
1
1
½
0
0
½
3½
9
Gerald Abrahams
0
0
1
0
½
0
½
1
0
3
10
Count Antonio Sacconi
0
½
0
0
0
1
0
½
1
3
1938/39 Hastings Premier Reserves B
1938/39 Hastings Premier Reserves B
1
2
3
4
5
6
7
8
9
10
Total
1
Jacob Baruch Perlmutter
½
0
0
1
1
1
1
½
1
6
2
Andrew Rowland Benedick Thomas
½
½
½
½
0
1
1
1
1
6
3
Geza Füster
1
½
½
0
0
½
1
1
1
5½
4
Frits van Seters
1
½
½
½
0
1
½
½
1
5½
5
W Arthur Winser
0
½
1
½
0
1
½
1
1
5½
6
Gerrit Roelof Diederik van Doesburgh
0
1
1
1
1
½
0
0
0
4½
7
William Ritson Morry
0
0
½
0
0
½
1
1
1
4
8
Edward Mackenzie Jackson
0
0
0
½
½
1
0
0
1
3
9
Francis Ernest Appleyard Kitto
½
0
0
½
0
1
0
1
0
3
10
E M Morrison
0
0
0
0
0
1
0
0
1
2
1938/39 Hastings Premier Reserves C
1938/39 Hastings Premier Reserves C
1
2
3
4
5
6
7
8
9
10
Total
1
Cecil Perfect Hammond
½
1
1
1
½
0
1
1
1
7
2
Wilfred Hugh Miller Kirk
½
½
½
½
1
1
1
½
1
6½
3
John Edward Richardson
0
½
½
½
1
1
1
1
1
6½
4
Leonard Illingworth
0
½
½
1
½
1
½
1
1
6
5
(Arthur) John Peters
0
½
½
0
½
½
½
1
1
4½
6
Edward Willingham Brocklesby
½
0
0
½
½
1
0
1
½
4
7
A L Gordon
1
0
0
0
½
0
1
½
½
3½
8
Maurice Ellinger
0
0
0
½
½
1
0
0
1
3
9
Ronald Lee-Johnson
0
½
0
0
0
0
½
1
½
2½
10
Arthur Eva (see photo)
0
0
0
0
0
½
½
0
½
1½
1938/39 Hastings Major A
1938/39 Hastings Major A
1
2
3
4
5
6
7
8
9
10
Total
1
Raymond Hampden Blomfield
1
1
1
1
1
½
1
1
½
8
2
H C Lewis
0
1
½
1
½
1
½
1
1
6½
3
George Harold Govas
0
0
1
1
1
½
1
1
0
5½
4
Alfred Dudley Barlow
0
½
0
0
1
½
1
1
1
5
5
Fenny Heemskerk
0
0
0
1
1
½
1
0
1
4½
6
Capt. Edmund Arthur Beamish
0
½
0
0
0
0
1
1
1
3½
7
Mme Catharina Roodzant
½
0
½
½
½
1
0
½
0
3½
8
Miss Minnie Musgrave
0
½
0
0
0
0
1
½
1
3
9
Charles Henry Taylor
0
0
0
0
1
0
½
½
1
3
10
Mrs. Anne Muriel S Shannon
½
0
1
0
0
0
1
0
0
2½
Major B.— 1 I. Zalys 8/9; 2 Paul M Foster 6; 3-4 C. W. Roberts, F. A. Sisley 5½; 5-7 J. E. S. Fawcett, Hugh Windsor Fiesch Heneage, Alfred Herman Reeve 4; 8-9 Sydney Hugh Brocklesby, Mrs. Edith Mary Ann Michell 3; 10 George Arthur Peck 2.
First Class A.—H. G. W. Vernon, 6½; R. Coman 6; R. S. Lockwood, 5½; M. J. S. Dewar 5; F. A. Damen 4½; G. G. Homan and John Spedan Lewis, 3 each; Captain J Mackenzie 2½ (see photo); C. W. Bullows 0.
First Class B.—H. F. Gook and W. S. James 7 each; W. G. Jackson, F. P. Pounce, C. C. J. Matthews, and G. M. Robertson. 6 each; P. M. Foster, 3 ; Miss Emily Eliza Abraham 2½ (see photo); J. Francis 1½; F. Silk 0.
First Class Afternoon.—Hon. A. J. Lowther, 8½; L. G. Eggink and A. D. Field 6½; D. A. W. Hamilton 5; Miss Andrews 4½; W. H. Jones 4: G. H. B. Fox and H W. Tidball, 3 each; S. F. Dalladay, 2½; J. M. Ilott, 1½.
Second Class Morning.—R. K. Guy, 8½; T. M. Warburton 7½; Peter Foster, 5½; Mrs. R. Seyd 5; Captain J. B. Morgan, 4½; F. M. Strawson 4; C. G. Verey 3½; J Kidney 3; A. E. B. Hunter, 2½; H. N. Collins 1.
Second Class Afternoon.—Miss K. H. Passmore 7½; W. M. Batten, W. Longman, and T. Medley 6½ each; Miss Katharine Tate Austin 6; K. Stewart 4½; S. Griffiths 3 ; A. Trimnell, 2½; W. E. Rider, 2; W. Howgrave 0.
Third Class Morning.—E. M. Thirian 8; T. E. L. Chataway 6½; Mrs. W. S. James and V. Rigby 5; Miss A. M. Bishop, J. E. Coleman, W. F. Freeman and Mrs. D. Vernon 4 each; Miss M. A. Lankey 2½; O. Fielder 2.
Third Class Afternoon.—E. Benton 9; Mrs. R. H. McKeag 7½; Marcus Levy 6; R. G. S. Mackechnie, W. H. Moore 5; Miss C. M. Jannings 4; Miss I. M. Shaw 3½; W. J. Thornton 3; Miss E. Ramsbotham 2; J. Wrigglesworth 0.
---
[BCM, February 1939, p59]
HASTINGS CHRISTMAS CONGRESS
Hastings has a habit of making reputations and this year's congress was no exception since the Premier was won by its youngest competitor, Laszlo Szabo of Hungary. The winner, a very pleasant youth of 21, played very interesting chess, and was the only player to go through the tournament without loss. He should improve still further during the next few years; at present his forte lies in combinational rather than positional lines.
Though Dr. Euwe won the second prize he did not seem quite in his best form. No doubt the Avro tournament had a tiring effect on him. He was very fortunate to win against Milner-Barry, and at one time looked in difficulties against Szabo. On the other hand, he played some very good games, notably against Golombek and Tylor.
Two other foreign competitors, S. Landau (Holland) and V. Pirc (Yugoslavia) shared 3rd and 4th prizes. The former indeed for a long time looked like winning the first prize but weakened towards the end of the tournament. Nevertheless his was a fine achievement, especially when one remarks that he was the only player to defeat Dr. Euwe.
Pirc was somewhat of a disappointment after his fine record in international chess during the last few years. He had two gift points presented to him by Milner-Barry and Golombek. The former threw away a Pawn in the opening and the latter actually put a piece en prise. In fact, the Yugoslav master only showed his true form in the very last round when he won in excellent style against Landau.
P. S. Milner-Barry and E. Klein came equal 5th and 6th with 4½ points. The former obtained the highest score of the English players, and showed fine attacking form in several games, especially against Golombek in the last round. Klein had a very creditable score in his first Premier tournament at Hastings. He defeated Pirc in very convincing style. Sir George Thomas commenced in good style, but tailed off as the tournament proceeded. T. H. Tylor was quite out of form and appeared to suffer from lack of practice. E. G. Sergeant frequently obtained good games but tired too soon.
In the B Section, A. R. B. Thomas played good chess, and thoroughly deserved to share first prize with J. Perlmutter of Belgium. W. Ritson Morry had the disappointing experience of scoring 3½ out of his first four games, and then not winning another game. F. E. Kitto was by no means in his Brighton form.
Section C was chiefly notable for the very promising performance of the boy player, J. E. Richardson. He played incisive chess, and was ever ready to take full advantage of his opponents' errors as the following curiosity shows.
---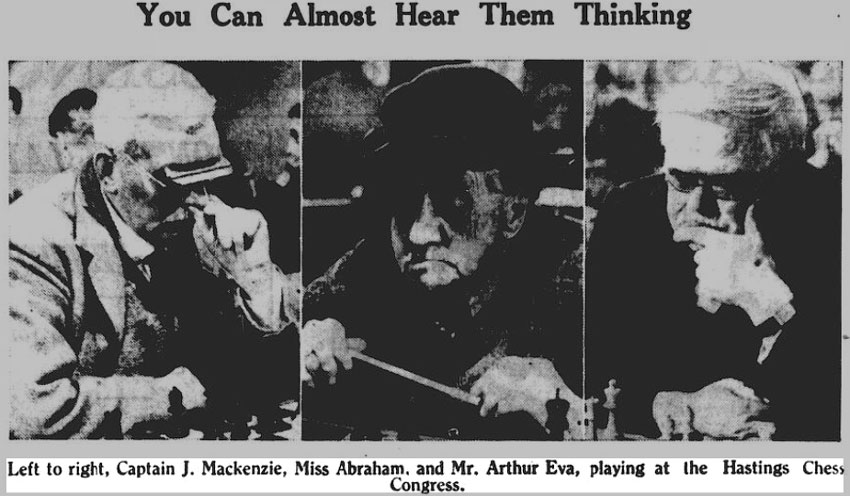 Left to right: Captain J Mackenzie, Miss Emily Eliza Abraham and Mr Arthur Eva, playing at the Hastings Chess Congress.
Photo from Yorkshire Evening Post - Thursday 29 December 1938.
JS note: not the photos I would have chosen to publish! A good example of the UK media's relentless stereotyping of chess players as greybeards and weirdos.
---
[The Times, 9 January 1939]
HASTINGS CONGRESS REVIEWED
SZABO'S ENTERPRISE
FROM OUR CHESS CORRESPONDENT
The play in the Premier Tournament at Hastings was rather disappointing this year, and there were few memorable games. The winner, L. Szabo, is only 21; he is a resourceful and enterprising player, but not yet a great one. He was in a bad way against Golombek, and very uncomfortable against Milner-Barry; the former conceded him a draw, and the latter went to pieces and lost to a beautiful mating combination.
Dr. Euwe, than whom no more welcome visitor ever attends an English congress, was also below his own standard. He had to work terribly hard for his points, and even then Thomas and Milner-Barry presented him with their games. He lost a game to Dr. Landau that he should have won, making, like lesser men, a series of bad moves when in severe time trouble. Dr. Landau and Klein, the former especially, both made a successful first appearance in the Premier; and Pirc, though he played one or two games poorly, produced some highly original strategic conceptions that gave one some idea of his real quality.
The English players were disappointing, not for lack of ideas as for incompetence in executing them, and for an inordinately large crop of blunders. Seldom can our eminent visitors have had so many points presented to them. Golombek played the best chess, but his old weakness of letting his opponents escape from his clutches was again apparent. Sergeant played much better than his score : he showed great courage and enterprise, and would have won some fine games but for missing his way at the critical moment.
AMONG THE RESERVES
From what I saw of it, the play in the Premier Reserves was lively and full of imagination. It produced a number of rare endings. Van Scheltinga struggled to defeat Prins with a queen against two knights, which is usually a "book" draw but a difficult one. Then Prins in turn drew an ending against Samisch with rook and pawn against queen and pawn. Sacconi, too, drew with rook and three pawns against queen and two, his king being safely tucked away in the corner, and the rook just guarding the critical squares.
In Section B was seen the refreshing spectacle of Kitto and Ritson Morry vigorously attacking each other with four queens on the board: one pair was exchanged, and the game assumed a more normal aspect. Finally the veteran Mieses, with lone rook and knight, had all he could do to prevent himself being mated by Samisch, his king being in peril from a phalanx of advancing pawns.
---
[The Times, 28 December 1938]
"HASTINGS CHESS CONGRESS
ENTRIES FROM ABROAD
FROM OUR CHESS CORRESPONDENT
The annual Christmas congress of the Hastings Chess Club begins this afternoon at the White Rock Pavilion. The Premier Tournament, although not so strong as last year (when it included four out of five of the leading younger masters), is well up to standard. The foreign players are Dr. Euwe, the ex-champion; V. Pirc, of Yugoslavia. who has been for some years on the fringe of world-championship class; L. Szabo. of Hungary, a young player with an original and combinative style; E. Klein, of Austria; and S. Landau, of Holland. The last two have fully earned their promotion by long and consistent success in the Premier Reserves; Landau, of course, is no stranger to Continental tournaments of master strength.
The English contingent unfortunately does not include the British champion, C. H. O'D. Alexander, who achieved an outstanding performance in the same tournament last vear. In his unavoidable absence the next five players in order from the British championship at Brighton have been invited.
The Premier Reserves have been divided into three sections in order of merit. Section A is a galaxy of well-known names and constitutes a strong international tournament in itself. The lone Englishman, G. Abrahams, will have a hard row to hoe, but he is not the type of player to be intimidated by his company.
---
Not relevant to Hastings but interesting...
[The Times, 4 January 1939, p8]
CHESS WORLD
SUGGESTED INTERNATIONAL CLUB
FROM OUR CHESS CORRESPONDENT
"As a result of the recent Avro Tournament, a movement has been set on foot to form a club for the organization of the "Grand Masters'' of the chess world. One of the principal objects of this association will naturally be the regulation of the World Championship."
"Membership of the club will be restricted at first to the masters who took part in the Avro Tournament, with the exception that Dr. Emanuel Lasker, ex-champion, will be invitee; to become an honorary member. Later on it is intended to widen the scope of the organization by inviting other aspirants to the World Championship.
"The whole project is so far very much in the air, but Sir George Thomas has provisionally accepted an invitation to become chairman of the committee. The masters were unanimous in selecting him as the chairman, should he be found willing to accept the office Mr. P. S. Milner-Barry has also provisionally agreed to become a member of the committee, and the third member will probably also be an Englishman." (*rolls eyes* JS)
---
File Updated
| Date | Notes |
| --- | --- |
| (previously) | Previously part of the bulk Hastings file |
| 10 March 2022 | First upload as a separate file, with crosstables, games from subsidiary sections, etc. |
| 4 May 2022 | Added three games from subsidiary sections: (1) A John Peters ½-½ M Ellinger (Premier Reserves c); (2) F Heemskerk 1-0 M Musgrave (Major A); (3) F Sisley 1-0 H Heneage (Major B). My thanks to Brian Denman for submitting the games. I've also transferred the game F van Seters 1-0 J Perlmutter (Premier Reserves B) to this file from the 1939/40 as it clearly belongs to the 1938/39 tournament. |
| 3 July 2022 | Added two games, from Dutch sources: (1) J.Mieses 0-1 T.van Scheltinga, Premier Reserves A; (2) F.Heemskerk 1-0 E.A.Beamish, Major A. The part-game L.Prins 1-0 G.Abrahams, Premier Reserves A, rd 9, has now been replaced with the complete score, found in the Birmingham Daily Post. |