BRITBASE - British Chess Game Archive
Tournament: 6th British Championship
(includes 62/66 main tournament games, all 3 from play-off, and 21 subsidiary event games)


Venue: Scarborough • Dates: 9-20 August 1909 • Download PGN
1909 British Chess Championship, Scarborough, 9-20 August
1909 British Chess Championship
Draw No
Resid.
1
2
3
4
5
6
7
8
9
10
11
12
Total
1
Atkins,Henry Ernest
4
Huddersfield
1
0
1
1
½
½
½
1
1
1
1
8½
2
Blake,Joseph Henry
12
London
0
1
0
1
1
1
1
½
1
1
1
8½
3
Ward,William
3
London
1
0
0
½
1
½
1
1
1
½
1
7½
4
Blackburne,Joseph Henry
11
London
0
1
1
0
0
1
0
1
1
1
1w
7
5
Yates,Fred Dewhirst
7
Leeds
0
0
½
1
1
1
1
0
1
1
½
7
6
Michell,Reginald Pryce
8
London
½
0
0
1
0
1
½
½
1
½
1
6
7
Wainwright,George Edward
10
London
½
0
½
0
0
0
1
1
1
1
1w
6
8
Lee,Francis Joseph
6
London
½
0
0
1
0
½
0
0
1
1
1
5
9
Holmes,Harry
2
Liverpool
0
½
0
0
1
½
0
1
0
0
1w
4
10
Jacobs,Herbert Levi
1
London
0
0
0
0
0
0
0
0
1
1
1w
3
11
Mackenzie,Arthur John
5
Birmingham
0
0
½
0
0
½
0
0
1
0
½
2½
12
Sergeant,Edward Guthlac
9
London
0
0
0
0d
½
0
0d
0
0d
0d
½
1
1w = walk-over
0d = 'retired'
In this and the following year the prize money was awarded on the Tietz system
Atkins won the tie-break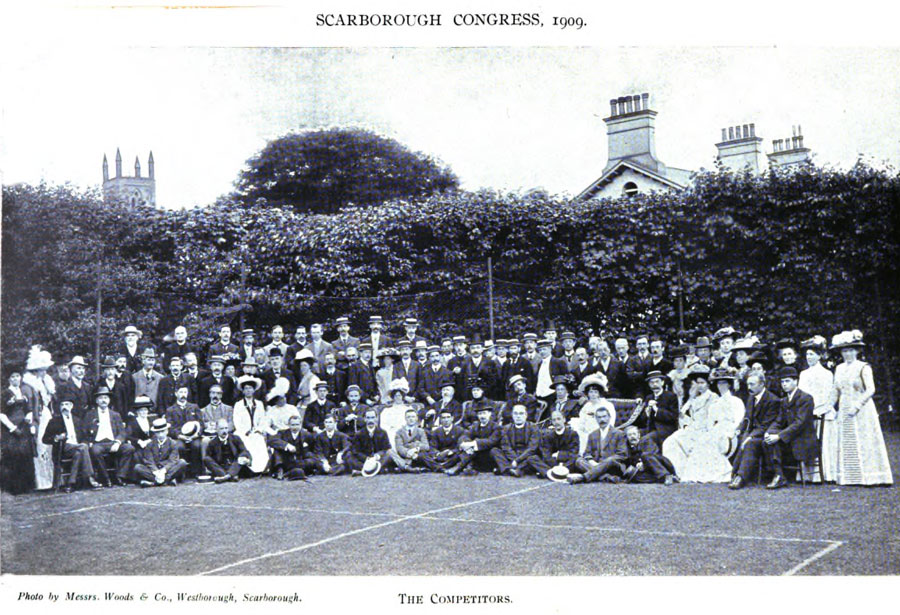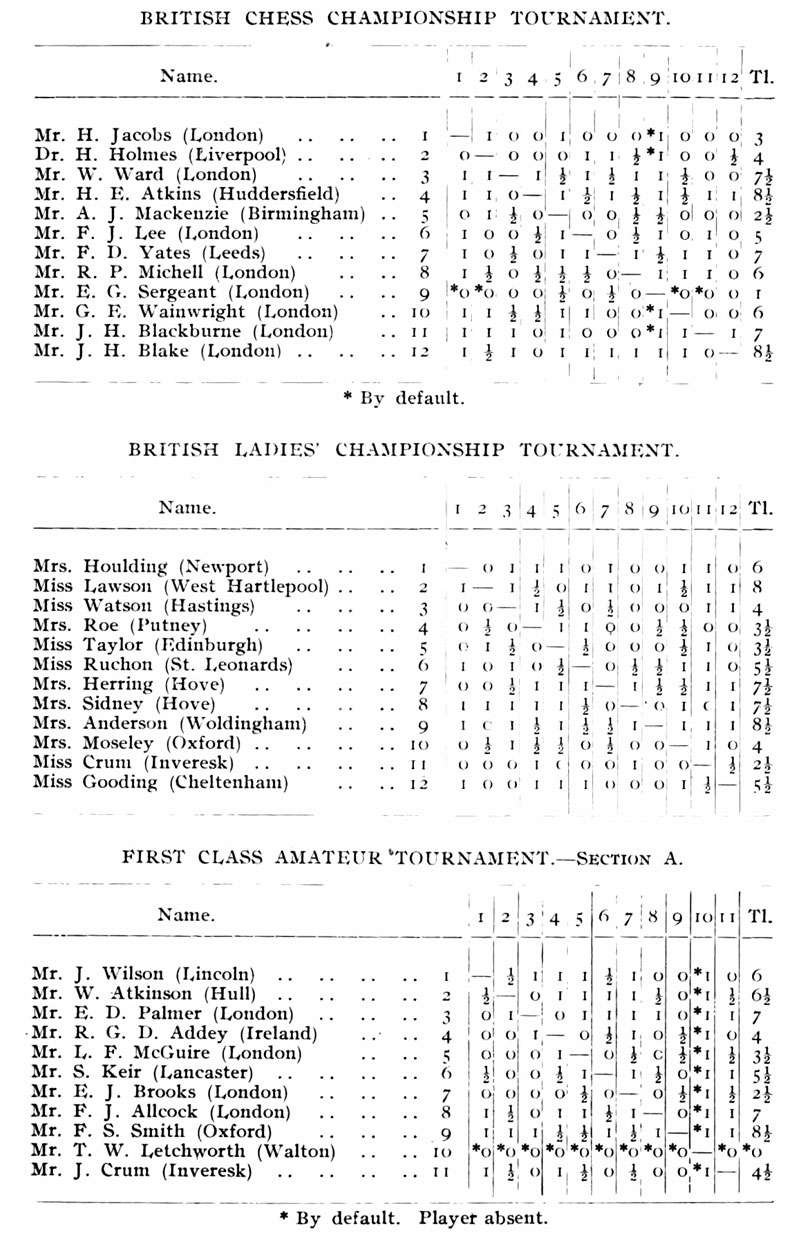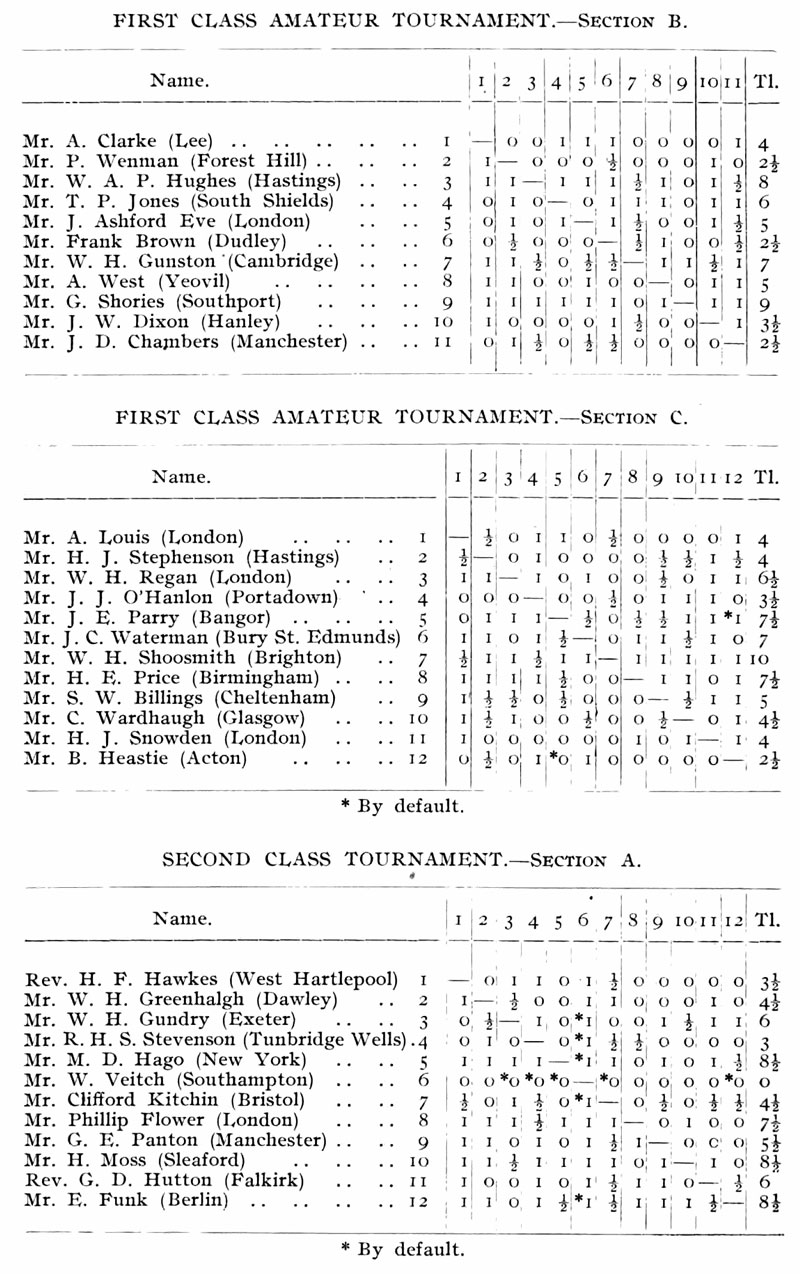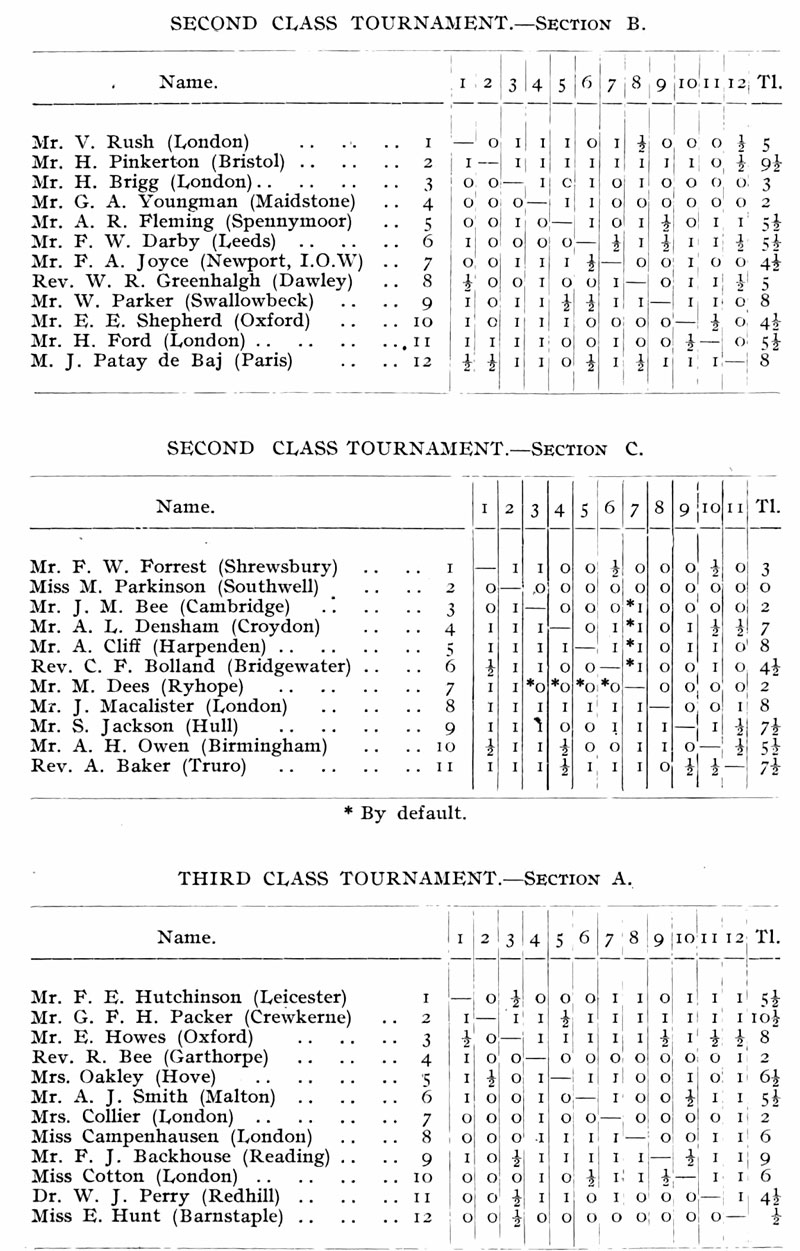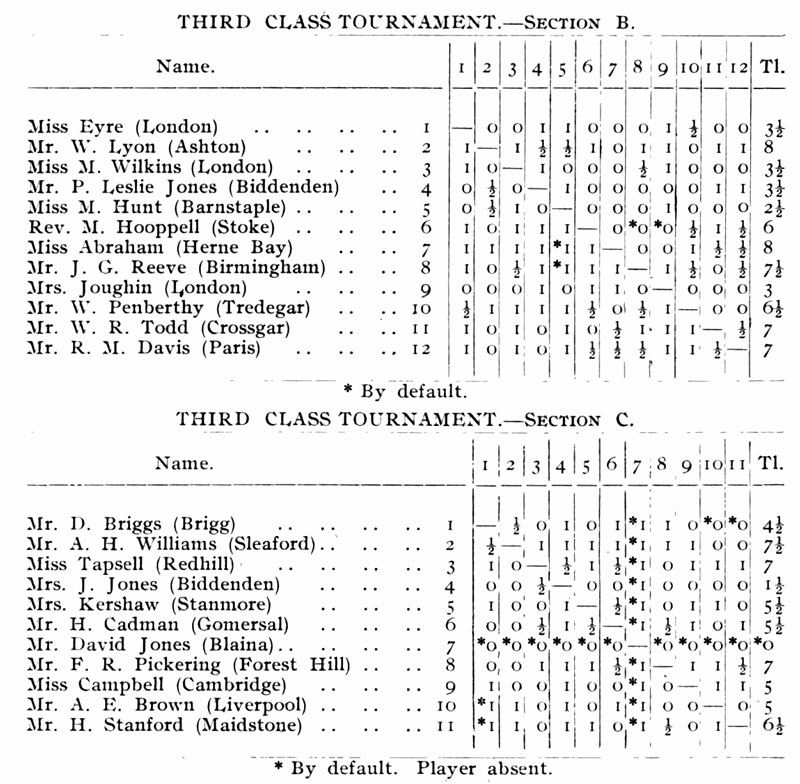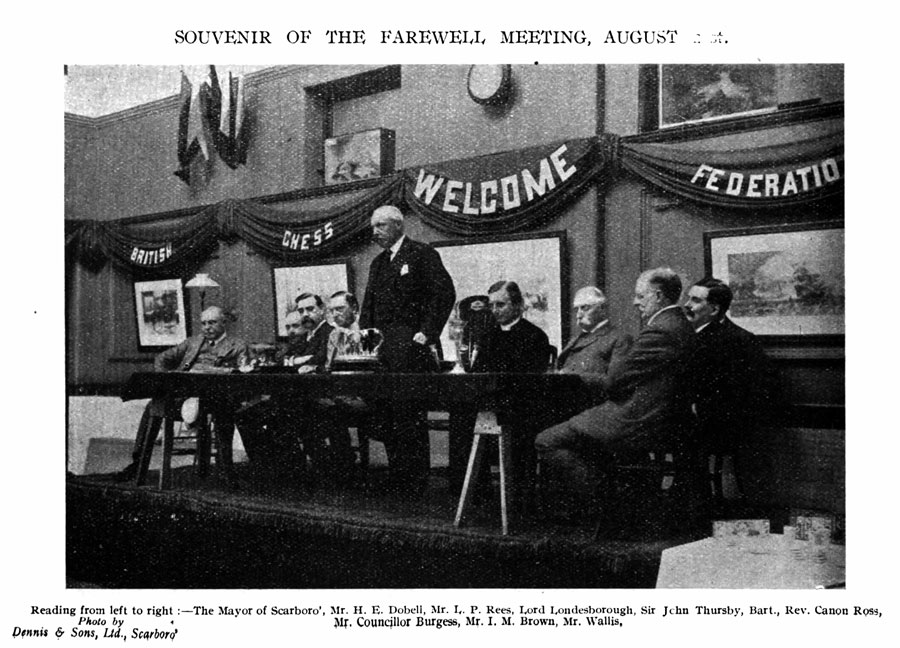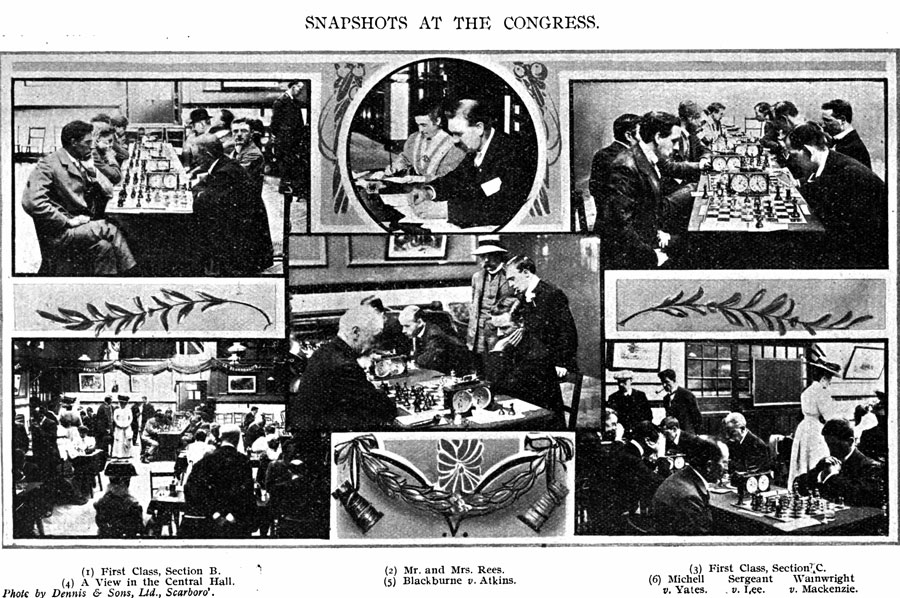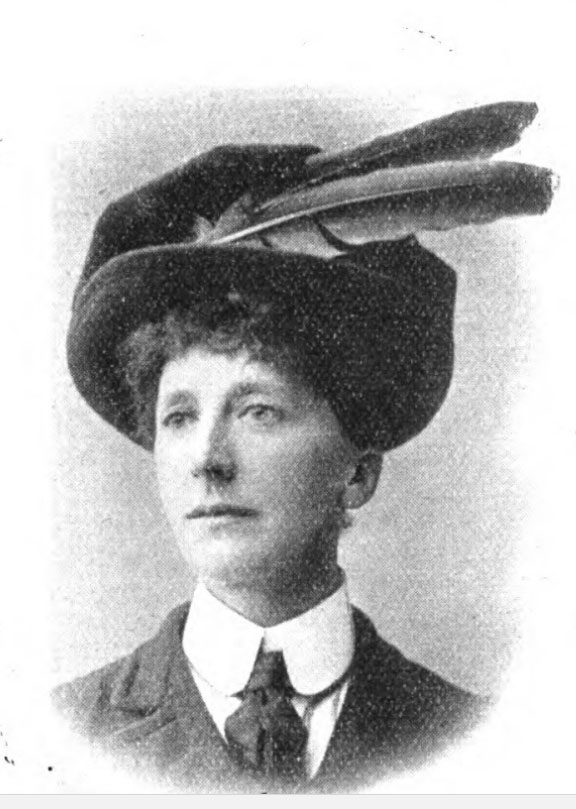 Mrs Gillian Anderson
BRITISH FEDERATION CONGRESS AT SCARBOROUGH (BCM, Sep 1909, p365-451, with some editing by JS)
Once more it came to pass that the Northern Union had to provide a meeting-place for the annual Festival of the British Federation. The last meeting on Northern soil was at Southport, in 1905; but variety is charming, and when it was announced that this year Scarborough was to be the venue, it was felt that the attractions of the "Queen of Watering-Places" would in themselves go far to assure a successful meeting. But though Castle, Spa, Foreshore, and Marine Drive are all delightful, yet in a gathering like this there was much hard work to be done, both by the local committee and by the officials of the Northern Chess Union—work that is little understood by most of the visitors who find everything prepared for their comfort and convenience. Committee work generally has a way of falling most heavily on one pair of shoulders, and in the present case these, as regards local matters, happened to be the broad ones possessed by Mr. E Wallis, chess player, problem composer, and solver, and recently known throughout the chess world as the compiler of that excellent collection of problems, " 777 Chess Miniatures in Three."
Efforts were made to secure, as the meeting place of the Congress, the Municipal Schools, centrally situated in the Valley Gardens, but this building had been promised to the National Union of Teachers, and the committee therefore was obliged to fall back on the Gladstone Road Schools, which, though well adapted to the needs of the Congress, gave the visitors more pedestrian exercise than some of them cared for, even though the limit may be put down as fifteen minutes' walking—an exercise undoubtedly conducive to good chess play.
The continued popularity of the annual Federation Congress was evinced by the receipt of 132 entries for all tourneys, this number being considerably higher than any received since the first meeting of 1904, at Hastings, when, of course, it was swelled by the numerous local players.
It seems rather surprising that less than a dozen Yorkshiremen had entered the tournaments, but players of that county, and of Lancashire, too, mostly break off their chess in the summer season, returning to it with great enthusiasm about October. In the North of England, men reserve their holidays as a rest from the storm and worry of business. There is, indeed, a saying that men make money in the North and then go South to spend it and enjoy life in leisurely style.
The opening meeting was held on Monday afternoon, August 9th, in the large central hall of the Gladstone Road School, which had been beautifully decorated for the occasion. The platform was a mass of hothouse flowers, and round the walls, inscribed on gay draperies, were the names of great chess players of the past. The chair was taken by Alderman J. W. Rowntree, and those on the platform included the Mayor and Mayoress (Councillor and Mrs. Chrimes), Sir John Thursby (president British Chess Federation), Mr. Councillor J. Burgess (Manchester, president Northern Union), Mr. Leonard P. Rees (secretary British Chess Federation). Mr. I. M. Brown (secretary Northern Counties Union). Mr. E. Wallis (secretary local Committee), Councillors W. Ascough, Firth, and Turnbull, and others.
The Chairman said that his task was a most light and agreeable one. He acknowledged the excellent work of the local committee, and particularly that of the energetic secretary, Mr. Wallis. He extended a hearty welcome to the visitors, but would not enlarge upon that, as the Mayor had found time in the midst of his many engagements to attend for that purpose.
The Mayor, who was heartily received, said it was a pleasure to him to offer a civic welcome to the members of the Congress, and he hoped that the meeting would be successful and enjoyable. That was almost assured, as he was informed that there were 132 competitors in the regular tournaments from 74 towns in the United Kingdom, while Berlin, Paris, and New York were also represented. He hoped their games would be keenly and well contested, and that the prizes would go to the best players. They had come to Scarborough in a blaze of sunshine, which he trusted would remain during the whole of their visit, and that they would carry away along with Scarborough ozone, agreeable recollections of the beauties of the place.
Sir John Thursby thanked his worship for the courtesy shown to the members of the Federation. He had known Scarborough since his boyhood, and thither he was always glad to return—a feeling which he was sure would be shared by the visitors to the Congress.
Councillor Burgess (Manchester), in seconding the vote of thanks to the Mayor, said the Congress would be a mutual benefit. All present would benefit by the healthful air of the town, and Scarborough would profit not only by the money spent by those who attended the Congress, but by the fact that the play would be reported in many of the principal papers throughout the world.
The Mayor, in reply, expressed his regret that the "solemn" game of chess prevented anything like a joke, but he hoped to collect a few by the time they honoured Scarborough again with their presence, which he hoped would be at no distant date.
Mr. Brown proposed a vote of thanks to the chairman, and also referred to the work done by Mr. Wallis, remarking that later the Committee of the Northern Union would show its appreciation of his services in another way. As to the Mayor's remarks about the lack of chess jokes, he would mention one by the late Rev. E. J. Huntsman (Sheffield), a frequent visitor to Scarborough, whose conundrum was :— "Why is Chess the oldest of all games, and how can you prove it ?" His reply being:—"Because in the Garden of Eden Adam sacrificed a piece and obtained a mate." (Laughter.)
Mr. Rees, in seconding, said they expected a genuine welcome in the North, and they had found it in abundance.
The Chairman, in reply, expressed the hope that all players would find a cordial welcome amongst the people of Scarborough. They were always glad to see visitors, though they were a little clannish at home.
Play in all the tournaments then commenced.
During the first week some eighty members of the Congress had a most enjoyable drive to Silpho Moor and through the beautiful Forge Valley. The picnic was a welcome change to those who had been hard at work at the tables. Tea alfresco was partaken at the Everley Hotel, Hackness, and thoroughly enjoyed after the exhilarating moorland air.
The great event of the Congress, from the social point of view, took place on Tuesday, August 17th, when the chess players and their friends, to the number of about 200, were entertained at a garden party by the Earl and Countess of Londesborough, at Londesborough Lodge. A delightful afternoon was spent, in spite of the fact that the thermometer, which during the first week had meandered somewhere among the eighties, showed signs of coming winter. The guests were presented to the Earl and Countess by Mr. L. P. Rees. Music, instrumental and vocal, and afternoon tea provided two hours of most enjoyable entertainment. The company included, amongst many other invited guests. Lord Burleigh, Lady Emily Kingscote, the Earl of Westmoreland, Hon. George Monckton-Arundel. Viscountess Raincliffe, Hon. Hugo Denison, Hon. Irene Denison, Lady Enid Fane, Miss Ganz, Councillor Burgess, Mr. Leopold Hoffer, Mr. Antony Guest, Mr. James Mortimer, the Mayor and Mayoress of Scarborough, Mr. and Mrs. J. A. Woollard, Mr. Keeble, the officials of the local committee and the Northern Union, and many other ladies and gentlemen whose names we cannot recall.
Miss Ganz, niece of the famous composer Ganz, sang several songs, which were greatly appreciated.
During the afternoon two excellent photographs—one of the officials, players, and friends, and one of the competitors only, were taken by Messrs. Woods & Co., Scarborough, and that of the players we present as the frontispiece of our present issue.
The closing meeting of the Congress is always got through with some expedition. The North-Eastern Railway Company's trains wait not even for chess players, therefore eloquence had perforce to be curtailed. The farewell gathering took place at ten o'clock on Saturday morning, August 21st.
Sir John Thursby, president of the Federation, made a strong appeal for support of the permanent fund of the Federation, and announced that two gentlemen had each promised £5 towards that fund, if twelve subscribers could be found to each give a like amount.
The Earl of Londesborough presented the prizes to the successful competitors, the applause which greeted each fortunate one being redoubled on the advance of the ladies, of the semi-champions, Mr. Blackburne, and the winners of problem honours.
A testimonial, subscribed for by the competitors, officials, and a few friends, was presented to Mr. L. P. Rees, hon. secretary of the Federation, whose labours were, as usual, most urbanely rendered, and with that efficiency which only long practice, added to natural abilities, can give. It should be said that Mr. Rees was throughout most ably assisted by his wife, who must by this time be a perfect expert in the details appertaining to a Chess Congress. The testimonial, for want of time to purchase a suitable souvenir, took the form of a purse of gold (£12).
A handsome flower epergne, the gift of the committee of the Northern Chess Union, was presented to Mr. E. Wallis by the president, Mr. Councillor Burgess, who also acknowledged a hearty vote of thanks to the Northern Counties Chess Union, proposed by the Rev. Canon Gordon Ross, and seconded by Mr. H. E. Dobell (Hastings), hon. treasurer of the Federation. During the course of his remarks, Canon Ross said that it was mainly by the support of the Northern Union officials that the British Chess Federation was established, and he had much pleasure in testifying that the action of the Northern representatives had always been most unselfish and entirely for the common weal and progress of the game, and the interests of the Federation.
Mr. Wallis, who was taken by surprise, replied with brevity and humour. The kindness of Lord Londesborough having been duly acknowledged, a vote of thanks was passed to the Chess Press. This was responded to by Messrs. Hoffer and Mortimer, the latter of whom threatened prolixity, but was better than his word.
The final act was a vote of thanks to Sir John Thursby, put by Mr. A. E. Moore, chairman of the Executive Committee of the Northern Union, and carried with acclamation. Mr. Moore said no man expects less of our thanks, and no one deserves more than our esteemed president—a sentiment excellently put and enthusiastically endorsed.
The prizes in the various contests were as follows :—
British Championship.—£75 in all, divided on the Tietz system.
British Ladies' Championship.—First, £10 ; with possession of trophy; second. £7 10s. ; third, £5; fourth, £2 10s.
First Class (three sections).—First, £12 ; second, £8 ; third, £4 in each section.
Second Class (three sections).—First, £8 ; second, £4 ; third, £2 in each section.
Third Class (three sections).—First, £4 ; second, £2 ; third, £1 in each section.
In the British Championship Tournament one noted many familiar names, but this year the Rev. W. C. Palmer was tending his flock in Trinidad; and Gunsberg, finding probably that playing in the tourney injured his reporting, or that his reporting interfered with his play, confined his energies this year to press work.
À propos of the Rev. W. C. Palmer, the following letter from the Bishop of Trinidad reached us just on the eve of the opening of the Congress :—
"Dear Brown,
"The Scarborough meeting of the Federation will soon be taking place. We should both like to be there immensely. Failing that, all we can do is to send over the 4,000 miles of ocean our very good wishes for a most successful meeting and plenty of good-fellowship.
"Our greeting to all friends, and au revoir over the board.
" Yours very truly,
"John F. Trinidad.
"Wilfred C. Palmer.
"Port of Spain, Trinidad, July 19th, 1909."
There were twenty entries for twelve places, and the committee allotted these to the twelve players whose credentials were deemed best. Yates, on the strength of his Yorkshire championship, was included, and was the only player who had not hitherto taken part in the contest. His inclusion in the list of competitors was strongly urged by the Northern delegates, the Northern secretary asserting that Mr. Yates would occupy a high place in the score sheet, if permitted to compete in the championship contest.
The Play and Players.
As the world knows, the tournament resulted in a tie between Atkins and Blake, thus breaking the run of four successive victories by the first-named player. The committee took the matter into consideration, and decided that the tie shall be played off on the 3rd, 4th, 5th and 6th of January next, by a match of four games, and in the event of another tie that the names of both players be inscribed upon the trophy. Play will take place in Northern Union territory, and probably at the headquarters of the Bradford Club.
Of the play of Mr. H. E. Atkins, there is nothing new to be said. He has never stood really head and shoulders above his nearest rivals, and has had to fight for his past victories. This year his powers have shown no signs of declining, and he reached his favourite score of 8½ by sound, and, when opportunity served, elegant chess.
Mr. J. H. Blake, of Surbiton, and formerly for many years of Southampton, may fairly be styled a veteran—that is, if twenty-seven years as a first class amateur may accord him that title. He has taken part in two championship tournaments of the British Federation, with no very distinguished success, taking at the Crystal Palace meeting the sixth place, with a score of 5½; while at last year's Congress, at Tunbridge Wells, he occupied eleventh place, scoring only four points. As few players retain their full chess strength when in the middle term of life, thus to improve on his past performances must be gratifying to Mr. Blake and his many friends. It may be remarked, incidentally. that this fact is calculated to give encouragement to his brother chess players who are no longer in the flower of their youth—to put it mildly. Mr. Blake has fought hard for his honour, though it must be admitted that he has had his share of such luck as happens in a chess tournament, winning from Ward on time limit and gaining half a point by a sad blunder on the part of Jacobs. On the other hand Mr. Blake should have done better than to lose against Blackburne.
Mr. W. Ward, the champion of the City of London Club, takes the third place, one point below the dead-heaters. Mr. Ward's abilities are well known, and he must, after the City tournament, be in fine practice. That a chess player of his experience should, without being in any particular trouble, give away a game by exceeding his time, is remarkable. Strange to say, last year he happened a precisely similar accident when opposed to Atkins. In each case lie had only one move to make, and the lapses were due to failing to note the flight of time.
Mr. Blackburne started by cleverly winning a Scotch game against Ward; he then failed against Atkins, but beat Mackenzie in the third round. Then came misfortunes, as he succumbed in succession to Lee, Yates, and Michell, and his chance of being included among the prizewinners looked small. However, he had a rest in round seven, owing to Sergeant's forfeit, and thereafter finished up handsomely, winning the remaining four games from Wainwright, Blake, Jacobs, and Holmes. He has for the most part played unusual openings, from which he has emerged with a defensive, and sometimes not very manageable position. Naturally, he knows his powers and his limitations best, but his old friends cling most persistently to their memories of the Blackburne of old. and are apt to imagine, doubtless erroneously, that something more enterprising and offensive would be of benefit to his score.
Those Yorkshire chess players who had previously made the acquaintance of their county champion across the board were by no means surprised that he should show stylish and imaginative play, but not everyone was prepared for his exhibition of resolute defensive fighting with a management of endings that would have done credit to an experienced master. Many of Mr. Yates' parties ran into 60 to 70 moves, but hard chess suited him, and he found relaxation during the intervals in solving, lightning tourneys, skittles, and even Kriegspiel.
The following neat ending occurred in the second round with
Michell. A draw was the legitimate outcome up to the 61st move, when Michell advanced P—K R 4 instead of the better move P—K R3.
Now White played 62 P— K R 4, P x P; 63 K—B 4, K—K 3; 64 P—Q Kt 4, and Black resigned, not being able to stop the advance of the Pawns on the Rook's wing.
Mr. Michell has in past tournaments generally finished in a prominent place. He was fifth at Hastings ; fifth (with others) at Southport; second at Shrewsbury : second (with others) at the Crystal Palace, and at Tunbridge Wells seventh.
If a little of the sting seems to have gone out of his play, nothing of the kind can lx; asserted of that of Mr. Wainwright. who is yet, as aforetime, almost too bold in attack. In the subjoined position he makes a brave bid for a brilliancy prize.
Continued 19.., PxKt; 20 B x P, P—K R 3 (this Black vainly hoped would get him out of his difficulties); 21 Q—Kt 4 ch. K— R 2 ; 22 Q R—K sq. BxRP; 23 P—K 6, BxP; 24 PxB, P X P, and White won on the 38th move.
Of those who scored less than half their games, Mr. Lee was not at his best, though his victory against Jacobs will not soon pass out of his memory, nor, indeed, of the memories of those who witnessed his strong and ingenious play.
Dr. Holmes may console himself for a poor score with the reflection that his two victories, over Lee and Yates, were among the brightest and most forceful productions of the tournament.
It is only bare justice to Dr. Holmes to state that during the first week he was far from well, and had little sleep. Here is the conclusion of his game against Yates :— Position after White's 21st move : —
Now Black played 21... Q— B 3 (Q—Kt 2 was, perhaps, slightly better); 22 BxKt, P— R 3; 23 B—K 7! Q— Kt 3; 24 Q x Q. P x Q : 25 R—K 8 dis ch. B—K 3; 26 BxB ch. and Black shortly resigned.
Jacobs has given few signs of the originality and ingenuity with which he is credited, and Mackenzie likewise failed to do justice to his reputation. He has, moreover, not cured himself of the habit of considering too long in the wrong place, wherefore he was often in trouble with his clock.
Sergeant, the last man on the list, had an unpleasant experience, as he was compelled to forfeit four games on account of rather serious trouble with his eyes, but, like a good sportsman, he returned to play Ward and Atkins, as he had already met Blake and Yates, who were both in the running for good prizes.
The prizes were allotted on the system invented by Herr Tietz, president of the Carlsbad Club, but the method of allocation actually adopted is set forth below in the words of the Federation secretary :—
Championship Tournament Prizes.—Messrs. Atkins and Blake, £15 14s. 3d. each ; Mr. W. Ward, £11 3s. 6d. ; Messrs. Yates and Blackburne, £8 18s. each ; Messrs. Wainwright and Michell, £4 7s. 1d. each ; Mr. F. J. Lee, £1 17s. 10d. ; Dr. Holmes, £1 10s. 4d. ; Mr. Herbert Jacobs, £1 2s. 9d. ; Mr. A. J. Mackenzie. 18s. 11d. ; Mr. E. G. Sergeant. 7s. 7d.
Each player who scored more than half the highest possible (5½) was termed a prize winner. The prize fund of £75 was divided into two parts - (a) the portion reserved exclusively for the prize winners ; (b) the remainder divided among the whole number of players in the competition in proportion to their scores. The value of part a is determined by the proportion which the total number of points above the average (5½) scored by the prize winners bears to the highest possible maximum of points (18) above the average in a tournament of twelve players. This part a is divided among the prize winners in proportion to the points they have each scored above the average (5½). In the present case Blake and Atkins scored three each above the average ; Ward scored two above the average ; Blackburne and Yates scored 1½ each above the average; and Michell and Wainwright 1 each above the average, or a total of 12 points in all. Therefore, 66% of the £75—viz., £50, was divided among these prize winners, according to their individual points above the average, and the remaining £25 was divided among the whole twelve players, in proportion to their final scores.
Ladies' Championship.—First prize, £10, gold medal, and custodian for twelve month of the Beaumont Trophy, Mrs. Anderson ; second, £7 10s., Miss Lawson ; third, £5, and fourth, £2 10s., divided by Mrs. Herring and Mrs. Sydney.
Mrs. Gertrude A. Anderson, the new lady champion, was born in an old-fashioned country house at Hither Green, Kent. She learnt to play chess when about ten years old, but did not have much practice until five years later. After this she enjoyed much travelling on the Continent, and used to challenge any chess players she met in the hotels in Germany and Switzerland.
In 1895 Mrs. Anderson joined the London Ladies' Chess Club, and ten years later, in 1905, and also in 1906, she won the club championship tournament : but her first appearance in connection with public chess was in a tournament at the Hastings International Congress of 1895, when she won second prize.
Mrs. Anderson has competed in all the championship tournaments promoted by the British Chess Federation, and has always reached a high place in the final score sheet, but has never previously secured premier honours. Her record previous to the present contest is appended: 1904, equal second; 1905, equal second ; 1906, second ; 1907, third ; 1908, equal first. Her record in each of the last four contests has been 8½ points. These figures are excellent testimony that Mrs. Anderson plays a sound thoughtful game, and we are sure that we voice the sentiments of all her fellow-competitors in saying that her success at Scarborough gave general pleasure. Her talents as a player are not confined to vis-à-vis encounters. She can play two games blindfold very comfortably, and is always glad of an opponent for a bout of chess sans voir.
In forwarding, at our request, her portrait for reproduction in the Mrs. Anderson says : —"I always enjoy the Federation Congresses immensely : they go so smoothly, and the players are all so nice that it is a pleasure to play against them. You scarcely ever find a bad loser nowadays. at any rate, not amongst the ladies."
First CIass Amateurs Tournament.—Section A — First, £12, Mr. F. S. Smith ; second. £8, and third. £4, divided by Messrs. E. D. Palmer and F. J. Allcock. Section B. - First, £12, Mr. G. Shories; second, £8, Mr. W. A. Paley Hughes; third, £4, Mr. W. H. Gunston. Section C.—First. £12, Mr. H. W. Shoosmith; second, £8, and third, £4, divided by Messrs. J. E. Parry and H. E. Price.
Second Class Amateurs Tournament.—Section A.—First, £8; second, £4, and third, £2, divided by Messrs. Funk, Hago, and Moss. Section B.—First. £8. Mr. H. Pinkerton ; second, £4, and third, £2, divided by Messrs. W. Parker and M. J. Patay de Baj. Section C.—First, £8 ; second, £4, divided by Messrs. A. Cliff and J. Macalister ; third, £2, divided by Mr. S. Jackson and the Rev. A. Baker.
Third Class Amateurs Tournament.—Section A.—First, £4, Mr. C. F. H. Packer ; second, £2, Mr. F. J. Backhouse ; third, £1, Mr. E. Howes. Section B. —First, £4; second, £2. divided by Miss Abrahams and Mr. W. Lyon : third, £1, Mr. J. G. Reeve. Section C.—First. £4. Mr. H. Williams : second, £2, and third, £1, divided by Miss Tapsell and Mr. F. R. Pickering.
First Lightning Tourney (48 competitors).—1, Mr. G. Shories, 30s. ; 2, Mr. J. E. Parry, 20s.; 3, Mr. F. J. Lee, 12s. 6d.; 4, Mr. J. G. Reeve. 7s. 6d.
Second Lightning Tourney.—Equal 1st, Mr. Herbert Jacobs and Mr. A. J. Mackenzie, £1 7s. each; equal 3rd, Mr. J. C. Waterman and Mr. F. J. Lee, 11s. each.
Problem Solving Competition. — Equal 1st, Mr. J. Keeble and Mr. J. W. Dixon, with full points (48), 18s. each.
Retractor Solving Conpetition.—1. Mr. C. Salt, one guinea (Mrs. Baird's prize) : 2. Mr J. Keeble, 15s. ; (Mr. E. J. Winter-Wood's prize) ; extra prize, Mr. J. W. Dixon (Mrs. Baird's Seven Hundred Chess Problems).
Handicap (35 entrants). —1. Mr. A. Louis, £2 ; 2, Rev. E. Griffiths, £1 15s.; equal 3rd, Mr. W. R. Todd and Rev. H. F. Hawkes, £1 2s. 6d. each; 5, Mr. J. G. Reeve, 10s.
The problem-solving contest took place on Saturday, August 14th, when four problems were submitted to sixteen competitors. Two of the positions were in two moves, by Mr. P. H. Williams ; and two were three-movers, one by Mr. L. P. Rees and the other by Mr. Max J. Meyer. No surprise was manifested when the judges, Mrs. W. J. Baird and Mr. F. R. Adcock, decided that Mr. J. Keeble, of Norwich, and Mr. J. W. Dixon, of Hanley, were winners with 48 points each.
On the Monday. August 16th, nineteen competitors essayed to elucidate the mysteries of a Special Retractor problem composed by Mrs. Baird. Probably some of the entrants overestimated their powers in regard to this class of problem, as only two competitors, Mr. C. Salt, of West Hartlepool, and Mr. Keeble, were quite correct
Lightning tourneys have apparently outlived the animosity with which they were regarded some years ago—mostly by players of old-fashioned ideas. They appear now welcome adjuncts to every large chess gathering.
The prize of five guineas offered by Mr. F. G. Nauman, London, first president of the Federation, for the winner of the most brilliant game, was supplemented by another gift of three guineas by Mr. Councillor J. Burgess, president of the Northern Union, who, however, stipulated that only lady players should be eligible to compete for his prize. Later Mr. E. N. Frankenstein, of London, offered two guineas for the second best game, this without restrictions.
Brilliancy in chess cannot be produced to order, and there was not noted anything more sparkling in the play at Scarborough than in former meetings of the Federation.
But we all love the games we win neatly, and there is little doubt that Mr. Hoffer, the judge, has his pockets stuffed with competing games, the judgment upon which we hope he will regard as a delightful recreation for his leisure hours.
In these days of hard and heavy play, it is pleasant to find gentlemen who desire to encourage the more artistic side of chess, and it may, parenthetically, be noted that two of the three donors are men of mature years.
The Scarborough Congress.—Award of the Brilliancy Prizes.—Thirty games were entered to compete for the Brilliancy prizes offered by Messrs. Naumann, Burgess, and Frankenstein, and the whole of these have been submitted to, and carefully adjudicated upon, by Mr. Leopold Hoffer, whose Award is appended : —
I award :—
1. Mr. Naumann's prize of £5 for the most brilliant game played in the eleven regular sections of the Scarborough Congress Tournaments to Dr. H. Holmes, for his game against Mr. F.D. Yates in the British Championship Tournament.
2.         Mr. Councillor Burgess' prize of £3 3s. for the most brilliant game played by a lady to Mrs. Houlding, for her game against Miss Taylor, in the British Ladies' Championship Tournament.
3.         Mr. E. N. Frankenstein's prize of £2 2s. for the next most brilliant game, excluding the above two games, to Mr. W. H. Gunston, for his game against Mr. P. Wenman and Mr. G. Shories, for his game against Mr. J. W. Dixon, tie—one guinea each.    L. HOFFER, Judge.
September 2nd, 1909.
We congratulate Dr. Holmes upon having secured the premier prize with his very fine game against the Yorkshire champion. With regard to Mrs. Houlding's game against Miss Taylor, Mr. Hoffer remarks that it "has a first class ending."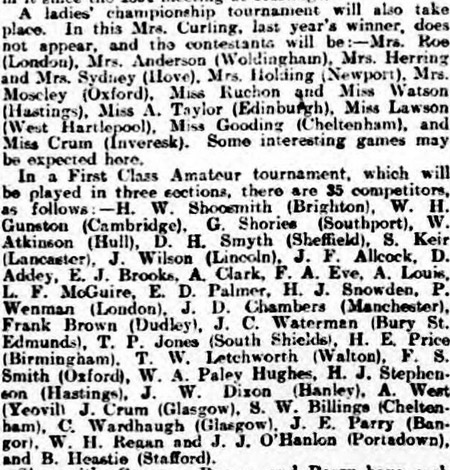 (Extract from Yorkshire Post and Leeds Intelligencer - Monday 09 August 1909)
---
File Updated
| Date | Notes |
| --- | --- |
| 8 February 2018 | Added the game Schories-Clark (Round 8, First-Class B). Added round number and date played to other subsidiary event games, inserted crosstable scans for all events and added photos. |
| 10 January 2021 | Added the game Schories-Gunston (Round 3, First Class B). |
| 16 January 2021 | Added the games Agnes Lawson v Frances Herring, Rd 7, Ladies Championship. Many thanks to Brian Denman for sending. |