BRITBASE - British Chess Game Archive
Britbase Chess Archive : Material from the 1930s - Part 2
Last Edited: Tuesday January 5, 2021 6:39 PM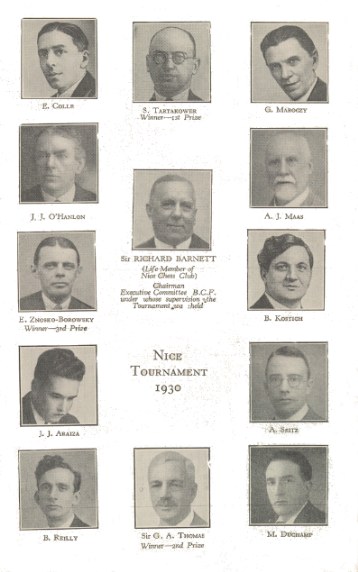 Nice 1930, 13-23 February
1930 Nice Masters (France)
Nat'y
1
2
3
4
5
6
7
8
9
10
11
12
Total
1
Tartakower,Saviely
FRA
1
1
½
1
1
½
½
1
½
1
1
9
2
Thomas,George Alan
ENG
0
1
1
½
1
½
1
1
½
1
1
8½
3
Znosko Borovsky,Eugene
FRA
0
0
1
1
½
1
1
½
1
1
1
8
4
Kostic,Boris
YUG
½
0
0
½
½
1
½
1
1
1
1
7
5
Colle,Edgard
BEL
0
½
0
½
½
1
1
1
0
1
1
6½
6
Maroczy,Geza
HUN
0
0
½
½
½
½
1
1
½
1
1
6½
7
Seitz,Jakob Adolf
SUI
½
½
0
0
0
½
½
½
1
1
1
5½
8
Araiza Muñoz,José Joaquín
MEX
½
0
0
½
0
0
½
½
1
1
1
5
9
Duchamp,Marcel
FRA
0
0
½
0
0
0
½
½
1
1
1
4½
10
Reilly,Brian Patrick
IRL
½
½
0
0
1
½
0
0
0
1
½
4
11
Maas,Arthur J
FRA
0
0
0
0
0
0
0
0
0
0
1
1
12
O'Hanlon,John
IRL
0
0
0
0
0
0
0
0
0
½
0
½
---
Girls' Chess in the 1930s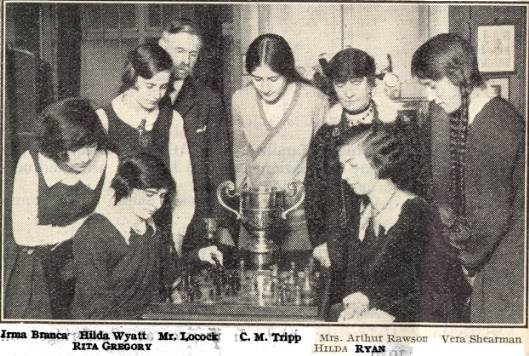 ---
8th Girls' Chess Congress 1933
(BCM, February 1933, p65 - no photo included)
The 8th Girls' Chess Congress finished on January 21 [1933], and as usual provided an enjoyable time for all concerned. The standard of play improves every year, and double rounds were played in both Senior and Junior Sections.
The Girls' Championship Cup has been accepted by the F.I.D.E., and the championship is conducted in accordance with the wishes of the Federation. The winner is recognised as Girl Chess Champion of the World.
Entries have been well maintained. As against seven in 1932, there were six this year, but one competitor failed through illness and another because the date fixed for the contest was after the termination of the holidays, and two others did not enter for the same reason.
Illness, and particularly the prevalent 'flu, also interfered with the Junior Cup Competition, and the original good entry dwindled down to eight, and eventually only six finished their games. The contests, however, lost nothing in interest and enthusiasm.
A new-comer (unfortunately for one year only) was a young Swiss girl 20 years of age, Miss Edith Zimmermann, who was inspired to enter forty-eight hours before the commencement of the Championship Tournament, although up to that time she did not even know the moves. Nevertheless she succeeded in winning one game against Miss Irene Casserley, and in making a very good fight in most of the others. She is far-sighted, clear-headed and, considering her very limited experience, seldom makes bad oversights. She should go far.
Miss Honor Bullen proved undefeatable in the Championship, and again, as last year, won all her games, 6 points, thus equalling Miss Rita Gregory's record on winning in three successive years—a triumphal progress of which she has reason to be proud. All offer her their warmest congratulations on a fine and popular win. Irene Casserley was second with 3 points, and Muriel Ballard third with 2.
The Junior Girls' Challenge Cup, presented by Mrs. Arthur Rawson in 1931, was also competed for, and was won "hands down" by Miss Rene Withers, quite one of the most promising of all these young players. She has only played chess for 14 or 15 months, but tied in 1932 for second place for this Cup, and has this year come through with flying colours—winning 9 out of 10 games in a manner most devastating to her opponents. From all appearances she must have worked hard, as her game has become steady and settled, and she plays with enviable coolness and foresight, and is a quiet and generous player. Altogether she richly deserves her splendid success. Eileen Wadley and Eileen O'Dell tied for second place with 5½, and Gladys was fourth with 5 points.
The promoters and competitors offer the committee of the Imperial Chess Club, 62 Brook Street, London, W.l, their most grateful thanks for so kindly allowing the play to take place at the Club. Several prizes were offered through the generosity of the members, who subscribed to the Prize Fund, and boxes of chocolates presented to all non-winners of prizes.
The Championship Cup carries with it a small replica, presented by Lady Margaret Hamilton-Russell, and the Junior Cup a silver medal given by Mrs. Arthur Rawson.
Previous winners of the Girls' Open Championship are :—
1926 Miss Vera Menchik. 1930 Miss Rita Gregory.
1927 Miss Vera Menchik. 1931 Miss Honor Bullen.
1928 Miss Rita Gregory. 1932 Miss Honor Bullen.
1929 Miss Rita Gregory. 1933 Miss Honor Bullen.
[written by] M.R.H.R. [in all probability, Margaret Rachel Hamilton-Russell - Wikipedia, photo at BritBase]
---
9th Annual Girls' Chess Tournament 1934
(BCM, March 1934, p109)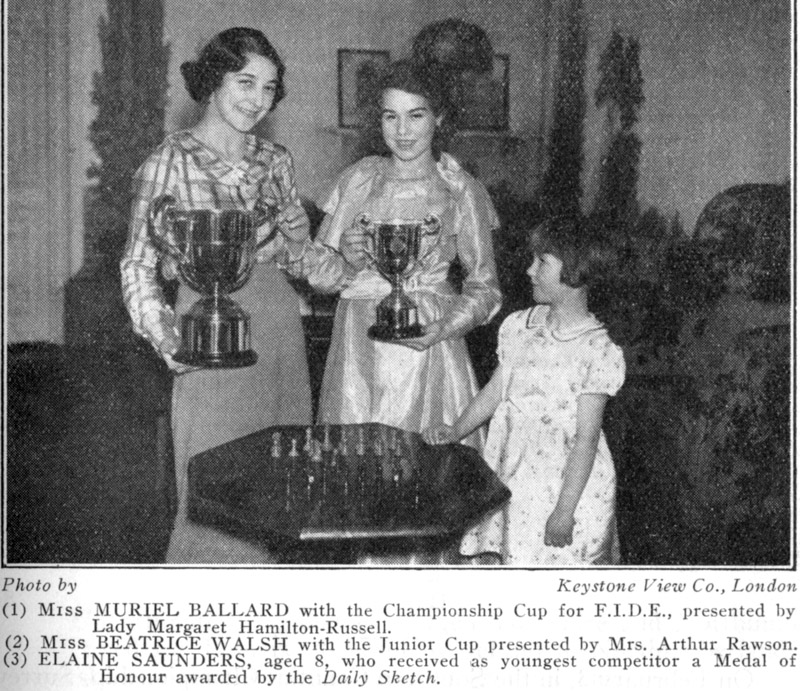 "The Girls' 9th Annual Chess Tournament.—Through the kind hospitality of Lady Margaret Hamilton-Russell, a cheerful and happy afternoon was spent at 3 Cambridge Gate on Sunday, February 4, when the girl chess competitors received their prizes. The silver gilt cup (including replica) presented by Lady Margaret Hamilton-Russell for the F.I.D.E. championship for girls of any nationality under 21 years of age was won by Miss Muriel Ballard. The silver cup (including medal) presented by Mrs. Arthur Rawson for girls under 16 was won by Miss Beatrice Walsh. Other prizes were awarded, and unsuccessful competitors were consoled by receiving a box of chocolates. Miss Elaine Saunders, aged 8 years, played remarkably well, and has become a member of The Imperial Chess Club, 62 Brook Street, Grosvenor Square, W.1."
---
Problem Editor of BCM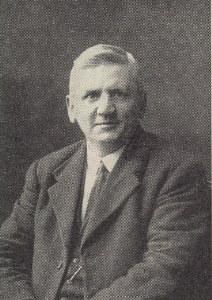 TR (Thomas Rayner) Dawson, born 28 November 1889, died 16 December 1951: a problemist who was noted for his contribution to Fairy problems. He was for many years the Problem Editor of the British Chess Magazine.