BRITBASE - British Chess Game Archive
Tournament: 4th NatWest Young Masters • All 45 games •
edited: Sunday, 30 April, 2023 9:43 AM


Venue: Fairway Inn, Bayswater, London • Date: 3-11 October 1987 • Download PGN
1987 4th NatWest Young Masters, 3-11 October, Fairway Inn, Bayswater, London
4th NatWest Young Masters
London 1987
Nat'y
Elo
1
2
3
4
5
6
7
8
9
10
Total
1
Gary William Lane
ENG
2285
½
½
½
1
1
1
1
1
1
7½
2
Keith C Arkell
ENG
2400m
½
½
½
1
1
1
0
1
1
6½
3
Michael Adams
ENG
2360
½
½
½
0
1
1
1
1
1
6½
4
Andrew D Martin
ENG
2375m
½
½
½
½
½
½
½
½
½
4½
5
Tarek Fatin
EGY
2305m
0
0
1
½
½
1
1
½
0
4½
6
Byron A Jacobs
ENG
2390
0
0
0
½
½
1
½
½
1
4
7
Stephen R Mannion
SCO
2280
0
0
0
½
0
0
1
1
1
3½
8
Andrew J Whiteley
ENG
2380
0
1
0
½
0
½
0
½
½
3
9
Francis Rayner
WLS
(2200)
0
0
0
½
½
½
0
½
1
3
10
Kiriakos Vlahos
GRE
2275
0
0
0
½
1
0
0
½
0
2
Category 3, average rating 2325, IM norm = 6½. Final IM norms for Gary Lane and Michael Adams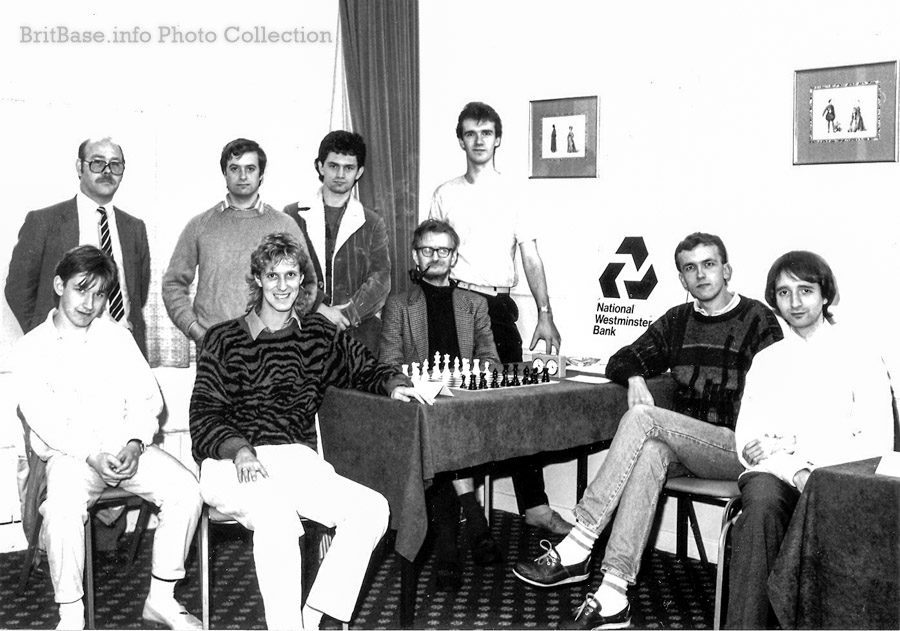 Standing, left to right: Shaughan Feakes (arbiter), Keith Arkell, Byron Jacobs, Steve Mannion.
Seated, left to right: Michael Adams, Gary Lane, Andrew Whiteley, Andrew Martin, Francis Rayner.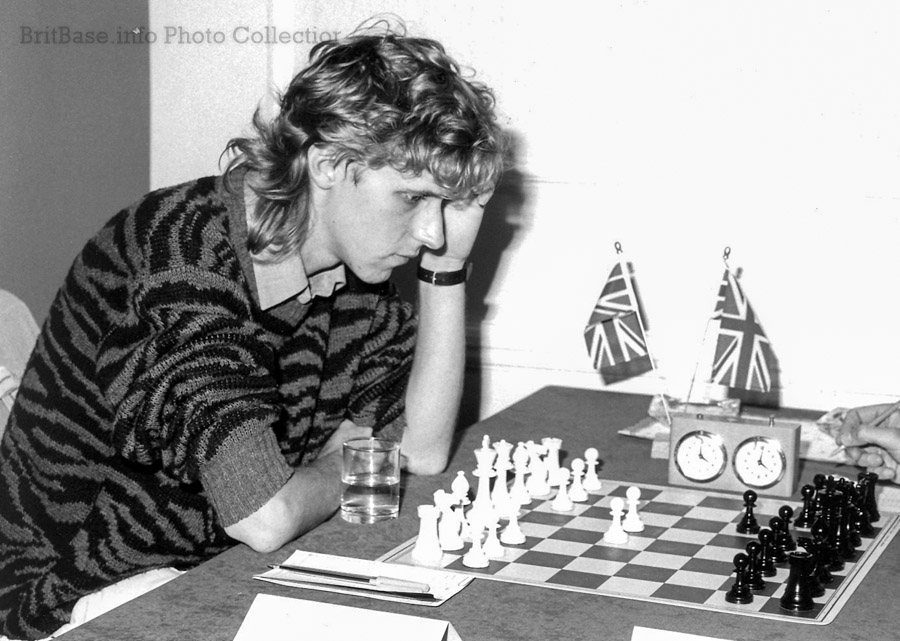 Gary Lane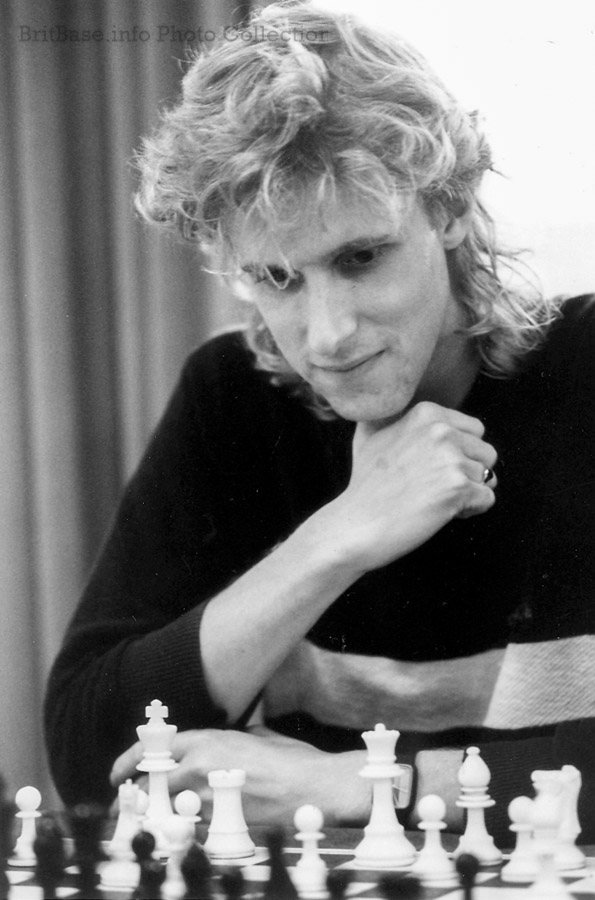 Gary Lane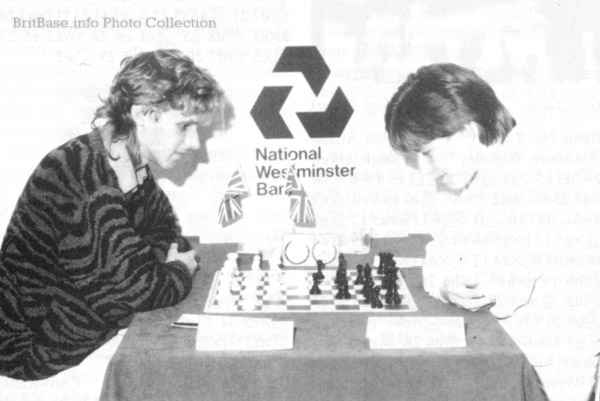 Gary Lane v Michael Adams (posed game: in the tournament Adams was White vs Lane)
[BCM, November 1987, ppn 492-493]
Natwest Young Masters — Gary Lane of Paignton had the best result of his career when he won the 4th "Young Masters" tournament ending at Bayswater on 11 October: 1 Lane 7½(9), gaining the IM title; 2-3 Michael Adams (clinching his title), K. Arkell 6½; then a big gap to 4-5 Martin, Fatin (EGY) 4½; 6 Jacobs 4; 7 Mannion (SCO) 3½; 8-9 Whiteley, Rayner (WAL) 3; 10 Vlahos (GRE) 2. No games seen yet! Gary Lane joked "Now I will be able to eat at foreign tournaments!"
[BCM, December 1987, ppn 519-520]
NATWEST TOURNAMENT
World's Youngest Chess Master
by Shaughan Feakes
The annual NatWest Young Masters Chess Tournament provides a rare opportunity in England for chess players to gain the title of IM. On each of the three previous occasions one person had gained his final norm towards the IM title.
This time the result was even more spectacular in that two players achieved their final qualification, and one of them, 15-year-old Michael Adams of Truro, has in the process become the world's youngest current IM. The other, 22-year-old Gary Lane of Paignton, won the event outright with the staggering score of 7½ from 9 games, a full point clear of Adams and Keith Arkell.
The competition took place at the Bayswater Inn in London from the 3rd to the 11th October. It was organised as usual by the local Kings Head Chess Club, one of Britain's most prominent and successful clubs, and consisted of 10 invited players participating in a nine-round all-play-all. No fewer than five of the players had targets other than prize money: Jacobs, Whiteley, Adams and Lane were all seeking their final IM norm and Francis Rayner was aiming for a FIDE rating. Achievement of any of these targets was going to be particularly difficult due to the strength of the entry (Category 3, average rating 2325).
At the half way stage it was clear that Jacobs and Whiteley were going to miss the mark, while Lane and Adams were making their qualification look like mere formalities. Rayner, too, was playing well enough to suggest that he would reach his target of 3 points. Arkell was quietly accumulating enough points to indicate that he would be involved in the prizes, while the rest of the field were left to scavenge the meagre leavings.
At the start of round 8, Lane needed one draw from his remaining two games to attain his final norm. A draw with Martin duly secured his goal: he now wanted to ensure that his rating would reach the minimum level of 2350 to ensure ratification of his title in November. Meanwhile Adams, needing one point from his final two games, suffered a setback at the hands of Fatin in a fascinating encounter. He now had to win with Black in the last round against Rayner, who had already guaranteed himself a rating, but was looking for an improvement on his potential 2215.
When round 9 got under way, attention naturally focussed on Rayner v Adams, but the spectators' interest suddenly shifted to Lane's rook sacrifice against Fatin. He followed up in fine style to finish with the truly remarkable total of six wins and three draws. Rayner was busily entrenching himself, and progress for Adams was looking bleak around move 50. Suddenly Adams broke through to reach an ending of N + h-pawn v f-, g- and h- which he duly converted into a win. Within five minutes of Adams' final move, Leonard Barden rang the hotel asking for the latest news! England's two newest IMs-elect were given their due in the national press the following day, and a detailed report appeared on teletext that same evening.
Although many of the players were disappointed with their results, they were generous in their praise of the tournament venue and conditions. For my part, I would like to say that it was again a pleasure to control what is generally reckoned as one of Britain's most attractive and successful events.
---
File Updated
| Date | Notes |
| --- | --- |
| 18 October 1998 | File first uploaded as a zipped file. |
| 30 April 2023 | Updated with a games viewer, crosstable and some photos. Note that there has been a correction to the score of Whiteley-Arkell (rd 7) - a final move (28 Rc1) added. |