BRITBASE - British Chess Game Archive
Tournament: 3rd Lloyds Bank Masters • 189 games

Venue: Ivanhoe Hotel, London • Date: 22–30 August 1979
• Download PGN •
uploaded Tuesday, 27 July, 2021 11:18 AM
1979 Lloyds Bank Masters, London, 22–30 August • link to earlier/later Lloyds Bank Masters 1978 «» 1980
1979 Lloyds Bank Masters
Nat'y
Elo/Title
1
2
3
4
5
6
7
8
9
Total
1
Murray G Chandler §
NZL
2380m
+53
+20
+41
=3
=4
=38
+21
=5
+13
7
2
Aldo Haik
FRA
2435m
=27
+48
–11
+25
=54
+29
+22
+14
+5
7
3
Heikki Westerinen
FIN
2465g
+12
=46
+80
=1
+35
=5
+6
+20
=4
7
4
Borje Jansson
SWE
2410
+25
=5
+52
+54
=1
=6
=13
+10
=3
6½
5
George S Botterill
WLS
2390m
+18
=4
+42
+21
+13
=3
=10
=1
–2
6
6
Colin S Crouch
ENG
2300
+70
=21
+19
=41
+7
=4
–3
+66
=12
6
7
David Friedgood
ENG
2310
+77
=38
=57
+39
–6
+34
=12
+35
=9
6
8
Daniel J King
ENG
2265
+78
–12
=17
=82
+68
=27
+77
+26
=18
6
9
Simon J B Knott
ENG
2210
=34
+82
=10
+47
–41
+40
=54
+24
=7
6
10
Andrew P Law
ENG
2375
+23
=32
=9
+46
=20
+35
=5
–4
+15
6
11
Paul E Littlewood
ENG
2405
=42
+43
+2
–13
+27
–14
+58
=21
+20
6
12
Steven M Odendahl
USA
2370
–3
+8
=40
+81
=26
+69
=7
+38
=6
6
13
Margeir Petursson
ISL
2420m
=40
+81
+50
+11
–5
+30
=4
+25
–1
6
14
Vaidyanathan Ravikumar
IND
2305m
–50
+72
+36
+71
=28
+11
=20
–2
+21
6
15
Bram Van Dijk
NED
=67
–74
+76
+55
+66
=58
=24
+41
–10
5½
16
John C Hawksworth
ENG
=73
+53
–20
–31
+55
=37
+61
=22
+45
5½
17
Jonathan Kinlay
ENG
2310
–60
=64
=8
–84
+85
+68
+34
=36
+50
5½
18
Yair Kraidman
ISR
2445g
–5
–35
+61
=37
=47
+52
+29
+54
=8
5½
19
John L Watson
USA
2375m
+92
–26
–6
–36
+56
+57
+44
=50
+54
5½
20
John Van Baarle
NED
2325
+33
–1
+16
+32
=10
+41
=14
–3
–11
5
21
Michael J Basman
ENG
2405
+90
=6
+27
–5
+40
+28
–1
=11
–14
5
22
Richard Britton
ENG
2300
–46
+89
–28
+52
+67
+60
–2
=16
=49
5
23
Carlos Cuartas Bedoya
COL
2425m
–10
=77
+85
=34
+31
–54
=30
+51
=35
5
24
Nigel R Davies
ENG
2220
=74
–57
=31
+87
+49
+53
=15
–9
=32
5
25
Michael J Franklin
ENG
2345
–4
=39
+44
–2
+82
+74
+46
–13
=30
5
26
Maxwell L Fuller
AUS
2380
+75
+19
=54
–35
=12
+50
=38
–8
=28
5
27
Mark Ginsburg
USA
2340
=2
+47
–21
+74
–11
=8
=33
=40
+41
5
28
David S C Goodman
ENG
2340
=38
=85
+22
+57
=14
–21
=39
=46
=26
5
29
Stephen O N Hawes
ENG
–87
=78
+73
+65
+63
–2
–18
+74
=37
5
30
Julian M Hodgson
ENG
2285
=66
=67
=74
+63
+42
–13
=23
=39
=25
5
31
Byron A Jacobs
ENG
–63
+94
=24
+16
–23
=33
–40
+62
+66
5
32
Leslie M Leow
SGP
2280
+69
=10
=58
–20
=74
–44
+81
+47
=24
5
33
John G Nicholson
ENG
2310
–20
=69
+68
=42
=53
=31
=27
+58
=43
5
34
Alan J Norris
SCO
=9
=56
+90
=23
+88
–7
–17
+84
=44
5
35
Malcolm Pein
ENG
2200
+83
+18
=38
+26
–3
–10
+60
–7
=23
5
36
Leon Pliester
NED
=82
+45
–14
+19
=46
+77
–41
=17
=38
5
37
John M Quinn
ENG
=49
–44
+83
=18
=61
=16
+70
=45
=29
5
38
Mehrshad Sharif
IRN
2445m
=28
=7
=35
+48
+51
=1
=26
–12
=36
5
39
Wim Westerveld
NED
2250
+61
=25
+60
–7
–50
+71
=28
=30
=40
5
40
Yochanan Afek
ISR
2340
=13
=62
=12
+80
–21
–9
+31
=27
=39
4½
41
Rosendo Balinas
PHL
2365g
+44
+51
–1
=6
+9
–20
+36
–15
–27
4½
42
Paul Boersma
NED
2350
=11
+59
–5
=33
–30
+75
–51
+67
=53
4½
43
David H Cummings
ENG
2265
+65
–11
–48
=56
–44
+80
=52
+79
=33
4½
44
Mark L Hebden
ENG
2230
–41
+37
–25
=79
+43
+32
–19
=60
=34
4½
45
Clive Hill
ENG
=81
–36
–65
+78
+64
=61
+79
=37
–16
4½
46
Gert Iskov
DEN
2370m
+22
=3
=67
–10
=36
+51
–25
=28
=52
4½
47
Andrew P Lewis
ENG
+55
–27
+59
–9
=18
–66
+82
–32
+57
4½
48
Andrew D Martin
ENG
2330
=62
–2
+43
–38
=81
–84
+71
+65
=51
4½
49
Michael Ashley Pagden
ENG
2265
=37
+90
–51
=75
–24
=81
+63
=53
=22
4½
50
H James Plaskett
ENG
2410
+14
=80
–13
=66
+39
–26
+69
=19
–17
4½
51
Nigel E Povah
ENG
2325
+91
–41
+49
+58
–38
–46
+42
–23
=48
4½
52
Peter J Sowray
ENG
2210
+94
=66
–4
–22
+80
–18
=43
+69
=46
4½
53
David J Strauss
USA
2345
–1
–16
+64
+92
=33
–24
+84
=49
=42
4½
54
Piet van der Weide
NED
2290
+88
+60
=26
–4
=2
+23
=9
–18
–19
4½
55
Peter K Wells
ENG
–47
=83
+78
–15
–16
+87
=72
=70
+74
4½
56
Keith Allen
IRL
=57
=34
–77
=43
–19
=82
+80
=72
=58
4
57
Terry B Bennett
ENG
2290
=56
+24
=7
–28
–60
–19
+76
+61
–47
4
58
Gary M Clark
ENG
2300
+76
=91
=32
–51
+75
=15
–11
–33
=56
4
59
John Delaney
IRL
2205
+93
–42
–47
–68
+89
=72
–74
+85
=64
4
60
John Donaldson
USA
2310
+17
–54
–39
+62
+57
–22
–35
=44
=70
4
61
Ronald F A Harman
ENG
–39
+70
–18
+89
=37
=45
–16
–57
+81
4
62
Sheila Jackson
ENG
2095
=48
=40
–71
–60
+90
+67
–66
–31
+82
4
63
Michael Macdonald–Ross
SCO
2265
+31
–88
=91
–30
–29
+64
–49
+73
=68
4
64
Daniel Eric Mayers
USA
=72
=17
–53
=70
–45
–63
+89
+71
=59
4
65
Andrew J Muir
SCO
–43
=76
+45
–29
–79
=83
+78
–48
+84
4
66
Nicholas J Patterson
IRL
2350
=30
=52
=88
=50
–15
+47
+62
–6
–31
4
67
John C Pigott
ENG
2370
=15
=30
=46
=77
–22
–62
+85
–42
+72
4
68
Anthony J Stebbings
ENG
–80
+93
–33
+59
–8
–17
+75
=81
=63
4
69
Shaun M Taulbut
ENG
2395m
–32
=33
+84
=88
+71
–12
–50
–52
+79
4
70
Federico Zullo
ITA
–6
–61
+72
=64
+76
=79
–37
=55
=60
4
71
Stewart Byrne
AUS
=85
+92
+62
–14
–69
–39
–48
–64
+87
3½
72
Richard F Holmes
ENG
=64
–14
–70
=73
+87
=59
=55
=56
–67
3½
73
Stephen G R Kerr
AUS
=16
–84
–29
=72
–78
=89
+83
–63
+90
3½
74
Alan Reid
SCO
=24
+15
=30
–27
=32
–25
+59
–29
–55
3½
75
Marco Silva Morales
COL
2295
–26
+87
=82
=49
–58
–42
–68
=83
+86
3½
76
Sinclair Thomas Banks
ENG
–58
=67
–15
+83
–70
=78
–57
=87
=80
3
77
Graham D Hillyard
ENG
2325
–7
=23
+56
=67
+84
–36
–8
3
78
Wolfgang Fiedler
FRG
–8
=29
–55
–45
+73
=76
–65
–82
+93
3
79
Colin P Garwood
ENG
+93
=44
+65
=70
–45
–43
–69
3
80
Leifur Josteinsson
ISL
2325
+68
=50
–3
–40
–52
–43
–56
+93
=76
3
81
Leo J Kerkhoff
NED
2300
=45
–13
+87
–12
=48
=49
–32
=68
–61
3
82
Michael W Marlow
ENG
2360
=36
–9
=75
=8
–25
=56
–47
+78
–62
3
83
Andrew Rolfe
ENG
–35
=55
–37
–76
+93
=65
–73
=75
=85
3
84
William N Watson
ENG
2265
–89
+73
–69
+17
–77
+48
–53
–34
–65
3
85
Ian D Wells
ENG
=71
=28
–23
=91
–17
+90
–67
–59
=83
3
86
Andrew J King
ENG
+93
+90
=
–75
2½
87
Michael J Yeo
ENG
2200
+29
–75
–81
–24
–72
–55
+93
=76
–71
2½
88
Karl Burger
USA
2365
–54
+63
=66
=69
–34
2
89
Ignacy Branicki
NED
+84
–22
–92
–61
–59
=73
–64
–90
=
2
90
Geza Fuster
CAN
2300m
–21
–49
–34
+93
–62
–85
–86
+89
–73
2
91
Robert Gruchacz
USA
2355
–51
=58
=63
=85
1½
92
Kevin J Wicker
ENG
2315
–19
–71
+89
–53
1
93
Peter Heaven
WLS
–59
–68
–79
–90
–83
–86
–87
–80
–78
0
94
David I Lister
ENG
–51
–31
0
§ placed first on tie–break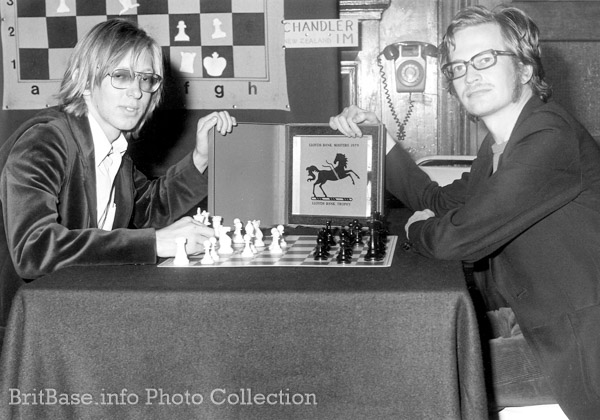 Murray Chandler (New Zealand, left) and Heikki Westerinen (Finland) with the Lloyds Bank Trophy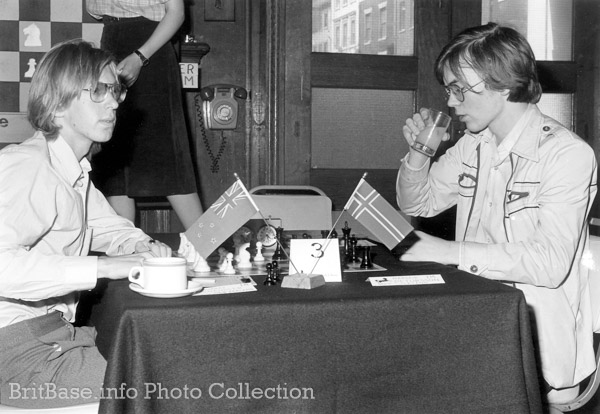 Murray Chandler defeated Margeir Petursson (Iceland, right) in the final round to take the trophy on tie-break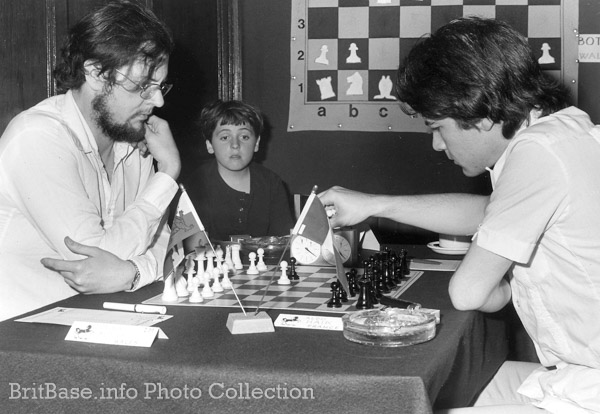 Aldo Haik (France, right) defeated George Botterill in the last round to share the first prize with Chandler and Westerinen
---
BCM, November 1979, pps 525-532 - report by George Botterill
The third in the series of international chess tournaments sponsored by Lloyds Bank was held in the Ivanhoe Hotel, a conveniently central site not a mummy's wrappings from the British Museum. There were 94 players foregathered from 22 different countries for the 9-round Swiss tournament.
Problems of the usual sort were encountered with last-minute withdrawals. It must have come as something of a shock to the congress director, London's chess impresario Stewart Reuben, when five IMs and one woman master backed out in the last two days. However, he took it phlegmatically, telling me that he wasn't too bothered because he was saving money that would otherwise have been shelled out on appearance fees.
A rather more serious deficiency was the absence of a 2600+ Elo-rated grandmaster, whose participation had been bruited in the advance publicity. Hort was the world-class player that the organizers had in mind, and he is always a very welcome visitor to this country. But unfortunately Vlastimil couldn't or wouldn't – well, at any rate, just didn't come. The line-up was still pretty strong, with 3 GMs and 11 IMs in the field. Yet the absence of a fourth GM was quite critical as far as chances of GM-norms were concerned. Under the new dispensation, in order to register a GM-norm you have to:
1) put in a minimum rating performance of 2600;
2) play in a tournament of at least category 7 — i.e., of minimum average rating 2401 (and remember you must -not altogether logically - include your own rating in arriving at the tournament average);
3) play at least 3 GMs in a 9-round tournament.
In accordance with the last requirement anyone striving for the GM-norm would have to play all of the grandmasters in the tournament – namely, Balinas, Kraidman and Westerinen. And that, as events were to prove, might not be possible without fiddling the pairings.
To spare unendurable suspense, I shall give the results first and then proceed to play, personalities, etc. [results - see crosstable above]
Those were the main prizewinners. In addition there were various other 'mystery' prizes. I mean that some of them were a mystery to me. For example, Jonathan Kinlay, with 5½/9, was awarded a cine-camera on the rather flimsy grounds that he was the highest-placed untitled London player! (This may end my chances of even a bit-part in his home-movies.)
Everyone loves a winner, but sponsors go for a sole winner. So a tie-break by sum of opponents' scores was applied, which made 19-year-old IM Murray Chandler the Lloyds Bank Master for 1979. This system of tie-breaking is a pernicious practice that should be incessantly pilloried and ridiculed until its discontinuation is ensured. There is no 'perfectly fair' tie-breaking system, but 'SOS' seems to me to be of a peculiarly impudent arbitrariness. Is it your fault if you get fed a fish in round one? Nonetheless, I ought to add that in fact, if only by fortune, the tie was resolved (as in the British Championship at Chester) in favour of the player who most consistently played the best and most convincing chess.
The story of the battle for the lead can be briefly told. Chandler, Botterill and Westerinen swopped around first place between themselves throughout most of the tournament with never more than half a point in it. The Finnish GM had rather less to worry about than his two IM rivals, since they were also engaged in the pursuit of GM-norms. In the end both Murray and I found it impossible to sustain all the technical qualifications required. Murray's 'average tournament' slipped irredeemably beneath a rating of 2400 when we met in the penultimate round. In the meantime I could not manage to play my third GM, since Balinas, out of form and not in the best of health, never managed to notch up enough points for me to be decently paired against him.
Come the last round, Westerinen is half a point ahead. He is playing against the Swedish policeman Borje Jansson. Jansson had told me that he was 'only over here for a holiday'. But he has been playing with massive solidity and it is no surprise when their game is a short draw. This allows Chandler to catch up with Westerinen by winning in good style against Petursson. I am paired against Haïk, the French number one, who has emerged from the pursuing pack. The Frenchman gets a cramped and prospectless position. But then some imp of temptation lures me into an attack that is crude and anti-positional. Hence the final placings.
Of course lots of other interesting things are going on. Basman amazes and entertains by opening 1 g4 with White and either 1...g5 or 1...b5 with Black. Of course, it's mad, quite mad. Still, nobody actually manages to refute it, and when you look at his games you find that he sometimes gets quite reasonable positions ... But no! It's wrong, insane, demented. You mustn't start to think that way or your mind may start to go basmanic too. You will now be subjected to this prime example of Basmania from round 6 (but dear me! - the conclusion does not conform to the best traditions of abreactive therapy):
[annotation of Basman-Goodman]
A magnificent game of chess. It makes you wonder what Basman would be capable of if he played a real opening. Such a talented player, the gods are making him go through hard labour for his IM title. He needed a win in the last round to get a norm here, but went down to the Asian Junior Champion, IM Ravikumar.
I mentioned that the tournament was played at the 'Icelandic Modern' rate, so dubbed because it was first introduced at Reykjavik. This involves two time-controls in the first session, here 30 moves in the first 100 minutes and then 18 more moves in the next hour. My impression was that this was helpful to time-trouble addicts since it forced them to stick to a schedule. But probably the veteran Canadian (and ex-Hungarian) IM Geza Fuster would not agree with me, as he lost 6 of his games on time. After a couple of rounds Stewart Reuben held a vote on whether the time control should be changed in response to various complaints. There was a narrow majority in favour of ditching the 'Icelandic Modern' rate, but it was too slender (40-35 or thereabouts) to justify a switch. I suspect that by the end of the tournament more people would be sympathetic to this new time control.
A delightful feature of the event was that in each round one of the more interesting games was demonstrated by a noted player in an analysis room. The audience were usually eager to join in with their own suggestions. It would be nice if such a service were more generally provided for spectators at British tournaments. Shaun Taulbut did the commentary on this game, so I am indebted for the notes both to him and his audience:
[annotation of van Baarle-Balinas]
It is obvious that this tournament is so popular largely because of the chances it offers for title-norms. Four players achieved the IM norm - Borje Jansson, Colin Crouch, Paul Littlewood and Steve Odendahl. For both Littlewood and Odendahl this was the final performance needed in order to secure the title. No less than 16 players made FIDE Master norms: David Friedgood (6), Daniel King (6), Simon Knott (6), Andrew Law (6), Michael Basman (5), John van Baarle (5), Mark Ginsburg (5), Max Fuller (5), David Goodman (5), Julian Hodgson (5), Malcolm Pein (5), Leon Pliester (5), Jim Plaskett (4½), Nigel Povah (4½) and Peter van der Weide (4½). I would suggest that the main desideratum for next year is a few more GMs, preferably with 2500+ ratings, so that we can also see some GM-norms registered.
The Lloyds Bank Masters was more than just a tourney. It was a feast of chess, with blitz tournaments every evening, a memorable showing of the Russian silent movie 'Chess Fever', starring Capablanca, a Brain Trust about all subjects chessical, and so on. The Lloyds Bank Junior Invitation Tournament was played in the mornings. An excellent idea this, as the juniors – if they were not already hacking IMs and GMs to pieces – were able to play in the morning, spectate in the afternoon, and blitz in the evening. The winner of the Junior Invitation was 16 year-old L.J. Pinto with 6½ out of 7.
There is no doubt that the British chess calendar would be much the poorer without this event. We should do all we can to thank Lloyds Bank, Stewart Reuben and Leonard Barden (and all their helpers), and encourage them to do their good work again in the summer of 1980.
---
Lloyds Bank press release (10 September 1979)
19-YEAR-OLD WINS LLOYDS BANK MASTERS
The annual Lloyds Bank Masters is Britain's strongest regular chess international next to Hastings. The 1979 tournament at the Ivanhoe Hotel, near London's British Museum, attracted 94 players from 22 countries and 5 continents. Of these 66 had FIDE world rankings, 11 were international masters and 3 were grandmasters.
Murray Chandler won the Lloyds Bank Trophy on tie-break and with it New Zealand's finest international success. 19-year-old Murray, whose ambition is to become a grandmaster, has already been helped in his chess career by the Lloyds Bank Group. The National Bank of New Zealand, a subsidiary of Lloyds, financed his travel to the Asian Junior Championship at Baguio City which he won to qualify as an international master. Last year Chandler was Reuter correspondent for the Karpov-Korchnoi match. Currently he lives in England and plays for the London League Champions, Charlton.
Paul Littlewood's third and final norm for the International Master title followed his victories at last year's Lloyds Bank Masters and at the Aaronson Masters. He is the first IM from Merseyside. Steve Odondahl of Washington, DC, also qualified as an IM, while Borje Jansson of Sweden and Colin Crouch of Cambridge University and Harrow made IM norms.
As part of its £12,000 sponsorship to support British chess, Lloyds Bank provided scholarships for leading juniors from the BCF squad in the Masters with encouraging results.
Seven juniors qualified for FIDE Master norm: Daniel King and Julian Hodgson (both aged 16), David Goodman, Simon Knott, Malcolm Pein, Jim Plaskett and Mark Ginsburg of the USA.
Other FM norms were by D Friedgood, M Basman, J H van Baarle, L Pliester and P van der Weide (all Netherlands), M Fuller (Australia), M J Franklin and N E Povah. The FM norm is equivalent to a 220 British grade.
The Lloyds Bank Junior was a 7-round event for 50 invited boys and girls held alongside the Masters:
1 and Lloyds Bank Trophy: Laurence Pinto (Edmonton) 6½
2-5 N Bradbury (Borehamwood), C P Garwood (Luton), J A Giltrow (Wood Green) and A Rizvi (Pinner and Pakistan) 5½
The Lloyds Bank Masters is the major event in the Bank's £12,000 support of British chess, which includes the Oxford v Cambridge match, the annual BCF junior squad championships, national tournaments for ladies and girls, and the first British Chets Problem Solving Championship.
---
File Updated
| Date | Notes |
| --- | --- |
| 18 May 2021 | First upload to BritBase. I am grateful to Catherine Glynn for supplying me with a scan of the crosstable from the tournament bulletin. The games have been available for some years via Big/Mega Database. I have reviewed and corrected names and added dates played and some rating info. I've also sourced a few photos from the last round and prizegiving. |
| 19 May 2021 | Thanks to Mike Yeo for pointing out an error: in round 6 he played Peter Wells (not Ian Wells). Also, note that neither Wells had a rating at that time (I have removed the Elo 2200 previously shown against Ian Wells' other games). |
| 19 May 2021 | A further thank-you to Mike Yeo for submitting six more games to complete his set of nine played in the tournament. A warning from Mike - "they are awful!" - but that only makes us want to look at them some more, doesn't it? The total number of games is now 189. |