BRITBASE - British Chess Game Archive
Tournament: Evening Standard London op • 26 games
Venue: Islington • Dates: 20-22 December 1974 • Download PGN •
uploaded Sunday, 15 October, 2023 4:35 PM
Evening Standard London / 10th Islington Open, 20-22 December 1974
n.b. note that several of the subsidiary events (Amateur, Novice, Two-Day Major) were played on the previous weekend, 13-15 December
Venue: Islington Green Youth Centre, Prebend Street, London N1
(No crosstable available - does anybody have one?)
The 1974 Evening Standard London Chess Congress (John Ripley, CHESS, January 1975, pages 109-116)
| have attended a great number of chess congresses during my long chess career since I entered the tournament arena back jn 1962 at the CHESS festival at Eastbourne. In those days to have the opportunity to play in a chess congress was considered almost a luxury. In 1975 the G. H. Bennetts of the chess world will have the choice of some 65 Cutty Sark tournaments to play in. How can this be? In ten short years the chess scene has been transformed into an exciting world of action for chess players of all strengths.
It was Stewart Reuben who back in 1965 took the initiative with the first Islington Open. This was attended by a handful of players and was won by the Lancashire player David Lees. Other organisers followed Reuben's example so that now we have weekend chess congresses all the year up and down the country. Leonard Barden has worked in conjunction with Stewart Reuben over recent years and done more than anyone else to encourage the sponsorship of chess particularly for those lucky juniors who are presented with so many opportunities nowadays.
It was therefore very fitting that they should witness the climax to one of the most thrilling confrontations in British chess history at the Islington Green Youth Centre during the weekend of the 20th to 22nd December.
This was of course the battle between Tony Miles, the World Junior Champion, and Gerald Bennett, the Southern Counties Champion, for the £1,000 Cutty Sark Grand Prix. Throughout the year they had run stride for stride in the race to the finishing post and now they arrived at Islington dead level with 200 points each!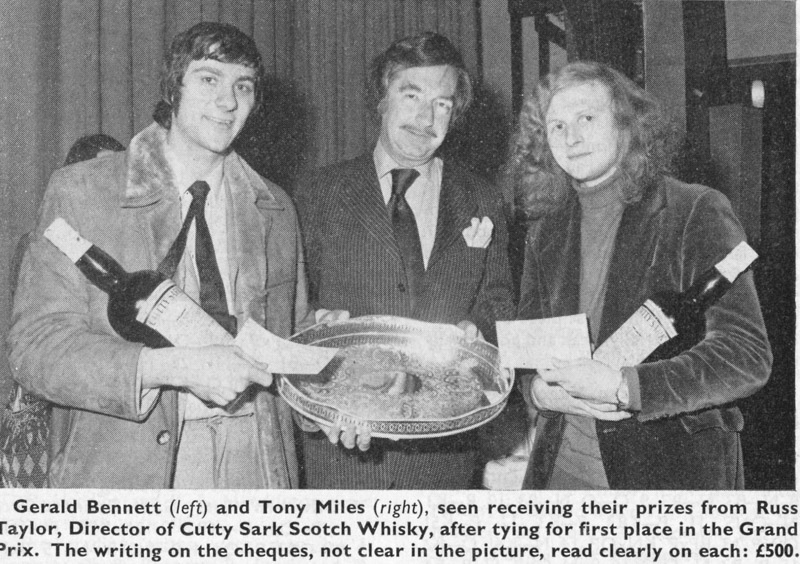 The whole congress was captivated by the battle between these two which proceeded right to the last round which each started with 4/5 (Miles had lost to Rumens and Bennett to Romilly). Others had 4 out of 5 and were battling for substantial prizes, but the focus of attention was inevitably on Gerald and Tony. They were now level on 240 Cutty Sark points: would one of them crack? They both had black against potentially dangerous opponents (Miles v Chapman and Bennett v Dilworth). Demonstration boards had been provided so that fans could follow the progress of these games, plus the Rumens v James game.
I doubt if Moscow or Leningrad could have produced a better chess atmosphere. Luckily I managed to win my game in 9 moves so that I could watch the games at leisure. Both players played coolly especially Bennett who had to survive a sharp attack, and both gained the full point and therefore reached 250 points each. A tie for first place after a whole year of point chasing throughout the length and breadth of the country! An incredible result! The nail-biting tension of those exciting hours of the final round can only be compared with other great sporting finishes like the West Indies v Australia Test Match tie of 1960 or the Arkle v Millhouse clash in the Cheltenham Gold Cup of 1965.
As Leonard Barden rightly pointed out at the prize giving, Bennett and Miles had shown tremendous sportsmanship throughout, which was a model for all young players. Credit must also go to M. J. [Mike] Basman who finished third, L. S. [Les] Blackstock, R. F. [Ron] Harman and all the others who helped make this Grand Prix event the success of 1974.
The London Open Tournament itself, although weaker than 1973, produced some good chess and of course an exciting finish with a ten-way tie. Ties now of course are the order of the day as in the British Championship and the Enfield and LARA Opens.
ROUND ONE
Miles won his first game easily against Neil Cutler, while Gerald Bennett was paired against R. H. Newman who was originally thought to be the 191 player but later found to have only been playing chess for three months. Basman faced the British Under-21 Champion, J. [John G] Nicholson.
Swiss international Huss was held to a draw by theory man Tim Harding, and Cafferty's Alekhine Defence was only good enough to draw against Charlton player and organiser Alan Hanreck. The weekend tournament specialists, Wright and Holloway, had tough games: Danny came unstuck against J. A. [Jim] Johnson while the Cambridge University player was pinned down to a draw by M. J. [Mike] Surtees. G. H. [Geoff] James got himself a bad opening with the white pieces against Jimmy Adams, who had won the Amateur Championship the previous weekend, and a desperate knight sacrifice did not pay off. Nigel Povah k.o.'d G. J. [Geoffrey James] Nicholas and Dave Sherman had a stylish victory over Steve MacDonald Ross. Ron Harman was invited to a party and, priorities being priorities, had to give the other 261 players in the Open a point start. Teenagers Stuart Fancy and Shaun Taulbut both won sparkling games against experienced campaigners.
ROUND TWO
J. A. Johnson just couldn't get started. Miles carried out the winning plan to perfection. In the battle, chess anarchist v chess anarchist, R. H. Watson had to acknowledge the superiority of the Basman method. Craig Pritchett had only a couple of minutes of play-off time to checkmate Adams with bishop and knight against lone king: the bonnie Scot made it 25 moves later wjth less than 10 seconds left on the clock. Dave Rumens v Michael MacDonald Ross was a pairing which seemed to have been lifted out of the sixties, and the former Cedars star smashed the former Islington star in a beautiful game. In a 16-year-old derby, David Goodman showed his supremacy over Shaun Taulbut. Bennett lost 10 Cutty Sark points to P. J. Romilly, whose mastery of the black squares kept Gerald in chains for the whole game. 18-year-old Terry Chapman began his success story with a win versus P. V. [Paul] Byway, while danger man Terry Bennett downed Povah. Roger Parry proved himself a first-class salesman for the up-and-coming chess centre of Luton when he scored a surprise win against Alan Perkins. Nigel Holloway drew again but had great plans for the last four rounds.
ROUND THREE
Romilly's luck ran out in this round against the other half of the Cutty Sark Grand Prix when Miles quickly won a couple of pawns with his favourite double fianchetto attack. Basman's queen bought a one-way ticket to Scotland and was never seen again. Terry Bennett was gunned down by Rumens but Terry Chapman outmanoeuvred Huss who eventually lost on time in a hopeless situation. Teenybopper Nicholas Benjamin mated Paul Hutchinson, winner of the strong LARA Open, and Povah, Cafferty, Quinn, and James all defeated opponents well below their own strength.
ROUND FOUR
With Black, Miles overpowered David Goodman in double-quick time with a home-made brand of the Queens indian. Solid Cafferty called a truce with enterprising Pritchett as did Rumens with Chapman. Nicholas Benjamin put up a tremendous resistance against Gerald Bennett and lost only in the blitz play-off after some 80 or so moves. Holloway continued his winning way, demolishing J. Anderson in 14 moves. Owen Hindle beat Farrand, Basman put down chess author Len Pickett, James completed a hat trick of wins by scoring against B. Green. Leading scores were now Miles 4 points; Chapman, Hindle, Linton, Pritchett, Rumens and Surtees all 3½ with Basman, Bennett, Cafferty, Holloway, James, Perkins, Povah, and Quinn among those on 3.
ROUND FIVE
Rumens hit top form against Miles and, with the help of some excellent manoeuvering and cunning tactics, dealt Tony his first defeat. Meanwhile Mooney had a mating mirage against Bennett and, after sacrificing a knight, announced a checkmate that did not exist. Surtees could not find anything special against Basman's 1...b6 and committed hara-kiri after his attempted kingside attack had been a washout. Alan Perkins played softly softly against the 16-year-old British Lightning Champion, John Pigott, but it was all so deadly. Susan Caldwell kept her cool against out-of-luck Paul Hutchinson, and emerged from the complications with a winning ending. Povah, Cafferty and Quinn were really turning on the heat and all eliminated useful players with lower ratings.
So now Rumens was on his own with 4½ points followed by Basman, Bennett, Chapman, Coates, Cafferty, Dilworth, Holland, Helman, Hindle, James, Miles, Linton, Holloway, Perkins, Povah, Pritchett, Quinn, Sherman, and Watson all on 4.
ROUND SIX
The last round produced some of the best chess of the tournament. Rumens could have the £300 all to himself if he won, but last round jitters intervened and the tournament leader's hopes were shipwrecked on G. H. James's Brighton rock. Miles wasn't in the mood for hanging about and made it look all too easy as he demolished Chapman on the queenside. Veteran V. Dilworth [BCM thought it was AJ Dilworth - JS] gambled everything on a risky king-side attack, but Bennett was happy to join the poker game and raised the stakes to 1,000 Cutty Sark £££'s, and his honourable opponent was soon busted. Alan Perkins, the positional player, showed he can also do combinations, with a pretty finish against Christopher Holland, a talented 16-year-old. Basman brought Sherman's proud pawn centre tumbling down, winning a valuable pawn and the game in the process. Cafferty beat Coates, and Quinn overtook Linton, to reach joint first place. Two queen sacrifices in this round shared the Hal Shaper Brilliancy Prize: Povah slammed Hindle's Dragon Sicilian with rounds and rounds of ammunition while Professor Farrand chased Stuart Fancy's king into a blind alley before delivering checkmate. Craig Pritchett concluded his very tough tournament programme with a good win over Israeli master Helman who backed down from playing a critical line in the Steinitz Defence Deferred. Holloway also pulled himself up into first place by punishing Watson's tactically weak and positionally unsound opening play.

The Open Championship
| | | |
| --- | --- | --- |
| Rank | Evening Standard 10th Islington Open, London, 20-22 December 1974 (262 players) | Total |
| 1-10 | Michael J Basman, Gerald H Bennett, Bernard Cafferty, Nigel J Holloway, Geoffrey H James, Tony Miles, Alan H Perkins, Nigel E Povah, Craig W Pritchett, John M Quinn | 5/6 |
| 11-21 | Jimmy B Adams, Terry B Bennett, Jonathan I Century, Paul V Byway, Julian T Farrand, Andreas Huss (Switzerland), David L Massie, John G Nicholson, Roger A Parry, David E Rumens, D. Smit (Holland) | 4½ |
| 22-? | Michael J Bulford, Terry P D Chapman, Andrew C Cooper, David S C Goodman, Ron F Harman, A. Helman, Owen M Hindle, Michael V Lambshire, Alan T Ludgate, John C Pigott, David Sherman, Ron H Watson, Kevin J Wicker, Danny Wright... and others | 4 |
| | Les S Blackstock, Colin S Crouch, Michael Macdonald-Ross... and others | 3½ |
| | Tim D Harding and Paul A Hutchinson... and others | 3 |
The grading prizes were won by Jonathan Century, Terry B Bennett, Roger Parry and D. Smit with £7.50 each for grading 180-200. David Massie was the winner for the 130-179 grade.
262 players took part.
Amateur Championship (13-15 December 1974)
1 Jimmy B Adams 6/6, Stuart Fancy (age 15) 5½ (172 players)
Major: Hassan Hakki (age 17) and Paul Pritchard (age 17) 6/6. David [Paul] L Barasi 5½ (203 players).
Minor: Russell Granat (age 14) 6/6. Clive Frostick (age 12) D. Hoddy 4½ (200 players).
Beginners: Lasa Kekic (age 18) 6/6. 8 tied for 2nd (106 players).
Novice: P. Beniston 5½/6. 9 tied tor 2nd (123 players).
Two-Day Major A-K: M. Carnochan (age 15) 5/5. P. Bauld, S. Fishburne (19), Paul Girdlestone (17), L. Canham, (age 15), G. Boot (age 14), J. Brandford [John Branford?] (15), 4½/5. (126 players).
Two-Day Major L-Z: T. Lennard 5/5. W. Pfeil, Jonathan A Tuck (age 19), C. H. White, B. A. Willow, 4½/5. (132 players).
The great success of juniors in these tournaments cannot be overemphasized and this is mostly due to the energetic training scheme of the London Chess Club, headed by Leonard Barden, who through a tremendous amount of effort has not only raised the level of junior chess but has succeeded in finding wide sponsorship for youngsters and indeed chess in general. Here are the prizes so generously donated.
Cutty Sark Whisky: 1-2 Gerald H Bennett and Tony Miles, 3 Mike Basman, 4 Les Blackstock. In addition to sharing over £1,000 in cash, the winners also received a gallon of Cutty Sark Whisky. R. M. McBraine won the Cutty Sark Veteran Championship and has a glass of Cutty Sark Whisky every day for a year!
Hal Shaper Brilliancy Prize: £50 cash shared equally between Nigel E Povah (for his win against Owen M Hindle) and Professor Julian T Farrand (for his win versus Stuart Fancy).
Grant's of St. James's: A case of wine for highest placed Londoners in the Open won by Jimmy Adams and the Amateur won by Phil Adams. A magnum of Claret each for E. J. West in the Major, R. N. Badr in the Minor, A. Beckford and J. J. Glover in the Novice and Lord G. Goodwin and N. Shafiq Sharif in the Beginners.
Hamley's Junior Prizes of Chess Equipment: Best score by juniors Under 21: M. Carnochan. Under 18: Stuart Fancy. Under 16 J. Brandford. Under 14: K. Parker. Under 12: R. Hatvany. Under 10: Darren Lee. Under 8: Neil Fox. Girl Under 21: Susan Caldwell. Nina Ricci perfume set and £20:
For the best score by a woman. Won by Susan Caldwell for the third year running! Also Nina Ricci gift sets for the runner up Mrs. Rae Galtsmith-Clarke and the best two girls under 21, Penelope Coxon and Mitzi Kalinsky.
Looping Chess Clocks valued at £28: For the highest placed student in the Open, John G Nicholson, the British Under 21 Champion who scored 4½/6, and also for the highest placed pupil, Nicholas Benjamin (age 13) who scored 4/6.
Book prizes donated by several leading publishers: Book prizes for outstanding performances were donated by Batsford, Faber and Faber, Pergamon and Routledge.
The BEST SWINDLE Prize: introduced by Ron F Harman. £15 was shared by E. J. West in the Major and D. J. Stone in the Open.
Special mention should be made of juniors who did exceptionally well in very strong company. Terry Chapman (18 years) defeated Paul V Byway and Swiss international Andrea Huss and drew with David E Rumens and Owen M Hindle. John Pigott (17), David Goodman (16), Stuart Fancy (15) and Christopher Holland (16) all made grading results of over 200 in the Open. Although I have never been an advocate of making the British chess scene into a grading conscious society I think they can be an invaluable guide to the progress made by juniors. Nicholas Benjamin (age 13) also deserves praise for his 198 performance including a win against Paul A Hutchinson.

As can be seen from these results Susan Caldwell, the Cider Queen, again distinguished herself.
Of course Ron Harman made a TN into an N by introducing his "Best Swindle" prize of £15. His reason I think is very valid, perhaps from bitter experience? "I do not hold with the idea that chess is always logical and beautiful, the psychological aspect of the game is such that luck fatigue and blunders will always play a big part in weekend congresses. Therefore the swindle will always play an integral part." Danny was paired against his wife Dinah Wright in Round 5.

---
File Updated
| Date | Notes |
| --- | --- |
| 28 September 2020 | 26 games from the event, plus John Ripley's report for CHESS, published in the January 1975 issue, pages 109-116. I hope his breathless, Peter O'Sullevan-style commentary makes up for the lack of a crosstable! I rather enjoy it. |
| 29 September 2020 | Brian Denman kindly contributed a further six games from this tournament: five more games by Geoffrey H James (completing a set of six for him), and a win for EG Lea against G Burke. He also points out that the CHESS report in the list of winners omitted the name of a tenth co-winner, Geoffrey H James. I have restored him to his rightful place. Curious that CHESS should have omitted him; the almost identical report which John Ripley sent to BCM has GH James's name as one of the ten players tied on 5/6. One further amendment was to the initial move order (first four moves) of Goodman-Miles – I have now changed it to the order shown in CHESS Magazine. My thanks to Andy Ansel for drawing my attention to this. |