BRITBASE - British Chess Game Archive
Tournament: 7th Islington Congress • 185 games (104 from Open, etc)
Venue: Islington Green School • Date: 10-22 December 1971 • Download PGN •
uploaded Tuesday, 19 September, 2023 3:48 PM
WEEKEND TOURNAMENTS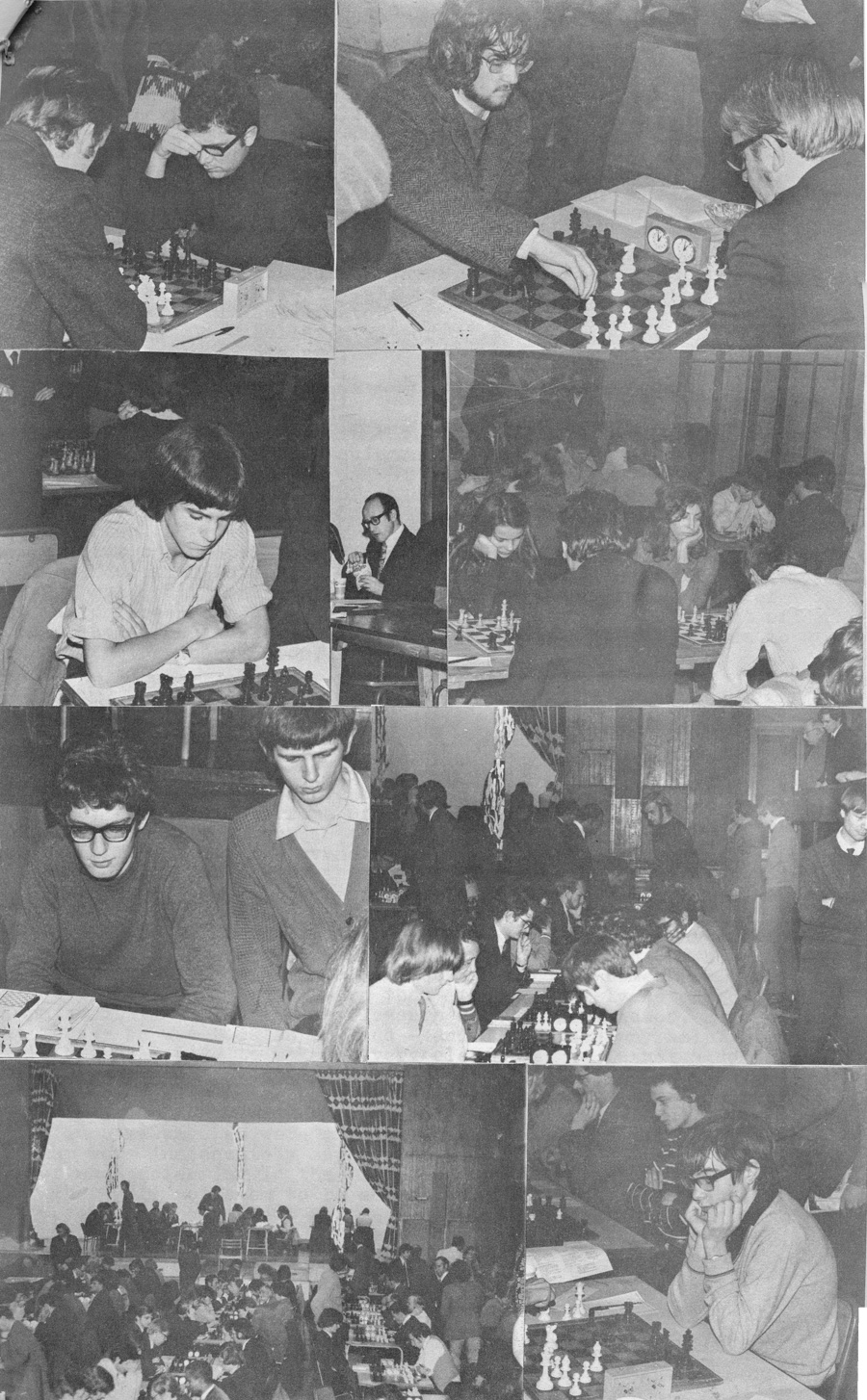 1971 (7th) Islington Open, 10-12 December
From the tournament bulletin by Jimmy Adams and Stewart Reuben (Stewart Reuben contributed most of the text in the report while Jimmy Adams concentrated on the game scores and annotations - JS)
ADMINISTRATION
| | |
| --- | --- |
| Stewart Reuben | Director |
| Richard Beville | Controlling the Open and all-play-alls. |
| Colin Tribe | Amateur Championship |
| Jack Piper | Assisting in amateur and major. |
| Hymie Spivack | Major Tournament |
| Bill Raines | Controlling Major Tournament |
| David Stimson | Assisting in Major |
| Tony Togwell | Minor Tournament |
| David Huggins | Assisting in Minor |
| Ron Harman | Tournament Chart Open |
| Jonathan Century | All-play-all tournaments |
| David Levy | Adjudicator |
| Jimmy Adams | Bulletin Editor |
| Keith Balkham | Steward |
| Nigel Kinbrum | Steward |
| Stephen Tribbick | Steward |
| Paul Lapham | Steward |
| Peter Morrish | BCF Equipment |
| Barry Wood | CHESS Equipment |
There were a whole host of other adjudicators, such as Hans-Joachim Hecht, Bojan Kurajica, Andrew Whiteley, Bernard Cafferty, Barry Green, Sunil Weeramantry, Jonathan Speelman, Ron Harman.
Without the cooperation, help -and encouragement of the Inner London Education Authority - as represented by youth officer B. Mayer, the Youth Centre organiser Mr. Wood and the caretaker of Islington Green School - Mr. Overington we could not even get off the ground, each year - never mind about bringing the congress to a satisfactory conclusion.
WEEKEND TOURNAMENTS
These took place from Friday evening December 10th to Sunday evening December 12th. There were 4 sections, each being 6 round Swisses, played at the rate of 48 moves in 2 hours followed by-adjudication. The rumour is that 486 players took part, spread over the main hall, one gymnasium and two house rooms. It has not proven possible to verify this. It is worth noting that the whole colossus functions without even one committee meeting!
One comes to rely on the organisers automatically being available. Imagine my chagrin when, about two weeks before the congress, I phoned Elliott School to speak to David Stimson. "Oh, he's emigrated to Australia or Canada or New Zealand or somewhere," was the airy reply. It seemed then that it was unlikely he could be located in time. Imagine my pleasure when, a week later, he phoned up to say he was back in England – and did I need any help? By the way, he would like to make it very clear that he is not also back at that particular school.
In the bulletin last year, I said that 4 extra organisers were essential. In fact, we had to make do on two. Thus I fully agree that in some ways we were underorganised – time controls in particular were inadequately supervised. I shall return to this topic later when referring to the prospects for next year.
There did not seem to be any particularly untoward happenings this year, although I do now find myself the not particularly proud posessor of a pair of spectacles made by Luther French of Walthamstow. If the rightful owner would like to claim them...
There is no truth in the rumour that some people are still trying to locate the minor tournament.
It is a foul calumny to say that it is impossible to play someone with the same score in The Open Championship. When the cards are thrown in the air, it is quite likely that yours will come down together with somebody's of like score.
OPEN CHAMPIONSHIP
Rank
1971 Islington Open
Total
1-7
Simon Webb, Andrew J Whiteley, Robert Bellin, Peter C Griffiths, John Carleton, Michael V Lambshire, John D M Nunn
5/6
(each received £33.50p)
8-11
Hans Joachim Hecht, George S Botterill, Bernard M Rothbart (£10 for highest placed competitor graded 210-200), Graham P Burton (£10 for highest placed competitor under 200)
4½
12-28
Bojan Kurajica, Brian R Eley, Alan Phillips, Mikhail Gavrilovic, Andrew P Law, Alfred Bernegger, Ronald F A Harman, Michael J Bulford, Geoffrey A Hollis, William A Linton, Nigel Bloch, Robin G Bellinger, Alan K Crombleholme, L Alan Edwards, Timothy D Harding, Chris M Cooley, Richard F Lee
4
29-49
Gerald H Bennett, Barry N Green, Geoffrey H James, Sunil Weeramantry, Robert S McFarland, Jonathan Speelman, Paul V Byway, Chris C Shephard, Philip Wade, Louis de Veauce, Roy A Batchelor, Alan K May, David J Mabbs, John M Ripley, George A Dickson, H Morphy, Stephen J Ridout, David J James, Robert G W Elwell, Kevin J Wicker, David S C Goodman
3½
50-76
David Sherman, David A LeMoir, Colin G Burton, Maurice J Staples, Martin Blaine, Roger Keely, Malcolm J Lightfoot, David I Patrick, James Steedman, Terry P D Chapman, Raymond C Cannon, P Simonds, Roger Parry, Andrew J Morley, Stephen Lorber, Godfrey V Brangham, John Foley, Tim Parkes, Anthony P Cullen, V. Innes Reid, T. Pruchnicki, Cliff Chandler, Alan Hanreck, Jonathan Kinlay, D. Smith, M. Robertson, J. Hackett.
3
77-96
Anthony J Miles, Jonathan I Century, Jeff Horner, Arnolds Mazitis, M R Mahdavi, Charles W Kennaugh, John D Cheetham, J. Briggs, K. Larner, John Rety, Peter L Davies, M D Osmond, P. Corbin, David S Tucker, R Johnson, Brian Valentine, Augustine A Aaron, P. Scott, M. Wren, I. Kelly
2½
97-108
G T Agnew, P. Loyd, F. Ingram, T D Welsh, John M Gorton, P. Grant, Sandys V F Dickinson, P. Rans, Nigel McSheehy, H B Angel, B. Okrzeja, J. Pasterny.
2
109-114
G. Liska, D. Stone, D. Watt, G. Spittle, P. Vargas, Miss J. Amos.
1½
115
W Sirk
1
Players who did not finish the 6 rounds.
D. Bunnell, M. Greenwood, T. Rodney 1/5
Miroslav Radojcic 2½/4
D. A. Winter, John Yeo 1½/4.
L. Griffiths, C. Metzgen, Melvyn J Young 1/4
K. Bateman ½/4
B. Sroka 0/4
M. O'Leary 0/3
---
AMATEUR CHAMPIONSHIP (U190)
| Rank | 1971 Islington Amateur Championship (U190) | Total |
| --- | --- | --- |
| 1 | Peter O'Kane | 5½/6 (£40) |
| 2-4 | Adrian Haberberg, Roger D W Marsh, Andrew P Shepstone | 5 (£11.67) |
| 5-9 | David O Collier, Roger D de Coverly, Joseph Naujokas, Laurence D Marks, D. Watson | 4½ |
| 10-24 | Alan P Ashby, Gordon V Cadden, S. Gottschalk, Jack Horrocks, J. Johnson, A. Lukowicz, Malcolm R Major, Geoffrey J Nicholas, Nigel E Povah, Gareth D Pearce, J. Pugh, Jerry Rudge, H. Russell, Thomas H Stonehouse, A. Melville | 4 |
| 25-37 | S. Bailey, E. Goodwin, Michael Hubbard, A. Keene, Paul Lamford, R. A. Lee, P. Lovatt, R A Parry, T. Shallice, Timothy A Sinkinson, R. Walker, Mrs. Dinah Wright [Norman], Michael J Yeo. (Mrs. D. Wright' s score of 3½/6 was the highest of a female competitor in the weekend events and won her £10) | 3½ |
| 38-52 | N. Alexander, L. Arden, M. Gordeni, J. Hasslett [Hasselt?], D. Meen, H. Moore, Peter Morrey, A. Mozoomdar, P J Taylor, G. Varty, M. Vellacott, P A Warren, G. Wilcock, J. Woolley, Ian McAllan | 3 |
| 53-66 | A. Bagley, G. Bromley, H. Hedges, M. Lodge, David P Lynch, M. Mitev, D. Morris, D. Scott, Iain Stenhouse, P. Stimson, T. Turner, J. Votruba, M. Smith | 2½ |
| 67-79 | D. Choat, V. Clark, P. Couper, D. Curtis, S. Everson, Peter G Large, J. Moutrie, M T O'Connell, W. Robinson, Vaughn L Sigouin, Graham Speed, R. Talbot, S. Thomson | 2 |
| 80-86 | Hans Cohn, N. Donnelly, P. Humphries, J. Ing, D. Pardoe, R. Wilcox, Anthony Wodzianek | 1½ |
| 87-91 | T. Gilbert, E. Levenston, Miss G. Morgan, E. Warren, T. Wright | 1 |
| 92-93 | E. Graham, A. Milnes | ½ |

MAJOR TOURNAMENT (U160)
| Rank | 1971 Islington Major (U160) | Total |
| --- | --- | --- |
| 1-2 | G. Fuller, David L Massie | 6/6 (£16) |
| 3-8 | Colin S Crouch, R. Julian, R. Murphy, Michael D Nicholas, J. Orrell, P. Rutland | 5 (£2.67) |
| 9-15 | John E Boning, D. Glazier, A. Goddard, B. Gunnell, G. Kradolfer, Jack Spiegel, G. Witt | 4½ |
| 16-32 | G. Andrews, J. Buttery, Leon H J Fincham, J. Franks, S. Gough, Michael J Gilhespey, S. Herman, M. Hickox, T. Howdle, L B Kiss, G. Ladds, C. Marley, P. Morton, A. Neviazsky, Richard A W Oxborough, Peter J Shelley, P. Young | 4 |
| 33-59 | Jonathan C Benjamin, I. Bozic, J. Bush, H. Colman, J. Davis, T L Faulkner, D. Foley-Comer, P. Gilbert, Y. Griffiths, J N Harvey, J. Jones, R. Jordan, C. Jowett, A. MacLeod, R. Mears, A. Miller, L. Milton, I. Murray-Watson, J. Ormiston, Jon Persson, A. Pluss, J. Prosser, E. West T G Rickard, H. Sleeman, Maurice D Speigel, P. Williams | 3½ |
| 60-86 | J. Anderson, Sydney R Capsey, D. Clark, P. Coleman, Stuart Fancy, S. Peakes, L. Fuchs, David Gleave, P. Holt, D. James, Gaston O Jordan, C. Lamb, Miss A. Lord, A. McMahon, D. Morris, M. Patrick, M. Petterson, H. Pluss, P. Rawcliffe, D. Read, Dr. L. Shenfield, H. Staunton, P. Szabo, B. Thomas, R. Tobin, J. Tombs, David Turner | 3 |
| 87-98 | Timothy S Allen, M. Curtis, A. Eames, J. Foster, Mrs Sandra Osmond, Rae Galtsmith-Clarke, M. Mapleton, R. Reid, Brian G Sammes, B. Simmons, S. Small, O. Stobart | 2½ |
| 99-122 | K. Bexon, G R Byford, P. Byford, Miss Susan Caldwell, G. Carter, I. Clarke, P. Clark, S. Critchell, T. Feruley, K. Forman, G. Green, J. Green, P. Harbott, P. Harris, J. Hewitt, Fred C Manning, M. Murphy, A. Shah, S. Shields, R. Thomson, L. Vine, M. Waddon, J. White, P. Williams | 2 |
| 123-127 | M. Bailey, David [Paul] L Barasi, D. Reece, L. Vrondissis, J. Winter | 1½ |
| 128-136 | G. Hammond, J. Hyslop, S R Jamieson, M. Leman, R. McLaren, G. Pasches, Mrs. Margaret Rowley, M. Sansome, P. West | 1 |
| 137-139 | A. Mishael, S. Smith, R. Williams | ½ |
MINOR TOURNAMENT (U130)
| Rank | 1971 Islington Minor (U130) | Total |
| --- | --- | --- |
| 1 | D Rivett | 6/6 (£15) |
| 2-3 | D. Fryer, S. Marsh | 5½ (£3.50) |
| 4-8 | A. de Caux, P. Gillard, R. Kenyon, H. Kok, D. Seaton | 5 |
| 9-15 | F. J. Batchelor, L. Dregent, D. Grant, R. Higgs, M. Hugleshoter, S. James, W. Tollett | 4½ |
| 16-28 | M. Baker, K. Banerjee, N. Benjamin, C. Brookes, B. Dowden, G. Gooding, J. Harvey, L. Khabaza, R. Povey, S. Raleigh, T. Rhodes, C. Rose, P. Sawyer | 4 |
| 29-39 | S. Barry, Paul Buswell, E. Creasey, L. Curnow, C. Lane, J. Lipton, A. Portner, J. Powell, G. Routledge, K. Saar, B. Stanley | 3½ |
| 40-63 | P. Bancroft, T. Barnell, M. Beir, D W Berdy, S. Brunton, D. Collins, R. Coombs, G. Davidson, O/C Duxbury, B. Flatt, M. Goldschmidt, D. Heaton, S. Hicks, S. Kane, P. Humphries, M. M. Jones, C. Massiah, M. O' Donovan, B. Perkins, H. Phillips, O. Phillips, M. Smyth, C. Soloman, C. Taylor | 3 |
| 64-75 | A. Beckford, D. Buxton, J. Lopes, P. Lugg, D. Page, S. Roder, D. Tapp, B. Threadgall, B. Tyndall, D. Vahali, G. Washbrook, B. Williams | 2½ |
| 76-92 | P. Abbott, C. Baldrey, R. Brown, G. Burnett, S. Choat, J. Froude, J. Ham, W. Harer, B. Heiser, T. Jenkins, K. Mackenzie, F. Martin, G. Pyne, J. Ward, E. Weeks, A. Weston | 2 |
| 93-98 | S. Alland, C. Cowles, H. Fryer, L. Hardy, P. Oddy, M. Wallman | 1½ |
| 99-106 | L. Bunker, B. Curtis, D. Dawkins, R. Dean, L. Duggan, T. Jones, L. Washbrook, N. Young | 1 |
| 107-110 | E. Higgs, H. Hubbard, Simon Spivack, A. Verrall | ½ |
| 111 | P. Britton, Miss V. Millenson | 0 |
---
ALL-PLAY-ALL RESULTS
(n.b. these took place after the weekend tournaments - presumably starting on 13 December and ending on 22 December)
JUNIOR A (50p for each game won by non-prizewinners)
1971 Islington Junior A
Residence
BCF
Grade
1
2
3
4
5
6
7
8
9
10
Total
Prize
1
Hans Joachim Hecht
West Germany
237
½
½
1
½
1
1
1
1
1
7½
£30
2
Bojan Kurajica
Yugoslavia
239
½
½
½
1
1
½
1
1
1
7
£20
3
Robert Bellin
Norfolk
213
½
½
1
1
1
½
½
1
½
6½
£15
4
Andrew P Law
Middlesex
207
0
½
0
0
1
1
½
1
½
4½
£10
5
Bernard Maurice Rothbart
Middlesex
205
½
0
0
1
½
½
½
0
1
4
£2.50
6
Jonathan S Speelman
Middlesex
201
0
0
0
0
½
1
1
½
1
4
£2.50
7
Johann P Sommerville
Kent
196
0
½
½
0
½
0
1
½
½
3½
8
Gerald H Bennett
Hampshire
205
0
0
½
½
½
0
0
½
1
3
9
Nigel Bloch
South Africa
195
0
0
0
0
1
½
½
½
½
3
10
Sunil Weeramantry
Southampton
202
0
0
½
½
0
0
½
0
½
2
JUNIOR B (25p for each game won by non-prizewinners)
1971 Islington Junior B
BCF
Grade
1
2
3
4
5
6
7
8
9
Total
Prize
1
Graham D Lee
189
1
0
1
1
½
1d
1
1
6½
£5
2
Maurice J Staples
191
0
1d
½
1
1
½
1
1
6
£4
3
Terry P D Chapman
183
1
0d
½
1
0d
0
1
1
4½
£3
4
Christopher M Cooley
174
0
½
½
0
½
1d
½
1
4
75p
5
Richard F Lee
164
0
0
0
1
1
1
½
½
4
75p
6
John G Nicholson
198
½
0
1d
½
0
1
½
½
4
75p
7
Jonathan Kinlay
158
0d
½
1
0d
0
0
0
1
2½
8
Jonathan P Loasby
147
0
0
0
½
½
½
1
0
2½
9
David S C Goodman
159
0
0
0
0
½
½
0
1
2
All-play-all, Sections of 6 (First Prize £10, Second £5)
Section 1:- (1) D. Read 5; (2) A. Shah 4; (3) P. Balwin 3; (4) G. Melitus 2; (5) M. Annis 1; (6) K. Saar 0.
Section 2:- (1) A. Morley 5; (2-3) M R Robertson, R. Talbot 2½; (4-5) I. Bozic, K. Creer 2; (6) P. Coleman 1.
Section 3:- (1-2) Vaughn L Sigouin, R. Povey 4½; (3) J. Fernley 2½; (4) M. Lodge 2; (5) D. Page 1½; (6) G. Jordan 0.
Section 4:- (1) M. Robertson 4½; (2) R. Lidbetter 3½; (3) T. Rhodes 2½; (4-5) John D Cheetham, E. Levenston 2; (6) A. Shah ½.
1971 ISLINGTON OPEN
The entry for this event was lower than it has been since 1967. This was intentional as it seems a pity to have so many strong players competing and being prevented from meeting due to excessive numbers. Perhaps this was not fully realised by the leading players as it was also slightly weaker than last year. There were only 27 players rated 200 or over as opposed to 31 in 1970. Also the number of British Internationals was considerably down.
Thus Bojan Kurajica, international master from Yugoslavia, and Hans-Joachim Hecht, international master from West Germany, started as considerable favourites. After all, Bojan did win the tournament very comfortably in both 1967 and 1968, winning his first 4 games in the latter in under 20 moves, although he did tie in the end with Helmut Pfleger.
But as things turned out, neither got anywhere near first place. This being so, it is not surprising that there was a massive multiple tie for first place between 7 players. A record in my experience. Some seemed to think that this meant the pairing system was a failure but surely this is not so. If nobody deserved to be first, then nobody should finish first. It is true that Robert Bellin, who played both Andrew Whiteley and Simon Webb and that John Carleton who played both Hecht and Kurajica met with stronger opposition than Michael Lambshire who lost his first round game and won his last five. This is inevitable in Swisses.
Bojan told me an interesting story concerning his difficulties in travelling to the 1968 Islington event. He was playing, in a master tournament and had to play two of his last round games in advance so as to leave early. Even so he was very short of time to reach the airport. It was arranged that a car would pick him up and the driver arrived completely sozzled. His sole conversation seemed to be "oh we'll make it in time." Thus Bojan, an inexperienced driver had to drive a completely strange car. Naturally it started to snow and eventually the car broke down. Bojan rushed into a garage and exclaimed that he would give them all his money (about £5) if they could get him to the airport in time. This they did. Naturally the plane was late! You see, some people will do anything to play at Islington!
I neglected to tell the story of the undrawable draw last year. Two of the competitors came down to a position where they each had King and 3 passed pawns each on opposite wings. The position was being adjudicated by Ray Keene and, if you think about it, the position cannot be drawn. Since it must all depend on one tempo, Ray obviously was not necessarily going to come to the correct conclusion in the time allotted him. Thus I approached the players and suggested that they agree a draw – which they did. Since then we have found an expert on this endgame, for apparently Stefan Bruzzi mis-spent his youth playing this type of position for money in Italian cafes.
The most interesting incident this year occurred in the first round on the top two boards. G[eoffrey H] James had white against Kurajica and Hecht was white against Carleton. All four players underlined 40 moves for the time control and all four players were in considerable time-trouble. Thus I hovered from board to board wondering who would be the first to forfeit on time. The Hecht - Carleton game passed 40 moves first and Hecht sat there thinking. Just as his flag was about to fall, he resigned in a completely lost position. In the meantime, Carleton had asked me "What happens after 40 moves?" There is no answer to that question, other than the truthful one that they had not played for 4 hours yet. All this drama had passed unnoticed on the top board and eventually James sat there thinking hard on his 41st move. Down went his flag and thus Kurajica became Mr. Lucky for the day in a position that was still very complex.
The most absurd time scramble incident occurred to Islington Chess Club member Jonathan Kinlay. In desperate time trouble, both he and his opponent discontinued taking down the score. They reached the 48 moves but, completely unaware of this continued to play on abysmally. In a completely won position, Jonathan left his queen en prise a couple of times and it was eventually snaffled.
It is usually the weaker players who cause the most trouble, viz. the gentleman who came up to me, after the start of the round and said, "my friend can' t make it for this round but would like to make it for the sixth round and play in that. Even then he never did show up. So much are these players awkward and so much do they lower the standard of the Open that there is a powerful lobby to make it a closed tournament. I have resisted this so far but am considering introducing a penalty fee for players below a certain grading who wish to play in the Open.
Robert Bellin took the sole lead with 4/4 by beating Kurajica in a game which the Yugoslav played like a patzer. Since he could make no impression at all on his last two rounds opponents, Harman and Whiteley, this meant that he came to 5/6, a score also reached by 6 other players.
The only other player with 3/3 besides Bellin and Kurajica was Richard Lee of Salvatorian School. At a grading of 164, he had reached these exalted heights mainly by beating Gavrilovic the strong Welsh player. In the next 3 rounds he drew quite easily with Hecht with white (in fact having the better of it ), then lost to Whiteley and finally drew with Andrew Law. A fine result of average grade about 50 above that published for him.
John Carleton won his way to 5/6 with a last round game against Weeramantry in which at 7.30 p.m. he had king and queen against king, queen and pawn! A few moves before he had lost his pawn from sheer fatigue. For some time players and controllers had been begging me to insist on a conclusion to the game. Require that they submit to adjudication, adjudicate without their permission or force them to play off all their remaining moves in 10 minutes. Presumably evrybody was nauseated by the spectacle. Anyway Weeramantry eventually allowed his king and queen to be skewered ending the farce and putting Carleton in the money. This incredible good fortune compensated for tough pairings which included both Hecht and Kurajica.
John Nunn had perhaps his best adult result, beating both Kurajica and Eley in the last two rounds after having lost to Alan Phillips in the first round.
Simon Webb' s result was quite satisfactory. He beat two players graded over 200 and lost only to Bellin.
Whiteley had reasonably tough opposition, meeting three opponents graded over 200. His average grade was made to look worse by the game against Lee.
Peter Griffiths perhaps had a rather easy time of it as the player he was originally scheduled to meet could not take part and thus he met with an easier opponent in the first round.
Since Mike Lambshire lost in the first round, his only other strong opponent in his next 5 wins was Ron Harman in the last.
AMATEUR CHAMPIONSHIP (U190)
This event, which was a new venture this year, was suggested by Leonard Barden. It was restricted to players graded under 190 and perhaps led to the most even competition. Certainly Colin Tribe was lamenting that all his players were drawing in the last round. O'Kane's low grade of 175 is a surprising win for such an event. Even more surprising was perhaps that, when the last round started, he had already played the only other competitor with 4½. Since this player lost though, it meant that he did not meet any prize-winner.
MAJOR TOURNAMENT (U160)
There were 146 entries for this event which was open only to players graded under 160. With this number of competitors and no artificial pairing system possible due to lack of reliable grades it was not surprising that an unsatisfactory result was obtained. Thus two players tied with 6/6, the first time that this has happened outside the U. S. I believe. I was going to write – and the fewer number of draws than in the Open as the players are weaker, but then I checked up...
| | Percentage of Draws |
| --- | --- |
| Open Championship | 18.8% |
| Amateur Championship | 23.8% |
| Major Tournament | 19.3% |
| Minor Tournament | 11.5% |
This is all very logical. The Open had the greatest range of abilities and The Amateur the narrowest. The players in the weakest event do indeed have a significantly lower percentage of draws.
G. Fuller and young D. Massie are only rated 140 and 151 respectively but their gradings for this event were 190 and 195. By contrast O'Kane achieved a 219 grade for his 5½ in winning the amateur and Bellin had a 247 result to come first equal with 5 in the Open. We do not keep an account of the grades in the Minor.
MINOR TOURNAMENT (U130)
Again this was a little disappointing in the quality of the result. Admittedly there was a sole winner, D. Rivett with 6, but 2 players scored 5½. Admittedly though they did play each other so that perhaps I am being pernickety.
When asking for players' response to the idea of using the algebraic notation for this bulletin, I was pleasantly surprised to find that a majority of competitors in this event were in favour, although it was clear that there were also some fervent opponents. One player in the Open came up shortly afterwards and pleaded "that doesn't mean I have to take the score in algebraic now,does it?" I was told recently that FIDE (Federation International d' Echecs) had ruled that they recognised only this notation and were instructing member nations to try to phase out descriptive varieties.
Tony Togwell tells me that one or two players graded over 130 did manage to slip into this event as last year. This seems inevitable and probably also happened in the Major.
JUNIOR A
The tournament chart tells most of the story of this event. Hecht, Kurajica and Bellin scored much as they wished against the rest. Kurajica had non-games versus Hecht and Sommerville. Bellin and Weeramantry had an instant draw in the last round so as to give the former what should be one leg on his British Candidate Master title.
Both Law and Rothbart had well-fought draws with the masters. Speelman's record against those above him was abysmal. Particularly against the masters he played with no conviction and just impaled himself on their pieces. Perhaps this was just lack of experience at this level. Certainly he went on to do quite well in the Hastings Challengers. Sommerville started off well enough but was pulverised towards the end. Bennett had a dreadful tournament. Bloch also had very poor results against the top players. Weeramantry' s fierce attacks just never ever came off.
JUNIOR B
Last year a Bennett withdrew from this event and it seems that J. Bennett did not want to break a tradition this year. Why he failed to show up after scoring 1½/2 I have no idea, as he could not be bothered to tell anyone. This is really incredibly inconsiderate and there were similar occurrences in the six-player all-play-all events. Withdrawing from a Swiss without warning is bad manners enough but to do so from an all-play-all is simply malicious sabotage.
To cap it all Terry Chapman came down with flu and had to default his last two games. Needless to say his mother did not find it an unbearable strain to phone up and tell us. Whether Terry contracted flu when he had 4½/5 before he lost to Jonathan Kinlay or afterwards I do not know. Then Jonathan himself mistook the times of two of the rounds and defaulted them. For some reason Jonathan Century has already told me that he will not be willing to run these events again.
Apart from all this the event went very much according to rating. Graham Lee and Michael [sic - his first forename is actually Maurice - JS] Staples of London University making big scores and David Goodman and Jonathan [sic - actually Julian P Loasby - JS] Loasby of Latymer Upper poor ones. Clearly they were out-gunned in this quite strong event. Jonathan [sic - actually John Graham Nicholson - JS] Nicholson had a major set-back in this event for which he started favourite. Last year Richard Lee could only score 1½, yet this time he did quite well and also had that excellent result in the Open. I am told that he made up for this by doing badly in the London Under 18 immediately after Christmas. Colin [sic - fourth forename error in this paragraph! He is Christopher M Cooley. Interestingly, I can recall Leonard Barden also mistakenly referring to him as 'Colin Cooley' at a prizegiving in 1977 - JS] Cooley seemed disappointed with his score. I would have thought it satisfactory but nothing to write home to Swindon about.
Have you noticed just how many English chess-playing youngsters seem to be called Jonathan? [But not quite as many as Stewart Reuben seems to think ... JS]

FUTURE PLANS
I am bored with the junior events and what is more, when we started them in 1969, there was little being attempted by the BCF (British Chess Federation). This has changed and thus there is no possibility of these events being repeated except conceivably by the inconceivable happening and their being taken completely off my hands. If your organisation is interested in taking over this fixture you are welcome to it and any advice you wish. Even the convenient dates – out of school term – could be made available.
Inviting foreign masters does not seem to interest anybody, if ever it did. The strong Czech grandmaster Vlastimil Hort did accept to play originally but the Moscow Tournament intervened. Understandably such players are very hard to get hold of.
Thus I can see only 3 attractive possibilities.
1) To give up running the event altogether;
2) To run it for my personal profit;
3) To seek to run an international master tournament in addition to the weekend events.
The first possibility is very attractive. Especially so as I am moving. My new address by the time you read this is [redacted].
The second is not really worth the bother.
We are exploring the possibilities of the third at present. The idea would be to run the weekend tournaments as at present. Two players would qualify from The Open Championship to play in a 10 player master event. There might be one other 10 player tourney but certainly none others. We are thinking in terms of February 1973 at present.
Raising the entry fees all round should mean that there would be £400 available in the kitty for the master event. This would leave £700 to be found. As the event would probably become London this should not be' impossible to' find. The intention is to have a yearly event. As big a problem as money is the number of organisers.
If you have any constructive comments, please forward them.
DONATIONS
London Chess League £5.00 Kent Chess Association 5.00 Surrey Chess Association 2.00 Inner London Education Authority 20.00. British Chess Educational Trust 55.00 A. Crombleholme 0.50 L. de Veauce 1.00 M. Patterson 1.00 R. Elwell 0.50 J. Anderson 1.00 M. Blaine 2.00 A. Eames 0.50 J. Gorton 0.50 A. Critchell 0.25 D. Goodman 2.00 C. Jowett 0.50 G. James 0.25 L. Fincham 0.25 A. May 0.50 A. Neviazsky 0.50 J. Ripley 0.25 R. Oxborough 0.50 M. Wren 0.50 M. Nicholas 0.50 M. Mahdavi 1.00 D. Barasi 0.35 G. Liska 2.00 F. Manning 0.50 B. Okrzeja 0.50 J. Greene 0.25 T. Pruchnicki 0.50 Dr. Shenfield 1.00 A. Law 0.50 L. Fuchs 0.50 A. Aaron 1.00 B. Sammes 0.50 M. Staples 0.25 M. Speigel 0.50 L. Watt 2.00 J. Speigel 0.50 G. Agnew 2.00 S. Caldwell 1.00 T. Chapman 0.50 D. Rivett 0.50 P. Loyd 0.50 M. Pringsheim 0.50 S. Ridout 2.00 H. Phillips 0.50 R. Bellinger 0.50 B. Williams 1.00 J. Steedman 0.25 J. Ward 0.50 G. Paschkes 1.00 D. Berdy 0.50 J. Davis 0.50 R. Dean 0.25 G. Fuller 0.50 S. Alland 0.50 D. Foley-Comer 0.50 E. Higgs 0.25 S. Shields 0.10 C. Taylor 0.50 J. Jones 0.10 R. Higgs 0.25 G. Carter 0.50 J. Powell 0.50 M. Curtis 1.00 S. James 0.50 K. Bexon 0.50 D. Page 0.50 S. Capsey 1.00 L. Bunker 0.50 D. Read 0.50 P. Baldwin 1.00 R. Murphy 2.50 G. Melitus 0.13
Towards the Junior Tournaments
Middlesex County Chess Association £50.00 Southern Counties Chess Association 20.00
Our apologies to those players in the Amateur Championship who made donations and whose names are not included. This information was lost. The total of £203 may seem considerable but it does not equal the cost of the junior events.
All of the material which follows [i.e. the game scores and annotations] was edited by Jimmy Adams. Since this involves playing through all the game scores, choosing those to be included, correcting them to English algebraic, typing the stencils, persuading the players to submit analysis, running off the stencils, collating the pages, stapling them together, putting them in envelopes, sealing the envelopes and posting them - I would not like it to be thought that I did all the work or indeed anything more than the preceding pages. Stewart Reuben.
---
File Updated
| Date | Notes |
| --- | --- |
| 24 April 2007 | Original upload of 177 games in a zipped file |
| 18 September 2023 | Now 185 games, plus tables, reports, etc, extracted from the bulletin and magazines. Dates have been added where available (note that the dates that had been given for these games on the 2022 Mega Database are seriously wrong). Amongst the additional games was one submitted by Tim Harding (his game vs CG Burton, rd 6) for which many thanks. |