BRITBASE - British Chess Game Archive
Tournament: 3rd Paignton Premier •
9 Premier games of 28, plus a position and 7 games from lower sections
Venue: Oldway Mansion, Paignton • Dates: 7-12 September 1953 • Download PGN • Last Edited: Monday 15 May, 2023 1:13 PM
1953 (3rd) Paignton Premier, 7-12 September, Oldway Mansion, Paignton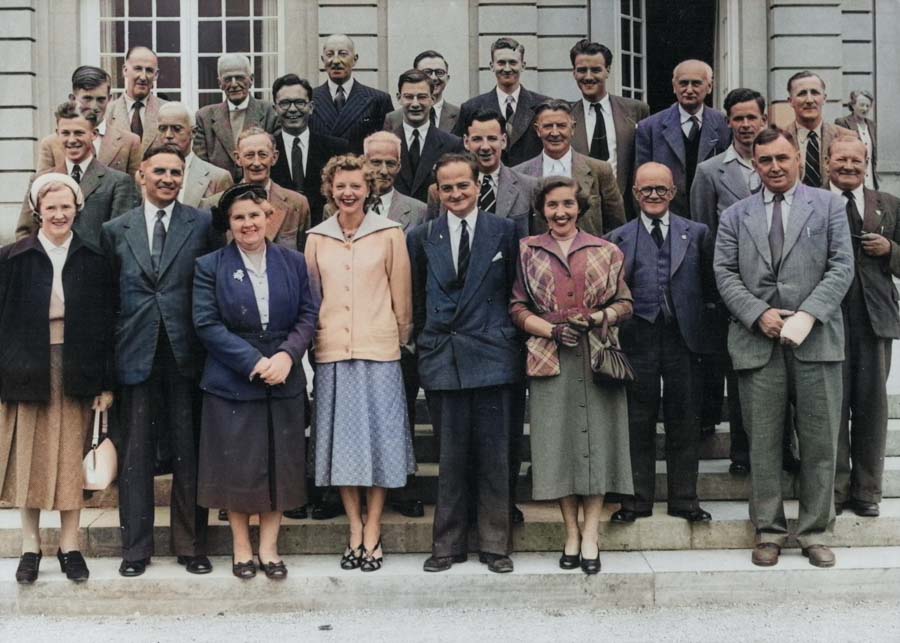 Group photo of players and officials at the Paignton Congress, 7-12 September 1953.
Photo taken by H. F. Marshall, Paignton, colourised by John Saunders, 2023.
Many thanks to Ingrid Ives (daughter of Ronnie & Cobie Ives) for posting it on the English Chess Forum and to Leonard Barden for helping to identify some players.
(Hover over a face with the mouse to see the players who have been identified - desktop/laptop computers only).
Top row (left to right): Daniel Castello, George A Peck, Harry Gethin Thorp Matchett, ??, John H Beaty...
Third row (i.e. behind front row, left to right): Henry Trevenen(?), Alan Edgar Nield, William Fry, ??, David LeBrun Jones...
Front row: the lady with the light-coloured top in the front row is 'Dody' Bourdillon who tied for the 1958 British Women's Championship but lost a play-off match. Next to her is Ronald Wilson (Ronnie) Ives and his wife Jacoba (Cobie) Ives. Next to Cobie is organiser/arbiter Harold Meek. Next to Meek (with a plaster on his arm) is Andrew R B Thomas.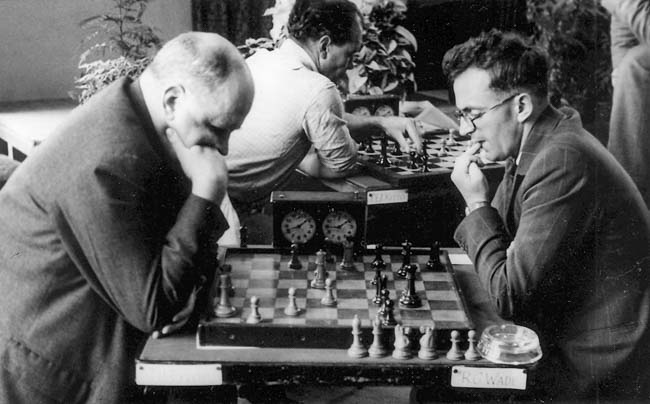 Theodore Tylor playing White vs Bob Wade in the last (7th) round, Paignton, 12 September 1953.
In the background Frank Kitto may be seen playing his game against A. R. B. Thomas (unseen).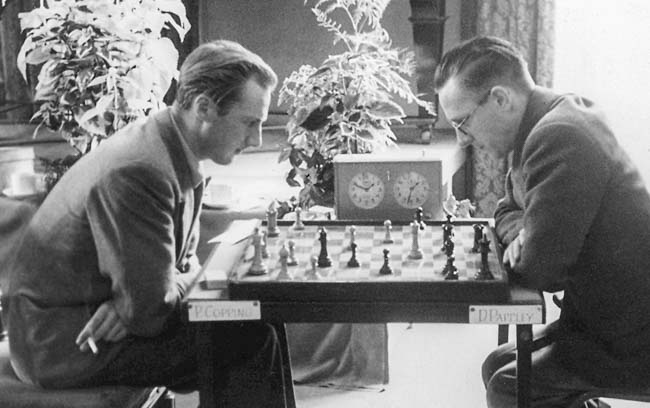 Peter F Copping playing White vs Derek Paffley, also in the last round at Paignton, 12 September 1953
BCM, October 1953, ppn 264-265 [report by A R B Thomas]
PAIGNTON CONGRESS
The Third Annual Chess Congress of the Devon County Chess Association was held at Oldway Mansion, Paignton, from September 7th to 12th, with eighty-five competitors. Once again full support was given by the Paignton Urban District Council, and with Mr. R. C. Fogwill (Devon Secretary) in charge of the local arrangements and Mr. H. [Harold] Meek acting as Controller another successful and happy congress was assured from the start.
As last year the Premier Tournament was confined to British players and a strong entry was obtained. The result was a fine win for Wade, whose performances since he won the British Championship last year have been consistently good. He is undoubtedly a greatly improved player from the time he came to England in 1946.
Tylor had a very good congress and in a way was unlucky not to be first as he blundered badly against Kitto when he had a fine game. But he still had his chance as White in the last round against Wade, when a win would have secured him first prize. A very dour struggle ensued with Tylor exerting continuous pressure in a middle-game from which the minor pieces had departed. But Wade played very fine defensive chess and the game ended in a draw.
Milner-Barry did well until he was beaten by Wade in a fine game which is to appear in the Games Section. He then played poorly against Tylor, when he could do nothing right, but scored his usual win against Golombek in the last round to take third prize.
Of the others, Golombek was out of form and played listless chess. He has had a very heavy programme recently and probably needs a rest. Kitto, as always, brought fresh ideas to his games, some turning out to be good and others not so good. Copping had a very hard tournament and will undoubtedly have gained from the experience. His best performance, possibly, was to hold Golombek to a draw as Black in a Catalan, a most difficult game in which Golombek for once got desperately short of time. Paffley should not be discouraged, as he played interesting chess and also had a series of strenuous games.
In the Premier Reserves, Section A, there was a particularly close fight for first place, Nield just getting his head in front of Sifton (who, incidentally, was a member of the Kent team which won the English Counties Championship in 1912). It was a great pleasure to see Trevenen playing again after his illness, even though he was clearly short of practice. In Section B Napier and Matchett played good attacking chess and deservedly shared the prize. In Section C Jones won rather more comfortably than the score shows.
After the prize-giving the tournament was concluded with a lightning tournament which was won by G. H. F. Tredinnick.
A selection of games is given which should prove interesting. A. R. B. T[homas]
---
Premier Reserves A: (1) Alan Edgar Nield 5/7; (2) Isaac Taylor Sifton (Bampton) 4½; (3-4) Donald Melville Andrew (Sheffield), John H Beaty 4; (5) Henry Vickers White Trevenen (Penzance) 3½; (6) William James Fry (Southampton) 3; (7-8) Mrs. Rowena Mary Bruce (Plymouth), Anthony G Midgley (Huddersfield) 2.
Premier Reserves B: (1-2) Harry Gethin Thorp Matchett (Birmingham), Ivan Robert Napier (Lelant) 5½/7; (3) Raymond Mountford Ellison (Prescot; Christchurch) 4; (4-5) Reginald J Potter (Birmingham), G W Smith (Guildford) 3½; (6) George Harold Foster Tredinnick (Purley) 2½; (7) Bertram Goulding Brown (Cambridge) 2; (8) Dr. Ernest Ludwig Leiser Lonbay (New Romney) 1½.
Premier Reserves C: (1) David LeBrun Jones (Woodford Green) 5/7; (2) John G Cockcroft (Bingley) 4½; (3-5) Mrs. Dorothea (Dody) Bourdillon (Gloucester), L G Huntingford (Upavon), Arthur Charles Samuel Pindar (Farnborough) 4; (6) Frederic Montgomerie Woolmer (Newbury) 3; (7) (Edward) Douglas Fawcett (London, aged 85) 2; (8) Keith Edward Charles Budge (Plymouth) 1½.
Major A: (1) Denys Pepperell Bonner (Exmouth) 5½/7; (2) W G Matthews (Greenford) 5; (3) Daniel Castello (London) 4; (4-5) G McGowan (Glasgow), C E Scutt (Bristol) 3½; (6) S T Harvey (Teignmouth) 3; (7) Alexander Schofield (Castleford) 2; (8) Brian Killick Jeary (Plymouth) 1½.
1953 Paignton Major B
Draw No.
Resid.
1
2
3
4
5
6
7
8
Total
1
Ronald Wilson Ives
3
Pontefract
½
½
1
1
1
1
1
6
2
J/I Morton
6
Glasgow
½
0
1
0
1
1
1
4½
3
R S Allen
4
Cranleigh
½
1
0
½
1
1
0
4
4
R F Rowe
8
Plymouth
0
0
1
1
½
½
½
3½
5
E Fairbrother
5
East Sheen
0
1
½
0
0
0
1
2½
6
Gregory Owen John Melitus
1
London
0
0
0
½
1
1
0
2½
7
A Messenger
2
Burnt Oak
0
0
0
½
1
0
1
2½
8
G C Walker
7
Teignmouth
0
0
1
½
0
1
0
2½
First Class A: (1) A Sayers (Sunderland) 5½/7; (2-3) G W Booth (Westcliff), Richard Cyril Fogwill (Paignton) 5; (4) R K Mosley (Torquay) 4½; (5) George Arthur Peck (Rugby) 3½; (6) John Daniel Sayle (Epsom) 2; (7) George Robert Cottew (Exeter) 1½; (8) Capt. W Furneaux (Paignton) 1.
First Class B: (1) Michael J Reddie (Chelsfield) 6/7; (2) W G Lambert (Torquay) 5½; (3) J Bate (Chester) 5; (4) J Maddick (Exeter) 4; (5) R W Berry (Dunstable) 3; (6) J Hatherley (London) 2; (7) Sir (Joseph) Hugh Garrett (Torquay) 1½; (8) Patrick Crotty (Belvedere) 1.
Second Class: (1) F J Andrews (Reigate) 5½/7; (2) G A Thompson (Paignton) 5; (3-5) Rev. Henry Cooper Percy (Teignmouth), A H Taylor (Sheffield), P R Taylor (Sheffield) 4½; (6-7) Henry James Mapleton (Torquay), Lt.-Col. Frank (Francis) Moysey 2; (8) T Armon (Paignton) 0.
Third Class: (1) F C Shorter 5½/7; (2-4) Mrs. Jacoba Ives (Pontefract), R C Winter, E W Wood 5; (5) R F Scarlett 4½; (6-7) Ernest Henry Ladbury (Totnes), Mrs. Eleanor Catherine Molyneux (née Annesley) 4; (8-9) Mrs. Laura Ethel Amelia Start, P Valansot (aged 15) 3½; (10-11) A G Davies, Mrs. G Frost 3; (12) Miss Lucy Anness 2; (13) Mrs. Mary Marguerite Copping (née Olden) 1.
---
File Updated
| Date | Notes |
| --- | --- |
| 17 February 2023 | First upload. Eight games plus one position reconstruction. The group photo was supplied (via the English Chess Forum) by Ingrid Ives, for which many thanks. I'm not sure of the provenance of the other two photos. |
| 26 February 2023 | Added a game: P.Copping 1-0 F.Kitto (rd 1). Many thanks to Ulrich Tamm. |
| 15 May 2023 | Added 7 games played by Ronnie Ives in Major B, and a crosstable for that section. Many thanks to Ingrid Ives for the loan of Ronnie Ives's chess memorabilia. Some additions/amendments made to the names of people in the group photo. Many thanks to Leonard Barden for help with this. |