BRITBASE - British Chess Game Archive
Tournament: 28th Hastings Premier 1952/53
•
Go to: Previous Year • Next Year
• updated February 19, 2023 9:23 AM
Venue: White Rock Pavilion • Dates: 30 December 1952 - 8 January 1953 • Download PGN (45/45 Premier games + 8 games from subsidiary events)
1952/53 Hastings Premier, 30 December 1952 - 8 January 1953, White Rock Pavilion
1952/53 Hastings
Premier
Draw no.
Nat'y/Resid
1
2
3
4
5
6
7
8
9
10
Total
1
Harry Golombek
5
Chalfont St Giles
0
1
½
½
0
½
1
1
1
5½
2
Antonio Medina García
2
Spain
1
½
½
½
0
0
1
1
1
5½
3
Jonathan Penrose
3
Hampstead
0
½
0
1
1
½
1
½
1
5½
4
Daniel Abraham Yanofsky
6
Canada
½
½
1
0
1
½
½
½
1
5½
5
William Albert Fairhurst
9
Glasgow
½
½
0
1
½
½
1
½
½
5
6
Max Blau
4
Switzerland
1
1
0
0
½
1
0
½
½
4½
7
Theodore Henry Tylor
8
Oxford
½
1
½
½
½
0
0
½
½
4
8
Edward Lasker
10
USA
0
0
0
½
0
1
1
½
½
3½
9
Robert Graham Wade
7
Ilford / NZL
0
0
½
½
½
½
½
½
½
3½
10
Dr (Jakob) Adolf Seitz
1
Argentina
0
0
0
0
½
½
½
½
½
2½
Prizes: £50. £30, £20, £10. Each winner received £27 10s.
---
BCM, February 1953, ppn 29-37
THE HASTINGS CHRISTMAS CONGRESS 1952-3
By W. Ritson Morry
THE White Rock Pavilion is full of memories for me, reaching back as they do over more than twenty years. It has personal recollections associated with many old friends, some of them now, alas, no longer with us; it brings memories of victories and defeats in well over 100 games; but above all it brings happy memories of the clashes of great chess figures and the battles fought between them.
There was that great tournament when Sir George Thomas beat both Botwinnik and Capablanca to lead proudly for Britain in a star-studded field [1934/35], finishing in a tie with Flohr and Euwe above the two world masters. Then there was the time when Alexander went undefeated through the congress to tie with Keres behind Reshevsky, ahead of Fine and Flohr [1937/38]. There were the tournaments when the mighty Alekhine came but did not always completely conquer. Those, indeed, were the days! Hastings was chess.
To-day the congress has become but a ghost of its former self. No longer do the grandmasters crowd out their lesser colleagues to make even the Premier Reserves strong master tournaments. I could sense the spirits of Alekhine and Capablanca, united at last to brood sorrowfully over the glory that was Hastings.
This season's British contingent was a good one and the chief interest centred round the possibility of a Penrose victory, by no means unlikely after his Helsinki performance. The foreign contingent fell below that of any previous congress. Financial stringency is one of the main causes of the decline, for it becomes increasingly difficult for tournament organizers to bear the cost of bringing the great masters to England and until this handicap can be overcome it seems that the golden age of the Hastings Congress has gone for ever.
The congress as a whole had an unusually low entry and this was undoubtedly due to the later starting date which cut out many competitors in the scholastic professions. School holidays are not so long at Christmas as they used to be.
Lord Burghley opened the congress in a lively speech and he was supported by the Mayor of Hastings (Alderman H. W. Rymill, J.P.) and Sir Clarence Sadd (President of Sussex C.A.). Mr. N. Cooper-Key, M.P., who invariably graces this occasion with his presence, was unavoidably prevented from attending, but sent his felicitations.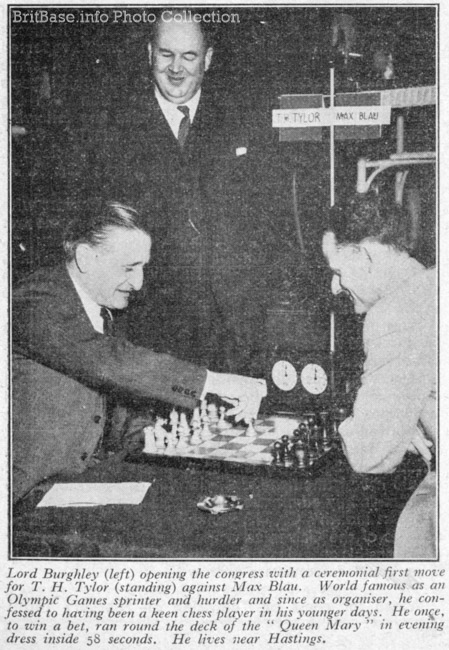 From CHESS, February 1953, p86
There was no "odds-on" favourite when play began and the result showed that spotting the winner was an unrewarding occupation for right up to the last round any one of five players could still finish first. Penrose started brilliantly and by the end of the first week he was riding high. Defeat by Golombek on the Monday of the second week wrought a startling transformation, for his play thereafter was limp and dispirited and it seems that he suffers from the psychological defect of being too much upset by a single set-back. He offered littie resistance to Yanofsky in the next round, missed several chances against Wade on the Wednesday, and in the last round caused profound disappointment by agreeing to a draw with Tylor before the battle had a chance to begin. - He had the satisfaction of equalling Flohr's record of winning the Premier Reserves and Premier tournaments in successive years. Will he challenge Flohr's other record of winning the Premier four times in succession ?
Golombek played some good games and his wins were in his best style. He lost to Medina purely through running too short of time and this game spoilt his chances of winning on his own. He, too, was concerned in a short draw in the last round, which displeased many of his admirers, but it had to be realized that he had gone slightly wrong in the opening and to have continued and lost would have made him equal fourth instead of first.
Yanofsky started well-nigh disastrously, with three draws and a loss, and the way in which he fought his way back was an example of dogged determination which others might well try to emulate.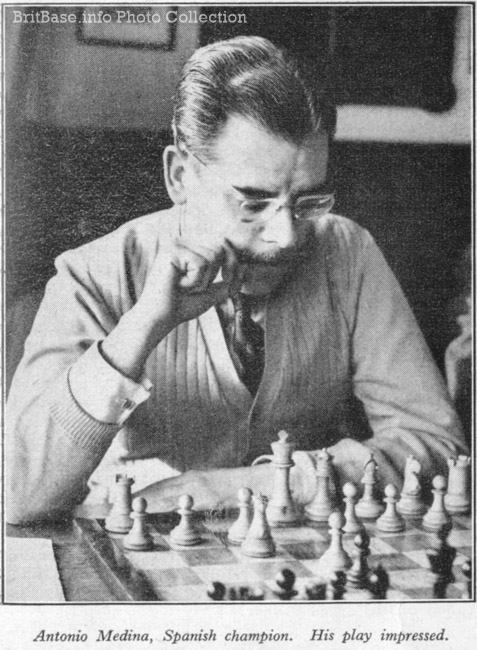 From CHESS, February 1953, p87

Medina showed that he has derived much benefit from participation in strong international events. He manages his clock rather badly and might well have won this tournament but for this bad habit.
Of the non-prizewinners, Fairhurst showed good form but was too liberal with halfpoints in the early stages. He let off Blau in a complex position and agreed a draw with the better position against Wade to get rid of an accumulation of adjourned games.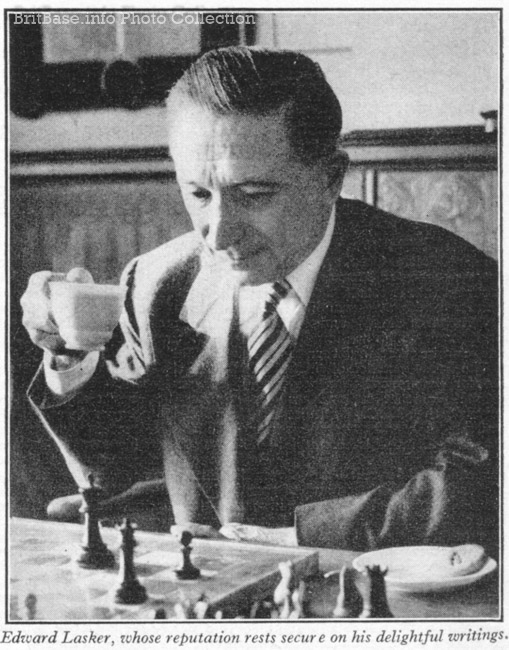 From CHESS, February 1953, p87
Blau played spasmodically well and badly and never produced the form of a tournament winner. Tylor was rather unlucky to blunder badly against Lasker. He played soundly throughout the tournament and was always dangerous, as evidenced by his excellent win over Medina. Lasker presented a remarkably youthful appearance for a man of sixty-seven, but his play showed that the years have taken their toll of his powers. It was impossible to recognize in his games the author of the classic Chess Strategy or the player who drew four games out of six with Lasker, Capablanca, and Alekhine at New York, 1924. Wade and Seitz did not win a game between them. Wade seemed to be tied to the tradition that the reigning British Champion always seems to have a rough passage at Hastings.
...
[last round] The day of the "Great Indecision" dawned full of hope and expectations. There were four leaders, two of whom had to play each other and of the other two Medina had to play Fairhurst, who could displace him by winning. Anything could happen in such a situation and the spectators came along in good numbers to see the fun. They could hardly have been more disappointed. Penrose offered Tylor a draw at move 11 and a little later Golombek and Yanofsky called off the battle after 12 moves. Let us preserve these two gems for posterity... [game scores]
Fairhurst was naturally handicapped by having the Black pieces, but he made a genuine effort to get something out of the position. Medina ran very short of time, whilst Fairhurst had over 20 minutes left but by move 29 both clocks were in such a precarious state that Fairhurst would probably have lost had he not accepted the offer of a draw.
The non-prizewinners put more fight into their games, for they had nothing to lose and a bonus of £1 to gain for each won game. Nevertheless, even their good intentions failed to produce a single win and by tea-time the tournament had drawn peacefully to its close.
1952/53 Hastings Premier Reserves Major 1
1952/53 Hastings
Premier Reserves Major
Draw no.
Nat'y/Resid
1
2
3
4
5
6
7
8
9
10
Total
1
Román Bordell Rosell2
10
Catalunya, Spain
1
1
½
½
½
1
1
1
1
7½
2
Hans Jack Berliner
3
USA
0
0
1
½
1
½
1
1
1
6
3
Norman George Hammond
9
Lewisham
0
1
½
½
0
1
1
½
1
5½
4
Denis Victor Mardle
1
Bedford
½
0
½
½
½
½
1
1
1
5½
5
Peter Hugh Clarke
6
Ilford
½
½
½
½
½
1
½
0
1
5
6
Donald G Mackay
5
Balham
½
0
1
½
½
0
1
1
½
5
7
Edward Guthlac Sergeant
2
Kingston-upon-Thames
0
½
0
½
0
1
0
1
½
3½
8
Andrew Rowland Benedick Thomas
7
Tiverton
0
0
0
0
½
0
1
1
½
3
9
James Chrismas Waterman
8
Hastings
0
0
½
0
1
0
0
0
1
2½
10
Borge Andersen
4
Denmark
0
0
0
0
0
½
½
½
0
1½
1 There were three prizes: £10, £7 10s., and £5.
2 As winner of the Premier Reserves Major, Bordell might have expected to play in the following year's Premier. Indeed he was invited but later uninvited because the organisers feared that the participation of a Spanish player might result in the withdrawal of the Soviet invitees. This became a cause célèbre which Edward Winter has covered at some length: https://www.chesshistory.com/winter/extra/bordell.html
This tournament was rather weakened by the withdrawal of no less than three of the original entrants, Messrs. Persitz, Hooper, and Oakley, their places being taken by Messrs. Hammond, Mackay, and Waterman. Nevertheless, it was a strong tournament and the Spaniard, Ramon [sic - his forename was Román] Bordell, was a worthy winner. He arrived a day late and had to make up a good deal of leeway for he had all his games postponed or adjourned at the end of the fourth day. He had a busy week-end clearing the arrears but emerged with 4½ out of 5 and went on to win the section easily.
Berliner, who has a considerable reputation in the U.S.A., where he ranks as a master under the U.S.C.F. Grading System, also played well to take second prize. Hammond was promoted from the Premier Reserve "B" to fill one of the vacancies and he showed that he is rapidly becoming a very good player. He recently won the Battle of Britain Trophy. Mardle also gave a good performance, going through the tournament with only one loss.
P. H. Clarke also proved difficult to beat, but his loss to J. C. Waterman spoilt his chances of adding another success to his recent British Championship placing. The form of Sergeant and Thomas was much below par but Mackay fully justified his promotion from the lower sections.
SCORES OF THE OTHER SECTIONS
Premier Reserves A: 1 Jaime Mora Corbera (Catalunya - in Catalan his forename is Jaume) 8½/9; 2 Percy B Cook 7; 3-4 Michael Davis, Lawrence Alfred J Glyde 6; 5-6 Peter Harris, John James O'Hanlon 4; 7 James E Pattle 3½; 8 Dr. Michael Benger 2½; 9 Brian Gluss 2; 10 Henry Holwell Cole 1½.
Premier Reserves B: 1-2 Geoffry Guy Lucas (Jesus College, Oxford), Brian J Moore (Saltley) 6/8; 3 J. Walker 5½; 4-6 Otto H Hardy (Batley), David Le Brun Jones, Francis Samuel Woolford 4½; 7 Frank Alan Hart (Bedford / Cambridge Univ) 3; 8-9 Eric Howard Flear (Hastings), Alfred Dempster Whyte 1.
Premier Reserves C: 1-2 T Vincent Maher, Alan Edgar Nield 7½; 3 D. Smith 6; 4-5 Percival Arthur Cooke, G. F. Ramsay 5; 6-7 Alfred Dudley Barlow, Eric Leyns (Bishops Stortford) 4½; 8 Willington Lucette Wakefield 2½; 9 Miss Minnie Musgrave 2; 10 (Edward) Douglas Fawcett ½.
Major A: 1 Newman Clissold (New Brighton) 7½/9; 2-3 Herbert Francis Gook, H. C. Lewis 6½; 4 Rev Henry Middleton Blackett 5½; 5 Philip B Sarson (South Harrow) 4½; 6 D. Egginton (Dawlish) 4; 7 Ernest John Seymour (High Wycombe) 3½; 8 Keith Edward Charles Budge (Plymouth) 3; 9 J. Edge (Birkenhead) 2½; 10 George Arthur Peck (Rugby) 1½.
Major B: 1 G. Booth 6; 2 Francis Harry Senneck 5½; 3-5 S. Dean, J. Greig (Luton), C. H. Matthews (Stockport) 5; 6 Ernest Ephraim Weedon (Shanklin) 3½; 7 Patrick Humphrey Sullivan 3; 9 Gregory Owen J Melitus 2; 10 Archibald Snelling Dance 1.
Major C: 1-2 William John Clare Hart Burges, James Heneage McKenzie Finch (Canterbury) 6½/8; 3 F. M. Matthews (Grantham) 5½; 4 Reginald J Manfield (Chelmsford) 5; 5 Alex Schofield (Castleford) 4; 6 H. Cohen (London) 3½; 7-8 A. K. Henderson, Edmond Julien Leyns (Bishops Stortford) 2; 9 A. C. Hopkinson (Bexhill) ½.
First Class: 1 Bertram Goulding-Brown (Cambridge) 9/11; 2 J. Raeburn 9; 3 Sir John Charles Walton 8; 4 Geoffrey George Homan 7; 5 D. B. Mortimer 6½; 6 William Jack Eldred Hinkley 6; 7 Percy Archibald Turley 5; 8 F. Willan 4½; 9-10 W. Kennett, Patrick Crotty 3½; 11 Mrs. C. Lewis 24; 12 Samuel Frederick Dalladay 1.
Second Class: 1 A. H. Harris (St Leonards) 8½/10; 2-3 A. J. Davis (Hastings), F. Lambert (Leeds) 8; 4 J. D. B. Hyde (St Leonards) 7; 5 Neil Leslie Freeman (Ealing) 6½; 6-7 J. Holmes, A. A. Woolford 4½; 8 T. Rich 3½; 9 C. L. Upton 2½; 10 Mrs. Laura Ethel Amelia Start (née Whitehouse) 2; 11 Miss G. M. Flynn (Tunbridge Wells) 0.
Jaime Mora won the Premier Reserves A very easily and with Medina and Bordell completed an impressive "treble" for Spain.
Most encouraging to British supporters was the performance of sixteen-year-old B. J. Moore of Saltley Grammar School and Erdington C.C., Birmingham, who shared first prize in the Premier Reserve B. This was his first visit to the Hastings Congress but he played throughout with excellent judgment. In the last round he had to play for a win against Lucas, who was a clear point ahead of him, and the way in which he tackled the job was an object lesson to other more exalted players. He refused countless proffered draws and on the last day managed to "winkle" a win.
---
CHESS, Vol.18, no.209, February 1953, p86
This year's Hastings Christmas congress had claims to be regarded as the most colourless ever held. As Golombek wrote in the Times: "Though the British representation is up to average, the foreign entry is rather disappointing. The selectors have thrown their net wide but limitations of finance have caused them to fail to include a great master in their catch ... At one time or another, all the world champions, Steinitz, Emanuel Lasker, Capablanca, Alekhine, Euwe and Botvinnik have played at Hastings ; and though one must appreciate the organisers' monetary difficulties, it seems a pity to let the foreign opposition decline.''

There were fewer spectators and fewer competitors—exactly 100—than surely ever before. And when the Premier could have become a bit interesting, when the last round began with Golombek, Penrose, Medina and Yanofsky tied equal in the lead, Penrose against Tylor agreed a draw on move eleven, and Golombek against Yanofsky agreed a draw on move 12!

A curious point is this: Hastings Corporation makes its grant of money for the publicity gained. This year's congress, for all its defects, secured enormous publicity. The usual—or more than the usual—space was allotted daily in the Times, Manchester Guardian and Daily Telegraph. The Corporation is being implored to give more, but if the grant were doubled it is hardly conceivable that the publicity could be expanded by more than about ten per cent.
The prizes in the Premier (£50, £30, £20 and £10) were not ungenerous, good enough to attract a better entry.
Hastings's chess tradition must have caused, at a modest estimate, 150 comparatively affluent people to retire there for life.
By the time next year's Congress comes round, the Hastings Chess Club will almost certainly be in new premises. There has been for long a feeling among the members that it should own its own freehold and one has donated £2,000 towards the purchase of suitable quarters.
It is the first time in the history of the twenty-eight Chess Congresses held at Hastings since 1895, that there has been a quadruple tie for first place in the Premier.
Noteworthy was the success of the small Spanish contingent: Medina shared first place in the Premier, Bordell finished two points ahead of the rest in Reserves Major and Mora headed Premier Reserves "A."
"For the last five rounds, the three masters heading the list have been fighting valiantly to obtain the slightest advantage . . . and now at the beginning of the very last round we find Tartakover, Thomas and Znosko-Borovsky grouped with 8 points each while all other competitors are far away ... All honour to all three of them because up to the last moment they have kept the interest of spectators and competitors alike at feverish heights : Sir George going so far as to keep the final determination of first place in suspense until after 11 p.m. (all other games being finished before the adjournment) before he finished his game . . .
From the book of the Nice International Tournament 1930. Compare with Hastings 1952 where the games Penrose v. Tylor and Golombek v. Yanofsky were agreed drawn after about 25 minutes.
During a tense moment in the Penrose-Golombek game, their table collapsed, throwing the chessmen in all directions.
Dr. Adolf Seitz is an interesting personality. Bavarian-born, he was the first German to play in England after the first World War and has played 22 times since. He is a Life-member of the B.C.F. and has been CHESS's representative in Buenos Aires since 1939.
---
The Times, 30 December 1952
HASTINGS CHESS CONGRESS - DISAPPOINTING FOREIGN ENTRY - FROM OUR CHESS CORRESPONDENT
The twenty-eighth annual Hastings international chess congress opens to-day at the White Rock Pavilion. In the premier tournament the competitors from abroad are M. Blau (Switzerland), Dr. Edward Lasker (United States) [was he a doctor? - JS], A. Medina (Spain), Dr A. Seitz (Argentina). R. G. Wade (New Zealand), and D. A. Yanofsky (Canada). From home there are W. A. Fairhurst, H. Golombek, J. Penrose, and T. H. Tylor.
Though the British representation is up to average, the foreign entry is rather disappointing. The selectors have thrown their net wide, but limitations of finance have caused them to fail to include a great master in their catch. Hastings has a long and proud record in the history of international chess stretching as far back as the great tournament of 1895. At one time or another, all the world champions, Steinitz, Emanuel Lasker, Capablanca, Alekhine, Euwe, and Botwinnik, have played at Hastings; and though one must appreciate the organizers' monetary difficulties, it seems a pity to let the foreign opposition decline.
The Commonwealth is well represented by the New Zealand master, Wade, who is the present British champion, and Yanofsky, a Canadian law student at Oxford University. Yanofsky, indeed, will be regarded by many as the likeliest candidate for first prize. Blau and Seitz are both well known for their steadiness; while the Spanish champion, Medina, has the reputation of a variable combinative player.
The most interesting English competitor is Jonathan Penrose, who at 18 must surely be the youngest player ever to take part in the Hastings premier. Last year he won the major section of the premier reserves with considerable ease, and it would be most encouraging for British chess if he repeated this success in a higher section.
---
The Times, 9 January 1953
QUADRUPLE TIE FOR CHESS TITLE - PENROSE AND GOLOMBEK AMONG WINNERS
FROM OUR CHESS CORRESPONDENT - HASTINGS, Jan. 8
For the first time in the history of the series of international tournaments at Hastings there has been a quadruple tie for first place in the premier tournament Golombek (Great Britain), Medina (Spain), Penrose (Great Britain), and Yanofsky (Canada) all tied for first prize with 5½ points.
Golombek-Yanofsky and Penrose-Tylor were quick draws that left the three leaders equal. The question then was whether Medina could gain a full point out of his game against Fairhurst. Here, however, it was the British player who held the initiative all the way through. To make matters more difficult for him Medina found himself in acute time trouble, during which he played with surprising accuracy. So much so that when the Spanish champion offered the draw Fairhurst agreed, since the position was by then level. Dr. Seitz and Dr. Lasker had a long game that finished in a drawn ending with bishops of opposite colour.
The last game to end was that between Blau and Wade. In this Wade defended himself well and soon went over to the counter-attack. Blau gave up a pawn in order to regain the initiative, and the game was eventually drawn in 49 moves.
EVENNESS OF PLAY
Of the tournament as a whole It should be observed that rarely has such an event been so marked for the general level quality of the players. Both Fairhurst and Blau were unlucky not to finish in the prize list; Of the leaders, Golombek produced one or two of his best games; Medina is clearly a most promising master; Penrose played extremely well in the first week, but weakly in the latter half of the tournament; while Yanofsky did the reverse.
---
1952/53 Hastings All-Play-All Pairings
All-Play-All Pairings
Hastings 1952/53
1
2
3
4
5
Rd 1
1 v 2
9 v 3
8 v 4
7 v 5
10 v 6
Rd 2
3 v 1
4 v 9
5 v 8
6 v 7
2 v 10
Rd 3
1 v 4
2 v 3
9 v 5
8 v 6
10 v 7
Rd 4
5 v 1
4 v 2
6 v 9
7 v 8
3 v 10
Rd 5
1 v 6
2 v 5
3 v 4
9 v 7
10 v 8
Rd 6
7 v 1
6 v 2
5 v 3
8 v 9
4 v 10
Rd 7
1 v 8
2 v 7
3 v 6
4 v 5
10 v 9
Rd 8
9 v 1
8 v 2
7 v 3
6 v 4
5 v 10
Rd 9
10 v 1
2 v 9
3 v 8
4 v 7
5 v 6
---
File Updated
| Date | Notes |
| --- | --- |
| (some years ago) | Games previously uploaded as part of a collection of Hastings games |
| 7 June 2022 | Uploaded in the current format, adding six games from subsidiary sections, crosstables, reports and results. |
| 7 June 2022 | Two games added: (1) E.Sergeant 0-1 N.Hammond (Premier Reserves Major); (2) L.Glyde 1-0 P.B.Cook (Premier Reserves A). Many thanks to Brian Denman. |
| 31 August 2022 | Added one game: H.Berliner 1-0 B.Andersen (Premier Reserves Major, rd 5). Many thanks to Andy Ansel for contributing. |