BRITBASE - British Chess Game Archive
Tournament: 19th Kent CCA Premier, Margate •
19 games, 2 part-games, 7 stubs plus 5+1 games from lower sections


Venue: Margate • Dates: 31 March - 7 April 1923 • Download PGN • Last Edited: Friday 3 February, 2023 6:29 PM
1923 Kent County CA Congress, Margate Premier, 31 March - 7 April
1923 Margate Premier
Nat'y
1
2
3
4
5
6
7
8
Total
1
Ernst Grünfeld
AUT
1
½
½
½
1
1
1
5½
2
Reginald Pryce Michell
ENG
0
½
½
1
1
1
½
4½
3
Alexander Alekhine
FRA
½
½
1
0
½
1
1
4½
4
André Muffang
FRA
½
½
0
1
½
1
1
4½
5
Efim Bogoljubow
GER
½
0
1
0
1
1
1
4½
6
Richard Réti
CSR
0
0
½
½
0
1
1
3
7
Eugene Ernest Colman
ENG
0
0
0
0
0
0
1
1
8
Oscar Conrad Müller
ENG
0
½
0
0
0
0
0
½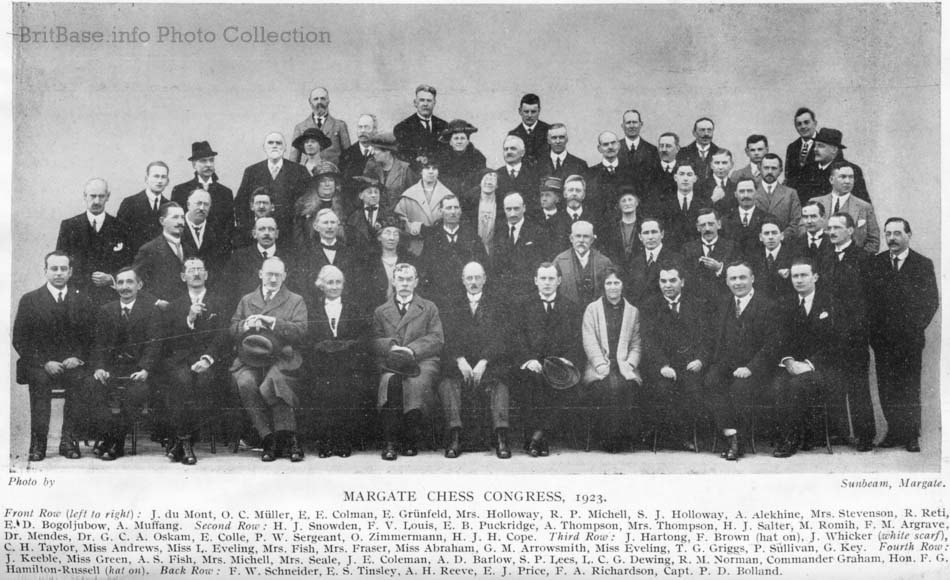 Photo, frontispiece opp. p153, BCM, May 1923
Front Row (left to right): Julius du Mont, Oscar Conrad Müller, Eugene Ernest Colman, Ernst Grünfeld, Mrs. Edith Martha Holloway, Reginald Pryce Michell, Samuel John Holloway, Alexander Alekhine, Mrs. Agnes Bradley Stevenson, Richard Reti, Efim D Bogoljubow, André Muffang.
Second Row: Harold John Snowden, Henri François Valentin Louis, Edward Buddel Puckridge, A Thompson, Mrs. Thompson. H. J. Salter, Massimiliano Romi(h), Frank Miles Argrave, Dr. J da D. Mendes, Dr. Gerard Cornelis Adrianus Oskam, Edgar Colle, Philip Walsingham Sergeant, Otto Zimmermann, Hiram James Horace Cope.
Third Row: J. Hartong, Fred Brown (hat on), J. Whicker (white scarf), Charles Henry Taylor, Miss M Andrews, Miss Lillie Eveling, Mrs. Florence Jane Fish, Mrs. Fraser, Miss Emily Eliza Abraham, G. M. Arrowsmith, Miss Eveling, Thomas Godden Griggs, Patrick Humphrey Sullivan, G. Key.
Fourth Row: John Keeble, Miss Green, Arthur Samms Fish, Mrs. Edith Mary Ann Michell, Mrs. Seale, John E Coleman, Alfred Dudley Barlow, Stephen Poulson Lees, Leslie Charles Gwyn Dewing, Ronald Melville Norman, Commander Robert Douglas Graham, Hon. Frederick Gustavus Hamilton-Russell (hat on).
Back Row: F. W. Schneider, Edward Samuel Tinsley, Alfred Herman Reeve, Ernest John Price, F. A. Richardson, Capt. Percivale David Bolland.
(n.b. there is one head unaccounted for, probably in the back row - moving the mouse over faces reveals the name on laptop & desktop PC browsers only)
---
BCM, May 1923, ppn 153-159
MARGATE CHESS CONGRESS.
The 19th Easter Chess Congress of the Kent County Chess Association passed off with great success in the fine room of the Grand Hotel Cafe, Margate, March 31st—April 7th [1923]. 70 players in all took part in the various tournament events, including the Easter Monday knockout affair. Undoubtedly, however, much of the success of the congress was due to the high quality of the foreign entries secured for the Masters' and International Amateurs' Tournaments, which was quite without any parallel in any Kent Congress. Owing to the ready response of masters from abroad to the invitation to take part in the leading events, it was decided to increase the prizes from three to four, Mr. E. E. Colman generously offering £3 for the fourth.
The programme opened at 4 p.m. on Saturday, March 31st, with a reception by the Deputy Mayor, Councillor H. B. Smith and Mrs. Smith at the Grand Hotel Cafe. Councillor Smith (who, by the way, admitted to a certain acquaintance with chess unusual in the municipal officers who extend their hospitality to chessplayers !) apologised for the unavoidable absence of the Mayor and extended a hearty welcome to the competitors and visitors, which was suitably acknowledged on behalf of the K.C.C.A. by Messrs. R. H. S. Stevenson, S. J. Holloway, and E. S. Tinsley. Tea followed, with a capital selection of music. Then at 6 p.m. the serious business of the gathering commenced. Without exception, every foreign entrant turned up as expected ; and it was only necessary to fill up one vacancy in the Masters' Tournament by the promotion of E. E. Colman, whose place in the International Amateurs was taken by H. J. Snowden.
We now give an account of the Masters' Tournament, round by round, and a summary of the other events.
Round 1, March 31st
Opening
No.of Moves
Alekhine
1-0
Muffang
QGD
30
Grünfeld
1-0
Michell
QP Irregular
41
Réti
1-0
Müller
Irregular
35
Bogoljubow
1-0
Colman
QGD
35
Réti-Müller was the first to finish. The Czecho-Slovakian said, before the game, that Müller must win, as he had been playing 50 years, against his own 20; but in reality anno domini proved a great handicap, and Réti won easily. The opening was : 1 e4 e5 2 d3 d5 3 c3 dxe4 4 dxe4 Qxd1+ 5 Kxd1. Alekhine quite outplayed Muffang and was the next to finish. Then Colman, who seemed at first to be holding his own, found his Queen's side suddenly crumbling away and had nothing but to resign. Grünfeld-Michell went the whole way, in fact to 4 hours 20 minutes. But the Austrian master got his opponent into a variation in which he had beaten Bogoljuboff in 18 moves at the last Vienna Tournament, and the defence proved very difficult indeed. At last Grünfeld saw a chance of sacrificing a Knight for two passed Pawns, and after that Michell had no chance.
Round 2, April 2nd
Opening
No.of Moves
Michell
½-½
Alekhine
Grünfeld Def
57
Müller
0-1
Grünfeld
Vienna
19
Bogoljubow
1-0
Réti
Ruy Lopez
33
Colman
0-1
Muffang
Dutch Def
58
Two games finished in the morning. Grünfeld, the youngest in the section, speedily beating Müller, the oldest; while in defending himself against Bogoljuboff's vigorous onslaught Réti exceeded the time-limit on his 3rd [sic - typo for 33rd] move. He could only blame himself, however, as his opponent was earlier much shorter of time than he. Bogoljuboff had, moreover, considerably the better game when he claimed. Alekhine tried against Michell the Grünfeld variation (1 d4 Nf6 2 Nf3 g6 3 d4 Bg7 4 Nc3 d5), and though on unfamiliar ground, and later very short of time, Michell held out well, having level material at the adjournment. On resumption Michell made a heroic defence in a desperately difficult position and ultimately had the satisfaction of drawing the game. It may be noted that Alekhine was the more pressed for time at the end of the third hour! Colman lost a Pawn in the morning, and though he fought hard he could not recover his lost ground.
Round 3, April 3rd
Opening
No.of Moves
Alekhine
1-0
Müller
King's Indian Def
31
Muffang
½-½
Michell
QP
30
Grünfeld
½-½
Bogoljubow
Queen's Gambit
19
Colman
0-1
Réti
QP Torre
45
Tuesday was a Tchigorin Defence day; for Muffang-Michell opened as such, transposing into a more regular Queen's Pawn later. Colman-Reti actually began 1 Nf3 Nf6 2 d4 g6 3 Bg5 Bg7 4 Nbd2 c5. Grünfeld and Réti, the two leaders, alone kept off Tchigorin lines. Their opening though it must be labelled Queen's Gambit (accepted), soon ceased to be a Gambit and might have become a severe position-struggle, with the Queens off the board, but for the fact that neither was incline to risk a loss. After an hour and fifty minutes, Queens having been exchanged off, they agreed to a draw of the kind that scarcely adds to the gaiety of nations.
Müller put up a better game than in the two previous rounds; indeed the early play must be carefully analysed to decide whether he had not the superiority at one time ; but Alekhine made things too complicated for him, so that he first lost a Pawn and then made a bad blunder, which was absolutely fatal. Michell, after his recent exertions, was not at his best, and when Muffang won a Pawn it was all Michell could do to draw. In the remaining game Réti was soon intent on a harassing attack, which Colman had great difficulty in parrying. Both got short of time in the second hour and had seven moves apiece to make in seven minutes. Colman pulled through with credit, and at the adjournment each had a Bishop and six Pawns, the question being whether Réti's well-known end-game skill would be able to squeeze a victory out of the position. As a matter of fact it did, though Colman contributed somewhat to his own defeat.
Alekhine, Bogoljuboff and Grunfeld share the lead with 2½ each.
Round 4, April 4th
Opening
No.of Moves
Bogoljubow
1-0
Alekhine
French Def
74
Müller
0-1
Muffang
Grünfeld Def
21
Réti
0-1
Grünfeld
Irregular
36
Michell
1-0
Colman
Sicilian Def
39
Müller, in the same variation as Michell-Alekhine, Round 2, did much worse than Michell, getting so bad a game that all was over in a couple of hours. Réti, naturally desirous of a win, forced the pace against Grünfeld, sacrificing a Knight for two Pawns; but for the third time in succession he got woefully short of time and was compelled to dash into an end-game that turned out a dead loss. He gives the impression of trying for too much.
The other two games went over the adjournment. Michell-Colman, however, a strenuous fight in which the more experienced player gradually wore the other down, only lasted a few moves after resumption, Michell winning the Exchange and the game. Bogoljuboff-Alekhine was not a promising contest at first from the point-of-view of a decisive result, most of the pieces being exchanged off early. Indeed the players resumed with only six Pawns each. But Bogoljuboff had manoeuvred skilfully for the end-position and, conducting the termination in excellent style, he obtained Queen and two Pawns against Queen alone. Alekhine might have resigned much earlier than he did. On subsequent analysis it appeared that his move just before the adjournment was a bad one.
Scores: Bogoljuboff and Grünfeld, 3½ ; Alekhine and Muffang, 2½; Michell and Réti, 2; Colman and Müller, 0.
Round 5, April 5th
Opening
No.of Moves
Alekhine
½-½
Réti
QP Irregular
33
Muffang
1-0
Bogoljubow
Ruy Lopez
51
Michell
½-½
Müller
Philidor's Def
67
Grünfeld
1-0
Colman
QGD
18
Colman came to dreadful grief quite early, on his 17th move shutting in his Queen in such a way that Grünfeld could win it for a Knight. Réti against Alekhine played a very close and unusual defence, against which the Russian developed his Pawns aggressively. Réti, however, gradually freed his game and won a Pawn, though leaving Bishops of opposite colours. Alekhine had ten moves to make in six minutes, but pulled through successfully with a draw.
In Muffang-Bogoljuboff time-pressure also played its part. Against the young Frenchman's attack Bogoljuboff left himself only 15 minutes for 10 moves in the second hour. He chose this period of stress in which to make a violent counter-onslaught, and there was plenty of excitement for the spectators. Close analysis is required to show what ought to have happened. Actually at the adjournment Bogoljuboff had Queen, Rook and two minor pieces against Queen and two Rooks. On resumption, however, it quickly became apparent that Muffang must win—and so he did, a very fine contest, and the most exciting so far of the Congress. Michell-Müller was a totally different style of game, Michell gaining a Pawn on the 15th move and playing for a winning ending with Bishops of the same colour. This, possibly through fatigue, he failed to do; for (apart from the question of earlier chances) there was a win quite late, as Réti demonstrated.
Round 6, April 6th
Opening
No.of Moves
Grünfeld
½-½
Alekhine
Old Indian
21
Réti
½-½
Muffang
Irregular
41
Bogoljubow
0-1
Michell
QGD
54
Colman
1-0
Müller
QP
30
Grünfeld seemed to be getting a little advantage in the opening manoeuvres; but, being a clear point ahead in the score, he proposed an early draw, which Alekhine accepted. Colman, against a Tchigorin Defence which turned into an ordinary Queen's Pawn, won easily, Müller being obviously tired after the previous day's exertions. Réti-Muffang was a very interesting encounter, in which the Frenchman had at one time moved four times as fast as his opponent. He won a Pawn, but Bishops of opposite colours were left, and soon after resumption of play a draw came about in a very curious position. This left only Bogoljuboff-Michell, in which Michell made a splendid defence and secured Bishop v. Knight in the end-game, and in addition two passed Pawns on the Queen's side, which looked enough to win. So it proved, Michell making no error and finishing in masterly style— quite one of the best games he has played.
Scores : Grünfeld, 5; Muffang, 4; Alekhine, Bogoljuboff and Michell, 3½; Réti, 3; Colman, 1 ; Muller, ½.
Round 7, April 7th
Opening
No.of Moves
Muffang
½-½
Grünfeld
Ruy Lopez
19
Alekhine
1-0
Colman
QP Chigorin1
34
Michell
1-0
Réti
Alekhine's Def
57
Müller
0-1
Bogoljubow
Ruy Lopez
20
1 "QP Chigorin" - not what the modern player might think but probably a Grünfeld, King's Indian or Old Indian set-up. This 1920s term was used for several of the foregoing games for which we have scores but I have altered them to conform to 21st century opening nomenclature - JS
There was no undue exertion over the Muffang-Grünfeld game, the result of which gave the Austrian Master first prize and made Muffang sure of participating in the second prize. The opening, like Müller-Bogoljuboff, was the "Exchange variation" of the Lopez. The games Alekhine-Colman and Müller-Bogoljuboff both went as expected, though not with creditable resistance for a time on the part of the losers. The remaining contest was a magnificent one, Michell following up his performance of the previous day with one no less meritorious. It took him nearly six hours—at one sitting—to score his win; but Réti was putting all he was worth into it, and the middle-game in particular was a grim struggle. By his victory the British player tied with two world-masters and the newest aspirant to that rank (which Muffang undoubtedly is on recent form), and came out above another world-master. The credit of British chess was in excellent keeping at Margate.
---
1923 Kent County CA Congress, Margate International Amateur A
1923 Margate
Amateur A
Residence
1
2
3
4
5
6
7
8
Total
1
Fred Brown
Dudley
½
0
1
1
1
1
1
5½
2
Otto Zimmermann
Switzerland
½
1
½
1
½
1
1
5½
3
Edgar Colle
Belgium
1
0
1
0
1
1
1
5
4
Dr. Gerard Cornelis Adrianus Oskam
Netherlands
0
½
0
1
0
1
1
3½
5
Capt. Percivale David Bolland
Weston-super-Mare
0
0
1
0
0
1
1
3
6
Norman Mudie Bach
Cambridge
0
½
0
1
1
0
0
2½
7
Edith Martha Holloway
Bromley
0
0
0
0
0
1
1
2
8
Hon. Frederick G Hamilton-Russell
Crowborough
0
0
0
0
0
1
0
1
The two International Amateur sections proved quite a success, despite a certain disparity of strength between the strongest and the weakest in Section A. Colle started off in fine style in this section, winning his first 5 games, while Zimmermann scored 3 wins and 2 draws. In Round 6, however, Zimmermann beat Colle, and Brown of Dudley worked his way up to half a point behind the leaders. In the 7th Round a surprise occurred, Capt. Bolland brilliantly mating Colle. Zimmermann had the first prize at his mercy, having an obvious win against Bach. Thinking, however, that a half point was sufficient, he accepted the draw which Bach diplomatically offered—only to find that Brown, after having had an inferior game, was beating Oskam. The result was that Brown tied with the Swiss representative.
1923 Kent County CA Congress, Margate International Amateur B
1923 Margate
Amateur B
Residence
1
2
3
4
5
6
7
8
Total
1
Leslie Charles Gwyn Dewing
London
1
0
1
1
1
1
½
5½
2
Harold John Snowden
London
0
½
1
½
½
1
1
4½
3
Massimiliano Romi(h)
Italy
1
½
0
1
½
0
1
4
4
Dr J da S. Mendes
Brazil
0
0
1
0
1
1
½
3½
5
Ernest John Price
London
0
½
0
1
½
½
1
3½
6
G Key
Netherlands
0
½
½
0
½
½
1
3
7
Henri François Valentin Louis
London
0
0
1
0
½
½
0
2
8
Patrick Humphrey Sullivan
Dartford
½
0
0
½
0
0
1
2
In Section B, Snowden went ahead with three successive wins, but was gradually overhauled by Dewing, who then took the lead by beating him in Round 5. These two kept their places as first and second, while Romih, champion of the Trentino, finishing strongly, came out third.
The Kent Tournament was a gift of the 20-year-old London University player, T. G. Griggs,who won 10 games and drew 1 out of 11.
The extra events during the Congress were as follows :—
Easter Monday knock-out tournament (two sections of 8)— I, H. G. Felce, S. H. C. Lucas divided ; II, F. W. Panter beat M. Chester.
April 3rd.—Réti played simultaneously against 33 opponents, in the course of 3I hours, beating 27, drawing with 5 (Mrs. Holloway, J. Keeble, S. Hussain, H. O. Boger and H. S. Cox) and losing to Capt. Bolland, who brought off an ingenious swindle. In the position on the diagram Bolland played 28... R—Q 2, whereon followed 29 B X P, Kt—Q 5; and White resigned. 29 R—Q 8 would have drawn, but the wily captain counted rightly on the simultaneous player not quite grasping the point of the situation.
April 4th.—Quick play tournament (18 entries, including 6 from Master's Tournament). Muffang won, beating Grünfeld in final and scoring 8½ points in 9 games.
April 5th.—Lightning tournament (16 entries, including 5 masters) —Alekhine ist, Reti 2nd.
April 6th.—Grünfeld played simultaneously against 33 opponents, in the course of 3½ hours beating 30 and drawing with 3 (Mrs. Michell, Capt. Bolland and A. D. Graham).
The prize-giving ceremony took place at 3-30 p.m. on April 8th, the Mayor (Councillor W. Leach Lewis) presided, and the Mayoress distributed the prizes; R. P. Michell, L. C. G. Dewing and F. Brown came in for special recognition for their performances.
The Kent Chess Association are to be heartily congratulated on the success of their initial show at Margate, and Mr. S. J. Holloway must once more be acclaimed a wonderful M.C. On this occasion he had even more than his usual share of work. The way in which it was appreciated was proved by the testimonial subscribed by players and spectators.
The prize distribution was followed by a Whist Drive, which attracted 80 entrants, and brought the Congress to a conclusion.
The Kent tournament was won by T. G. [Thomas Godden] Briggs, London, with the fine score of 10½ out of 11. Miss Andrews was second with 8½; Mrs. Seale, London, and Mrs. Shawland tied for third with 8.
The First Class tournament, which was played in primary and secondary sections, resulted in A. D. Barlow winning the first prize in secondary section A., with 4½; F. G. Richardson, second, with 3½; Mrs. Stevenson, the ex-lady champion, a good third.
In the secondary section B, Mrs. Sollas won the prize, and in the secondary section C, G. M. Arrowsmith.
---
File updated
| Date | Notes |
| --- | --- |
| 1 February 2023 | First uploaded. 19 games, 2 part-games, 7 stubs plus 5+1 games from lower section. Photo and reports. |
| 3 February 2023 | Minor amendments made to the games Bogoljubow-Michell (rd 6 - opening move order) and Bogoljubow-Alekhine (rd 4 - 15...Qf4 was played, not 15...Qf5). My thanks to Andy Ansel for proof-reading. |