BRITBASE - British Chess Game Archive
Tournament: 14th British Chess Championship •
29+4 of 66 games/part-games plus 28+2 games/part-games from lower sections)


Venue: Malvern College • Dates: 8-19 August 1921 • Download PGN • Last Edited: Saturday 9 September, 2023 6:19 PM
1921 British Chess Championship, Malvern, 8-19 August • 1920« »1923
1921 British Chess Championship
Residence
1
2
3
4
5
6
7
8
9
10
11
12
Total

1

Fred Dewhirst Yates
Leeds

0

1

1

1

1

1

0

1

1

1

1

9

2

Sir George Alan Thomas
London

1

0

0

1

0

1

1

1

1

1

1

8

3

Reginald Pryce Michell
London

0

1

0

0

1

1

0

1

1

1

1

7

4

George Edward Wainwright
Box

0

1

1

0

½

0

1

1

½

1

1

7

5

Roland Henry Vaughan Scott
London

0

0

1

1

½

0

½

½

1

1

1

6½

6

Bruno Edgar Siegheim
London

0

1

0

½

½

1

½

1

0

1

1

6½

7

Hubert Ernest Price
Birmingham

0

0

0

1

1

0

0

1

1

1

½

5½

8

Harold Saunders
London

1

0

1

0

½

½

1

0

½

1

0

5½

9

Herbert Levi Jacobs
London

0

0

0

0

½

0

0

1

1

1

1

4½

10

Philip Walsingham Sergeant
London

0

0

0

½

0

1

0

½

0

0

1

3

11

John James O'Hanlon
Portadown

0

0

0

0

0

0

0

0

0

1

1

2

12

Harold John Francis Stephenson
Hastings

0

0

0

0

0

0

½

1

0

0

0

1½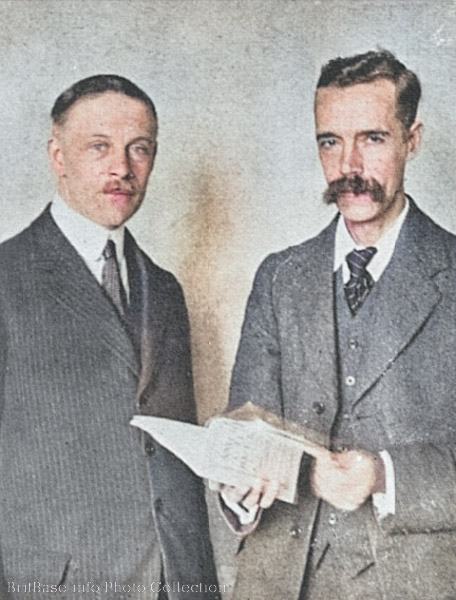 Rufus Stevenson and Henry Atkins at Malvern (Photo: The Sphere, 20 August 1921)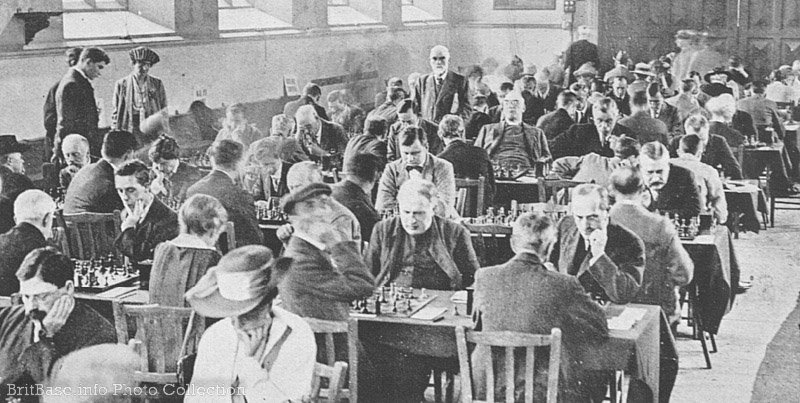 General View of the 1921 BCF Congress at Malvern (Photo: The Sphere, 20 August 1921)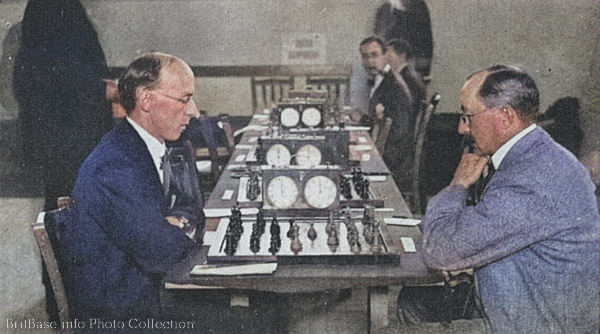 R H V Scott vs G E Wainwright (Photo: The Sphere, 20 August 1921)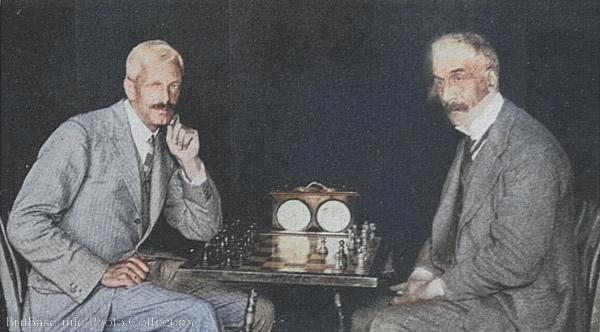 Sir George Thomas and Herbert Jacobs (Photo: The Sphere, 20 August 1921)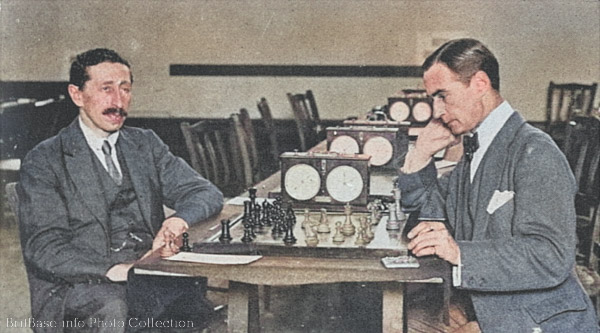 Harold Saunders and Philip Sergeant (Photo: The Sphere, 20 August 1921)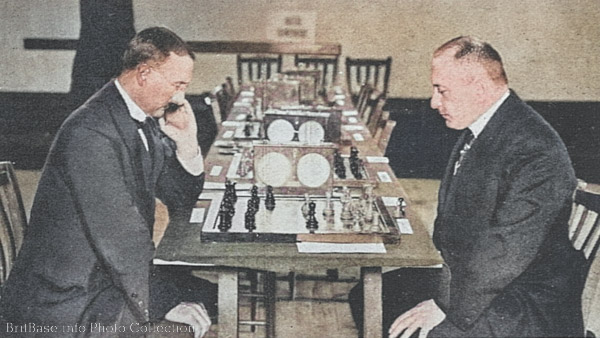 Harold Stephenson and Bruno Siegheim (Photo: The Sphere, 20 August 1921)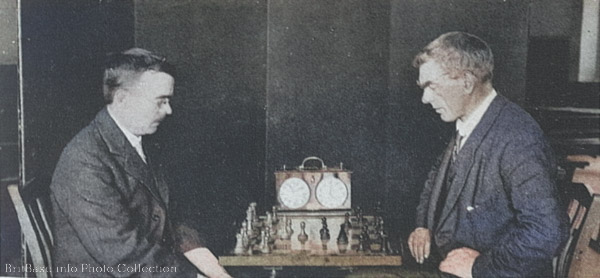 Hubert Price and John O'Hanlon (Photo: The Sphere, 20 August 1921)
Note: I could find no photo of the winner Yates in The Sphere, nor R P Michell - JS
1921 British Ladies Chess Championship • 1920« »1922
1921 British Ladies Championship
Resid.
1
2
3
4
5
6
7
8
9
10
11
12
Total

1

Mrs Gertrude Alison Beatrice Anderson (née Field)
Woldingham
½
½
0
1
1
½
1
1
½
1
1
8

2

Miss Edith Charlotte Price
London
½
0
1
1
1
1
1
½
1
1
0
8

3

Mrs Edith Mary Ann Michell (née Tapsell)
London
½
1
½
0
0
1
1
1
1
1
1
8

4

Mrs Agnes Bradley Stevenson (née Lawson)
London
1
0
½
1
0
1
0
1
1
1
1
7½

5

Mrs Amabel Nevill Gwyn Sollas (née Jeffreys, m(1) Moseley)
Oxford
0
0
1
0
0
1
1
1
1
1
1
7

6

Miss Florence Hutchison Stirling
Edinburgh
0
0
1
1
1
1
0
0
1
1
1
7

7

Mrs Mary Mills Houlding (née Palmer)
Newport
½
0
0
0
0
0
1
1
0
1
1
4½

8

Miss Emily Eliza Abraham
Herne Bay
0
0
0
1
0
1
0
½
1
0
½
4

9

Miss Mary Dinorah Gilchrist
Glasgow
0
½
0
0
0
1
0
½
1
0
1
4

10

Miss Alice Grace Ruchon
Hastings
½
0
0
0
0
0
1
0
0
1
1
3½

11

Mrs. Rosa Annie Banting (née Vines, m(1) Slocombe)
London
0
0
0
0
0
0
0
1
1
0
½
2½

12

Mrs Grace Catherine Ewbank (née Davies)1
London
0
1
0
0
0
0
0
½
0
0
½
2
1 Grace Catherine Ewbank (née Davies, 1866-1942) was the mother of the Rev. Alan Maurice Ewbank (1901-30) and wife of Rev. Alan Ewbank (1867-1956) who played in other sections at the congress.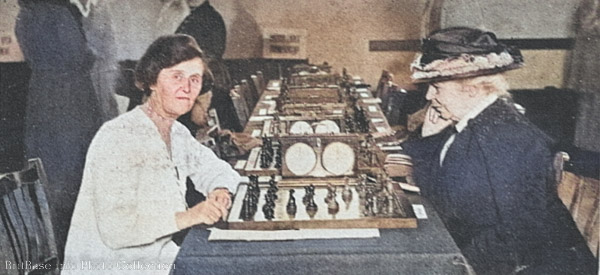 Agnes Stevenson (left) vs Rosa Banting (Photo: The Sphere, 20 August 1921)
1st Play-off for women's title: London (12-17 September 1921): Anderson 2½, Price 2½, Michell 1 (BCM report of the 1st playoff given below)
2nd Play-off: London (11, 18, 25 Oct 1921) - Anderson 0-1 Price, Price 0-1 Anderson, Anderson 1-0 Price
(Anderson became British Champion)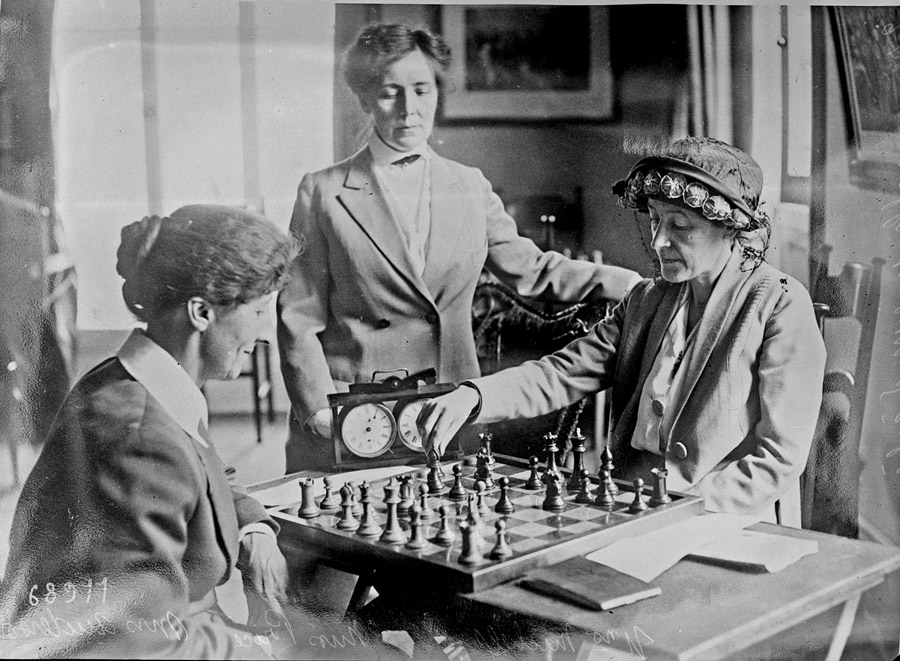 The three women who played off for the 1921 British Ladies' Chess Championship: left to right, Edith Michell, Edith Charlotte Price, and Gertrude Alison Anderson. The photo was probably taken at this time. source: gallica.bnf.fr / Bibliothèque nationale de France
BCM, September 1921, p313ff
B.C.F. CONGRESS AT MALVERN.
The fourteenth congress of the British Chess Federation was opened on August 8th at Malvern College, kindly lent for the purpose by the headmaster, Mr. Frank S. Preston, and the Council. The players and visitors were welcomed by Mr. T. C. Santler, the vicechairman of the District Council, and Air. F. W. Romney, Chairman of Malvern Improvement Association. The Rev. A. Lenzee Giles, vicar of Malvern, said he would be glad to conduct anyone over the Priory Church, Malvern's most treasured possession, and Mr. R. A. Ker welcomed the players on behalf of the College authorities. Mr. Herbert Jacobs, in reply, thanked the several corporations who had extended their invitation to over a 100 chessplayers to a peaceful town at great risk ! He hoped therefore for exemplary behaviour, and above all things, no noise. He had little fear on this point, as the champion had promised not to say a word for a fortnight, even if he lost a game. He advised the inhabitants to come and watch the faces
of the players and particularly to look at their twisted legs. Canon Gordon Ross said that the fresh air at the top of the Beacon, enjoyed forty years ago, was still a cherished memory. He hoped the spirit of the games played during the fortnight would be felt when the boys returned, for it was on the schools of England we must draw for the continuance of chess. It was only right that they should remember the ideals of their late lamented President, whose great desire was that the Federation should spread the knowledge of the king of games.
Exactly fifty years ago a chess congress was held at Malvern, at Townshend House, at which many of the most prominent chess
players of the kingdom at that time attended.
Play in the various tournaments began at 6 p.m. on Monday, August 8th. A record of events follows.
First Week.— In the British Championship, Michell started off in great style, beating Sir George Thomas handsomely in round 1,
and following this up with victories over Price and Siegheim, thus having a clear score of 3 wins. Yates, however, kept pace with him, beating Wainwright, Jacobs and O'Hanlon in succession. Thomas, after his bad beginning, scored against Stephenson and Sergeant; and Wainwright, beating O'Hanlon and Saunders in rounds 2 and 3, joined him on the 2 mark. Scott followed his defeat by Price with draws against Siegheim and Jacobs, and in consequence both Siegheim and Price led last year's champion by half a point after three rounds.
Round 4 saw a great upset of the leaders, Michell losing to Scott (after Scott, with a winning ending, had given his opponent a chance to draw, of which he did not avail himself), while Yates succumbed to Saunders and Thomas to Wainwright, the only one of the first quartette to win his game. The order thus became: Michell, Yates and Wainwright, 3; Price and Siegheim, 2½; Thomas and Scott, 2.
In round 5 Thomas secured an extremely important win against Yates ; but Michell, beating Jacobs, while Price beat Wainwright, took a clear lead again. Saunders disposed of O'Hanlon, Siegheim lost to Sergeant—the latter's first victory —and Scott beat Stephenson, so that the first eight places were now filled thus : Michell, 4 ; Price, 3½; Thomas, Scott, Wainwright and Yates, 3; Saunders and Siegheim, 2½.
In the 6th, the last round of the week, Michell finished with a win over Stephenson, Yates beat Price, Thomas O'Hanlon, Scott
Sergeant, and Jacobs Saunders ; Wainwright and Siegheim drew a long game. The closing order of the 12 competitors was: Michell, 5; Thomas, Scott and Yates, 4; Price and Wainwright, 3½; Siegheim, 3; Jacobs and Saunders, 2½; Sergeant and Stephenson, 1½; and O'Hanlon (who followed his first victory with 5 defeats), 1.
In the Ladies' Championship Miss Hutchison Stirling met and defeated in turn Mrs. Stevenson, holder of the title, Mrs. Banting,
Mrs. Michell, Miss Ruchon and Mrs. Houlding, and only in round 6 did she drop a point to Miss Price. The last-named was beaten by Mrs. Ewbank at the start, and after two wins drew a couple of games before her success against Miss Stirling. Mrs. Sollas lost to Miss Price and Mrs. Stevenson in rounds 2 and 4 respectively, but won her other four games. Mrs. Michell and Mrs. Anderson also scored 4 points in the week, the former having a loss and 2 draws, and the latter 4 draws. The holder, beside her loss to Miss Stirling, suffered defeat by Miss Abraham, and also drew a game. The closing order was: Miss Stirling, 5 ; Mrs. Anderson, Mrs. Michell, Miss Price and Mrs. Sollas, 4; Mrs. Houlding and Mrs. Stevenson, 3½; Miss Abraham and Miss Gilchrist, 2½; Mrs. Ewbank and Miss Ruchon, 1½; and Mrs. Banting, 0.
The Major Open Tournament was notable for the number of adjournments in its games. Gooding took an early lead, but was
passed by Rhodes, Norman and Fraenkel, while Lean came up in the sixth round, after he had completed his adjourned games, and Rhodes fell back half a point. The final order was: Fraenkel, Lean and Norman, 4; Gooding, Heath and Rhodes, 3½; Bigelow and Snowden, 3; Kniager, 2½ (1 unfinished); Wardhaugh, 2 (1 unfinished), Heastie, 1½ ; and Dr. Dunstan, ½.
In the First Class Tournament, section A, Goldstein lost his first game, to the Rev. W. A. C. Craig, and then won 5 games in
succession. Thoms, promoted from second class to fill a vacancy, drew his second and fifth games but won the rest, and thus also scored 5 in the week. Thomas, sen., and Packer followed close behind with 4½, and Jesty scored 3½.
In the First Class, section B, Watts (aided by some luck, it is true), made hacks of the field, taking 6 games right off. Drewitt,
dropping 2 half-points, scored 5, and Flower 4½, while young Fairhurst made 4 points, and Ewbank 3½, with one game unplayed.

The leaders in the two sections of the Second Class were Stuchbery and Sparke, each with 5. In the Third Class Goode led with 5½.
Monday, August 15th. —The seventh round of the British Championship saw Michell maintain his lead by defeating Sergeant, who, however, helped him considerably —after obtaining a superior position with the attack in the Queen's Gambit Declined —by first reducing the game to a fairly easily drawn ending and then throwing the draw away. Scott, defending a Caro-Kann against Wainwright, was similarly helped by weak moves on the part of his opponent, and was enabled to finish in smart style. Thomas beat Saunders (who at one time had a promising position) and Price beat O'Hanlon, sacrificing a Knight, while Jacobs out-manoeuvred Stephenson in an even ending. These last three games were finished after an adjournment, but Yates's game with Siegheim was an obstinate affair, and a second adjournment was necessary.
In the Ladies' Championship, Miss Stirling and Mrs. Michell both scored wins; but Mrs. Sollas was beaten, and Miss Price had the worst of a game with Mrs. Banting, carrying it on to a second adjournment, however, when she seemed to have a draw in prospect. Mrs. Stevenson and Mrs. Anderson both improved their records with wins.
In the Major Open Tournament, Norman and Fraenkel both won, the former at the expense of Rhodes. Lean was beaten by Snowden, and, though he at last won his adjourned game with Wardhaugh to-day, he was no longer equal with the leaders. Heath beat Kniager, and Bigelow picked up a useful point by beating Wardhaugh, but Gooding got a bad game against Heastie, though carrying it to a second adjournment.
In the First Class, section B, Watts's unbeaten record was spoilt at last with a loss to Flower, and in consequence Drewitt came up level with him.
Tuesday, August 16th. — In the morning round of the Championship, Michell was at length brought back to the field, Wainwright
after having a somewhat inferior game with a Sicilian Defence, succeeding in getting the best that could be got out of the ending, and in spite of two united passed Pawns against him, secured two isolated passed Pawns himself, which Michell could not stop. Yates was subjected to a bold and vigorous attack by Scott, involving a Rook sacrifice, which was apparently quite sound ; but Scott just missed his way and lost. Sergeant defeated Stephenson in a new variation of the Ruy Lopez. The other three games were adjourned. Of these Thomas's was finished in the afternoon, Jacobs who from a very cramped position had extracted a dangerous attack, unfortunately overlooking, under time-pressure on his 58th move, a mate on the move, which Thomas duly administered. It appeared afterwards that Jacobs should have won; but the clocks are part of the game in tournament play. Saunders scored against Price (who sacrificed a Knight once too often on this occasion), and Siegheim beat O'Hanlon. The seventh round games Yates v. Seigheim was again adjourned until to-morrow.
Miss Hutchison Stirling and Mrs. Michell both strengthened their positions in the Ladies' Championship, the former disposing of a near neighbour in the score list in the person of Mrs. Sollas. Last year's champion Mrs. Stevenson, though winning again, was in the circumstances unable to get closer to the leaders. Mrs. Anderson, on the other hand, winning an adjourned game v. Miss Abraham in the evening, came level with Mrs. Michell at 6 points, made up of 4 wins and 4 draws.
Norman, Fraenkel, Heath, Bigelow and Rhodes all won their games early in the Major Open, and now look likely to supply the four prize-winners in this tournament, Lean's loss to Fraenkel to-day leaving him behind them.' Gooding's failure to save his adjourned game v. Heastie has put him out of the running. After Kniager's defeat by Norman in this round it was announced that the former was compelled by ill-health to retire from the tournament. His three remaining games go by default to his opponents.
In the First Class, section A, Thorns has now a clear lead with 6 points; in section B, Drewitt won again, while Watts adjourned his game in a doubtful position.
August 17th. —A very important day in the British Championship, since it brought together Michell and Yates, while Thomas met Price. Yates played the Ruy Lopez in splendid style against Michell, and without the latter making any positive blunder built up a crushing attack against him, which compelled his resignation as early as the 34th move. Thomas found Price a sturdy opponent, but managed to win a Pawn before the adjournment. In the morning also Wainwright beat Stephenson (who lost on time), Scott beat O'Hanlon, and Jacobs Sergeant. In the afternoon Yates made another attempt to finish his adjourned seventh round game with Siegheim, the game being adjourned a fourth time, on the 101st move, Yates, now however, having a winning ending with two Pawns against a Knight. In the evening Thomas forced a win against Price and made his score 7, which Yates may still equal. The game Saunders v. Siegheim was drawn.
In the Ladies' Championship the day's play brought about an exciting position. Miss Stirling met with her second defeat, Miss
Abraham beating her. Mrs. Michell, on the other hand, beat Mrs. Ewbank, and Miss Anderson Miss Gilchrist, so that a triple tie resulted for first place, Mrs. Stevenson, with a win over Mrs. Houlding, being only half a point behind.
The Major Open saw Fraenkel add yet another point to his score, at the expense of Bigelow. Norman, after the adjournment, won a Rook v. Bishop ending against Wardhaugh and still tied for lead. Heath spoilt his chances by losing to Dr. Dunstan, the veteran taking full advantage of a bad mistake. Rhodes, by beating Snowden, passed Bigelow again and drew up to the third place. Gooding, winning against Lean and drawing his adjourned game with Snowden, came level with Bigelow.
In the First Class, "A," Thoms, through losing to Jesty, remained top, Jesty being now half a point behind him. In " B " Drewitt
could only draw with Fairhurst, while Watts, beating Brooks but losing his adjourned game with Lacy Hulbert, fell half a point below Drewitt.
In the Second Class, "A," Stuchbery has now scored 8 out of 9. In "B" Bolton leads with 7½ in what looks like a close finish.
Goode has had it nearly all his own way in the Third Class, scoring 8 out of 9.
August 18th. —Nervous tension in view of the approaching end was manifest in the British and the Ladies' Championships to-day. In the former none of the favourites met one another, but they all had critical games in the morning. The first parties to finish, however, were two in which only possible prize-winners were concerned. Wainwright and Sergeant arrived at an early draw after the exchange of most of the pieces ; and Price found Jacobs in worse form than usual and pulverised him. Neither Thomas, Michell nor Scott had comfortable games, while Yates met with sturdy resistance from Stephenson. It looked as if all four games would be adjourned, but shortly before the time two catastrophes occurred. Thomas, in a very congested position on both sides, played for a win and lost, Siegheim playing admirably. O'Hanlon, with a Pawn to the good, saw Michell getting extremely short of time at the end of his second hour, and, as often happens, played fast himself and dropped into a loss. This left two games to be finished in the evening ; but first Yates carried his game v. Siegheim to a win on the 106th move. Yates also brought his game with Stephenson to a successful conclusion in the afternoon, and thus, even if he were to lose his last game, would at the worst tie for first place. Scott, who in the morning's play got two minor pieces for a Rook and two Pawns against Saunders, obtained a winning position but yielded to his besetting sin of seeking for prettiness and had to be content with a draw.
In the Ladies' Championship two of the three leaders went down early and unexpectedly. Mrs. Michell lost to Mrs. Sollas, and Miss Stirling to her compatriot, Miss Gilchrist. Mrs. Stevenson and Mrs. Anderson carried their game over to the evening, the former having Rook and three Pawns against Rook and two Pawns. On resumption Mrs. Stevenson won and so for the first time in the tournament headed the score. Meanwhile Miss Price, with two wins to-day (one an adjourned game) came up level with Miss Stirling and Mrs. Michell.
The Major Open was all but decided to-day. Fraenkel had a strenuous game with Gooding, who at one time had a forced win, after sacrificing a piece in order to secure a very powerful passed Pawn, but missed his way and lost. Norman secured a winning advantage against Dunstan in the morning, and made no mistake after the adjournment. In consequence he once more kept level with Fraenkel. Rhodes and Bigelow both put in useful wins, against Lean and Heath respectively, and the third and fourth places look likely to fall to them with Snowden as a possible competitor.
Jesty, beating Fardon, while Thoms lost to Thomas, went top of First Class, Section "A."
In "B" Drewitt made sure of first prize, beating Bolland and bringing his score up to 8½. Watts, losing again, is only 7, while Ewbank and Fairhurst brought their scores up to 6½.
August 19th.— The British Championship started this morning with the leading positions : Yates, 8 ; Michell and Thomas, 7 ; Scott, 6½; Wainwright, 6 ; Price and Siegheim, 5½. Only two results are possible —that Yates should win outright or (if
he lost to-day and Thomas won) that he and Thomas should tie for first place. The matter was put beyond question in the morning. Indeed all the championship games were finished without an adjournment. Yates had the move against Sergeant and opened with a Ruy Lopez. Sergeant replied in attacking style on the Queen's side, but had to weaken his King's side to do so. He succeeded in winning a Pawn and played for a win, in view of the state of the score. He was ill-advised, however, for he got into extreme difficulties with his clock, and Yates came along with a" knock-out "—an unavoidable mate. In the meantime Thomas crumpled Scott up, but in vain, now that Yates had a win. Wainwright beat Jacobs (who submitted to a more or less bookish opening for once), while Michell, no longer playing in his victorious form of the first week, got a lost game against
Saunders and resigned just on the adjournment. Siegheim, defending the Four Knights, proved too strong for Price; and O'Hanlon broke his run of disasters since the first round by beating Stephenson. Consequently Yates took first prize, Thomas second, and Michell and Wainwright divided third and fourth. Hearty congratulations are due to Yates on the reconquest of the title which he won in 1913 and 1914.
The Ladies' Championship had a most exciting finish. Mrs Stevenson, starting with a half-point advantage over four rivals, made a mistake early in the game against Miss Price, who took full advantage of it and scored a vital point. Mrs. Michell proved too strong for Miss Abraham, and after the morning's play she and Miss Price tied for first place. The other two ladies who started on the 7 mark, Mrs. Anderson and Miss Stirling, were playing one another, and their game was adjourned until the evening, when Mrs. Anderson, who had the advantage of a Pawn to the good, succeeded in winning a Q and P v. Q ending. Thus she too joined in the tie for first honours. It was afterwards announced that the three ladies would play off the tie at the Imperial Chess Club, on the invitation of Mrs. Rawson.
The destination of the first prize in the Major Open was soon settled. Fraenkel defended the Sicilian against Heath, who played contrary to the theory and paid the penalty, resigning on the 33rd move. Norman, on the other hand, playing for a win in a drawn position, was beaten by Bigelow, and so had to content himself with second prize. As Rhodes lost to Gooding, his fellow Oxonian, Bigelow, went third over his head; and Snowden, defeating Wardhaugh, came level with Rhodes for fourth prize.
Jesty made sure of first prize in Section "A" of the First Class by beating W. R. Thomas, thus having a total of 7½. Thoms
defeated Packer and made his score 7, justifying his promotion. Goldstein, however, after adjourning his game with Littlejohn, got an ending with four Pawns against Knight and two and forced a win, which made him also 7. The second and third prizes were accordingly divided between him and Thorns. Gurnhill, Packer and Thomas were all just half a point behind.
In Section "B" Drewitt, secure at the head of the table, drew his game with Watts and so made the fine score of 7 wins and 4 draws. Watts was now 7½, and Ewbank, by beating Flower, brought his score up level by Watts, so that these two divided second and third prizes. Fairhurst had also a chance of tieing if he could beat Wilkinson, but the game continued right up
to 10 p.m. and had to be left for adjudication by Sir George Thomas on Saturday. The decision was in favour of Fairhurst, thus producing a triple tie for second prize.
Stuchbery had no difficulty in bringing his total up to 9 in the Second Class, Section "A" ; and Peckar, Hinchcliffe and Smyth tied
for second and third prizes, the two last-named after a very prolonged game, ending in a draw close on 10 p.m.
In Section "B" Sparke duly registered a victory, totalling 9 points in 11 games. Bolton and Hamilton both finished with 9; but Pasmore, with a game adjourned until the evening, was 8½, and by winning it in the evening took the second prize. Bolton and Hamilton divided the third.
The Third Class yielded a fairly easy triumph for Goode, who won 8 and drew 2 games. Miss Eyre took second prize, and the third was divided between Hindell and Smith.
On the morning of Saturday of August 20th the presentation of prizes took place, the Rev. Canon Gordon Ross (acting president and chairman of the executive committee of the British Chess Federation) presiding. The High Sheriff of Worcestershire, Dr. H. E. Dixey, gave away the prizes, expressing his regret that Mrs. Dixey was unable, through illness, to be present for that purpose.
Canon Ross in his opening speech alluded feelingly to the losses sustained by the Federation in the deaths of Sir John Thursby, Mr. A. E. Moore and Mr. W. Ward, the last of whom was mainly responsible for drawing up the code of rules under which they played.
The High Sheriff, having expressed his gratification at meeting the visitors and his hope that it would not be their last visit to Malvern, proceeded to the main work of the morning and presented the prizes to the various winners. Canon Ross then entioned that a testimonial had been raised for Messrs. R. H. S. Stevenson and E. W. Harris as a token of the gratitude of the players for the way in which the Congress had been organised and conducted ; and this was now presented. The two recipients expressed their thanks, both alluding to the large share which Mr. Leonard Rees had taken in the organisation. Mr. Stevenson also referred to the work done by the M.C.C.U. officials, especially Messrs. Bray and Penwill.
Mr. Stevenson next, by permission of the chairman, introduced the subject of the testimonial from readers of the B.C.M. to Mr. I. M. Brown, who had come down to Malvern that week. He said that, though the subscription had been limited to 1s. per head, the sum of no less than £25 had been collected, and the testimonial took the shape of an illuminated album, containing the signatures of all the subscribers, and a complete set of Thackeray's works.
Mr. Brown, who was warmly received, expressed his appreciation of the gifts and gave some account of the inception of the B.C.M. and of the British Chess Federation, with tributes to those who had helped in the work.
The Rev. Cunningham Craig moved a vote of thanks to the Press, which was responded to by Messrs. Burn, Tinsley and Mackenzie. Further vote of thanks, to the High Sheriff and to the Chairman, were moved and carried by acclamation, and the proceedings then terminated.
---
BCM, October 1921, p363ff
THE MALVERN CHAMPIONSHIP CONTEST.
Despite the long account of the Congress in our September number (see pp. 313-29), there still remains to be given a general review of the play and players in the leading events.
The winner of the Championship, F. D. Yates, has twice previously attained that honour, at Cheltenham in 1913, and again in
1914, at Chester, after a tie with the veteran, J. H. Blackburne, who, owing to ill health, was unable to play off. During the war no contests were held, and last year at Edinburgh, Mr. Yates was unable to compete. At Hastings at the beginning of this year, in a short tournament, between the four winners of the B.C.F. Championship title, he came out top, and his success at Malvern was generally anticipated.
His victory, however, was not secured without a severe struggle. Sir George Thomas won a fine game of him, after tempting him by the bait of a Pawn ; and Saunders, whose play is uneven, but who on occasion can be as deep and brilliant as any of our British amateurs, effected a good win against him. Otherwise all his opponents failed to make an impression. His win v. Michell was a fine bit of chess, while that v. Siegheim, a prolonged affair of 4 sittings and 106 moves, was an able exposition of end-game play.
Mr. Yates has thrice taken part in international tournaments abroad—Hamburg, 1910, Postyen, 1912, and Scheveningen, 1913. His best performance was at the last-named, when he finished fourth, after D. Janowsky (France), A. Aljechin (Russia) and Dr. A. G. Olland (Holland), defeating Janowsky and Olland, and drawing with Aljechin in the personal encounters. In the Victory Tournament at Hastings in 1919, after a bad start, he tied with Sir George Thomas for third place, Capablanca and Kostich being first and second respectively. He is a careful student of the game, and does not lose his head in difficult situations. The brilliance of his earlier play is now tempered by experience. Brilliant combinations require time to elaborate, and considerations of the clock often make it unwise to start one, as many of our young players discover by bitter experience. Mr. Yates has a poor physique to contend against, and is undoubtedly nervous, but when playing chess he overcomes these disadvantages. He has
wisely given up part of his newspaper reporting work when playing in tournaments.
Sir George Thomas, coming straight from the tennis-lawn, opened badly and this was to a large extent due to not feeling in the mood for chess. He improved a lot after the first two or three days, and his game v. Yates was beautiful chess. The bad start, however, constrained him to play for wins, when they were not there, and he consequently lost a game to Siegheim in the second week, which he should have drawn. His great experience of end-game play, and his patience in waiting his opportunity was frequently a cause of success ; but he showed, notably in his game v. Yates, that he too can be brilliant when the opportunity occurs.
R. P. Michell during the first week seemed to be in the form which won him the title of Amateur Champion at Norwich, in 1902, despite a lost opportunity of a draw against Scott ; but he fell back during the second week, to the great disappointment of his many friends. Always a good fighter, we feel he has never done himself justice in these contests, though he almost invariably has been in the top half.
G. E. Wainwright, despite retirement and want of good practice, was as dangerous an opponent as ever, and his natural ability for finding an attack was well instanced in many of his games ; but he played poorly against Scott, and was somewhat fortunate v. Michell.
R. H. V. Scott, the winner at Edinburgh last year, was more uneven than on that occasion. He made an intuitive sacrifice against
Yates, but failed to follow it up properly. His lapses were costly, and his game v. Sir George Thomas was Scott at his worst. He is nearly always a dangerous opponent, but until he can control his impatience to get at his opponent he will invariably lose to those who defend carefully.
B. E. Siegheim made a very successful debut. His knowledge of the openings is greater than that of the majority, and he is prepared to wait for his chance. H. E. Price played some excellent games, and keeps his head well in difficult positions, which he seems to court.
H. Saunders varies considerably. Given a position not too complex, he is capable of making some very fine combinations, and is a very dangerous opponent in such circumstances. When once he has attained an advantage he rarely lets it go.
Herbert Jacobs was the veteran. We believe that, like many a master veteran, he suffers from his own idiosyncracies, invariably
adopting one defence and one attack, so that his opponents know what to expect. He obtained several fair chances, but weakened towards the end-game.
P. W. Sergeant, a newcomer to the B.C.F. Championship, has won the Middlesex Championship this year ; but an attempt to
combine play with newspaper reporting undoubtedly caused him to fail to do himself justice. He won a nice game from Siegheim, but too often made errors of judgment, which caused the loss of a game, when in a quite level positions. J. J. O'Hanlon, after a good win on the first day, was most disappointing. His game v. Yates might have been a classic, but one weak move after several really first-class ones caused his downfall.
H. J. Stephenson, the Champion of Sussex, has not had a great deal of play against class players, but would probably do better at a second attempt.
The British Ladies' Championship ended in a triple tie for the second time. Many people were disappointed that Miss Hutchinson
Stirling, who made such a brilliant start in the first week, was only able to add 2 more points in the second week, and did not even get into the prize list. Mrs. Stevenson, the holder, was in the best position on the last day, having half a point lead, but found Miss Price in form, and this loss cost her 3 places.
The tie was played off at the Imperial Chess Club, September 12th—18th. On Monday, Miss Price beat Mrs. Anderson. This game we append. On Tuesday, Miss Price won of Mrs. Michell, who made a serious error in a more or less even position. Mrs. Michell and Mrs. Anderson drew. On Thursday, Miss Price got a good position against Mrs. Anderson in a Ruy Lopez, but, instead of applying slow pressure, played for a trap, weakening her position. Nevertheless, she came to an ending a piece up ; but the threatening advance of Mrs. Anderson's Queen's side Pawns caused her to make weak moves with her Rook, instead of sacrificing her Knight for the advancing Pawns, and Mrs. Anderson won. On Friday, Miss Price made an early mistake in her opening against Mrs. Michell, who obtained an easily won ending, with Rook and five Pawns again Rook and two, and then through an attack of nerves played so weakly that she permitted Miss Price to draw. The last game, between Mrs. Anderson and Mrs. Michell, which we also append, was brilliantly played by the former, who took immediate advantage of Mrs. Michell's 9.., P— K R 3. B—K 2 was absolutely necessary. The result therefore was a tie, 2½ each, between Mrs. Anderson and Miss Price, which will be played off some time this month.
---
1921 BCF Major Open
1921 BCF Major Open
Resid.
1
2
3
4
5
6
7
8
9
10
11
12
Total

1

Heinrich Fraenkel1
London
1
1
1
1
1
1
1
1
0
0
1
9

2

George Marshall Norman
Hastings
0
0
1
1
½
½
1
1
1
1
1
8

3

Horace Ransom Bigelow
Oxford
0
1
½
0
½
1
0
1
1
1
1
7

4

Herbert Gibson Rhodes
Southport
0
0
½
1
0
0
1
1
1
1
1
6½

5

Harold John Snowden
London
0
0
1
0
½
½
1
1
1d
1
½
6½

6

William Gooding
London
0
½
½
1
½
0
0
1
½
1
1
6

7

Christopher Barclay Heath
Dundee
0
½
0
1
½
1
½
0
1
1
0
5½

8

Basil Heastie
London
0
0
1
0
0
1
½
0
1d
½
1
5

9

Richard Edward Lean
Brighton
0
0
0
0
0
0
1
1
1d
1
1
5

10

Joseph Israel Kniager
London
1
0
0
0
0d
½
0
0d
0d
1
1
3½

11

Carrick Wardhaugh
Glasgow
1
0
0
0
0
0
0
½
0
0
1
2½

12

Dr Robert Dunstan
Teignmouth
0
0
0
0
½
0
1
0
0
0
0
1½
1 the crosstable in BCM gives the name as Dr. H. L. Fraenkel - did Heinrich Fraenkel have a doctorate and middle initial?
1921 BCF First-Class A
1921 BCF First-Class A
Resid.
Draw No.
1
2
3
4
5
6
7
8
9
10
11
12
Total

1

Edmund Tom Jesty
London
12
1
1
0
0
1
1
0
1
½
1
1
7½

2

Maurice Edward Goldstein
London
10
0
0
1
½
½
0
1
1
1
1
1
7

3

Henry James MacThomas Thoms
Dundee
11
0
1
1
1
0
½
0
1
1
1
½
7

4

Charles Reuben Gurnhill
Sheffield
5
1
0
0
½
0
0
1
1
1
1
1
6½

5

George Frederick Harold Packer
Hastings
2
1
½
0
½
0
1
1
0
½
1
1
6½

6

William Rowland Thomas
Liverpool
1
0
½
1
1
1
1
½
0
0
1
½
6½

7

Rev. William Alban Cunningham Craig
London
4
0
1
½
1
0
0
½
0
1
½
1
5½

8

Percival John Lawrence
Reading
9
1
0
1
0
0
½
½
1
½
½
0
5

9

Patrick Charles Littlejohn
Rugby
3
0
0
0
0
1
1
1
0
½
0
1
4½

10

Edward Davidson Palmer
London
8
½
0
0
0
½
1
0
½
½
1
½
4½

11

Ernest Fowler Fardon
Birmingham
6
0
0
0
0
0
0
½
½
1
0
1
3

12

Sydney Gerard Howell-Smith
Hythe
7
0
0
½
0
0
½
0
1
0
½
0
2½
1921 BCF First-Class B
1921 BCF First-Class B
Resid.
Draw No.
1
2
3
4
5
6
7
8
9
10
11
12
Total

1

John Arthur James Drewitt
Hastings
9
1
½
½
½
1
½
1
1
1
1
1
9

2

Alan Maurice Ewbank
Cambridge
8
0
0
1
1
1
½
1
½
1
½
1
7½

3

William Albert Fairhurst
Manchester
2
½
1
0
0
1
1
0
1
1
1
1
7½

4

William Henry Watts
London
4
½
0
1
0
0
1
1
1
1
1
1
7½

5

Phillip Flower
London
5
½
0
1
1
0
½
0
1
1
1
0
6

6

Rev. Arthur Percival Lacy-Hulbert
Birmingham
6
0
0
0
1
1
1
1
0
1
1
0
6

7

J(oshua?) Jackson
Dewsbury
12
½
½
0
0
½
0
1
1
½
0
1
5

8

Andrew Rowland Benedick Thomas
Liverpool
10
0
0
1
0
1
0
0
1
0
1
1
5

9

F Wilkinson
Putney
11
0
½
0
0
0
1
0
0
1
1
1
4½

10

Guy Ralph Hardcastle
Thornton Heath
1
0
0
0
0
0
0
½
1
0
½
1
3

11

Rev. Charles Fenton Bolland
Brington
3
0
½
0
0
0
0
1
0
0
½
½
2½

12

Edwin Joseph Brooks
Cranleigh
7
0
0
0
0
1
1
0
0
0
0
½
2½
1921 BCF Second-Class A
1921 BCF Second-Class A
Resid.
Draw No.
1
2
3
4
5
6
7
8
9
10
11
12
Total

1

William Owen Cecil Stuchbery
Maidenhead
3
0
1
1
1
1
1
1
0
1
1
1
9

2

Mark Peckar
London
9
1
½
1
1
1
½
0
1
½
0
1
7½

3

Hubert Alan Smyth
Colwyn Bay
5
0
½
½
½
1
1
1
1
0
1
1
7½

4

Henry David Osborn
Gosport
1
0
0
½
0
½
1
1
1
1
1
1
7

5

H Hinchcliffe
Huddersfield
8
0
0
½
1
0
0
1
1
1
1
1
6½1

6

C H Taylor
London
4
0
0
0
½
1
0
1
1
1
1
1
6½

7

Rev. William Thomas Mackenzie Hooppell
Stoke
7
0
½
0
0
1
1
1
0
1
1
½
6

8

Miss Alice Elizabeth Hooke
Cobham
12
0
1
0
0
0
0
0
1
1
½
1
4½

9

Mrs Jeanie Brockett
Glasgow
2
1
0
0
0
0
0
1
0
1
0
½
3½

10

Alfred Thomas Cannell
Norwich
6
0
½
1
0
0
0
0
0
0
1
1
3½

11

Prof. Robert William Genese
Southborough
10
0
1
0
0
0
0
0
½
1
0
1
3½

12

Miss Ellison Scotland Gibb
Glasgow
11
0
0
0
0
0
0
½
0
½
0
0
1
1 the crosstable in BCM gives Hinchcliffe a total of 7½ and equal 2nd place but his total only comes to 6½.
1921 BCF Second-Class B
1921 BCF Second-Class B
Resid.
Draw No.
1
2
3
4
5
6
7
8
9
10
11
12
13
14
Total

1

Arthur Marr Sparke
Lincoln
6
1
1
0
1
1
1
1
½
1
½
1
1
1
11

2

Robert James Talbot Pasmore
Westgate
11
0
1
1
1
1
0
1
1
½
1
1
0
1
9½

3

E A Bolton
Smethwick
5
0
0
1
1
1
½
0
1
1
½
1
1
1
9

4

Rev. T Hamilton
Witchf'd
3
1
0
0
1
0
1
0
1
1
1
1
1
1
9
5
George Douglas Gordon Fergusson
Chorleywood
14
0
0
0
0
0
1
½
1
1
1
1
1
1
7½
6
Ernest Edward Shepherd
Oxford
13
0
0
0
1
1
1
0
0
1
1
½
1
1
7½

7

Edward Victor Strugnell
London
8
0
1
½
0
0
0
0
1
1
1
1
1
1
7½

8

Geoffrey Kendall Nuttall1
London
2
0
0
1
1
½
1
1
½
½
0
½
1
0
7

9

Miss Charlotte Helena Minchin-Cotton
London
10
½
0
0
0
0
1
0
½
1
1
½
1
1
6½

10

Alfred Dudley Barlow
London
9
0
½
0
0
0
0
0
½
0
1
0
1
1
4

11

George Arthur Youngman
Maidstone
1
½
0
½
0
0
0
0
1
0
0
1
1
0
4

12

Miss Mary Constance Forbes
Edinburgh
7
0
0
0
0
0
½
0
½
½
1
0
0
1
3½

13

Miss Gertrude Emma Sanders2
Edinburgh
12
0
1
0
0
0
0
0
0
0
0
0
1
1
3

14

William Henry Greenhalgh
Dawley
4
0
0
0
0
0
0
0
1
0
0
1
0
0
2
1 BCM gives B. K. Nuttall but I think this is a typo
2 Gertrude Emma Sanders, born 6 February 1859, Calcutta, India, died 17 January 1923, Edinburgh. (Obit, Falkirk Herald, 28 February 1923, p3)
1921 BCF Third-Class
1921 BCF Third-Class
Resid.
Draw No.
1
2
3
4
5
6
7
8
9
10
11
Total

1

Albert John Goode
Rugby
3
1
1
1
½
½
1
1
1
1
1
9

2

Miss Kate Eyre
London
4
0
0
1
½
1
1
1
1
1
1
7½

3

Arthur Hindell
Stafford
6
0
1
0
1
0
1
1
½
1
1
6½

4

A J Smith
Malton
9
0
0
1
1
1
0
½
1
1
1
6½

5

Miss M Gibb
Glasgow
5
½
½
0
0
1
0
1
1
0
1
5

6

Miss F Brewster
London
8
½
0
1
0
0
½
½
1
0
1
4½

7

D L Jones
Llandyssul
7
0
0
0
1
1
½
0
0
1
1
4½

8

W Barker
Wolverhampton
10
0
0
0
½
0
½
1
½
½
1
4

9

Rev. Alan Ewbank
London
1
0
0
½
0
0
0
1
½
1
1
4

10

Robert Carless
Malvern
2
0
0
0
0
1
1
0
½
0
1
3½

11

Mrs Clara Margaret MacVean
Bournemouth
11
0
0
0
0
0
0
0
0
0
0
0
---
File updated
| Date | Notes |
| --- | --- |
| 9 March 2016 | Original upload. Includes some games from the women's championship play-off won by Gertrude Anderson. Unfortunately I don't have the Tinsley notebooks for this event but hopefully more games will appear in due course. |
| 10 March 2016 | Two further games added - thanks to Gerard Killoran. |
| 28 March 2016 | Four games from the Major Open and First-Class sections added, plus round numbers and dates of other subsidiary games. Many thanks to Brian Denman. |
| 19 April 2018 | Added the game Jacobs-Yates (Rd 2) - thanks to Alan Smith. |
| 12 May 2020 | Added one game from the 1st Ladies' play-off - Price-Michell (Round 2). Thanks to Brian Denman. |
| 12 May 2021 | Replaced scanned crosstables with detailed text versions. |
| 3 April 2022 | Added one game: J.O'Hanlon 0-1 R.Scott (rd 9), contributed by "Tabanus" of chessgames.com, for which many thanks. |
| 25 April 2022 | Two games added, from the First Class B section: (1) Lacy-Hulbert 0-1 W.Fairhurst (rd 6); (2) Lacy-Hulbert 1-0 W.Watts (rd 8). Many thanks to Gerard Killoran who contributed them via the English Chess Forum. |
| 2 January 2023 | Added some photos found in The Sphere, 20 August 1921. Regrettably there was no photo of the winner, Yates, nor R P Michell. |
| 9 September 2023 | Added three games submitted by Gerard Killoran, for which many thanks: (1) P.Sergeant 0-1 J.O'Hanlon (rd 1 Championship); (2) H.Fraenkel 1-0 H.Snowden (rd 6, Major Open); (3) W.Cunningham Craig 1-0 C.Gurnhill (First Class A). I have also added the contemporary report of the tournament given in BCM. |