BRITBASE - British Chess Game Archive
Tournament: 12th BCF Victory Congress
(58/66 games plus 64+2 games/part-games from lower sections)


Venue: Hastings • Dates: 11-22 August 1919 • Download PGN •

Updated: Thursday 21 September, 2023 6:48 PM
1919 BCF Victory Congress, Hastings, 11-22 August • 1914« »1920
1919 BCF Victory Tournament
Draw No.
Nationality
1
2
3
4
6
5
8
7
9
10
11
12
Total
1
José Raúl Capablanca
8
Cuba
½
1
1
1
1
1
1
1
1
1
1
10½
2
Boris Kostic
3
Serbia
½
½
1
1
½
1
1
1
1
1
1
9½
3
Sir George Alan Thomas
9
England
0
½
½
½
½
½
1
1
½
1
1
7
4
Fred Dewhirst Yates
6
England
0
0
½
1
½
1
1
1
1
0
1
7
6
Reginald Pryce Michell
1
England
0
0
½
0
0
1
0
1
1
1
1
5½
5
Victor Leonard Wahltuch
5
England
0
½
½
½
1
0
1
0
0
1
1
5½
8
Dr Adolf Georg Olland
4
Netherlands
0
0
½
0
0
1
0
0
1
1
1
4½
7
Roland Henry Vaughan Scott
11
England
0
0
0
0
1
0
1
1
1
0
½
4½
9
Max Marchand
7
Netherlands
0
0
0
0
0
1
1
0
0
1
1
4
10
Adrián García Conde
2
Mexico
0
0
½
0
0
1
0
0
1
0
1
3½
11
William Winter
10
England
0
0
0
1
0
0
0
1
0
1
0
3
12
Harold Godfrey Cole
12
England
0
0
0
0
0
0
0
½
0
0
1
1½
1919 BCF Victory - Minor Tournament
1919 BCF Victory Minor
Draw No.
Nationality
1
2
3
4
5
6
7
8
9
10
11
12
Total
1
Edward Guthlac Sergeant
1
England
½
1
1
1
1
0
1
1
1
1
1
9½
2
Abraham Speijer
2
Netherlands
½
0
½
1
1
1
1
0
½
1
1
7½
3
David Miller
9
England
0
1
½
1
1
½
0
1
1
1
0
7
4
Hubert Ernest Price
11
England
0
½
½
1
0
0
1
1
1
1
1
7
5
Amédée Gibaud
7
France
0
0
0
0
1
1
1
1
½
1
1
6½
6
Arthur John Mackenzie
10
England
0
0
0
1
0
1
0
1
1
1
1
6
7
William Gibson
12
Scotland
1
0
½
1
0
0
0
0
1
1
1
5½
8
Harold Saunders
8
England
0
0
1
0
0
1
1
½
0
1
1
5½
9
Theodor Germann
6
Riga, Latvia
0
1
0
0
0
0
1
½
½
½
1
4½
10
Dr Gerard Cornelis Adrianus Oskam
5
Netherlands
0
½
0
0
½
0
0
1
½
1
1
4½
11
Carrick Wardhaugh
3
Scotland
0
0
0
0
0
0
0
0
½
0
1
1½
12
Cecil Leonard Rodney Boyce
4
Queensland
0
0
1
0
0
0
0
0
0
0
0
1
1919 British Ladies' Chess Championship • 1914« »1920
1919 British Ladies Championship
Draw No.
Residence
1
2
3
4
5
6
7
8
9
10
11
12
Total
1
Mrs Edith Martha Holloway (née Crittenden)
9
Bromley
0
1
1
0
1
1
1
1d
1
1
1
9
2
Mrs Gertrude Alison Anderson (née Field)
2
Woldingham
1
1
½
0
½
0
1
1
0
1
1
7
3
Mrs Annie Sophia Roe (née Verdon)
8
London
0
0
1
½
1
1
1
1d
0
½
1
7
4
Mrs Edith Mary Ann Michell (née Tapsell)
5
London
0
½
0
0
1
1
1
1d
1
1
0
6½
5
Mrs Amabel Nevill Gwyn Sollas (née Jeffreys)
1
Oxford
1
1
½
1
0
0
1
0
1
½
½
6½
6
Mrs Agnes Bradley Stevenson (née Lawson)
7
London
0
½
0
0
1
0
½
1d
1
1
1
6
7
Mrs Mary Mills Houlding (née Palmer)
6
Newport
0
1
0
0
1
1
0
1d
1
0
½
5½
8
Miss Annie Mabel Gooding
3
Cheltenham
0
0
0
0
0
½
1
0
½
1
1
4
9
Miss Edith Charlotte Price
4
London
0d
0
0d
0d
1
0d
0d
1
0
1
1
4
10
Miss Florence Hutchison Stirling
10
Edinburgh
0
1
1
0
0
0
0
½
1
½
0
4
11
Mrs Elizabeth Rogers
11
Hastings
0
0
½
0
½
0
1
0
0
½
1
3½
12
Miss Charlotte Helena Minchin-Cotton
12
London
0
0
0
1
½
0
½
0
0
1
0
3
1919 BCF First-Class A
1919 BCF First-Class A
Residence
1
2
3
4
5
6
7
8
9
10
11
12
Total
1
John MacAlister
London
½
1
1
0
1
1
1
0
½
1
1
8
2
William Henry John Sparkes
Sheffield
½
1
0
1
1
0
1
1
½
1
1
8
3
William Henry Watts
London
0
0
0
1
1
1
0
1
1
1
1
7
4
Clemens Palme Dutt
Cambridge
0
1
1
0
½
1
1
½
1
0
1
7
5
George Wyville Moses
Emsworth
1
0
0
1
0
0
1
1
1
½
1
6½
6
Phillip Flower
London
0
0
0
½
1
½
1
½
1
1d
1
6½
7
Henry David Osborn
Gosport
0
1
0
0
1
½
½
0
1
1d
1
6
8
Edmund Tom Jesty
London
0
0
1
0
0
0
½
1
1
½
1
5
9
William John Berryman
Barnsley
1
0
0
½
0
½
1
0
0
½
1
4½
10
Sydney Gerard Howell-Smith
Hythe
½
½
0
0
0
0
0
0
1
1d
½
3½
11
Marc Segal
Romania
0
0
0
1
½
0d
0d
½
½
0d
0d
2½
12
Evert Jan Straat, snr
Netherlands
0
0
0
0
0
0
0
0
0
½
1d
1½
1919 BCF First-Class B
1919 BCF First-Class B
Residence
1
2
3
4
5
6
7
8
9
10
11
12
Total
1
William Gooding
London
0
1
0
1
1
1
1
1
1
½
1
8½
2
Silvain Izaak Groen
Netherlands
1
1
1
0
1
0
½
1
1
1
1
8½
3
Christopher Barclay Heath
Dundee
0
0
0
1
1
½
1
1
1
1
1
7½
4
Richard Edward Lean
Brighton
1
0
1
0
0
1
1
1
0
1
1
7
5
Cecil Perfect Hammond
Lee, London
0
1
0
1
½
0
1
1
½
1
1
7
6
Walter Emmanuel Bonwick
London
0
0
0
1
½
½
1
1
1
1
1
7
7
John Arthur James Drewitt
Oxford
0
1
½
0
1
½
0
1
1
1
1
7
8
Arthur John Spencer
Cheam
0
½
0
0
0
0
1
1
1
1
1
5½
9
Thomas Taylor
Plymouth
0
0
0
0
0
0
0
0
1
1
1
3
10
John Dibbin Chambers
Cardiff
0
0
0
1
½
0
0
0
0
½
½
2½
11
J R Deacon1
Bradford
½
0
0
0
0
0
0
0
0
½
1
2
12
Frederick Wilkinson
Claygate
0
0
0
0
0
0
0
0
0
½
0
½
1 According to the Yorkshire Post, 13 August 1919, Deacon, who replaced Wardhough, arrived too late to play a first round game.
---
1919 BCF First-Class C
1919 BCF First-Class C
Residence
1
2
3
4
5
6
7
8
9
10
11
12
Total
1
Wilfred Hugh Miller Kirk
London
1
1
1
0
½
1
1
1
1
1
1
9½
2
Fred Brown1
Dudley
0
1
½
1
1
½
½
1
½
1
1
8
3
Harold John Francis Stephenson
Hastings
0
0
1
1
½
1
1
1
0
1
1
7½
4
Max Euwe
Netherlands
0
½
0
1
½
0
1
1
1
1
1
7
5
John James O'Hanlon
Portadown
1
0
0
0
0
1
1
1
1
1
1
7
6
Harold Alvin Burton
Pontefract
½
0
½
½
1
1
1
1
0
½
1
7
7
Frank Scuse Smith
Oxford
0
½
0
1
0
0
0
1
1
1
1
5½
8
Edward Davidson Palmer
London
0
½
0
0
0
0
1
0
1
1
1
4½
9
Rev William Alban Cunningham Craig
London
0
0
0
0
0
0
0
1
1
1
1
4
10
W H Rhodes
Hayes
0
½
1
0
0
1
0
0
0
0
0
2½
11
Arthur William Daniel
Wanstead
0
0
0
0
0
½
0
0
0
1
1
2½
12
Guy Ralph Hardcastle
Thornton Heath
0
0
0
0
0
0
0
0
0
1
0
1
1 BCM, September 1919, p296: "Amongst those we missed at Hastings was Frank Brown, of Dudley, whose brother was a competitor in Section III. of the First-class contest. As the result of our enquiries, we learnt, with regret, that Frank Brown died in June, 1917, in his 54th year. The immediate cause of death was intense shock to the system lollowing a severe fall. In his younger days, Frank Brown was prominent in Worcester County Chess. When quite a youth he carried off the Worcester Championship Trophy, presented by Lord Lyttleton, by winning the competition three times."
---
1919 BCF Second-Class A
1919 BCF Second-Class A
Residence
1
2
3
4
5
6
7
8
9
10
11
12
13
14
Total
1
Frederick John Hingley
Nottingham
0
0
1
1
1
1
1
1
1
1
1
1
1
11
2
W Stoney
London
1
1
0
½
1
1
1
1
1d
1
1
1
½
11
3
J N Smith
Ceylon
1
0
½
0
1
½
1
1
1
1
1
1
1
10
4
George Frederick Harold Packer
Hastings
0
1
½
0
0
1
½
1
1
1
1
1
1
9
5
Miall Cooper Barton
London
0
½
1
1
0
½
½
1
1
1
0
1
1
8½
6
J G Reeve
Birmingham
0
0
0
1
1
0
1
1
½
1
1
1
1
8½
7
C T Bennett
London
0
0
½
0
½
1
½
0
1
1
1
1
1
7½
8
G W Bedford
London
0
0
0
½
½
0
½
0
0
1
1
1
1
5½
9
A Fellows
London
0
0
0
0
0
0
1
1
½
½
0
1
1
5
10
Hugh T Twomey
Dufftown
0
0d
0
0
0
½
0
1
½
0d
1
½
1
4½
11
Mrs Alice Vaizey
Halstead
0
0
0
0
0
0
0
0
½
1d
1
1
½
4
12
Miss Emily Eliza Abraham
Herne Bay
0
0
0
0
1
0
0
0
1
0
0
0
1
3
13
Prof. Robert William Genese
Aberystwyth
0
0
0
0
0
0
0
0
0
½
0
1
1
2½
14
William Henderson Winter1
Alton
0
½
0
0
0
0
0
0
0
0
½
0
0
1
1 William Henderson Winter (1859-1937) was the father of (eventual IM) William Winter (1897-1955)
---
1919 BCF Second-Class B
1919 BCF Second-Class B
Draw No.
Residence
1
2
3
4
5
6
7
8
9
10
11
12
13
Total
1
Henry George Bockett-Pugh
5
Derby
1
0
1
1
0
1
1
1
1
1
0
1
9
2
Rev Edwin John Evans Howlett
4
Cambridge
0
0
0
1
1
1
1
1
1
1
1
1d
9
3
Leonard Illingworth
9
Southampton
1
1
1
1
1
0
0
0
1
1
1
1
9
4
Rev William Ernest Evill
8
Hythe
0
1
0
0
1
1
1
1
½
½
1
1
8
5
Ernest Edward Shepherd
1
Oxford
0
0
0
1
½
1
½
1
1
1
1
1
8
6
Edward Victor Strugnell
7
London
1
0
0
0
½
0
0
1
1
1
1
1
6½
7
William Owen Cecil Stuchbery
2
Maidenhead
0
0
1
0
0
1
½
½
½
½
1
1
6
8
Major Francis Hooper Rawlins
11
Oxford
0
0
1
0
½
1
½
1
0
0
1d
1
6
9
C H Taylor
10
Lewisham
0
0
1
0
0
0
½
0
1
1
1d
1
5½
10
George Arthur Youngman
12
Maidstone
0
0
0
½
0
0
½
1
0
½
1d
1
4½
11
Mrs Rosa Annie Banting (née Vines)
3
London
0
0
0
½
0
0
½
1
0
½
0
1
3½
12
Alfred Henry Owen
13
Birmingham
1
0
0
0
0
0
0
0d
0d
0d
1
1
3
13
William Henry Greenhalgh
6
Dawley
0
0d
0
0
0
0
0
0
0
0
0
0
0
Curiously, the above table was the only crosstable given in draw order (rather than descending score order) in BCM (1919, p375).
---
1919 BCF Third-Class A
1919 BCF Third-Class A
Residence
1
2
3
4
5
6
7
8
9
10
11
12
Total
1
James Fish1
Alderley Edge
0
1
1
1
1
1
1
1
1
1
1
10
2
Harold Meek
London
1
0
0
1
1
1
1
1
1
½
1
8½
3
John William Howes
St Leonards
0
1
0
0
1
1
1
1
1d
1d
1
8
4
John Warren Thomas
Orpington
0
1
1
½
0
0
1
1
1d
1d
1
7½
5
C Andreae
London
0
0
1
½
0
1
1
1
1
½
1
7
6
Miss Gertrude Emma Sanders2
Edinburgh
0
0
0
1
1
0
0
1
1d
1
1
6
7
John Cunnington
Hastings
0
0
0
1
0
1
0
1
½
1d
1
5½
8
Miss Habgood
London
0
0
0
0
0
1
1
0
0
½
1
3½
9
Mrs Ross
Glasgow
0
0
0
0
0
0
0
1
1
1d
½
3½
10
Edward Joseph Baldock
Lincoln
0
0
0d
0d
0
0d
½
1
0
0d
1
2½
11
Mrs Jeanie Brockett
Glasgow
0
½
0d
0d
½
0
0d
½
0d
1d
0
2½
12
Mrs Lydia Maria Louise Luard (née Palmer)3
St Leonards
0
0
0
0
0
0
0
0
½
0
1
1½
1 "it may be noted that Mr. Fish is 80 years of age!" BCM, September 1919, p294
2 Gertrude Emma Sanders, born 6 February 1859, Calcutta, India, died 17 January 1923, Edinburgh. (Obit, Falkirk Herald, 28 February 1923, p3)
3 Lydia Maria Louise Luard, née Palmer, b 8 August 1853 (Syria? Jerusalem?), died 4 July 1923), widow of Maj.Gen. Frederick Peter Luard
---
1919 BCF Third-Class B
1919 BCF Third-Class B
Residence
1
2
3
4
5
6
7
8
9
10
11
12
Total
1
Alfred Dudley Barlow
London
½
1
0
1
1
1
1
1
1
1
1
9½
2
W Frost
London
½
1
1
1
0
1
½
1
½
1
1
8½
3
Gilbert Victor Butler1
Brighton
0
0
½
½
1
1
1
1
1
1
1d
8
4
Miss Mary Dinorah Gilchrist
Edinburgh
1
0
½
0
1
1
1
½
1
1
1d
8
5
Rev. William Thomas Mackenzie Hooppell
Stoke
0
0
½
1
0
1
1
1
1
1
1
7½
6
V Lewis
London
0
1
0
0
1
0
1
½
1
1
1d
6½
7
Samuel Frederick Dalladay
Hastings
0
0
0
0
0
1
1
1
1
1
1
6
8
Mrs Hannah Maria Joughin (née Blogg)
London
0
½
0
0
0
0
0
1
1
1
1
4½
9
George Frederick Rogers
Hastings
0
0
0
½
0
½
0
0
1
1
1
4
10
Miss Thomas
St Leonards
0
½
0
0
0
0
0
0
0
1d
0
1½
11
Miss Lucas
Hastings
0
0
0
0
0
0
0
0
0
0d
1d
1
12
Mrs Young
Glasgow
0
0
0d
0d
0
0d
0
0
0
1
0d
1
1 At 16, the youngest competitor in the congress, Gilbert Victor Butler died on 9 August 1942, aged 39 (d.o.b. 2 November 1902). Obituary, BCM, January 1943, giving three of his (undated) wins vs RN Coles, Dr H Fraenkel and G Wernick. Son of H W Butler, founder of the Sussex County Chess Association, Butler jnr was a former Sussex champion. See also Chess Notes CN10455 for the game vs RN Coles.
---
A note on the name of the congress: it was generally referred to by BCM, The Times and others as the BCF Victory Congress, but the initial reports in the Manchester Guardian headlined it as the "Inter-Allied Chess Tournament". Later this changed to "Chess International". It remains the 12th in the official sequence of BCF Congresses (since renamed British Championships).
---
BCM, September 1919, pps 285ff
THE VICTORY CONGRESS AT HASTINGS.
The British Chess Federation's "Victory Congress" came off duly at Hastings during the twelve days, August 11th—23rd. and in every way proved a memorable event. It was long looked forward to. Not only was it the first chess congress of any kind in England since that at Chester in the fateful month of August, 1914, but it was also the twelfth and the reopening congress in the series of British Chess Federation gatherings which started at Hastings in 1904. Further, it included in its programme the first masters' tournament of any kind in this country since the great London International Tournament of 1899. London, 1899, saw the success of Dr. Emmanuel Lasker, still titular champion of the chess world. At Hastings last month the outstanding figure was, of course, Jose Capablanca, who, in the opinion of a great number of the best judges of the game, is the finest living player and already one of the "immortals" of chess—the wearer of the mantle of Morphy. The Cuban made himself very popular, winning golden opinions, both as a player and as a companion. He will always be the most welcome of participants in any chess event in this country.
Although the proceedings of the Congress proper did not start until August 11th, there was a preliminary gathering at the Drill Hall on the evening of the 9th, with a lightning tourney of 60 players, in which Señor Capablanca, many of the competitors in the various tournaments, and a number of visitors to the Congress took part. The contest was arranged on the "Gambit" Café plan, by which all the entrants were arranged in sections of four. After these had played off, the first, second, third and fourth in each section respectively went into a knock-out tournament for one of the four prizes. In the strongest of the preliminary sections Messrs. Capablanca, Kostich, Marchand and Conde met, finishing in the order named. In the final ties of the resulting knock-out tournaments, Capablanca beat Jesty for the 1st prize; Kostich beat Germann for the 2nd; Olland beat Bonwick for the 3rd; and Cole beat P. W. Sergeant for the 4th.
It was learnt with great regret during the course of the evening that Mr. H. E. Atkins had felt compelled to retire from participation in the principal contest of the Congress, acting upon doctor's advice. In consequence of this Mr. R. P. Michell was moved up from the Minor to the Major Tournament, his place in the latter being taken by Mr. C. Wardhaugh. Mr. J. du Mont had previously retired from the Minor, owing to his wife's illness, his place being filled by Mr. H. E. Price.
Mr. H. D. Osborn, of Gosport, came into the first class for Mr. Price, while Mr. Wardhaugh's place was occupied at the last moment by Mr. J. R. Deacon, of the Leeds Chess Club.
The reception of competitors and visitors by the Mayor of Hastings, Councillor Arthur Blackman, and Mrs. Blackman, took place at the Town Hall at 3 o'clock on the afternoon of August 11th. The Mayor made a brief speech, in which he gave all present a hearty welcome to Hastings. After this followed tea and a pleasing musical selection by Mrs. Idle, Miss Lillian Tooley, Miss Nora Drake, Miss Nellie Seymour (violin), Mr. Charles Harris, and Mr. Colin Ashdown.
At 5-30 p.m. the Congress was formally opened at the Drill Hall, Mr. H. Rodney, President of the Hastings Chess Club, taking the chair in the absence of Sir John Thursby, president of the Federation. Mr. Rodney said he rejoiced at the honour done to Hastings by its selection as the place of the present congress, but hoped, in view of his own age there would not be so long an interval between this and the next as there had been since the last Hastings Congress. He paid a tribute to the Mayor, without whose unfailing help it would not have been possible to hold the congress at all.
The Mayor, in reply, protested that the last remarks had been rather too flattering, but, as representative of Hastings, he was very proud of the fact that the town had been chosen for the congress. He felt that the enthusiasm of the local players had been a powerful factor in securing for Hastings this and the previous tournaments of 1895 and 1904. He spoke of the excellent work done for the Federation by Sir John Thursby, Mr. Leonard Rees, and the local treasurer, Mr. H. E. Dobell. At the gathering to-day the presence of the numerous international visitors was very welcome, and, while Mr. Atkins' inability to play was to be lamented, the entry of Mr. Yates, holder of the British championship, was a matter for much satisfaction. lie extended a hearty welcome to Mr. Blackburne, who would delight them with exhibitions of his skill later in the Congress, and to the distinguished lady players who were with them. He now declared the Congress open.
Mr. Rees moved a hearty vote of thanks, on behalf of the Federation, the competitors, and the visitors, to Mr. Rodney and the Mayor of Hastings.
Señor Capablanca seconded, on behalf of the players. He much regretted the absence of both Atkins and Marshall, the great English and American masters, but felt, nevertheless, sure that the Congress would be a success.
After Mr. Rees had read a telegram of greetings from M. Saburoff, president of the committee of the Pan-Russian Chess Society, and had expressed the hope that they would soon see that Society working with them again in the cause of chess, the evening's play began.
On the night of the 13th the Congress was in full swing. We do not propose, from considerations of space, to follow the progress of the tournaments round by round. The full tables will be found below, and also a chart showing the standing of the players in the chief tournament after each round. In that tournament both Capablanca and Kostich gave an early taste of their quality, winning all their games in succession until in the 5th round Kostich received a check from Wahltuch, with whom he could only draw. Thomas ought, previously, to have drawn with Capablanca, in the 3rd round, but failed to see the strength of his position on the 29th move and resigned unnecessarily. Wahltuch was "the English hope" in the first week, and at the end of round 4 was only a ½ point behind the leaders. Then he made a poor show in a game against Conde and dropped back to 1½ points behind. He made amends by drawing, as stated, with Kostich. Thomas meanwhile, after a fierce struggle in the first four rounds, in the last of which he made the uncalled-for resignation to Capablanca, pulled up to level with Wahltuch in his 6th game. Yates, losing to Capablanca in round 1 and to Winter in round 3, made a good recovery and stood fifth after round 6.
The conclusion of the first week found the scores :— Capablanca, 6; Kostich, 5½; Thomas and Wahltuch, 4; Yates, 3½; Michell, 3; Olland, 2 and one game unfinished; Conde, Marchand and Scott, 2; Winter, 1 ; Cole, 0, with one unfinished game.
In the Minor Tournament, Mackenzie, Miller, and Price rushed away at the start and scored all their first 4 games. M. Gibaud, the impetuous French representative, might have stood in Miller's place had he not exceeded the time-limit in their individual encounter in round 3. But E. G. Sergeant and Speyer, who met and drew in round 1, kept close to the leaders; and by the end of the week Sergeant had caught up and passed all but Price, who went through the first 6 rounds with a clean score, achieved by some very good play. The scores on the night of August 16th were: Price, 6 ; Sergeant, 5½ ; Speyer, 4 and one unfinished game; Miller, 4; Saunders, 3½; Gibaud and Mackenzie, 3; Gibson, 2½; Oskam, 1½; Wardhaugh, 1; Germann, ½, with one unfinished game ; Boyce, 0.
In the Ladies' Championship Mrs. Holloway romped away with the lead and at the end of the week had a clean score. Mrs. Roe challenged her for three rounds, but then fell behind and was passed by Mrs. Stevenson and Miss Price, the week-end leaving the scores :— Mrs. Holloway, 6; Mrs. Stevenson and Miss Price, 4; Mrs. Anderson, Mrs. Michell and Mrs. Roe, 3½; Mrs. Houlding and Mrs. Sollas, 3; Miss Gooding and Miss Hutchison-Stirling, 2; Mrs. Rogers, 1½; Miss Cotton, 0.
Apart from the play in these and the lesser tournaments, the first week saw a second lightning tournament of over 60 players on August 13th, in which Capablanca, Kostich, Gunsberg, Sir George Thomas, Conde, and numerous other strong players took part. The contest was on the same lines as on the previous Saturday, and the play for the prizes resulted as follows :—1st, Capablanca beat Kostich; 2nd. Conde beat Saunders; 3rd. Chambers beat Thomas; 4th, Euwe beat Alcock. A special 5th prize was won by Mrs. Luard.
On the 14th a very pleasant excursion was made by motor charabanc to Tenterden, in Kent, returning via Battle. About 70 of the visitors to the Congress joined in this and much enjoyed the change of occupation.
On the afternoon of the 15th Mr. J. H. Blackburne gave the first of his two simultaneous performances, encountering 24 opponents. In the course of six hours he defeated 18 of them, lost to Dr. Oskam only, and drew with Messrs. A. G. Barlow, M. Chester, G. Merry, F. H. Packer, and the Rev. H. C. Field. The veteran's success was heartily welcomed.
The beginning of the second week saw the leaders go still further ahead in the Chief Tournament, Capablanca and Kostich both scoring 2 points in 2 rounds, while Thomas put on 1½. In round 9 the Cuban and the Serbian met and drew a not very interesting game, Capablanca no doubt being content to sit on his lead, which now became sufficient to guarantee him from being caught by anyone except Kostich. The latter had some difficulty in securing a draw with Thomas in the next round, but by doing so made sure of at least the 2nd prize. The chief excitement was now concentrated on the struggle for 3rd and 4th prizes. Yates was playing up admirably, and, though behind Thomas at the start of the second week, was only ½ behind after round 10. The final bout saw both Capablanca and Kostich complete unbeaten records, the Cuban having drawn but one game and the Serbian three. Thomas had a very hard struggle to draw with Olland, while Yates defeated the other Dutch master, Marchand; and so a tie resulted for 3rd and 4th prizes between the two English experts. After them came a gap, Wahltuch, who had a bad second week, only managing to make equal scores with Michell, next to the prize-winners.
Capablanca's success was a foregone conclusion. He stood in a class by himself. Kostich's play was attractive and interesting, and fully bore out what we have heard about him from America. It was good to see that the heat of Hastings had no ill effects on his game. Thomas made a fine effort to uphold the credit of British chess, in the absence of Atkins; and Yates in the second half of the tournament, Wahltuch in the first, showed the admirable fighting spirit of the North. Michell's former mastery is evidently only in need of practice to take him right to the front again. Scott was Scott; that is to say, a brave and adventurous combinationist, full of surprises, but at times apt to play the wrong game. The Dutch pair were seldom able to produce their best form, though showing glimpses of it at times. Marchand seemed handicapped by indifferent health. Conde, too, was fitful, but is obviously a stronger player than his score indicates. Winter seemed nervous in his first big tournament, as was not unnatural, and Cole was right off colour.
The 7th round of the Minor Tournament saw Sergeant join Price at the head of affairs, the former beating Saunders, while Price could only draw with Miller, Speyer falling back by reason of losing his adjourned game with Hermann. In round 8 Sergeant wrent right away, beating Miller, while Price was beaten by his fellow townsman Mackenzie at the very end of the day. Continuing to play excellent chess, Sergeant won in the 9th and 10th rounds, thus making sure of the prize—and incidentally confirming handsomely the opinion of those who said that he ought to have been selected for the Chief Tournament. In the last round, when it did not matter, he suffered his first loss, at the hands of Gibson. In the meanwhile, Speyer and Miller gradually worked their way up past Price; and Speyer, by drawing with the last-named in round 11, took 2nd prize. Miller, no doubt over-anxious, finished up with a defeat from Boyce (the dashing but unconventional Queenslander's sole success), and so had to divide 3rd and 4th prizes with Price.
Mrs. Holloway in the Ladies' Championship added yet another win to her score in round 7, but in the next two rounds lost to Mrs. Sollas and Mrs. Anderson in succession. Miss Price had unfortunately contracted sunstroke on Sunday and could take no further part in the tournament, so that Mrs. Anderson and Mrs. Stevenson were left closest to the leader, within one point of whom they managed to draw in round 9. Mrs. Holloway, however, finished up with a win in round 10 and scored by default in round 11, so taking 1st prize with an excellent score of 9. Mrs. Anderson added one point in the last two rounds and was caught up by Mrs. Roe, with whom she divided the 2nd and 3rd prizes. On the other hand, Mrs. Stevenson, through a defeat by Mrs. Michell, had to give place to her and Mrs. Sollas, the 4th prize falling to these two ladies bracketed.
The First Class Tournaments, when the second week opened, saw the following at the head of affairs: —Section A, Flower 5, Sparkes 4½, Osborn 4; Section B, Groen 5½, Drewitt and Spencer 4½; Section C, Brown 5, Kirk 4½, with several others close behind. Sparkes stayed best in Section A, and ran out a winner with 8 points. The other two players fell back and were passed by Macalister, Watts and Dutt (the young Cambridge player). In Section B, Groen continued to show good form, but a loss by him to Hammond, who made a fine effort, enabled Gooding to catch up and tie for first and second prizes. Heath meanwhile ousted Drewitt and Spencer from the prize list. In Section III [sic] Kirk went great guns in the second week and made a splendid total score of 9½. Brown could not equal this and had to be content with second prize, while the local player, Stephenson, worked up to third place.
During the course of the week Mr. Blackburne gave a second simultaneous display on the afternoon of Tuesday, meeting 19 opponents, of whom he beat 17, drawing with the other two. The play lasted about three hours.
On Wednesday, the 20th, the third lightning tournament of the Congress was held. There were no less than 80 entries (a record for the Federation), but neither Capablanea nor Kostich competed. On the other hand, Messrs. Gunsberg, Yates, Olland, Speyer, Blake, du Mont, and the Rev. F. E. Hamond were among the contestants. The prizes fell as follows : I. A. G. Conde; II., Sir George Thomas; III., W. Gibson; IV., F. Brown and F. Downey ; V., W. Frost.
On Thursday afternoon, the 21st, there was a delightful excursion, by motors, to Winchelsea and Rye.
The company numbered between sixty and seventy, and the pleasure of the trip was much enhanced by the informing descriptions given by Mr. Ray, of Hastings, an antiquary of more than local repute.
At Rye the party was met by the Mayor of Rye (Councillor Deacon), who extended to all a most hearty welcome and joined the company to tea at the George Hotel. Afterwards, His Worship conducted the visitors through the Church, Town Hall and other places of interest. His descriptions of the Maces, Bell, and list of past Mayors of Rye, were all much appreciated. The historical facts he gave of the town, and castle, made us wish that more time could have been devoted to what proved a most enjoyable experience.
After a vote of thanks to His Worship for his great kindness, the visitors further testified their appreciation with a round of cheers.
The afternoon of Friday was reserved for the playing off of any adjourned games from rounds previous to the final, so that all should be left clear for the concluding ceremonies.
The final stage of the Congress was reached on Saturday, the 23rd, when the distribution of prizes took place at 9-30 a.m.
In the unavoidable absence of Sir John O. S. Thursby, Bart., President of the Federation, the chair was taken by Canon A. G. Gordon Ross (Swindon), who was supported by Mr. H. Rodney, President Hastings Chess Club, Mr. L. P. Rees, Hon. Sec. B.C.F., Mr. H. E. Dobell, Hon. Treas. B.C.F., and Mr. R. H. S. Stevenson (Southern Counties' Chess Union).
After expressing the indebtedness and thanks of the Federation to Hastings for its initiative, great efforts, and invaluable assistance in making the Congress a pronounced success, Canon Ross introduced the Mayoress of Hastings (Mrs. Blackman), who graciously presented the prizes. Starting with the successful competitors in the lightning, continuous and other contests, the victors in the chief event came last. Heartiest approval of all the recipients was very marked, but we think that Señor Capablanca must have specially appreciated the prolonged cheers that greeted his appearance as winner of the highest prize of all.
Another item that evoked special approval was the spontaneous gifts to Messrs. Rees, Dobell and Stevenson, to mark the gratitude of competitors and friends for the unfailing courtesy shown by each gentleman during the strenuous fortnight of the meeting.
Canon Ross next voiced the feelings of all British chess-players when he proposed a vote of thanks to the Hastings Chess Club for guaranteeing half the cost of the Congress. Mr. H. Rodney responded, and said the ambition of Hastings was that the town should be to chess what Cowes is to yachting, Newmarket to racing, and Wimbledon to tennis. The subtle compliments to Sir John Thursby, and Sir G. A. Thomas respectively were humorously appreciated as both gentlemen are sportsmen of the highest order.
Mr. H. F. Cheshire expressed the thanks of the Congress to the Press. Acknowledgment of this vote was rendered by Mr. Amos Burn, whose reports of the chief tournaments, in his chess department in The Field, have been fully in keeping with the importance of the occasion, and also widely appreciated by all players of standing in the chess world.
Before the proceedings were brought to a close, a special appeal for support of the Life Membership list of the Federation was made by Mr. S. J. Holloway, of Bromley, Kent. He strongly urged the necessity of making the British Chess Federation as independent as ever possible of outside contributions, so to be set free to hold the Congress in districts where chess required stimulating influence, rather than have to accept imitations dependent upon special financial contributions. Mr. Holloway pointed out that the Federation Life Members mustered thirty-three at the start of the present Congress, but that he had persuaded so many to join the list that the number had now reached fifty, and he intended to raise the membership to join before the morning was over.
We are greatly delighted to record the fact that Mr. Holloway succeeded in his task, also that the distinction of being the hundredth enrolled member belongs to Mr. Isaac Mannington, Deputy-Mayor of Hastings, who is the Honorary Auditor of the Federation.
We hope the splendid example set at Hastings will be widely followed, and we append, with much pleasure, a full list of the Federation life-members, who now muster 102. [I've not appended this list - JS]
After the end of the prize-giving, Señor Capablanca gave a simultaneous display against thirty-five opponents, including Messrs. C. L. R. Boyce, W. Gibson, A. J. Mackenzie, D. Miller and G. C. A. Oskam, from the Victory Minor Tournament, and eight from the First Class. In the course of four hours he won 27 games, drew 7 (with Gibson, Mackenzie, Miller, Oskam, H. D. Osborn, J. N. Smith and G. A. Youngman), and lost 1 only to W. H. Watts, with whose strength, as Señor Capablanca later confessed, he was entirely unacquainted. The performance lasted four hours and was warmly applauded.
The closing function in connection with the gathering was at the Town Hall, the Mayor having invited the officials of the Congress and representatives of the Press to luncheon. His Worship presided, and proposed the toast of " The Press," to which Dr. A. G. Olland (Holland) and Mr. Antony Guest (Morning Post) responded.
We understand that efforts are being made with a view to holding the Congress for 1920 at Cambridge. [It was held in Edinburgh - JS]
---
BCM, October 1919, p345ff
THE CHESS CONGRESS AT HASTINGS.
The opinion of one of the regular attendants at the B.C.F. Congresses was that this meeting was the most enjoyable of any. The weather practically throughout was delightful. The presence of Señor Capablanca was a great attraction and drew large attendances daily. The withdrawal of Mr. Atkins, at the last moment, caused universal disappointment; he was present throughout, but looked very poorly when he arrived. After the first week he was feeling so much better that he regretted he had not come down a week earlier. He played several games of "skittles" with the competitors, and M. Kostich, after playing with him, said he thought he had a deeper knowledge of the game than any of the British players taking part.
It would be easier to give a list of chess players who were not present; at different times Messrs. J. H. Blake, W. H. Gunston, J. du Mont, who, owing to his wife's illness, also had to withdraw his entry, Rev. F. E. Hamond, Sir John Thursby, Canon Gordon Ross, P. H. Williams, Fred Downey, A. C. Challenger, I. M. Brown, among others, were present. The Press was represented by Messrs. Amos Burn (Field), Antony Guest (Morning Post), Dr. Schumer (Westminster Gazette), J. A. Woollard (Press Association), E. S. Tinsley (Times), and Brian Harley.
Señor Capablanca's charming personality earned him a deserved popularity and our Dutch visitors made many friends. M. Gibaud, the only representative of France, who like Dr. Olland and several others, brought his wife over, was always ready to enjoy a joke, even when it was a terrible caricature of himself, and has promised to try and take part in the Kent Congress, at Bromley, next Easter.
The Mayor and Mayoress of Hastings did their very best to make the social side of the Congress a success, and were well backed up by the ladies of the Hastings Chess Club. The outings to Tenterden in the first week, and to Winchelsea and Rye in the second, were both well attended, and the Mayor of Rye himself conducted the Congress party round this old town, showing them several antiquities kept in the Towrn llall which the ordinary sightseer would have no opportunity of viewing.
There were several amusing incidents. In one game in the Third Class, a lady made what she thought was a mating move; her opponent, however, moved her King, and so she carried on with the game, eventually losing. In going through the score, it was found she had in reality administered mate, and therefore the game was scored to her. In one of the First Class sections, a player took up his Rook, took his opponent's, but instead of putting his in its place, he put his opponent's Rook to the place from which he had moved his own. An enterprising bookseller addressed an advertisement to all the competitors, including "A. Bye. Esq." The cricket match between a Congress team, which included M. Kostich, the Serbian champion, and Herr Groen, of Holland—neither of whom had played the game before—and the Hastings Ladies' Cricket Club, played on the 22nd, was a great success. The men had to bowl underhand and bat left-handed. The Ladies were dismissed for 17, the lowest score they had made this season, Mr. Griffith and Major Montagu-Jones doing most of the damage. The Congress team then made 101 for nine wickets (V. Rush, 32 not out; Griffith, 21; Wahltuch, 11). It was discovered M. Kostich had gone back to the Congress rooms; when asked why, he said: "It is over; we have knocked them out!" The Ladies did better at the second attempt, scoring 55 for 7.
Much pleasure was expressed at the space the daily papers gave to reporting the Congress, and considering the difficulties the printers must have had in dealing with technical matter, of which they probably understood nothing, it was wonderful how few mistakes were made. The result of the Chief Tourney was much as had been anticipated from the commencement; the opposition was not severe enough to test Señor Capablanca's full strength, but he showed how clever he is in taking advantage of any potential weakness in his opponent's Pawn formation. It was a curious oversight both Sir George Thomas and he made in their game—he had a clear win the move before Sir George resigned. Mr. Yates showed signs of want of practice during the first week, but was playing with greater confidence in his later games. It is sincerely to be hoped Sir George Thomas will be persuaded to enter for the British Championship next year. Cambridge has been suggested for the venue. Mr. Michell, who owed his inclusion to Mr. Atkins's retirement, played some excellent games, as did Mr. Wahltuch. And it was satisfactory that our British amateurs, though they seemed rather overawed by the two chess masters, could at least hold their own against the Dutch players. Mr. Scott brought off some good games, but he also made several unsound sacrifices and threw away an easy draw with Sir George Thomas through overestimating his chances, which is part of his temperament. Mr. Cole played much below his form, and it was regretted that Mr. E. G. Sergeant, who won the Minor Tourney, was not playing in the Major event. Mr. H. E. Price, who got promotion to the Minor Toumey through Mr. du Mont's retirement, played extremely well the first week, although lucky in two games, but fell behind in the second week. Mr. Boyce, of Queensland, who plays at a tremendous rate, was quite out of practice, but showed what he was capable of in his final game with Mr. Miller. Mrs. Holloway's knowledge of openings and endings brought her a very popular win in the Ladies' Championship. The one failing which was much evident with all the ladies was the lack of combination, or middle game play—no doubt due in many cases to lack of practice. Much regret was felt at Miss Price's illness, which caused her to forfeit all her games in the second week. There were some very interesting games in the First Class sections. Herr Groen was leading throughout in Section B, but a pretty win by C. Hammond in the 9th round gave Mr. Gooding a chance of catching him. Mr. Kirk won his section with 1½ to spare, but had some luck, winning a lost game with Mr. Rhodes. The tie in the Second Class, in which the first three players all tied with nine, was somewhat of a curiosity; the fact that Mr. James Fish, the oldest competitor, in his 80th year, won his section in the Third Class was very popular, as also that the youngest competitor, Mr. G. V. Butler, aged 16, shared third prize in the other section.
The wonderful record, mainly due to the energies of Mr. S. J. Holloway, whereby the Life Membership of the B.C.F. was raised from 23 to 100 during the Congress (the Deputy-Mayor of Hastings, our old chess friend, Mr. I. E. Mannington being the hundredth), has already been mentioned.
The following are the tables of the First-class Tournaments in the Congress at Hastings, which we were compelled to hold over last month. We regret that, by an error, in our summary of the result, Mr. J. Macalis-ter was reported to have tied for 2nd and 3rd prizes in Section A of the First Class, instead of for 1st prize, as he actually did.
As was noticed by several of our readers, in the table of the Minor Tournament last month some of the figures in Mr. D. Miller's score were transposed, though in the column giving the scores against him (column 3 in the table) the results were correctly given. Miller scored 1 v. Mackenzie, ½ v. Gibson, 0 v. Saunders, 1 v. Wardhaugh, and 0 v. Boyce. We shall publish the tables of play in the Second and Third-class contests in our next number.
---
BCM, October 1919, p325ff
CAPABLANCA. (by Philip W Sergeant)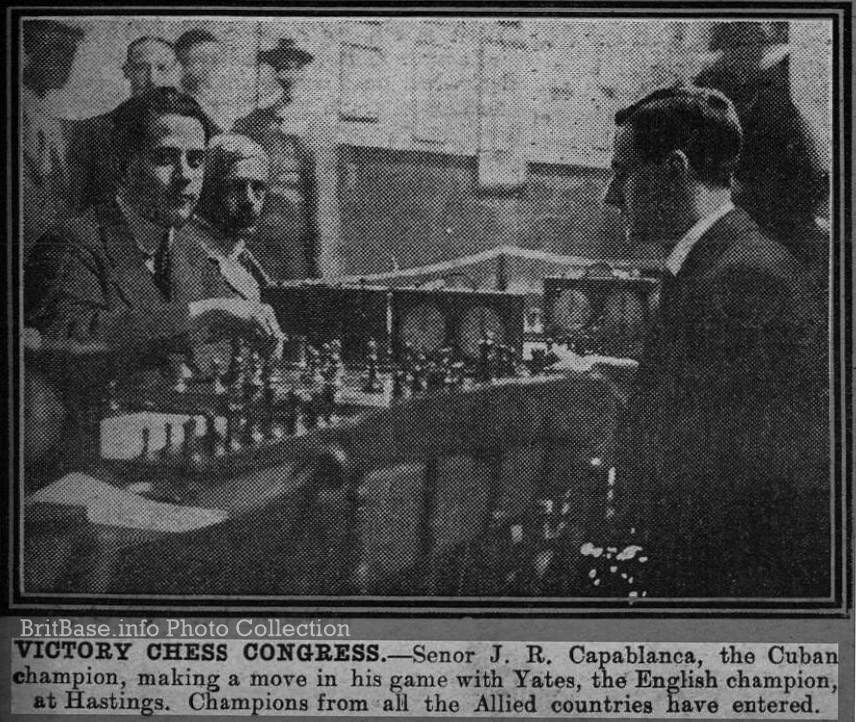 Daily Mirror, 13 August 1919
Capablanca has come, and has conquered, as every good judge of the game expected he would, in the Chief Tournament of the Hastings "Victory" Congress. There were, of course, differences of opinion as to the ease with which he would achieve success, especially while it wras still hoped that Atkins would be able to compete. When the news of Atkins's retirement became known, the only question was, what would be Capablanca's score out of the eleven points possible? He inquired himself on the Sunday morning what was the highest total with which the Federation championship had been won, and smilingly deprecated the suggestion of a clean score this time. As it was, he came within the shortest possible distance of a clean score. The query remains unanswerable whether, had Kostich not drawn with Wahltuch in the sixth round, Capablanca might not have been inspired to go for full points. Kostich is an accomplished tournament player, who, in their four encounters in the Rice Memorial and Manhattan Masters' Tournaments, secured four draws against Capablanca; but—well, I am rather sorry their scores were not level when they met at Hastings. It is interesting to see genius under the spur.
Of the genius there can be no doubt. Records are not all: though Capablanca's record (including the scores of his published games) would suffice to prove the point. Born on November 19th, 1888, he is thus not yet 31 years old. Acquainted with the moves almost from infancy, he won the championship of his native Cuba at 12, defeating Juan Corzo by 4-2, with six draws. He went to the United States in 1904 to continue his education, and in 1907 was at Columbia University. In the latter year he played top board for the American Universities in the cable match against Oxford and Cambridge, drawing with H. J. Rose, the Balliol Rhodes scholar. It was in the following year that he decided to devote himself to chess rather than to engineering, and his progress, though news came of it somewhat slowly on this side of the Atlantic, was astonishing. On liis first exhibition tour, arranged for him by The American Chess Bulletin, he played 720 games, winning 686, drawing 20 and losing only 14 (or, according to another account, played 734, winning 703, drawing 19 and losing only 12). Then followed his introduction, by reputation, to the chess world in general. Frank Marshall, virtual champion of the United States, agreed to play him a match, which commenced on April 19th, 1909. Capablanca won three games before his opponent scored one, and finally took the match with a score of 8-1, with 14 draws. This result certainly made the Old World think; but Marshall's known inconsistency was perhaps allowed to discount it somewhat; and, as Capablanca was prevented through illness from coming over, as hoped, to the Hamburg Tournament of 1910, personal acquaintance with his powers was still denied. He won the New York State Championship later in the year, Marshall being among the competitors, and continued his success as an exhibition player, both in the States and in Canada.
In January-February, 1911, there came a slight set-back in the United States National Tournament, New York, won by Marshall with a score of 10 (8 wins and 4 draws), while Capablanca, through losing to R. T. Black and drawing 3 games, scored 9½. But this was only a stumble before the dash to the very front. On February 20th the great San Sebastián Tournament began, where practically all the best chess talent in the world was represented, with the exception of Lasker. Capablanca lost one game, to Rubinstein, but scored 9½ out of 14, taking first prize; Rubinstein and Vidmar tied for second and third, with 9 points. This splendid achievement quickened Cuba's enthusiastic desire to match Capablanca against Lasker for the world's championship, and $5,000 was offered if the match were played at Havana. Nothing more definite came of the suggestion as yet, however.
San Sebastián was followed by Capablanca's first exhibition tour in Europe, which was remarkably successful. In France and Germany he played 286 games, winning 237, drawing 30 and losing 19. I have not discovered the complete figures; but it may safely be said that the hardest task which he encountered on this tour was when he met 28 opponents at the City of London, on November 15th, and was compelled to acknowledge defeat in 9 games. From Europe Capablanca proceeded to South America, more triumphs following, of which the biggest was at Buenos Aires. Against 30 players, in the Club Argentino, he won 25 games (one against Illa, the Argentine champion), drew 4 and lost only one.
In January, 1912, came the American National Tournament, w'hich Capablanca won with 11 points out of 13, Marshall (10½) coming second. Next month there was a double-round tournament of eight players at Havana. Curiously, on his native soil, Capablanca had to yield 1st prize to Marshall, who scored 10½ to his 10. In the November of this year, a formal challenge from the young Cuban was handed to Lasker, then in the States. At first the likelihood of its acceptance seemed good ; but, as all chess-players know, negotiations ultimately broke down, for reasons more creditable to the challenger than the champion.
The principal events in 1913 were Capablanca's victory in the Rice Chess Club's Summer Tournament in New York, his strongest opponent being Duras, while Marshall did not compete; and a second European tour at the end of the year, on the way to St. Petersburg. The last great tournament before the war only just failed to put Capablanca at the head of all living masters in this branch of master-play. In the preliminary section he led with a score of 8 out of 10, Lasker and Tarrasch following with 6½ points each. Then, in the 18th round, Capablanca lost a game to Lasker, at that time still 1½ points behind. In the following round he made one of his extremely rare blunders and threw away a game to Tarrasch. This cost him the first prize, which fell to Lasker, Capablanca taking second prize, half a point behind. As a consolation, however, re-opened negotiations for a world's championship match between the two appeared very promising - when the war intervened.
On war's outbreak Capablanca went on a second South American tour. In the spring of 1915 he won the New York Masters' Tournament with ease, scoring 13 (12 wins and 2 draws) to Marshall's 12 (10 wins and 4 draws). Early in 1916 he won the Rice Memorial Tournament still more easily, Marshall not entering. 1917 was practically a blank year for him, as far as public chess was concerned, and was spent in Cuba. His re-appearance in 1918 led up to the Manhattan Masters' Tournament, in October-November, and another first prize. He scored 10½ out of 12 points, drawing with Kostich twice and Black once. Kostich was second with 9 (6 wins and 6 draws), and Marshall third, with 7. A match with Kostich followed in March-April, 1919, which proved so one-sided that Kostich retired in the middle of the fifth game.
Hastings completes the record to date, though I have passed over many startling simultaneous performances. They are, indeed, too many to chronicle; and figures are not required to show that Capablanca is the greatest expert the world has seen at this kind of chess. His tournament and match play, even if we cut it down to San Sebastián, St. Petersburg, and the contest with Marshall, are enough for any master's fame. But to appreciate liis greatness to the full, it is almost necessary to see him in action. Printed scores of his games hardly suffice, and one is apt to miss the fine points. Some critics, indeed, profess to find his "style" uninteresting. They admit that he won brilliancy prizes at San Sebastián, St. Petersburg and New York (1916), and has brought off many delightful surprises in exhibition and off-hand play, but allege a general absence of "combination" and adherence to "positional" tactics. Now it may be that there is a vast difference between combination and position play; but to me it always seems that the distinction is exaggerated, and that the two overlap, more than a little. And, if Capablanca is eminently a positional player, then he makes his style appear far more logical and easier than that of the tense and quivering combinationist. His sight of the board is marvellously quick, and his pose during play admirably unruffled. I have always resisted the idea that chess can be played by intuition; but Capablanca makes me wonder. There is something uncanny about the way in which his game glides from move to move to a simple conclusion. Intuition or not, it is genius certainly.
As a talker about chess and chess-players—Capablanca is, in the classical phrase, "instructive and amusing." It would be indiscreet to repeat his observations on the peculiarities of the great and lesser masters, though the touch of malice is not unkindly, but rather inspired by the spirit of fun. Of his remarks on the game itself, I was most struck by his contention, arising out of a discussion upon stalemate, that the game would be improved by the scoring of a win to the man who has a piece to the good but, under the modern rules of chess, cannot mate. If I understand him rightly, he would revert to the "bared King" victory of early chess." It is logical," he says.
Apart from his chess, José Capablanca is a pleasing personality and a charming companion. Vivacious, full of anecdotes drawn from his own experiences, appreciative of the many aspects of human life and character, keen in his sense of humour, with an attractive smile and an infectious laugh, he is a living refutation of the absurd idea that a chess-player is a snuffy crank, a dyspeptic specialist, and a candidate for hellebore. It is true that his genius has enabled him to dispense with the study of chess which is necessary to fit us lesser mortals to play the game even as we play it. Nevertheless, he is at once full of chess and full of life—and, what is better, of a radiant youth that seems as though it would persist. May it long do so! Philip W. Sergeant.
---
BCM, September 1919, p301
"Winner of the British Ladies' Championship, 1919. Mrs. E[dith]. M[artha]. Holloway, whose success at Hastings, with one clear point ahead— irrespective of the game scored because of the unfortunate illness of Miss Price—was taught to play chess by her husband shortly after their marriage. Five years later, Mrs. Holloway won her first club championship success at Highgate. During the youth of their children, Mr. and Mrs. Holloway did not play serious chess, but they took up the game again in 1910, and at the 1912 Congress of the Kent Chess Association, at Tunbridge Wells, Mrs. Holloway won a tournament, with the highest possible record of 9 wins. She competed for the British Ladies' Championship, at Cheltenham, in 1913, scoring 3½ points, and at Chester, in 1914, when she tied for the fourth prize with a score of 7½.
"It will interest many of our readers to learn that the father of Mrs. Holloway was the well-known sculptor, John Denton Crittenden [BCM incorrectly gives this surname as "Chittenden" - JS], many of whose exquisite works were illustrated in the Art journals of his time.
"We had the pleasure of receiving an introduction to Mr. and Mrs. Holloway, at Hastings, and were gratified to learn from Mrs. Holloway that she had derived much benefit in strength of play from her study of the B.C.M.
"Mrs. Holloway is a member of the Bromley and Hampstead Chess Clubs and a playing member of the Kent county team."
---
BCM, October 1919, p342
"In the course of a leading article on " The Mastery of Chess." in connection with the Hastings Congress, The Morning Post said:—
The mastery of chess is only to be achieved by practice with masters... and it is a discomforting reflection that such practice is impossible owing to the absence of resident professionals. At Simpson's Divan, twenty years ago, the aspirant could always lie sure of a game with a real master for a small fee, and we venture to say that more could be learnt about the fine art of chess in that dingy old room than at the crowded congresses of the British Chess Federation. The plain truth is that the money which ought to provide a living wage for resident master teachers is now expended in cash prizes for amateur competitions—chess being the only game, apparently, in which a player can take money rewards and yet preserve his amateur status !... .The Federation this year have entered on a new and progressive policy, which, if it be continued, will make for the higher education of our young players of ability. Let us hope they will go a step further, and abolish the objectionable system of giving numerous cash prizes in petty tournaments which do not produce a single game worth recording.
"Mr. R. P. Michell was moved to reply, in a letter to The Morning Post, pointing out that usually at the congresses of the B.C.F. the total amount of the prize money, less entrance fees, is somewhat under £150, including the prizes for the chief tournament. He continued :—
"As for payment in cash, this is a matter of common sense. It avoids the purchase of ornamental articles not in conformity with the taste of the recipients, and is preferable to the transparent evasion of giving an 'order on the stores.' The real reason why distinguished masters are birds of passage only in England is that so few of our rich people care to play or to support chess. How far this indicates intellectual poverty among the upper classes I will not attempt to estimate."

---
The Observer, 17 August 1919:
"The Victory Chess Congress has surpassed all expectations with regard to the interest shown, by the general public in the first International Chess Meeting in England for twenty years. The Drill Hall at Hastings (formerly consecrated to the Royal Sussex Regiment) is daily filled with a crowd of visitors, and a curious throng on Friday evening watched the venerable Blackburne finishing off his simultaneous'' display against twenty-four opponents, against whom he scored eighteen wins, five draws, and only one loss.
"The first week's play in the tournaments has not been, devoid of surprises., A most unusual incident occurred in the chief tournament on Thursday, when Sir George Thomas resigned to Capablanca, the Cuban master, in a drawn position. The contestants had left the Drill Hall immediately after the finish of the game, when some inspired person suddenly suggested a very strange-looking move for Thomas, which, after protracted examination by Blackburne, Atkins, and Kostich was proved to force the draw. Kostich, the Serbian master, for some time refused to admit the possibility of Capablanca overlooking any move in a game of chess (having suffered many things at the hands of the Cuban prodigy), and repeated with great emphasis his creed, "Every move that 'Capa' makes is a problem!" However, 'Capa' himself, on his return to the hall, frankly acknowledged that he had not seen the move in question.
"CAPABLANCA'S CONSTITUTIONAL. The Cuban is quite the lion of the hour at Hastings, and, incidentally, has established something like a reign of terror amongst his fellow entrants in the chief tournament. There must be something hypnotic in his large.dark eyes, or surely Thomas, as safe a player as we have in England, would have looked twice at his position before resigning. Capablanca seems to use up much less 'grey matter' than any of the other players; he makes his move, quietly presses down the lever that stops his clock, and starts his opponent's, and, in nine cases out of ten, at once leaves his chair and does his famous 'caged lion' walk inside the ropes, which the Committee at his request put back a few feet to permit of this constitutional. There is little doubt that this performance worries some of his opponents, who are not used to playing opposite a vacant chair. It is on record that in a certain Anglo-American chess match played by cable between London and New York certain of the American players insisted on having portraits of the British against whom they were mentally struggling placed on the opposite side of the boards, so as to move against something more than an electrical machine endowed with the chess-playing faculty.
"Another striking personality, somewhat dimmed in the blaze surrounding Capablanca, is the Serbian, Kostich, who has resided in the United States of late years. This young master fears no one, chessically speaking, in the Congress but Capablanca. Kostich is willing to play over any or all of his games with anybody and everybody, and the rising player can pick up quite a large amount of information from this Gamaliel.
THE ENGLISH PLAYERS.
"It is very regrettable that Atkins, by general consent the strongest British player, should have been forbidden by hie doctor's orders, to participate in the chlef tourney. He is, however, an interested onlooker and spends a good deal of time on what are called in chess circles "post-mortems,", which may be defined by the cynic as the process of showing losers how they ought to have won and winners how they ought to have lost.
"The English champion, Yates, of Leeds, has not done himself justice as yet, but seems to be gradually playing himself into form. The Lancashire champion, Wahltuch, at the end of the sixth round, comes next to Capablanca and Kostich. This player is famous for his contortionist attitudes; and has been known in critical chess positions to climb up on the back of his chair, another example of the influence of mind over matter.
"The younger entrants in the chief tourney have scarcely as yet fulfilled the adage, 'Youth will be served,' but they may surprise us in the second week's play."
---
The Observer, 24 August 1919
"CAPABLANCA INTERVIEWED.
A CHALLENGE TO LASKER?
POSITION OF THE WORLD'S CHAMPIONSHIP.
(By Our Special Correspondent.)
Capablanca, bored by the curious gaze of the mob; and perhaps a little also by his game with Wahltuch [round 11, 22 August 1919, won by Capablanca - JS], had wandered outside the protecting rope, and found himself in the Press room, tenanted solely, as it happened, by The Observer correspondent. Capablanca turned to fly, but the key grated in the lock, and, murmuring: "My position is bad," he resigned himself to the interview.
"What are your immediate plans, Señor Capablanca?"
"I am going to France shortly after the termination of the Congress—yes, probably Paris; and I may look in at the Café de la Régence, as Morphy did, though I generally frequent a place next door to it.""
"Is it true that you are a reincarnation of the great Morphy?"
"I must have notice of that question. Anyway, there is no physical likeness between us; when I was at New Orleans— Morphy's home—the people who used to know him confirmed tnis. Morphy had a square forehead, quite unlike mine, and a stubby nose."
Here the Cuban drew attention to his own delicate aquilinity, but not in the emphatic manner of Quilp in "The Old Curiosity Shop," who is described as violently striking that feature with his clenched fist, in order to draw attention to its curvature.
"And after your French visit?"
"Sir John Thursby, the President of the British Chess Federation, is trying to arrange a tour for me through the principal cities of Great Britain, in which a series of simultaneous displays will be the prominent feature. After that, I may return to the States."
THE WORLD'S CHAMPIONSHIP
"Before you return, Señor, you will perhaps challenge Lasker to defend his title of World's Champion chess player?"
"I think the times are hardly yet suitable for that," replied Capablauca. "Maybe you have heard that I drew up a set of rules for the world's championship during the Petrograd tourney in 1914, which, after some slight modifications, were approved by all the competitors; these involved nearly all the great masters, and Lasker himself. The main points were as follows: The champion must take up a challenge within a year, and, if he wins, must be prepared to play other challengers at intervals of a year. This is a very desirable innovation. The time limit is to be fifteen moves an hour, and the winner of tho match is the player who first attains a lead of six or eight games, the champion having the option of choosing between these two totals. The stakes are not to be less than £1,000, which may be increased by mutual agreement. These rules were afterwards submitted to the Mannheim Congress, which also agreed to them. This Congress was interrupted by the outbreak of the war, as you may remember."
"Supposing Lasker will not play, and resigns his title, what will then be the position?"
"I certainly think, after my challenges to him, and bearing in mind my record, that I would be justified in claiming the title of chess champion. I shall then, of course be willing to accept a challenge from the Russian master, Rubinstein. We three—Lasker, Rubinstein, and myself—are generally considered the strongest living players. Schlechter, the Viennese player, who has just died, was a fourth, as he showed by drawing his match with Lasker."
THE BEST MOVES.
"I remember reading, a few years back, Señor, that you believed you made the best moves in a game of chess on the average seven times out of ten, while Lasker did so eight times out of ten. Do you still think this?"
The usually imperturbable Cuban showed signs of agitation. He burst out: "I want you to contradict that story as emphatically as possible. It is an absolute invention; I never thought it, and never said it."
"I might say, then, that it is a 'terminological inexactitude'?"
"That sounds good! By the way, though some people do not think so, it is quite possible to make all the best moves in a game of chess: and I think I have done so myself on several occasions."
"What are your views on the relative merits of the British players?"
But Capablanca refused to be drawn on this point, explaining that his experience of their play was not sufficiently extensive to enable him to decide—or words to that effect.
"Are you a 'Pussyfooter,' Señor?" §
"I am not—nor am I a Mormon."
"May I offer you a cigar?"
This was quite safe, for the Cuban is nearly the only chess-player who does not smoke.
"No, thanks: but if you have any chocolates... well, I guess it's my move by now, so if you do not mind, I will return, as I would rather not lose my last game in the tourney by exceeding the time-limit."
§ Note, the above interview was conducted by Brian Harley and it was later reproduced in his book Chess and its Stars, published by Whitehead & Miller in 1936. With the help of members of the English Chess Forum, I've been able to discover the meaning of the Pussyfooter/Mormon reference. Prohibition in the USA was a major talking point at time. Harley, aware of Capablanca's abstemiousness, teases Capablanca by asking if he was a 'Pussyfooter' - a term for a supporter of Prohibition. Capablanca's jocular answer alludes to a religious sect which was also hostile to the consumption of alcohol.
---
File updated
| Date | Notes |
| --- | --- |
| 26 April 2021 | First upload: 58/66 Chief Tournament games, 26/66 Minor Tournament games, 6 British Ladies Championship games and 31 others (First-Class, Lightning, Simul). Games mostly imported directly from Big Database, which seems be a digitised version of Tony Gillam's Hastings 1919 booklet, published in 1995, but with some of the subsidiary tournament games missing. I have applied a number of corrections to names as given by ChessBase - Yates's forenames, Miller's forename, Boyce, etc. Big Database has 57 Chief Tournament games from 66; I have unearthed one more - Kostich 1-0 Michell (Rd 2), found in a Dutch newspaper, plus a much longer version of Marchand 1-0 Wahltuch (Rd 10 - 64 moves compared to 28 moves on Big Database). I have also found some additional games from the Minor Tournament: Germann 1-0 Speijer (Rd 6) and Speijer 0-1 Miller (Rd 9), making 26 out of 66. I have added some games that were not input from the Gillam booklet to Big Database: Moses-Sparkes (First-Class A) and Groen-Lean (First-Class B). Also a newly unearthed Daniel 0-1 O'Hanlon (First-Class C). I've also appended the Lightning tournament games given in the Gillam booklet plus some games from the British Ladies Championship which were either in the Gillam booklet or else found by me in newspapers. |
| 27 April 2021 | Added the game Bonwick-Lean (Rd 2, First-Class B), contributed by Brian Denman, for which many thanks. |
| 13 July 2022 | Added the game T.Taylor 0-1 C.Hammond (First-Class B), contributed by Gerard Killoran via the English Chess Forum. Many thanks to Gerard. |
| 21 September 2023 | Added the game M.Euwe 0-1 S.Meymott, though there is some doubt as to whether it was a formal game or not. (Though Euwe took part in the congress, Meymott seemingly did not. But it may have been played in one of the lightning tournaments.) My thanks to Alan Smith for supplying the score and information. Note that I have now removed the stub games from the download. |