John Saunders's Chess Pages
Obituary: Richard A Furness (1937-2004)
Last Edited: Sunday April 25, 2021 7:03 PM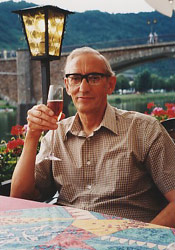 His many chess friends will be saddened to learn that Richard Furness, one of Britain's leading chess organizers, arbiters and administrators, died on 15 April 2004. A schoolmaster by profession, Richard learnt chess from his father aged ten and played in a few international postal competitions as a young man, but his major contribution to the game in Britain over many years has been as an organizer and arbiter. Richard had been inspired to try his hand at organizing after being a spectator at two major events in 1969 (the Clare Benedict Cup and the British Championship) and this led to his foundation of the Manchester and District Congress which ran so successfully during the 1970s. Later he directed the prestigious Benedictine International, held in Manchester from 1978 to 1983. Richard's talents and energies became widely noticed and this soon led to invitations to organize events outside the North West.
---
The photo shown here was chosen by Richard, for use in any obituary/article. He requested that the following message be shown by its side: "Cheers, best wishes and good health. Thanks for the memories. Richard" (Photo taken at Cochem, Moselle Valley, June 2003 - three weeks prior to becoming ill). Richard's funeral was held on Friday 23 April at Newchurch Parish Church, Culcheth. Click here if you wish to send a donation to the Motor Neurone Disease Association in Richard's memory.
---
Amongst the long list of competitions on his organizer/principal arbiter curriculum vitae were: the Oakham Young Masters of the early 1990s (where such super-grandmasters of the present day as Anand, Adams, Svidler and Shirov took part); the Owens Corning tournaments; the Monarch Assurance Isle of Man Internationals; the 4NCL (British Team League); and the 1995 Intel World Grand Prix. As well as these competitions, Richard officiated as arbiter at Hastings, British Championships and numerous other competitions throughout the 1990s.
His work on behalf of chess didn't stop there. He wrote the history of the Cheshire Chess Association; was a director of the British Chess Federation (in charge of junior chess 1991-1993) and the federations' Grading Officer (2000-2002), as well as Company Secretary and Director of British Chess Magazine in the late 1980s. He taught chess and ran clubs in primary schools, and, somewhere along the way, was instrumental in taking a little boy called Nigel Short to a chess club for the first time.
Richard was awarded the titles of FIDE International Arbiter in 1984, and FIDE International Organiser in 1995, and was presented with the BCF President's Award for 2004 to mark his extraordinary contribution to British chess.
Richard brought great personal qualities to his many chess roles: integrity, fairness, objectivity, attention to detail, common sense, hard work - and a dry sense of humour (particularly well demonstrated when playing his part as the compère at Monarch Assurance prize-givings). Though preferring not to mix socially with players after play during a tournament where he was arbiter (in case it compromised his reputation for even-handedness), he was approachable and kind in his dealings with players. He was firm and decisive in handling any incidents that arose during play, but also good-humoured and understanding of human frailty shown in the heat of battle.
Having worked closely with Richard on several occasions over the past six years, I can say that I found it a great pleasure to be his colleague and am proud to remember him as a friend. He was unfailingly reliable and trustworthy, and set very high standards. He also liked to have fun while he worked. We both had a hankering for the statistical side of the game, and enjoyed dreaming up quiz questions to test each other's knowledge, perhaps spotting little errors in each other's tournament crosstables or results charts. This teasing rivalry was always good humoured and had the positive effect of eliminating a few typos along the way.
Richard was rightly proud of his career in chess, and liked to talk about his many experiences in the game. He kept scrap books of photographs and cuttings relating to his chess travels, and was only too delighted to show them to you and share stories about the players he had known (including many of the big names). That said, he was very discreet and did not name players when his stories threatened to show them in a bad light.
Richard's health began to deteriorate noticeably in the second half of 2003, and in January of this year his worst fears were realised when motor neurone disease was diagnosed. His power of speech was seriously impaired and thereafter he communicated principally via email. But, with the courage and drive that was so typical of the man, Richard started preparing himself (and others) thoroughly and methodically for what was coming. By now he was fading fast physically but, with the help of his family, still working at writing some reminiscences of his career, and sorting out some photographs and bulletins, with a view to publishing an article in British Chess Magazine. In the end he supplied me with enough material for 15-20 pages in the next two or three issues. Knowing Richard and his uncanny ability to 'multi-stream', he was probably up to his eyes in a number of other tasks as well, such as helping in the planning and running of the 4NCL. So, this obituary will not be the last you read of Richard, there will be more to read about his life in chess very soon.
Richard Furness will be sorely missed on the British chess scene, for which he did so much over so many years. I know I am just one of his many chess friends who have been privileged to know him and will miss him personally. My deepest condolences to his wife Judy and his children Robert and Clare.
---
I received the following message from Richard's family earlier today (15 April 2004): It is with great regret that we have to inform you that Richard passed away peacefully in his sleep in the early hours of this morning, Thursday 15th April. Funeral arrangements are in progress. It is likely to take place towards the end of next week. We will forward details as soon as they are confirmed.
We attach a photo, chosen by Richard, for use in any obituary/article. He requested that the following message be shown by its side:
"Cheers, best wishes and good health. Thanks for the memories. Richard" (Photo taken at Cochem, Moselle Valley, June 2003 - three weeks prior to becoming ill)
Judy, Robert and Clare
---
Donations to the Motor Neurone Disease Association would be welcomed in Richard's memory.