John Saunders's Chess Pages
† Ken Whyld (1926-2003)
Originally posted 2003: last edited: Sunday April 25, 2021 6:38 PM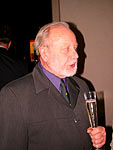 World-famous chess historian and BCM columnist Ken Whyld died on 11 July aged 77. Ken's landmark work was The Oxford Companion to Chess, which he co-authored with David Hooper in 1984. Ken was a strong amateur player who won the Nottinghamshire county championship and took part in the British Championship in 1956. Thereafter playing the game took a back seat to family life and his career as an IT expert, but he continued to collect chess books and edit chess publications such as Chess Student's Quarterly and Chess Reader in the 1950s. He took over BCM's Quotes and Queries column in October 1978 and had been talking about how to celebrate his 25 years as columnist. Sadly that will not now come about, although there will be one last column in the forthcoming issue. Although Ken and I had been in regular contact as columnist and editor for over four years, we met in the flesh only once - two weeks ago at the party to launch the 'Art of Chess' exhibition, when he came down to London for the day from his home in Lincolnshire. The photo (left), showing Ken enjoying a flute of champagne, was taken on that occasion. As well as being hugely knowledgeable about chess, Ken was a very warm, down-to-earth and generous man, with a gently teasing sense of humour. It was a privilege and honour to have known him and worked with him. John Saunders.
Tributes to Ken Whyld
"I will remember Ken for his amazing knowledge and delightful humour. I will always envy his highly readable prose. Who do we turn to now for answers to questions on the history of our game?" Tony Gillam, Nottingham, UK (Tony is one of Ken's oldest friends and colleagues. I am grateful for his help in providing information and passing on the photo at the bottom of the page - JS)
"Chess historians, journalists and players are grieving over the death of Kenneth Whyld. As co-author of the monumental work The Oxford Companion to Chess, Whyld will be remembered as one of the greatest historians of the royal game." George Mirijanian, chess journalist, Fitchburg, Massachusetts, USA
"I have just found out about Ken Whyld's death, now. I feel so sad, so lonely... my real chess career started from just reading The Oxford Companion to Chess. The book told me about the fun of chess history. If I had not read the book, I would not be reading this now." Kaz Ozawa, Tokyo, Japan.
"An enormous loss to the chess world. Ken Whyld was unique, a magnificent chess historian and writer, whose charm and wry humour has entertained a generation. It was a privilege to have worked with him". GM Murray Chandler, former editor, British Chess Magazine.
Ken's death is an irreparable loss for the world chess community. To visit Ken Whyld's home in Nottingham was to enter an Aladdin's cave of chess literature. It was there that I first saw the riches of international chess literature, especially in German. In the 1980s and 1990s a visit to his farmhouse in Caistor, Lincolnshire, showed how he had added to his collection which was now shelved and stored in every room as well as boxed up in outhouses. Give him any query and he could look up the answer for you, a service he carried out by post and e-mail for thousands of enquirers over the decades. Who can possibly replace him?" Bernard Cafferty, former editor of British Chess Magazine.
"A light has gone out of the chess world..." Chris Ravilious, co-author with Ken Whyld of 'Chess Texts in the English Language Printed Before 1850' (Moravian Chess, 2003)
"I only had written contact with Ken, mainly about the excellent book he co-wrote with David Hooper. He was clearly very enthusiastic and knowledgeable, but more importantly he was gentlemanly, and gave friendly and helpful responses to someone he had never met. It is rare to encounter one such as he in the world of chess." Kevin Thurlow, Redhill
"The 'Amsterdam-Group' - our association for cultivation and documentation of chess literature - has lost one of its early supporters. We will always remember Ken Whyld with warm feelings as one of the greatest lovers of chess, its history and literature." Michael Negele Wuppertal, Amsterdam.
"What terrible news about Ken Whyld. I first met him in the press room at the London Candidates Matches (Karpov-Yusupov and Speelman Timman) and then several times at big London-based matches after that. Being new to such behind the scenes press activity, I was a bit dazed to be in such tremendous chess company but Ken made a special effort to befriend me and put me at ease. At the subsequent events he was always very friendly and always greeted me warmly. Shortly after our first couple of meetings, he wrote to me with some information about two old tournaments based in Redcar, close to where live. He turned over his entire findings to me and I was able to collate them and produce a bulletin for our local players. I managed to turn up a 'new' newpaper reference to the tournament in one of our county library archives, which Ken was delighted with. Since then, we kept in touch through many letters and e-mails, the most recent of which was just a couple of weeks ago. He always answered promptly and very instructively. Ken's modesty kept his name very low-profile, often tucked away in the small print of books to which he made massive contributions. There is no doubt that the loss of this perfect gentleman and grandmaster of chess history will leave a huge gap in the lives of his friends and in chess itself. He was a wonderful and irreplaceable man. I can't believe he's gone." Sean Marsh, Yarm
"You could talk to Ken about anything -- from computers to literature to English grammar to a sense of humour -- and he would tell you something, or suggest an angle, that had never occurred to you. He was always there. "Ask Ken" was a better bet than "Try the Internet". I did so on many occasions, but visited him when he lived in Caistor, Lincolnshire, only the once. The visit was memorable for the hospitality and warmth. Ken lived simply, was naturally reticent, but could wax eloquent. The eternal, unanswerable question "What happens to knowledge when one dies?" inevitably comes to mind." John Roycroft, London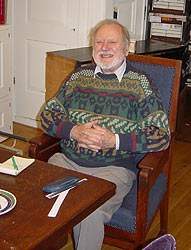 "I met Ken Whyld many times; he once even arranged for me to stay at a friend's house when I was in England on holiday. During the 1980s, we corresponded (regular surface mail) quite a bit. He asked someone in the U.S. if there was a reasonably strong Master ... who had a large chess library and was interested in doing analysis. (My name popped up somehow.) I even analyzed a few Lasker games and sent him my work. We were going to do a book where I would analyze many of Lasker's games, and he would do all the history, biography, etc. I will never know what became of the project ... or his writings and work. I could go on forever. Anyway, I was deeply shocked to learn he had passed away. I have a library of roughly 2000-3000 chess books. My most prized possessions are those fine books that are signed by the author. My copy of Lasker's games - by Whyld - is also personally autographed. I will always treasure it. You may say that I count myself very lucky to have known the man. He was a great and caring person, a good chess player, and someone who was intensely interested in the history of our game. I salute one of the BEST and most honorable and noble men I have ever known." USCF Life-Master AJ Goldsby
"The Oxford Companion To Chess is an example of the considerable achievements open in chess to a man of large chess comprehension and undoubted talent for the game who, nevertheless, discovers that face-to-face combat over the chess board is an uncongenial experience. By sublimating his love for the game into perhaps more objectifiable and certainly less stressful channels, Ken Whyld richly earned his place in the pantheon of chess." GM Raymond Keene, London
The second photo of Ken was taken by Jurgen Stigter in his flat in Amsterdam on the morning of 30th Nov 2002.


2003, 2021 John Saunders